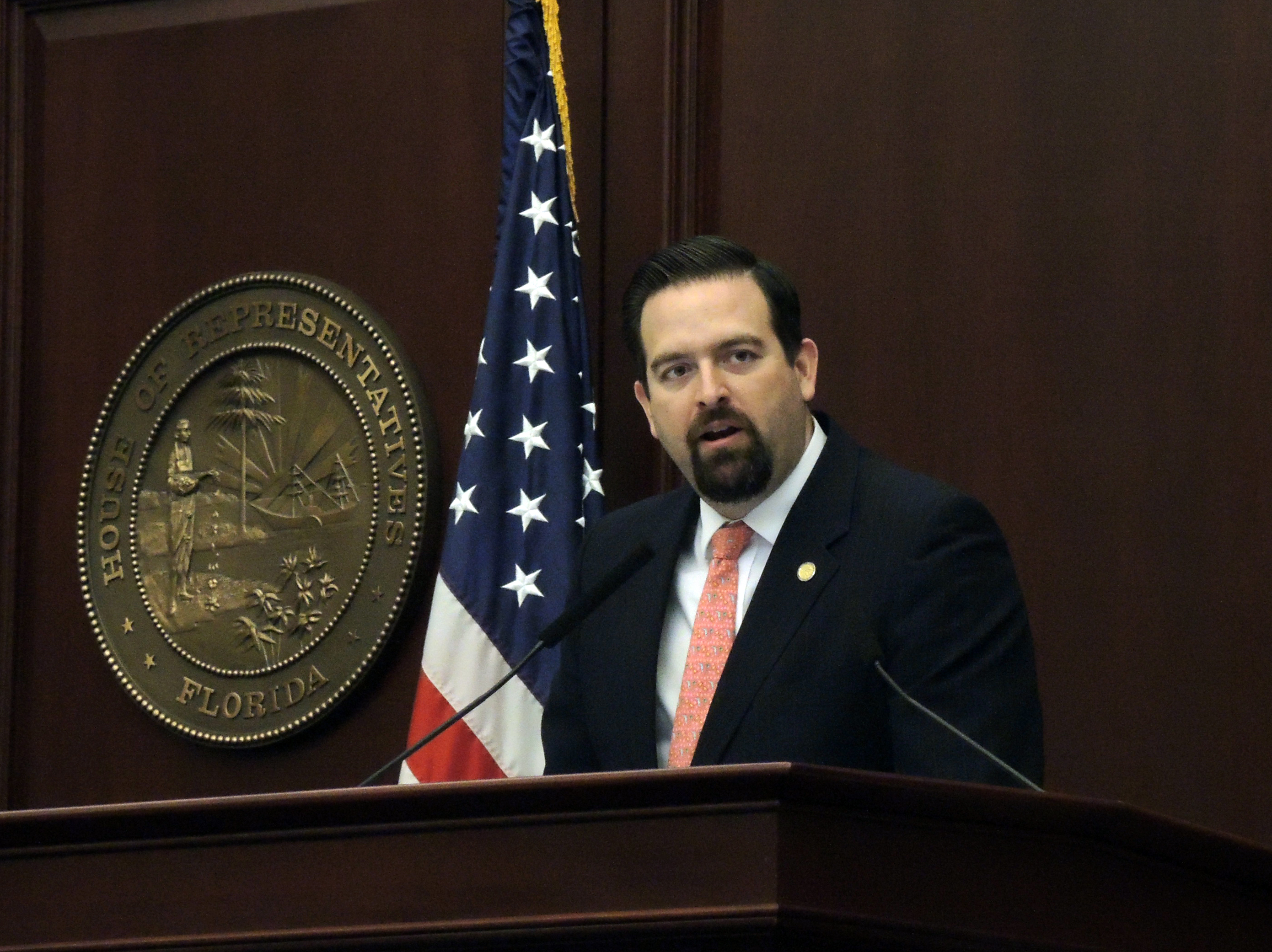 The ballot is set.
More than 26,000 voters in Miami-Dade County cast ballots in the Senate District 40 and House District 116 elections. And when polls closed Tuesday night, there were few surprises — at least when in the race to replace Sen. Frank Artiles in Florida Senate.
Rep. Jose Felix Diaz handily defeated former Sen. Alex Diaz de la Portilla and Lorenzo Palomares in the Republican primary. Diaz received nearly 58 percent of the vote, while DLP received nearly 26 percent of the vote. Palomares pulled in about 17 percent of the vote, according to unofficial election results posted to the Miami-Dade County Supervisor of Elections website.
Diaz's victory was greeted by overwhelming support by his colleagues in the Legislature, who tweeted congratulatory messages throughout the evening. Senate President Joe Negron, Sen. Bill Galvano, and Majority Leader Wilton Simpson announced they would throw the full support of the Florida Republican Senatorial Campaign Committee, which works to keep a Republican majority in the Senate, behind Diaz to make sure he comes out on top in September.
Diaz will face Annette Taddeo in the Sept. 26 general election, after Taddeo crushed Ana Rivas Logan in the Democratic primary. Unofficial results show Taddeo received nearly 71 percent of the vote, compared to Rivas Logan's 29 percent of the vote.
Taddeo was quick to take aim at Diaz, issuing a statement Tuesday night calling on the community to reject "the special interests and their lobbyists, Jose Felix Diaz, and elect a champion who will fight for our public schools, take on traffic gridlock and enhance our healthcare system."
Democrats see Senate District 40 as a potential pick up, but it could be a tough battle. Hillary Clinton one the district by a 57 percent to 40 percent margin, but it backed Marco Rubio 50 percent to 47 percent. And Taddeo's record of wins is iffy — she has lost several other elections, including a 2016 congressional bid.
Here's how several politicos are reacting to the results:
— Jose Felix Diaz, Republican nominee for SD 40: "Thank you to all my friends, family, and constituents for their support. Congrats to (Alex Diaz de la Portilla) and (Lorenzo Palomares) on a hard fought race."
— Senate President Joe Negron: "Jose is a strong candidate with broad community support and the experience to best represent the values and needs of this district. The Republican majority has made tremendous gains in Tallahassee on behalf of hard-working Floridians, and Jose's victory in September is an important step in continuing those achievements."
— Sen. Bill Galvano: "I applaud Jose, Alex and Lorenzo for running spirited campaigns to represent their community. Jose has earned the confidence of the people of Senate District 40 and now is the time for Senate Republicans to work together to ensure victory on September 26th."
–– Senate Majority Leader Wilton Simpson: "The work to ensure the people of Senate District 40 have the strong leader they deserve begins right now. Jose's heart and compassion for the people he serves make him a perfect fit for the Florida Senate, and we look forward to making that case over the next nine weeks."
— Annette Taddeo, Democratic nominee for SD 40: "I am truly grateful to my fellow Democrats in District 40 who elected me today to be our nominee in September. Our campaign is ready to take our people powered message to every voter in our district so we can bring change to Tallahassee. It's time our community rejects the special interests and their lobbyist, Jose Felix Diaz and elect a champion who will fight for our public schools, take on traffic gridlock and enhance our healthcare system. With tonight's decisive victory, we can, and will, send a loud message in September that the politics of division coming from President Trump and Washington, D.C. will not be tolerated in South Florida. Together, we will make history by electing the first Hispanic Democratic woman to the Florida Senate and a champion for our families."
— Gwen Graham, a 2018 Democratic candidate for governor: "Annette Taddeo is a leader who will represent every member of Miami's diverse community. With her experience as a small business owner and working mom, she will help bring common sense back to Tallahassee. I look forward to helping Florida Democrats win this seat and working with Annette to restore our promise to public school students, protect our environment and build an economy that works for every Floridian."
— Stephen Bittel, chairman of the Florida Democratic Party: "Annette Taddeo has always been a fearless fighter for her South Florida community. She put herself through college, grew a successful small business, and raised a beautiful family–she will be a forceful advocate for the working families of South Florida in the state senate. The Florida Democratic Party is proud to be fighting alongside Annette for good public schools, an economy that works for everyone, and better transit options in senate district 40. Democrats from around the state are already rallying together to elect another Democrat to the state senate that will focus on strengthening and expanding the middle class."
— Johanna Cervone, spokeswoman for the Florida Democratic Party: "Voters in senate district 40 are sick of corrupt, pay-to-play politicians like Jose Felix Diaz who are owned by the special interests that buy them. What's even more outrageous is that Diaz legislates and lobbies at the same time–which up until 1999 was deemed an 'inescapable conflict of interest'. Instead of doing good, Diaz took big checks from insurance lobbyists and stuck Floridians with higher rates; Diaz used his office to enrich himself while raising property taxes by $500 million–increasing the cost of living for Miami homeowners. Diaz also voted to divert millions from our public schools to the unaccountable, for-profit charter schools that donate thousands to his campaigns. Not a surprise, considering he's a lobbyist who takes money from corrupt entities like Dade Medical College. Diaz must be taking cues from his old boss, Donald Trump."