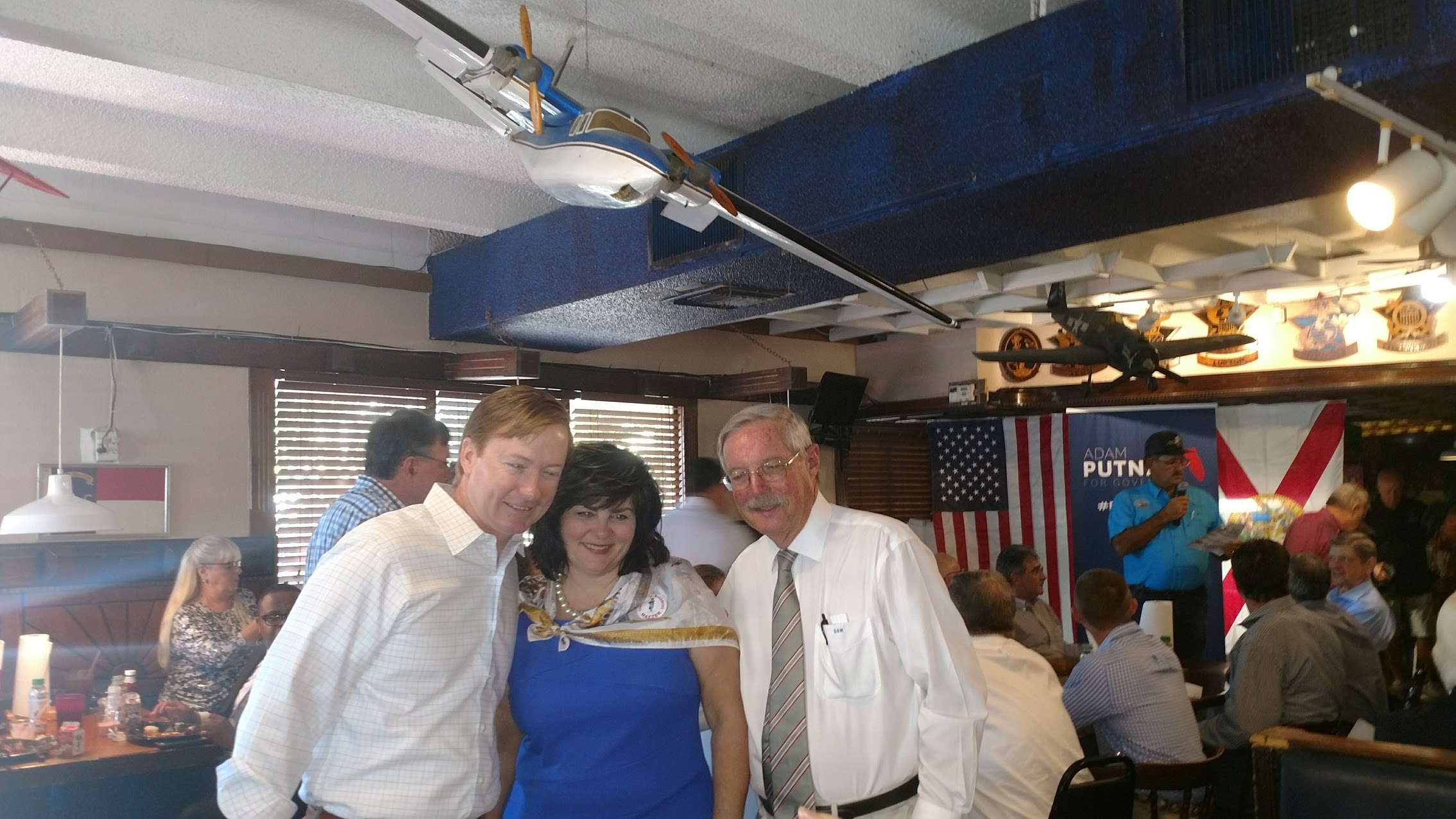 Two years ago, Adam Putnam was the lone vote in the four-member Cabinet to support adding three members of the Confederacy into the Florida Veterans' Hall of Fame, but he's not saying now if he would vote that way again.
Gov. Rick Scott, Attorney General Pam Bondi and CFO Jeff Atwater all opposed placing former governor Edward Perry; Florida's first adjutant general, David Lang; and Samuel Pasco, a Harvard-educated prisoner of war and U.S. senator for whom Pasco County is named; to be included in the state's Hall of Fame.
The issue came before them at a Cabinet meeting held at the Florida State Fairgrounds in Tampa in February 2015.
Mike Prendergast, then serving as head of the state's Department of Veterans Affairs, recommended their exclusion. He rejected all three men for failing to comply with a requirement to have an honorable discharge from the U.S. armed forces, which he said did not include the Confederate States of America.
At the Cabinet meeting, NAACP Tallahassee Branch President Dale Landry testified that "these three men fought against the Union, and they symbolize a dark time in America's and our state's history — a period full of hatred and slavery. These men took up arms against the United States of America."
Putnam later said, "If you're throwing these guys out on a technicality, that's just dumb."
After the vote, Bondi suggested the law should be changed so that Confederate soldiers could be considered for honors in the future. Congress voted in 1958 that Confederate States' veterans should receive the same benefits and services given to those who served the Union.
The Florida Veterans' Hall of Fame was only established in 2013. It's a wall in the state Capitol with plaques commemorating inductees.
Speaking to reporters on Monday in Temple Terrace after holding a campaign event for governor, Putnam said that Americans should be more focused on calling out the hate and evil that manifested itself in Charlottesville, Virginia earlier this month, and less concerned about "sanitizing history."
"It's also important that we apply the lessons of history today and the future," he said, adding, "if you don't know your history, you're going to repeat the mistakes of the past. I think it's important that people know the horrors of the Holocaust; I think it's important that people know the horrors of what happened on 9/11. It's important that we learn what happens to the world, when evil is allowed to prevail."
In the past few weeks, Democrats in Florida have been calling for the removal of the Confederate monument that has stood in front of the old Capitol in Tallahassee. Putnam has said that he never noticed the monument. That comment was derided by Tallahassee Mayor and Democratic gubernatorial candidate Andrew Gillum on MSNBC on Sunday, who took Putnam to task for the comment.
"What a luxurious place to be, the fact that you don't have to be aware that these kinds of symbols of division and derision greet people as they enter the old Capitol," Gillum said of Putnam.
Among those who attended Putnam's "Up and Adam" breakfast at Lupton's Buffet in Temple Terrace was David McCallister, commander of the Sons of Confederate Veterans' Judah P. Benjamin Camp.
He's the leader of the opposition which formed against removing a Confederate monument from outside the old Hillsborough County courthouse in downtown Tampa over the past two months. He said he's supporting Putnam for governor, in large part because of his support in 2015 for voting for those members of the Confederacy to be included in the Hall of Fame.
"Adam Putnam was the only one who stood up and said, for good and bad, these are the men that came back from the war," McCallister said on Monday. "I've been favorably disposed to him ever since."
Florida Politics contacted the Putnam campaign to determine if Putnam stands by his support for adding Confederate veterans to the Hall of Fame. His campaign did not provide a response.