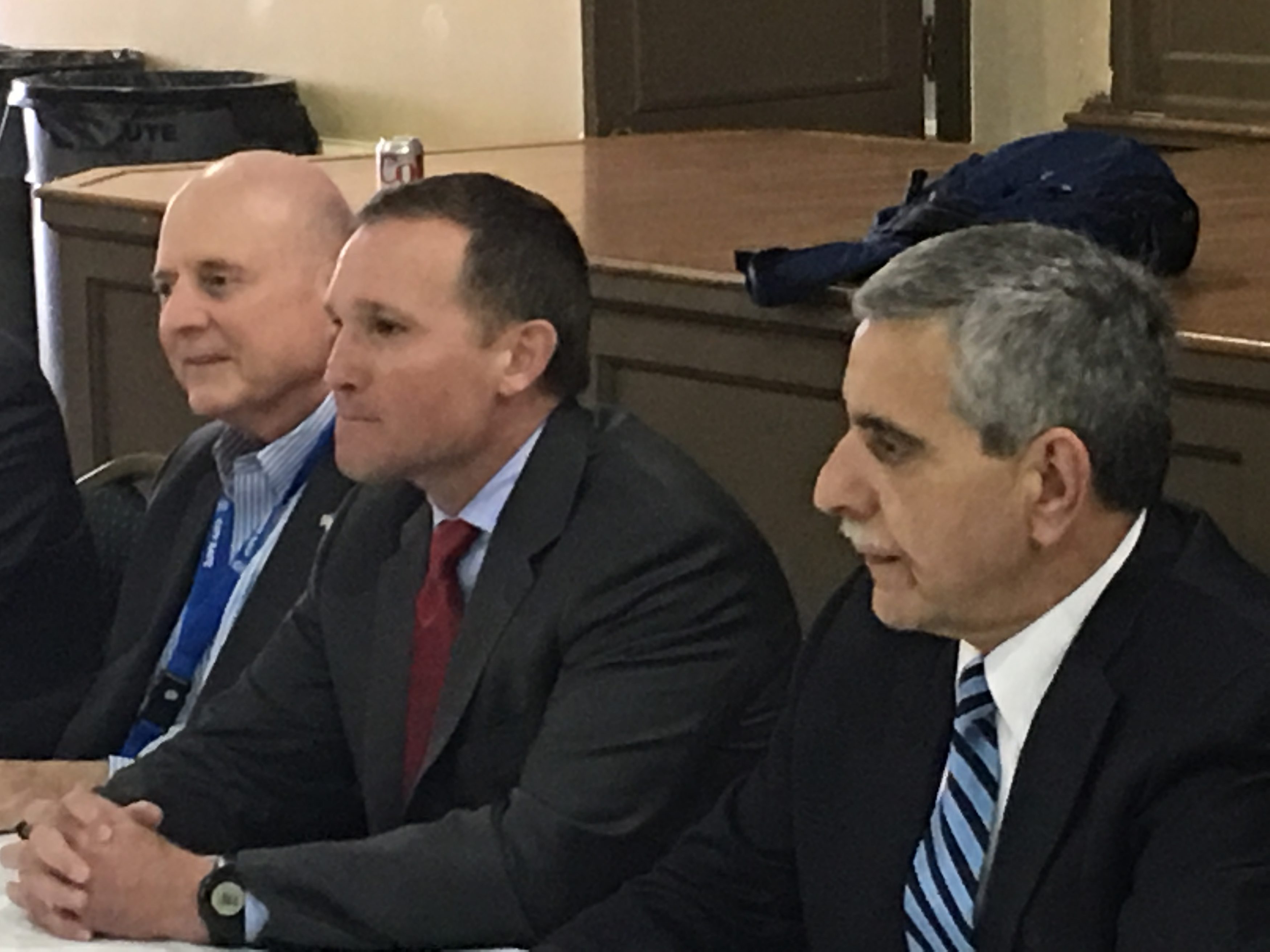 Jacksonville Mayor Lenny Curry prioritized improving the city's financial picture as a candidate in 2015, and in 2017 there was strong evidence that happened.
The city has strong bond ratings — AA- — and the market's confidence was reflected in $388 million of offers on $145M worth of bonds this week.
Curry noted Wednesday that "demand far exceeded the offering," showing the "strength of ratings" and "confirming what the ratings agencies" have been saying.
"We're on good financial ground right now," Curry said, setting up a theme of the day: a budget hearing in which the Jacksonville City Council Finance Committee mulled the city's capital improvement budget.
____
Before jumping into Jacksonville's capital improvement budget Wednesday, the Curry administration presented a debt affordability study.
Debt levels have been coming down, and revenues have been increasing, said city treasurer Joey Greive.
The CIP includes $122M of authorized borrowing over the next five years, Greive said, recommending that debt be assumed following guidance from bond ratings agencies.
"Fiscally responsible budgets" and "strong operating performance" have helped, Greive said, allowing the city to bolster reserves.
Greive noted that the $145M bond deal brought in $388M of orders, showing "strong demand."
"The city of Jacksonville's still in favor in the marketplace," Greive noted, pointing out the continued AA rating.
The city has $1.1B of outstanding general fund debt, and $1.2B in Better Jacksonville Plan debt; Greive suggested that the BJP debt may be paid off before 2030, allowing relief for the city's pension obligation.
As well, 95 percent of the city's debt is fixed-rate.
"We have some positives, but also some challenges the ratings agencies mentioned," Greive said.
Councilwoman Lori Boyer described an "important story" to be told, with Jacksonville having waived criteria during the previous Mayoral administration that is now followed.
"In the last few years, we have substantially paid down debt … we have improved all of our ratios … in compliance and within the range on every ratio where we were not previously," Boyer said, noting even this ambitious CIP is affordable.
CFO Mike Weinstein noted that much of the borrowing for the CIP could be years down the road, and the Curry administration's first bond issue was just this week.
"We are in a very good position," Weinstein said.
One caveat: the study doesn't include pension debt, which concerned Councilman Danny Becton.
Also concerning Becton: Moody's and Bloomberg comments regarding potential fixed-cost issues.
Greive dismissed the Bloomberg article, saying the "bond results speak for themselves," though later he conceded that "fixed-costs" were an issue for future concern — a contention of the article.
Weinstein also noted the article said Jacksonville was "moving toward AA standards … moving in the right direction."
"We've had three ratings done on the city since pension, and each of the ratings agencies rated us AA- and stable," Weinstein said. "We are in good stead."
While Jacksonville has "liability," the city is "better positioned today because of the pension reform."
And, said Weinstein, the ratings agencies fold pension into the mix.
Councilman Bill Gulliford wanted guidance into Jacksonville reserve levels, which Weinstein said were "adequate but could be better," and "barely over what Moody's looks for in AA."
"We are definitely solid and stable," Weinstein said, but nowhere near a AAA rating due to scanty reserves.
CAO Sam Mousa said "people were scrambling to buy" Jacksonville bonds, "a great indication of how great those bonds are."
"The ratings agencies did well in looking at our history, stability, willingness to pay … these are good, stable bonds to invest in," Mousa said.
"Eventually, in another year — maybe sooner, maybe later — we will come back to the Council and say 'it's now time to borrow additional moneys," Mousa said.
Pension reform, Mousa added, created confidence in a robust CIP, to handle neglected "projects that had been on the books for a long time."
Boyer also noted the city's debt management policy, mandating level debt.
"We can't do 'max out the charge card,'" she said, requiring the city to maintain a "stable picture" that "continues to improve."