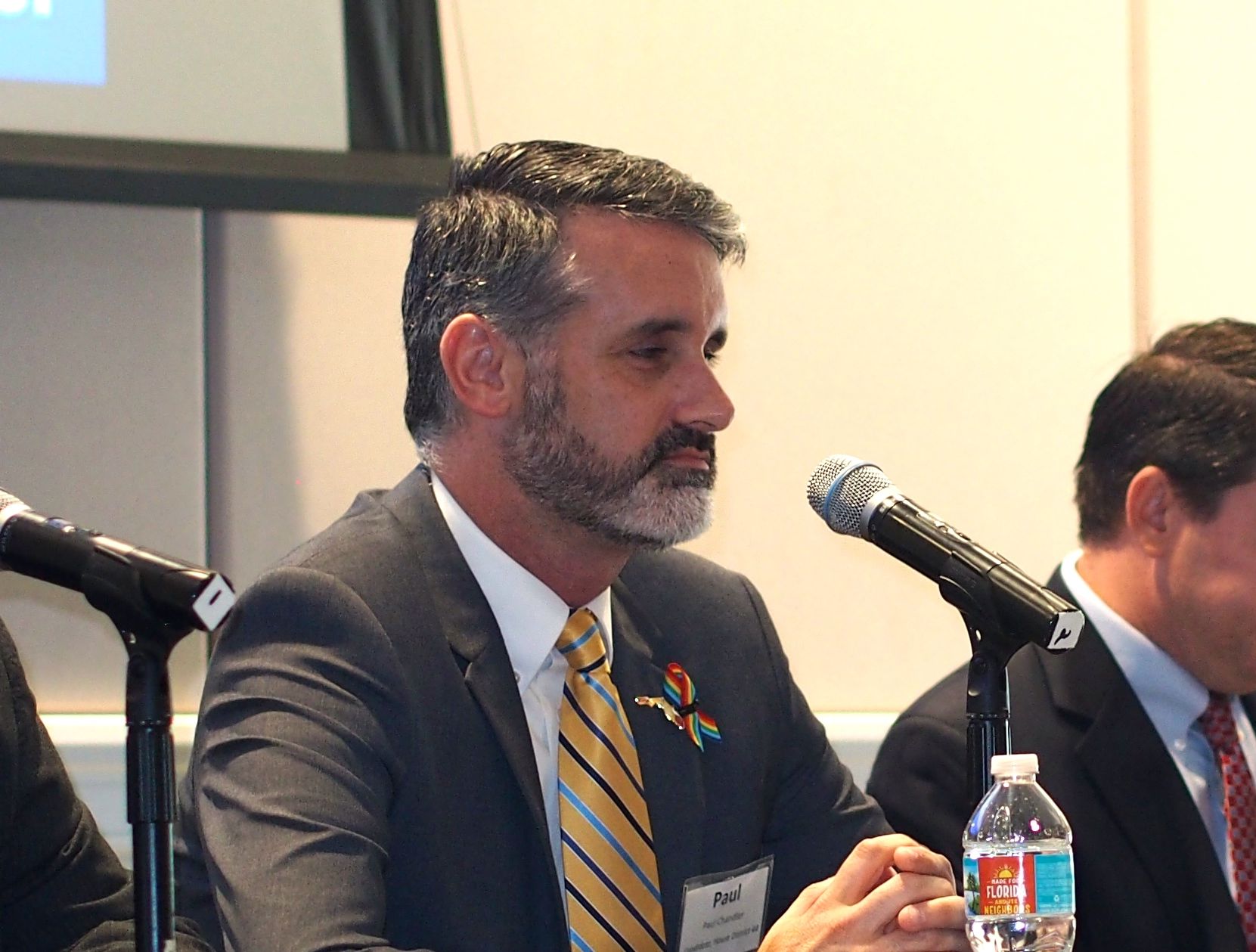 Ex-Democratic House District 44 candidate Paul Chandler said late Tuesday he had no intention of withdrawing from the race and was confident he could win both a legal challenge and the special election itself — until state party officials whom he said had never supported him threatened to sabotage his campaign if he didn't quit.
Chandler, announced Tuesday morning he would withdraw from the HD 44 special election contest due to outside circumstances. Among those circumstances is the prospect that the Democrats wanting to pick another candidate in time to be on all the ballots for the Oct. 10 contest.
Orange County Democratic Chairman Wes Hodge insisted he did not push Chandler out, or threaten his campaign if he did not quit. Ryan Ray, with the state Party's Victory Fund, said the party spoke to him "about how best to move forward."
Republicans nominated Winter Garden businessman Bobby Olszewski on Aug. 15, and he's heavily favored, with money, party backing, experience and name identification.
Chandler, who founded and runs a medical records company, has largely funded his own campaign, but has been visibly campaigning for weeks, particularly on social media.
Two weeks ago a Republican in the district, Chris Hart, filed a lawsuit in Leon County charging that Chandler was ineligible to run for the Florida House of Representatives this year because he voted in Missouri last year. The Florida Constitution says you have to have resided in Florida for two years before being eligible to go into the Florida Legislature.
If a judge agrees with Hart's charge that Chandler is ineligible to run, he would be thrown off the ballot. If that happens in court, Florida law says, no one could replace him.
Yet if Chandler quits, Florida law allows the Orange County Democratic Executive Committee to replace him on the ballot. The timetable window is closing for that quickly.
Chandler called the lawsuit charges frivolous, arguing that he could still meet the requirement of "having resided" in Florida for two years prior to taking office, regardless of his voting history. He accused the Republicans of using a "bogus lawsuit" to try to win the election outside the ballot box, and accused the Democratic Party of caving.
On Monday afternoon Chandler said he received ultimatums from a state Democratic Party official: quit now or the party will make sure no loyal donor will take your call, and no loyal grassroots volunteer will offer to help.
"They said they would do what it takes to make sure I would not win," Chandler said.
In a written statement, Ray said House Victory met and some with Chandler when he became a candidate, and told him it would support him in the general election. "When it became clear his candidacy faced legal issues, just days after a fractious Republican primary, we spoke with Paul and his campaign about how best to move forward," Ray added. "Any loyal Democrat understands the urgency of fielding a competitive candidate against today's Donald Trump-led Republican party at all levels.
"The course of action we and Paul are taking ensures that," he added.
Hodge, the Orange County democratic leader, said he had a different type of conversation with Chandler.
"I had the conversation with him that this lawsuit does not look good… and we have to look at what's best for the party versus what's best for the individual. And [I asked] would you be willing to step aside? At no point in time did I make any threats."
Hodge said they have plenty of candidate options to consider, and time to mount a serious campaign.
Republicans have owned HD 44 for a long time. Still, the gap between Republican and Democratic registered voters is not huge – 36 percent to 32 percent – and Hillary Clinton actually carried the district last November. The seat became open when Republican incumbent state Rep. Eric Eisnaugle resigned this spring to take a judicial appointment.
Chandler argued there was no better time to flip the district than during a special election with no incumbent, and he charged that the Democratic party leaders showed no interest in the district or his campaign until now, "and they just threw it all away."
Technically, Chandler is still in the running. That's because he hasn't filed his exit paperwork with the Florida Secretary of State's Office yet. That's pushing the timetable for Democrats to file their own paperwork in Tallahassee and with the Orange County Supervisor of Elections Office, to nominate a new candidate to replace him, and then to get the name on the military absentee ballots Orange County, which will be going out soon.
"I will turn in my resignation to the secretary of state when I turn it in," he said.