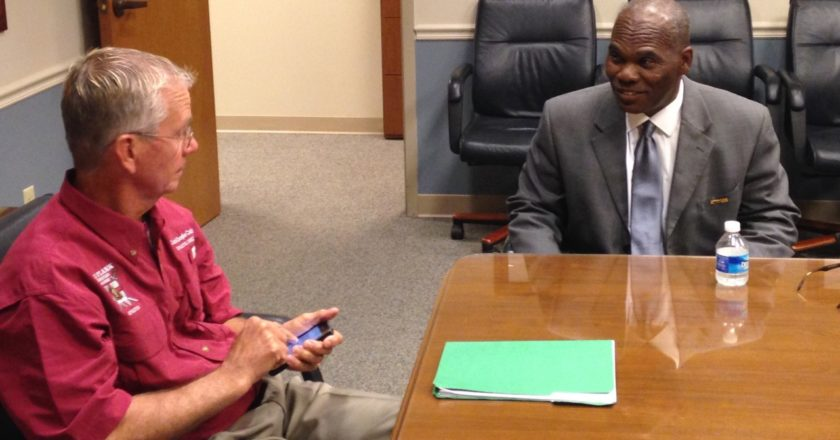 Before Tuesday night's meeting of the Jacksonville City Council, Rules Committee Chair Doyle Carter spoke briefly with us about the situations involving two of his Council colleagues.
Last week on his way home from a meeting, Councilman Reggie Gaffney was pulled over for using a license plate he reported stolen.
Gaffney denied that he had reported the tag stolen, and colleague Katrina Brown providentially pulled up and accused police officers of racially profiling.
As the meeting began, Gaffney apologized for his behavior during the stop, saying he's "not a perfect man."
And Brown said she didn't do anything wrong; when asking about police racial profiling, she said that she was asking questions constituents wanted asked.
Despite Gaffney's apology, there is still an open Jacksonville Sheriff's Office Integrity Unit investigation on Gaffney for reporting a tag stolen that wasn't stolen — and that investigation was filed by the head of the police union.
Even though the police union head, Steve Zona, described the apology as "genuine and heartfelt," the JSO investigation is a different matter and will continue.
We asked Rules Chair Carter if the committee would look into the matter if JSO's investigation revealed wrongdoing on Councilman Gaffney's part.
Carter said he wasn't "informed enough" on the specifics of the case to answer the question at first, as he was "working until late last night," but added that if there are legal issues, "everything will be addressed" — presumably in Rules Committee, though he chose to walk away rather than clarify the matter.
____
Carter and Gaffney have an interesting personal history.
Gaffney decided, despite pledging to support Carter in a public notice meeting lasting all of a minute, to go against that signed pledge and back Crescimbeni, raising questions among seasoned reporters and council observers as to why Gaffney flipped.
Carter's quote reported in the Florida Times-Union at the time was telling: "If you can't trust somebody for their word, then what can you trust?"
Issues of probity have dogged Gaffney throughout his political career, as most local Jacksonville outlets have reported in great detail.
Despite Gaffney's betrayal in 2016's Council Leadership race, Carter holds no residual ill will.
"I can't hold grudges," Carter said.
However, Carter does hold the gavel.
And if Gaffney was found to have lied to law enforcement, the committee will be compelled to either take up the matter, or be seen as effectively gelded in the matter of internal enforcement.