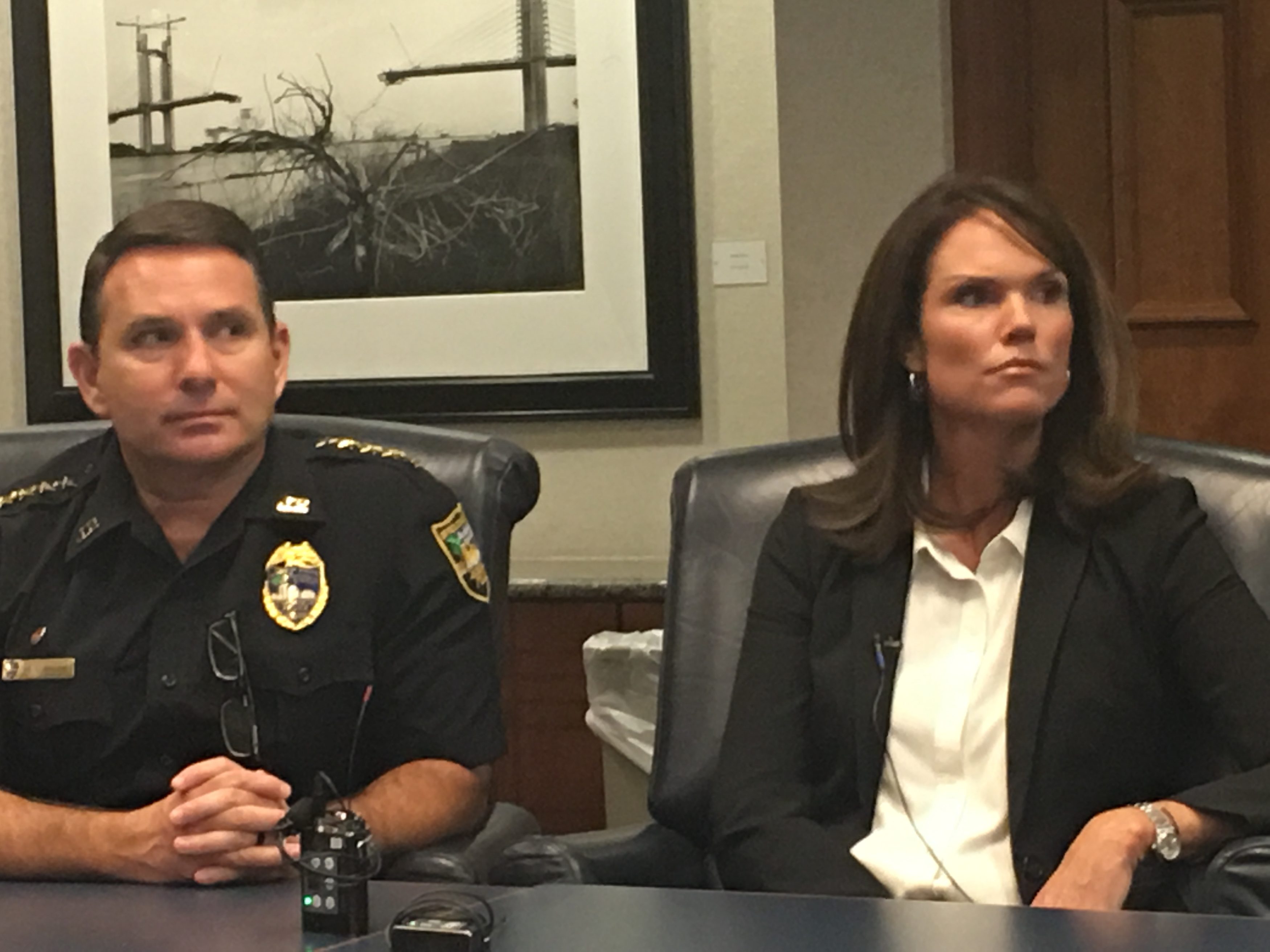 The case of Jacksonville City Councilman Reggie Gaffney and his troublesome license plate rages on, a full ten days after he was pulled over by police officers for driving with a license plate he had previously reported stolen.
Since then, Gaffney has profusely apologized for his conduct during the stop — first at the front of the Council meeting Tuesday, then on a local newscast the following days.
The mea culpa tour meanders on, but the central question of why an active City Councilman was driving with a tag he'd reported stolen in 2016 still stands. And the Jacksonville Sheriff's Office's Integrity unit is still investigating the matter.
On Thursday, Sheriff Mike Williams and State Attorney Melissa Nelson both took questions from this outlet regarding Gaffney's tag trouble — one that some wags are calling "Plategate."
Williams noted that the JSO is trying to "unpack" and "work through" conflicting accounts, to "try to figure out what happened."
"We'll try to get to the bottom of why the tag was reported stolen, if it wasn't, if it was actually stolen," Williams said.
We noted that Gaffney walked into a police substation and reported the tag stolen.
"He did. Walked into the substation and reported it stolen. That's kind of the starting point," Williams said, expressing hope that the investigation "won't take too long."
"It is against the law to file a false police report," Williams said, and if that indeed is what happened "then he'll have that challenge."
Gaffney was not the only Councilor who interacted with police that night; colleague Katrina Brown also had a memorable interaction with the same officers.
Brown pulled up behind the stop and accused officers of racial profiling, which led Fraternal Order of Police head Steve Zona to suggest that Gaffney and Brown apologize to the officers or resign.
Unlike Gaffney, Brown believed she had nothing to apologize for.
We asked Williams if the recent Brown/Zona dynamic was productive.
"No, it's not productive. I think we've shown in the last couple of years that people who have real concerns about issues between law enforcement and the community, we're more than willing to sit down and talk about those."
"Barbs, even back and forth, are not productive," Williams affirmed, expressing hope that a more productive conversation could happen "when emotions simmer down a little bit."
The Councilwoman's claim of racial profiling is "not applicable in this case," Williams said.
"At some point in time, those two should sit down. I think they're talking about that," Williams said.
We also asked Melissa Nelson about Gaffney's case.
"We treat every individual the same across the board. And we adjudge every case based on the facts and circumstances of that case," Nelson said, "regardless of who that person is."
Beyond that statement, Nelson didn't talk specifics of the case.
Gaffney, who has dealt with legal scrapes ranging from Medicaid overbilling to double dipping on homestead exemption claims, has generally been able to talk his way out of serious penalties in these matters.
While to some a false report of a stolen tag is not a major issue, the issue becomes amplified given that Gaffney has a unique position of public trust — as one of 19 people in the city who can vote for something to become law.
Are those who enact laws exempt from the rule of law?