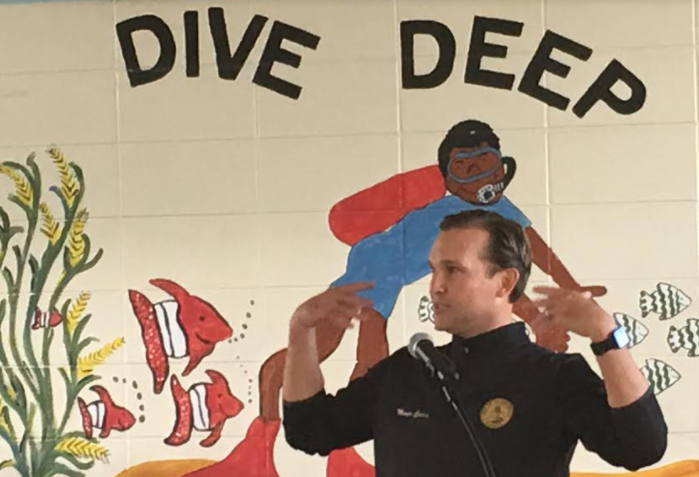 Jacksonville Mayor Lenny Curry's Kids Hope Alliance bill cleared the first of three City Council committees  Monday.
And he was on hand, at least at the outset of a discussion that sprawled for almost three hours, to make sure that happened.
The bill, which seeks to consolidate functions and programs of the Jacksonville Journey and Jacksonville Children's Commission into one omnibus body, was substantially reworked since its initial introduction, with an aim toward reassuring Council members that the board would be independent.
In the bill's current iteration, board members can be removed by the Mayor, with a 2/3 vote of Council.  The board would also pick the CEO, and the Mayor would no longer have to concur with their decision.
Both of these changes: framed by advocates as assurance of the board's independence, despite being housed in the executive branch. However, other questions loomed — including those of whether boards should be comprised of Duval residents.
In opening remarks, Mayor Curry positioned the bill as part of his "commitment to reform" and "challenge to the status quo."
"There is much room for improvement in how we invest in the kids of our city," Curry said, noting that despite the investment in afterschool programs and summer camp programs, kids are still killing kids.
KHA would be about "outcomes," Curry said, not "entitlements" for the provider class. Anyone who contends otherwise, Curry said, is either driven by an agenda or benefiting from the current schematic.
Administration member Ali Korman Shelton qualified "entitlements," saying that "people get used to that money every year."
Korman Shelton noted that the current bill — a substitute — incorporated many of the criticisms that had come in from the original.
"This is after 25 years of a process. We are examining the process," Korman Shelton added, noting that there was no expectation that this would be a "rubber stamp" board.
Despite an attempt to forestall some criticisms, not all were precluded.
Jacksonville Children's Commission board member Lee Harris expressed concerns about repealing the ordinance that enacted the JCC, including a smaller board removing subject matter experts. Harris also expected that a lack of community input would lead to an erosion in services.
Another JCC board member, Cathie Shimp, noted that the current bill language allowed for people from outside Duval County, such as a "political contributor from St. Johns County," to be on the board — which wouldn't be in the interest of the "most vulnerable families."
Councilman John Crescimbeni, a proponent of local residency for local offices, noted that even in the original JCC language, there were allowances made for people with philanthropic or business interests in Duval County. However, the voting members of the JCC are all residents — a key break from the current bill.
Residency requirements, said Korman Shelton, are the same as other boards in the code.
A representative of the United Way (CEO Michelle Braun) noted, meanwhile, that the independence of the KHS board was a key factor for their organization — and that's assured in the board's current iteration. Braun is a non-voting member of the JCC currently.
Councilman Garrett Dennis, who frequently butts heads with Mayor Curry, marveled at the fact that in Jacksonville — with 850,000 people — it's somehow impossible to find seven actual residents for the board.
"For us to think we can't find seven people here in Jacksonville out of nearly a million people," Dennis said, "that's ludicrous."
Howard Korman, a former JCC Board Chair, said the JCC and the Journey have deviated from their original administrative mission, and have become too active in hands-on program implementation.
"The role of a board is not to micromanage," Korman said, but to provide "evaluation" in an advisory framework.
"The purpose of a board is to understand the mission," Korman said.
Korman likes the combination of the two current entities, a board comprised of experienced people, and provisions in the bill for small providers — which allow disbursements below $65,000 to be handled outside of the city's procurement code.
"What we've failed to do over the years is to look at things as a continuum … we've looked at it isolated," Korman said, echoing Curry's own concerns about a lack of measurable outcomes in the current model.
Despite Korman and others expressing confidence in the bill, Councilman Dennis pushed for deferral given the preponderance of open questions.
"I feel rushed," Dennis said.
Korman Shelton noted that all Councilors have been briefed, including with the changes, and that copies were provided Thursday.
"If KHA does pass," she said, "we want to come back with board appointments. We ask you to let this go forward."
Just as the vote was about to drop, Dennis dropped an amendment: that members reside in Duval school districts, one member per district, precluding residents of other counties with business or philanthropic interests from serving.
The goal: a "good cross-section" of people throughout this city.
The administration balked at that amendment. An amendment to the amendment, which proposed six members from Duval school districts with another member from the outside, was also a non-starter.
Council President Anna Brosche noted that, despite administration qualms, it's a priority of hers to have Duval County residents in these roles — and that the ordinance should reflect that.
Dennis offered a revision to his amendment, striking the school district clause, yet maintaining that "these seven members need to be from Duval County."
"Is there a short list? Have we identified people from outside Duval County?"
Dennis wanted "transparency" on that count. The amendment passed, ensuring that Duval County residency would be a factor in board composition — and allowing Dennis to score a political victory over the administration.
Dennis noted that he had questions also, and suggested — again — that deferral was the best course of action.
Dennis motioned for deferral. The motion died.
The bill was approved 6-1, with Dennis in opposition.
The bill has two committee stops Tuesday — Finance, which is chaired by Councilman Dennis, followed by Rules.
Council President Brosche had at least a dozen detail questions that she put on the record for those committee discussions, so expect those meetings to be lively games of inside baseball.
"There seems to be a throwing out of the baby with the bathwater," Brosche said in the midst of a lengthy recitation of qualms about the legislation as currently drafted.