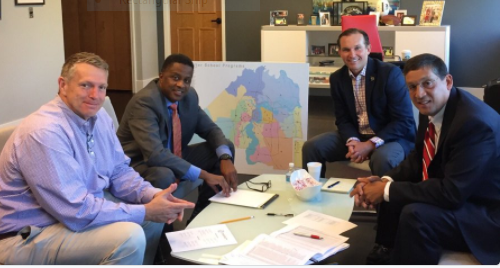 Jacksonville City Councilman Reggie Brown has became a point man on Mayor Lenny Curry's push to boost after-school program funding this year.
However, Brown's 2016 financial disclosure form reveals that he has received secondary income of almost $10,000 from one of those organizations tasked with running after-school programs.
Brown says there is no conflict of interest because the money he received from the organization had nothing to do with the $360,000 allocation to "Communities in Schools."
This assertion was made despite the allocation coming after he took an active role in the process.
____
"Communities in Schools" got $360,000 in an August round of funding from the city of Jacksonville, for three sites serving 80 kids. One of those sites — at Pickett Elementary School — is in Brown's district.
According to a press release from the mayor, Brown, a member of the Council Finance Committee, was slated to "introduce an amendment at the proper time during the budget process to appropriate the funds," during the budget process in August.
And the funds were appropriated. However, despite Brown having gotten paid $9,375 from CIS — a fact reported on a disclosure received by the Florida Commission on Ethics on July 21, 2017 — Brown asserts that money or any previous contractual relationship had nothing to do with CIS getting $360,000 that may not have been available otherwise.
"CIS summer and afterschool programs were granted their sites based on rankings from RFP scores," Brown asserted via text Monday.
There was, said Brown, "absolutely not a conflict."
"My vote was for all after school providers. I've worked for other providers in the past that received funds," Brown said.
Brown said he would have recused his vote had there been a conflict.
"If I was currently employed with any provider receiving funds," Brown said, "I know to recuse my vote."
"Tell the world to keep trying," Brown added.
Brown had gotten paid from CIS for his participation in the "AmeriCorps Veterans to Success Program," which was intended to use veterans to "recruit military speakers" and "coordinate activities for miliary students in Duval County."
____
Brown sought to take an active role in the process of revamping funding formulas for afterschool programs and summer camp programs as early as June, reported the Florida Times-Union.
The second-term Democrat called a special Council meeting to address these issues.
Parents and non-profits, said Brown, were "not calling the [Jacksonville Children's Commission] board members. They're calling me. So if they're calling me, let me be a part of the process."
At least one of those affected non-profits had a direct line to Brown, per the financial disclosure report.
____
Amidst all of this drama, City Council is mulling Curry's proposal for the Kids Hope Alliance, which — ironically enough — would replace the Jacksonville Journey and the Jacksonville Children's Commission.
The summer camp budgeting of the JCC — which decided to spend more per-pupil for students, despite having a fixed budget, thus ensuring a shortage of openings compared to previous years — was what kicked off the KHA push.
A "frustrated" Curry introduced a measure for summer-camp funding that was framed as a "band-aid" and a prelude to reforms such as those currently under consideration by Councilman Brown and his 18 colleagues.