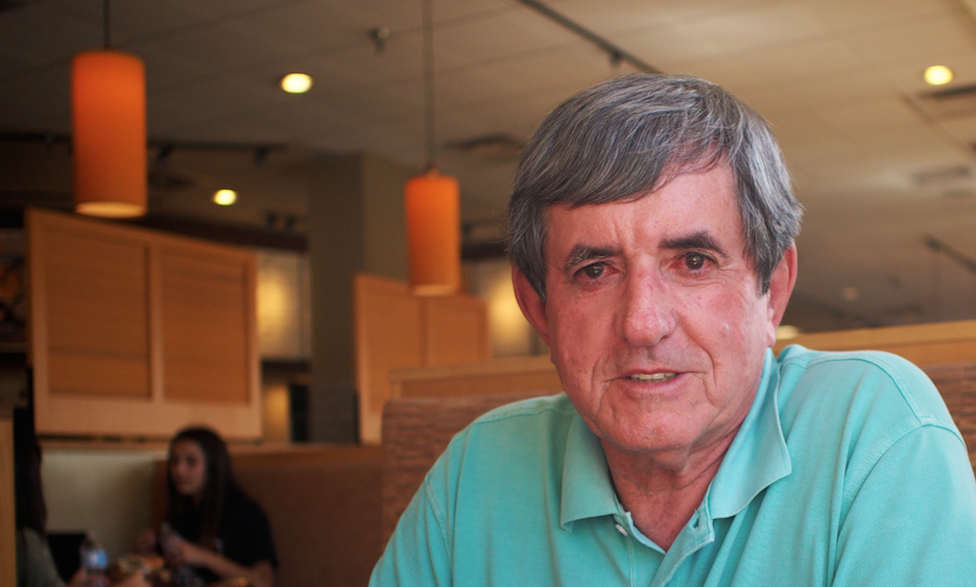 As Orange County Commissioner Pete Clarke looks back on his long and deep involvement in civic organizations leading to election to the commission, and now to a run for mayor, he's not quite sure how he ever got so involved, but he can't imagine not having been so active.
With a profession in health care management, Clarke first got pulled into civic involvement when he was running a facility for abused and neglected children, and the experience led to further interests in dealing, through private and non-profit groups, to solve a variety of social ills. It's who he is as he runs for mayor, Clarke said.
"I've been a community person through a variety of organizations. I have abilities and talents I think that will certainly play a role in the next four to eight years to the challenges I see coming," he said, sitting down this week with Orlando-Rising.
Clarke, in his second term on the commission, filed Tuesday to run for Orange County mayor in 2018. That put him into a rapidly-growing field that includes Orange County Sheriff Jerry Demings, Orange County School Board Chairman Bill Sublette, and Orlando regional chamber of commerce president Rob Panepinto.
The election is non-partisan but the parties are fighting for it. Mayor Teresa Jacobs, who is leaving due to term limits, Clarke, Sublette and Panapinto are Republicans; Demings, a Democrat.
Clarke has positioned himself as a small-government advocate who believes the county's most important role may be as a facilitator, bringing public and private interests together to tackle issues ranging from chronic poverty to the current anticipated influx of Puerto Ricans to Orlando.
Clarke talks about government's need to stay out of the way of business. Still, he's cautious about the county allowing development beyond its 1998 service boundaries and voted against the controversial developments planned east of the Econlockhatchee River last year. Instead he said the county needs to follow the model set by Mayor Richard Crotty more than a decade ago in planning the road network, then inviting in development, for what became the Innovation Way corridor in southeast Orange.
He's concerned about protecting water sources, which he calls a "fragile" resource, adjusting to potential tax revenue losses from the homestead exemption law changes, and the expected migration of tens of thousands, perhaps more, Hurricane Maria-displaced people from Puerto Rico and the Virgin Islands. Clarke, whose District 3 includes a very large Puerto Rican community, has been highly-active in relief efforts, in his typically low-key way, and also critical of Jacobs' reluctance to get the county more involved in coordinating those efforts.
He's convinced the key to raising neighborhoods out of chronic poverty and crime is to get them to feel and function more like neighborhoods, with clean streets, street lighting that works, and community partnerships that make people like living there.
Such socially-focused issues, from improving impoverished, high-crime neighborhoods to helping children, are his bailiwick, his passion, and his priority. That's where government needs to leverage the brand names and infrastructures of non-profits and businesses, who he said can tackle problems far more efficiently than direct government services.
"Government should be a facilitator. You can see it from the community, and my experience with not-for-profits, how we created the created the Primary Care Access Network, how we dealt with after-school zones with the YMCA and the Boys and Girls Clubs, the central receiving center through Aspire, the juvenile assessment center through HSA. Really we always turn to the private sector because they can do it quicker," Clarke said. "These are programs that give great results."
And they improve the community, he said, not just for the affected residents, but overall, he insisted; and that attracts businesses, especially the big corporations.
"You look at all these issues and what we try to do to attack them, I think it makes us a much more attractive community for them to come to. Because corporations today are looking for communities that are not afraid to invest social capital, to tackle social issues," Clarke said.
"So I think how we do that makes us more attractive to these big-paying companies. That's another thing we can put out there, that we are attacking these issues. It really is, it's kind of underneath the veneer. Underneath the veneer is how friendly are you? How do you value education? How do you value different opinions? How do you bring people to the table to address questions? And how do you address newcomers?" he added.