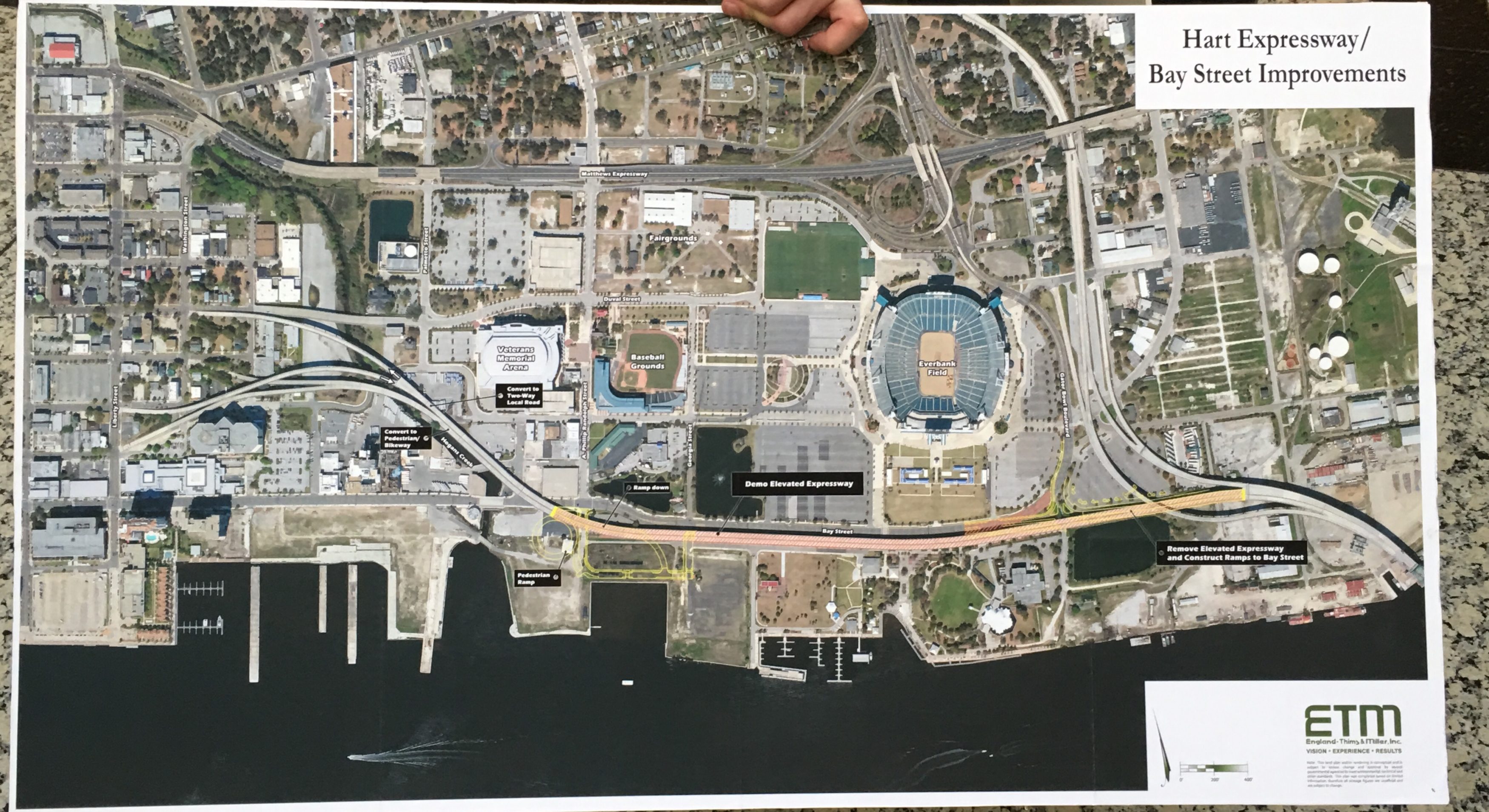 Last November, Jacksonville Mayor Lenny Curry made an audacious ask of the Duval County Legislative Delegation: $50M to remove and replace the Hart Bridge offramps.
"The ramps were originally designed to bypass the industrialized waterfront," Curry said in 2016, a purpose outmoded in the half-century since the original construction.
Curry's ask: "To knock the [current] ramp down," and create a traffic flow onto Bay Street, thus resolving a "public safety issue, a traffic flow issue, a downtown in-and-out issue also."
The Duval Delegation didn't carry this ask, and as a result, Curry changed his strategy — leading to a bill now under consideration by the local City Council, a measure that would allocate $1.5 million for a feasibility study for the project.
On Tuesday, the Finance Committee approved the bill — the second and final committee to OK the legislation, setting it up for Council approval via the consent agenda Tuesday night.
The project is deemed necessary by the Curry administration, which has invested in capital projects for the Sports Complex, and which anticipates a ramp-up for the Shipyards rehab project from Jaguars owner Shad Khan.
And the rationale for the project has evolved as well — to improve freight traffic to the port, a rationale not mentioned in 2016, via Talleyrand Avenue.
Chief Administrative Officer Sam Mousa said the money was to create a "design criteria project," a prerequisite for moving forward on this "shovel-ready project."
This design criteria project could be done in as few as four months, or as many as eight.
This would include a survey of the current conditions, preliminary design alignments (such as lane location and speed rates), and other such basic criteria.
This $1.5 million is important, said Mousa, because the city is pursuing a federal infrastructure grant of $25 million, with $12.5 million from the state of Florida in matching money and $12.5 million from the city.
Stakes are high: if the federal money falls through, so does the matching money from the state.
Jacksonville has one of three similar grant applications pending with the federal government, currently, though there is no timetable on when a grant may be approved.
Once the DCP is complete, the project could take 30 to 36 months.
"We're not asking you to appropriate the $12.5 million," Mousa said in Monday's committee, noting that the federal grant would be for "freight movement," which the FDOT says would be "highly improved" by bringing the ramp down, "providing easier access to Talleyrand Avenue."
The project would provide for "free-flowing truck traffic," with a T intersection at Gator Bowl Boulevard to route traffic onto Talleyrand Avenue, to help transport freight.