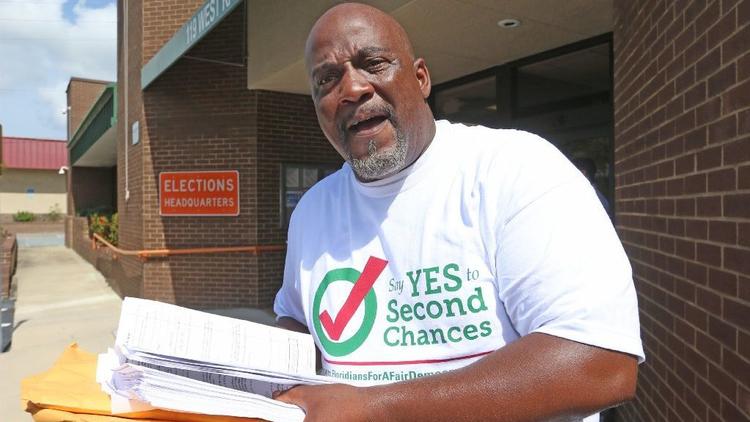 The main backer of a proposed constitutional amendment that would automatically restore some felons' voting rights after they complete their sentences says his group now has collected over 750,000 signatures.
Desmond Meade, president of the Florida Rights Restoration Coalition, also said on Wednesday that he's confident the amendment will have a million signatures by year's end.
"The needle is moving," he said in a phone interview.
The Florida Division of Elections website showed as of the end of Wednesday that the citizen ballot initiative, known as "The Voting Restoration Amendment," has 301,064 verified signatures.
Initiatives need 766,200 valid signatures for ballot placement. Signatures must be spread across Florida's 27 congressional districts, with the total number due pegged to voter turnout in the most recent presidential election.
According to the ballot summary, "This amendment restores the voting rights of Floridians with felony convictions after they complete all terms of their sentence including parole or probation.
"The amendment would not apply to those convicted of murder or sexual offenses, who would continue to be permanently barred from voting unless the Governor and Cabinet vote to restore their voting rights on a case by case basis."
Former state Senate Democratic Leaders Arthenia Joyner of Tampa and Chris Smith of Fort Lauderdale separately filed the proposal with the Constitution Revision Commission, which has the power to put it directly on the ballot.
During his term as Florida governor, then-Republican Charlie Crist worked with Cabinet members Alex Sink and Charles Bronson to push through restoration of rights for more than 150,000 non-violent felons. That process was quickly halted by Gov. Rick Scott when he took office in 2011.
Current law requires Florida convicts to wait years after they complete their sentences to apply for rights restoration through the Board of Executive Clemency, made up of Scott and members of the Cabinet.
• Additional reporting by Peter Schorsch •