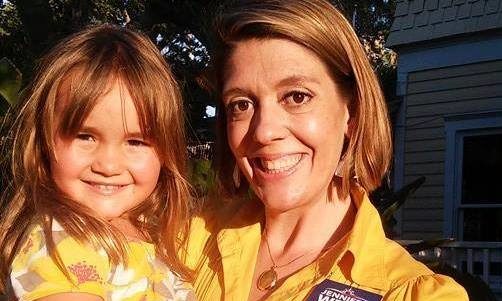 Jennifer Webb will try again to win a seat in the Florida House. And this time, she probably has a better chance of winning.
The Democrat filed Friday to run again in House District 69, which is currently occupied by Kathleen Peters. The South Pasadena Republican defeated Webb in 2016.
"I'm excited to launch our campaign to fight for our community up in Tallahassee, where their priorities have become badly out of step with those of our families here in Pinellas," Webb said in an email to Florida Politics. "We believe this race represents a great opportunity to deliver much-needed change in the Florida Legislature on behalf of those that need it most."
The good news for Webb, a resident of Gulfport,  is that Peters announced earlier this year that she is seeking a seat on the Pinellas County Commission in 2018, thereby creating an open seat in battleground Pinellas County.
Until June, Webb was the Director of Community Partnerships at USF's Office of Community Engagement and Partnerships Currently, she serves as managing partner at leadership and consulting firm Publicus and as CEO of Think Tampa Bay.
In her previous campaign against Peters, Webb blasted the incumbent for an earlier House vote on fracking in Florida — which would have authorized fracking and banned local governments from regulating the practice. The bill subsequently died in the Senate.
"She could have helped bring a bill that banned fracking, so we could have voted to protect Florida once and for all," Webb told the Tampa Bay Times.
Peters defeated Webb in that race 57 to 43 percent, winning her third term in the House.
"She outspent us 4-1," Webb told reporters on the day after Election Day. "It was an uphill battle, but there are still votes to be counted."
Webb graduated summa cum laude with a BA in History and in Anthropology from Louisiana State University. She later moved to Massachusetts to work in the workforce and economic development fields before coming to Florida, where she earned her MA in Applied Anthropology from USF.
House District 69 covers the south Pinellas beach communities from Redington Shores to Fort DeSoto, as well as portions of St. Petersburg, Gulfport, Kenneth City, and Pinellas Park.
With 36 percent of the district's voter registration, Republicans maintain a slight lead over the Democrats' 35 percent. Independents and minor parties make up 29 percent of the district.
Already three Republicans have filed for the seat.
No matter what the demographics suggest, HD 69 is a Pinellas-based seat, which means it can get squirrelly for any candidate who is overtly partisan. Peters was viewed as a moderate voice in the House, as were Jim Frishe and Dennis Jones, both of whom represented part of the district before her.