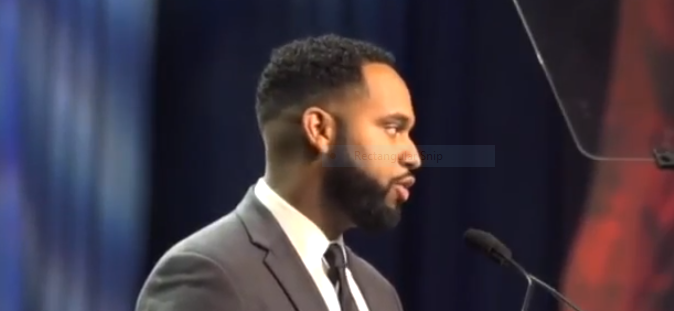 It was only a matter of time before U.S. Rep. Al Lawson, a Tallahassee Democrat, drew a primary challenge in Florida's 5th Congressional District.
However, that challenge isn't coming from former Jacksonville Mayor Alvin Brown, at least not yet.
Rather, the first primary opponent for Lawson is Rontel Batie, a 29 year-old former Tallahassee lobbyist and former Corrine Brown policy director who overcame a lot of childhood adversity, including but not limited to his father being killed in a drive-by shooting and serious poverty.
Batie framed that as part of his narrative, both in a campaign launch video, and a press release, in which he claimed to have "excited the millennial base in Tallahassee and Jacksonville with his campaign launch video, which now has over 7,000 views and over 300 shares on Facebook. Young people in this district are a demographic that have been in a political slumber since the election of President Barack Obama in 2012."
Batie claims to have received 50 donations thus far for his committee, "Rontel for Florida," but he didn't want to say how much cash he has on hand. (To put that in perspective, Lawson had $190,126 raised (all but $51,000 of that from committees), with $97,876 cash on hand at the end of September).
Batie, who worked in D.C. for Congresswoman Brown, was surprisingly removed from the details of her high-profile court case that ended her political career and set up sentencing for next week on 18 felony counts.
"I didn't follow the case," Batie said, "but I never saw her do anything illegal."
Corrine Brown, as we reported exclusively, was introducing Alvin Brown to power players in D.C., which many would interpret as a signal of support.
Batie hasn't talked to Corrine Brown about his campaign; he is giving her "space to process" her legal issues.
Likewise, Batie had little to say about Alvin Brown.
"I don't know much about him," Batie said, other than "he was mayor for a brief stint."
(Alvin Brown served a full four-year term from 2011 to 2015.)
Batie, a St. Augustine native, moved to Jacksonville a few months back; however, he said "that district is home to me in more ways than one."
He's a FAMU alum, for one thing. And he has spent most of his time in Jacksonville, with family in the area.
As well, he sees himself as having a unique value add, having had "very different experiences than Brown and Lawson" in terms of the adversity he has overcome.
He started working when he was 12 — his first job being cleaning the restrooms at a Greyhound station. And he sees his narrative as one that is relatable to people in the district.
(Of course, both Alvin Brown and Al Lawson have their own documented rises from childhood adversity as well).
Batie counts among his policy accomplishments the writing of the Land Grant Opportunity Act, which bolsters HBCUs.
Batie also notes that Florida is long overdue for a Millennial person of color to go to Congress.
"The last time Florida sent a person of color that was my age to Congress was 1871," Batie related. "If you are a person of color and under 40, you have no representation in Congress."
Will a millennial wave manifest for Batie? Time will tell.