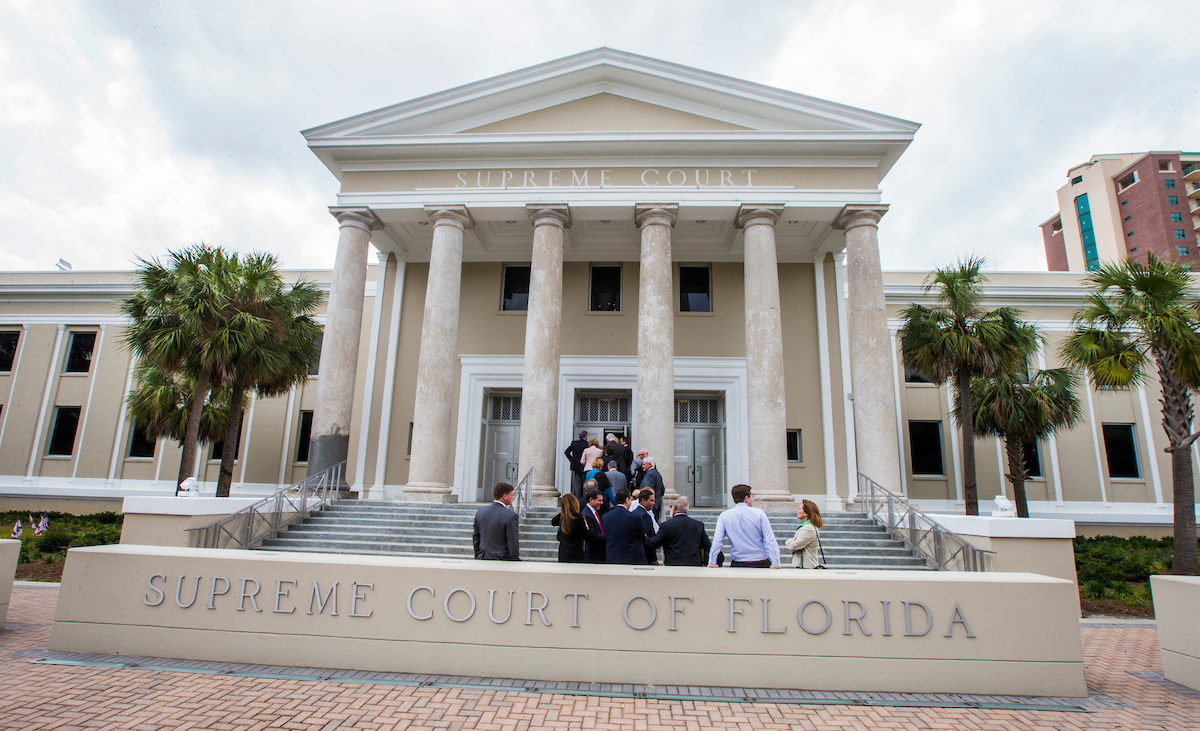 An attorney for Gov. Rick Scott has filed a public records request with the state Supreme Court over last week's ambiguous "hot mic" conversation between Chief Justice Jorge Labarga and Justice Barbara Pariente.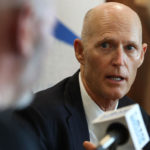 But Scott stopped short Tuesday of saying whether he will ask the two justices to recuse themselves from further involvement in a case over his judicial appointment power.
The request, filed Monday, seeks "any and all documents reviewed or discussed" by the two jurists after Wednesday's oral argument and "raw, native, uncompressed audio" of the conversation.
With a microphone cutting in and out, the justices had seemed to be referring to a piece of paper and discussing membership of the Supreme Court's Judicial Nominating Commission (JNC), which vets and recommends appointees for Supreme Court justice to the governor.
This week's record request was signed by Scott's general counsel Dan Nordby, who also argued the case on Wednesday.
"Let's find out what was going on," Scott said, speaking with reporters after Tuesday's Cabinet meeting. "We expect judges to be impartial. We expect them to simply do their job.
"What document were they talking about? What were they talking about?" he added. "It's incumbent on everybody to understand what was being discussed."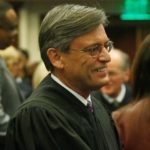 When asked if he were interested in pursuing recusals of Labarga and Pariente from his case, the governor said, "I think we have to find out. Let's put the facts on the table. Then we can make a decision of how we should go forward."
The case in question was brought by the League of Women Voters of Florida (LWVF) and Common Cause, claiming Scott doesn't have authority to appoint three new Supreme Court justices on the last day of his term.
Scott, a Naples Republican, has said he plans to name the replacements for the court's liberal-leaning trio of Justices R. Fred Lewis, Pariente and Peggy A. Quince. They face mandatory retirement on the same day—Jan. 8, 2019—that is Scott's last in office as governor. He's term limited next year.
Moments after the argument ended, Labarga can first be heard on a recording from the courtroom saying what sounds like, "…anything on there, Panuccio." Jesse Panuccio, once Gov. Rick Scott's general counsel and a former head of the Florida Department of Economic Opportunity, is a member of the Supreme Court JNC.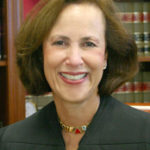 Pariente then can be heard saying what sounds like, "…crazy…" That's followed by Labarga: "Izzy Reyes is on there, he'll listen to me."
JNC member Israel U. Reyes is founder of The Reyes Law Firm in Coral Gables and a former circuit judge. Pariente responds, but what she says isn't clear.
Requests for comment have been left with League President Pamela Goodman, its attorney John S. Mills, and Supreme Court spokesman Craig Waters. Reyes has not responded to a previous request for comment.
Updated Tuesday night: Waters wrote in an email to Florida Politics, "We have responded to the Governor's public record request. Attached is that response."
The piece of paper on the bench that Pariente and Labarga were ostensibly referring to was a current membership list of the Supreme Court Judicial Nominating Committee. That document was not "in the record" for the judicial appointments case being argued.
A video of the exchange is now posted on YouTube here.