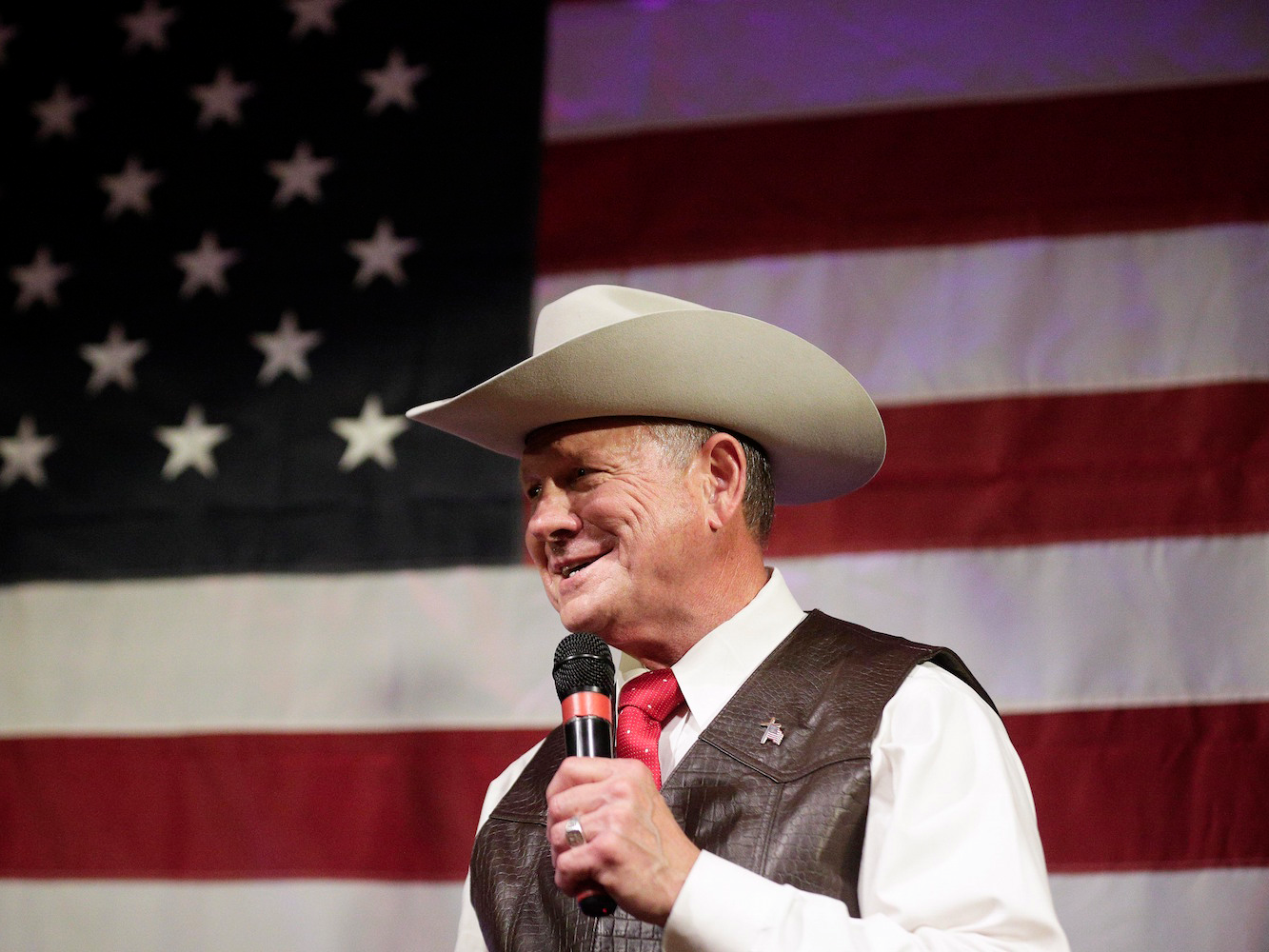 From the moment years ago when Republicans decided victory was worth whatever the cost to their party's soul, Roy Moore has been lurking out there, waiting for his chance to scream "yeehaw" on the national stage.
Well, he is here now, Republicans. He could still be elected to the U.S. Senate from Alabama, even after the Washington Post reported that when Moore was in his 30s, he had multiple sexual encounters with under-aged girls, including a 14-year-old. Polls still show a tight race.
Republicans looked the other way while Moore's peculiar brand of public policy began gaining grassroots acceptance, including here in Florida, and now they don't know what to do with him. Denounce him too strongly and a candidate could lose the almighty GOP "base." Speak softly and they could soon have a pariah in their midst, one dedicated to replace them all with more people who think like he does.
Tough choice, eh? Moore is one of the heroes in a movement where what he says – and how supporters believe he will vote – is far more important than what he does, and how do you deal with that?
Yes, many prominent Republicans, including Florida Sen. Marco Rubio, have called for him to drop out of the race "IF" the allegations are proven true. That's not exactly a Profiles in Courage stance, given that even though the Post named his accusers, this all happened about 40 years ago.
This is how Republicans believe they have to operate since they fell in line while Donald Trump took over their party (with fewer votes than Hillary Clinton) after a campaign of lies, insults and dark imagery – and maybe with a little help from his BFF Vladimir Putin.
Trump figured, correctly, that the Republican Party would be easier to hijack than Democrats. The new GOP, as envisioned by Steve Bannon, will be filled with people like Roy Moore – gun-waving, rights-trampling, Constitution-spitting fireballs with no regard for any view but their own.
"There's a coalition coming together that's going to challenge every Republican incumbent except for Ted Cruz," Bannon told Sean Hannity. "We are declaring war on the Republican establishment that does not back the agenda Trump ran on. Nobody is safe. We're coming after all of them. And we're going to win."
The wingnut faction of the GOP doesn't care about law, fairness or diversity. They wrap themselves in the flag and the Bible, but don't really seem to have a clue what either one stands for.
They believe in their self-righteousness to the exclusion of all else. They see themselves as the only true Americans and patriots. They don't understand why anyone would be upset over the revelations about Moore.
Is this a good time to mention Moore started The Foundation for Moral Law? It's true. Try not to laugh.
That group is decidedly Old Testament, finger-wagging "Thou Shalt Not" about the usual things that upset social conservatives. When one of their members is exposed in the way Moore was, they dismiss it as liberal lies.
The more publicity things like this get, the more hardened their stance becomes. Their self-righteousness is reinforced by hard-right outlets like Breitbart, and even if Moore loses and Republicans are walloped in the 2018 midterm elections, the true believers won't be deterred.
They will blame the loss on a combination of gutless mainstream Republicans and the despised liberal media. They will see statesmanship as betrayal to their ideals. They will view any loss as a temporary setback.
Roy Moore's supporters in Alabama see this election as another step toward taking their country back from all those liberals, scientists, elitists, Hollywood types and educated smarty pants who stole it. This isn't a threat as much as it is the plan.