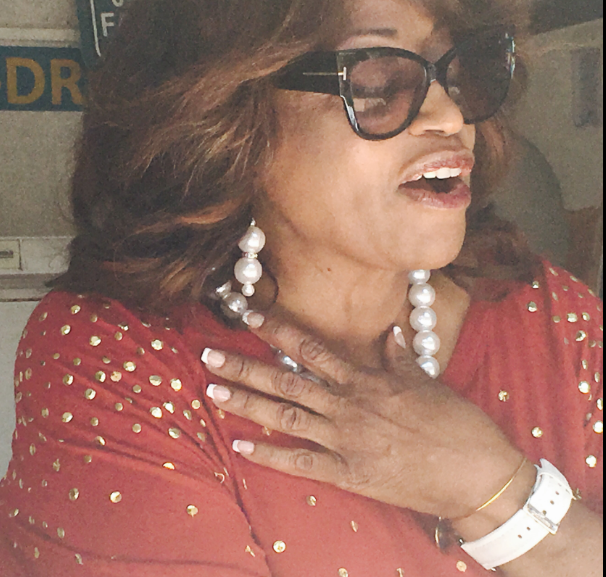 Wednesday saw Carla Wiley and Ronnie Simmons in Jacksonville's federal courthouse for sentencing hearings in the One Door for Education case.
Wiley, the former CEO of the sham charity, and Simmons, Wiley's former boyfriend who was also Corrine Brown's chief of staff, are to be sentenced Dec. 4 along with former Rep. Brown.
The only question left to answer: will they get prison or probation?
The feds are willing to give Wiley as few as 21 months, and Simmons as few as 33 months; both sentences were granted a sentence reduction due to "substantial assistance" in the case against the former Congresswoman.
Simmons pleaded guilty to two counts: a conspiracy charge, as well as theft of government funds — for congressional staff pay for a relative who didn't actually do work.
Wiley pleaded guilty to conspiracy to commit wire fraud — a count that could have meant up to 20 years in prison, but mitigating circumstances will cut that sentence.
____
Wiley, represented by Gray Thomas and Virginia Lt. Gov. Elect Justin Fairfax, contended that she had a "minor role" in the scheme, which would justify a role reduction beyond that recommended by the government.
Wiley had limited participation, "decision-making authority," and benefit, Thomas continued.
"While she bought the car, she gave the keys to Mr. Simmons," Thomas added.
The feds had their own take, via US Attorney Eric Olsham.
"Ms. Wiley was not substantially less culpable," Olsham said, noting that she "knew" as early as 2013 that "One Door was not doing what they were telling people" as she continued to take money out of the account.
"It doesn't really absolve her of culpability," Olsham said. "She continued to benefit substantially … to the tune of $182,000 and change."
Judge Timothy Corrigan sided with the prosecution, and promised a written order giving more detail to that effect.
"I don't think it's particularly a close call," Corrigan said.
____
US prosecutor A. Tysen Duva discussed the suggested reductions of sentences based on the aforementioned substantial assistance — so-called "5K" motions filed by the government to factor in assistance from the defendants against Brown.
Duva noted Wiley making the "very difficult decision to cooperate" immediately, "taking a substantial leap of faith as she didn't know what was coming next," offering "important cooperation" regarding the case against Simmons.
"Her cooperation strengthened a good case against Simmons … her attitude was stellar," Duva added, citing her "authentic" remorse and "deliberate" veracity — all of which justifies a six-level sentence reduction.
"She had to withstand lots of media scrutiny," Duva noted, and also had to withstand Brown attempting to pin the blame on Wiley.
Her testimony, meanwhile, "gave the jury a feel of who Carla Wiley is," allowing them to understand how the charity metastasized into conspiracy.
Justin Fairfax, on behalf of Wiley, said that "six levels is the minimum" acceptable sentence mitigation.
"Wiley cooperated virtually immediately," Fairfax said, reaching out to the FBI just hours after the initial interrogation.
Two weeks after the initial approach, Fairfax said, Wiley was actively cooperating with the government.
"She did this far before there was any certainty that anyone else would be held accountable in this case," Fairfax said.
Fairfax mentioned Simmons' recommended five-level reduction, saying his client was much more readily cooperative than Simmons, who pleaded out "much later" after his own indictment.
"A one-point difference in the recommendation doesn't accurately reflect the cooperation of the defendants," Fairfax said.
Prosceutor Duva allowed that "maybe we didn't" get the levels right.
"It was a difficult decision," Duva said, noting that "the relationship Simmons severed was almost a parent-child situation."
"She was his mentor … that decision had to be heartbreaking," Duva added. "I think five is appropriate."
"To have Ronnie Simmons on the witness stand allowed things to come out that wouldn't have come out," Duva said, citing the mechanics of the transactions, which often included Simmons taking the money out of the One Door account and distributing it.
"We had a very long meeting with Mr. Simmons," Duva said, who noted that he struggled at first but cooperated in the end.
Anthony Suarez, on behalf of Simmons, noted that his client's help was "critical," and that even the recommended sentence doesn't account for the "crisis" he was going through.
Suarez noted that Brown actually interviewed him to be her own lawyer, finding out at the last minute he was going to represent Simmons — a measure of the trust between Simmons and Brown.
Suarez spoke at considerable length about Simmons' awe of Brown, and deep respect for her.
"The quality of the testimony was so much more critical," Suarez said, noting that "he had to turn his back on Brown [and friends] after 24 years."
"Currently with the five level reduction, we'd be at 33 to 41 months. I think we need to get to something less than 20 months," Suarez said. "He had to change his life, his friends — he had to change everything."
"He's taking his medicine, but he crossed a long way to get here," Suarez added.
Judge Timothy Corrigan ruled on the "5K" motions, citing principles of substantial assistance.
The assistance was "significant" from both parties, Corrigan said, and "early" in Wiley's case.
Corrigan accepted the six-level reduction in the case of Wiley, but wouldn't go beyond that, leading to a 21-27 month "guideline exposure." Before the 5K motion, she would have had 41-51 months in prison.
Additionally, Wiley is potentially on the hook for restitution, 1-3 years of supervised probation, and $50,000 to $100,000 of fines.
Regarding Simmons, who was facing 57-71 months before the 5K motion factored in, there was also some good news relative to the 5K motion. (In addition to 1-3 years of supervised release, significant restitution, $20,000 – $200,000 in fines.)
The government's motion was granted for a five-level reduction, which cuts potential prison time for Simmons to 33-41 months.
"This is just the beginning of the process," Corrigan noted, adding that sentences could vary from the guidelines.
____
Of course, neither Simmons nor Wiley will avoid prison altogether, if the feds have anything to say about it.
"Without Wiley, this doesn't happen," noted federal prosecutor Eric Olsham. "She had the opportunity at any point from 2013 on to put a stop to it. She didn't."
Olsham allowed that mitigating factors could put Wiley's prison stretch below the advisory level of 21-33 months.
Gray Thomas, on behalf of Wiley, described a "little charity that didn't do anything" until she had a relationship with Simmons.
"She has not from day one tried to run from what she did," Thomas said, describing Wiley as devoted to her mother and a pillar of her community, via recommending a "non-incarcerative sentence" with probation and home confinement as appropriate sanctions.
Judge Corrigan objected, noting that Wiley had control of the charity and materially benefited from the fraud.
"What accountability does the law require for this," Corrigan asked. "This was not an isolated event, nor was it minor fraud. A lot of money was coming in, a lot of money was going out — and $182,000 of that was going to your client."
"Wiley didn't have to turn this over to Simmons and say 'here, go for it'." Corrigan noted.
Wiley's co-counsel, Justin Fairfax, noted that she came forward despite pressure from Ronnie Simmons to stay mum, and that she has "been through so much in the last 22 months," including losing her mother, "for whom the scholarship was intended to honor."
Sending her to a federal prison, Fairfax said, "would break this woman."
Wiley had her say also, starting off with an apology to everyone who has been affected by her actions.
"Since the beginning, I have taken responsibility for my actions," Wiley said, citing a desire to "help" seniors and kids.
"This ordeal has been more than an awakening," Wiley added.
"One Door for Education was not set up to do any harm for anyone. It was set up to honor my mother," Wiley said, vowing to continue to honor her mother, who died two months ago.
"I am not self-serving. I am someone who made a mistake," Wiley added.
"It got out of control very quickly, and sometimes when they get out of control, you don't know how to bring them back," Wiley said. "I don't have any one answer how that happened."
"The worst part," Wiley said, was leaving her mother — who was in a lot of pain.
When Brown was found guilty, Wiley found out her mother had just four months to live.
____
Ronnie Simmons closed the afternoon's proceedings.
U.S. Attorney A. Tysen Duva described the case as "one of the top two or three public corruption cases in the history of this courthouse … a significant case" with "deplorable conduct" by a Congresswoman and her chief of staff.
Duva noted that this case came down to something very basic, however; trying to get money to throw a party during Congressional Black Caucus events.
From there, the serial expropriation of funds — "wrong and criminal" — didn't stop.
"I know Simmons severely regrets that," Duva said, but "there was absolutely no intent by Ronnie Simmons to benefit anybody through One Door for Education."
The "clear association" with Brown brought money into the One Door account, and Simmons was the conduit to take it out.
"She became accustomed to getting that money, and Simmons did not tell her no," Duva said, with the fraud spanning the 2012 and 2014 election cycles. "They were stealing together. To not divulge that during an election cycle is extremely poor conduct."
"But once he severed himself from her, he did right," Duva said, citing his decision to roll on Brown as a "very wise choice."
That said, prison is necessary: for deterrence and to show respect for the law, Duva said.
"This sentence needs to send a message to the public that there is zero room for fraudulent conduct by a member of the House of Representatives or her staff. For years and years, Ronnie Simmons and Corrine Brown did not do that," Duva added, eventually saying that donations to One Door may have been "pay to play" in some cases.
Anthony Suarez, on behalf of Simmons, painted a colorful narrative of how Simmons "went from where he came from to the hallowed halls of Washington … an incredible story" that would not have happened without Corrine Brown.
Brown, his sponsor, was uniquely able to manipulate him, Suarez said.
But Simmons, in coming forward, showed his character — as opposed to Brown, "who went her own way."
"The corporate culture of Corrine Brown's office was to do business the way she told you to do business," Suarez said. "Washington and politics is pay to play. That's what she does. That's what she taught him. And there was no way around it."
Many of the donations came from companies with interests with the Transportation Committee in the House, Suarez said, augmenting the "pay to play" motif.
"These people would not have given a check to Ronnie Simmons … just a worker, pushing paper around," Suarez said, contending "he has a lesser role" than Brown.
Simmons' mother, Frances Simmons, described her son as the man of the house; his dad died when he was young.
"Please make our burden light," Simmons said, noting that her son would be better served "mentoring young professionals" than serving a prison stretch.
Suarez suggested that Simmons "go out on a tour," to become a voice "in the community" saying that the system works, becoming an "aide to the perception of justice."
Simmons then spoke on his own behalf, kicking off with an apology to the court and the people of Congressional District 5.
"I am truly remorseful for the actions I took and should have paid better attention," Simmons said, adding that a "period of incarceration would be harmful to me and my family."