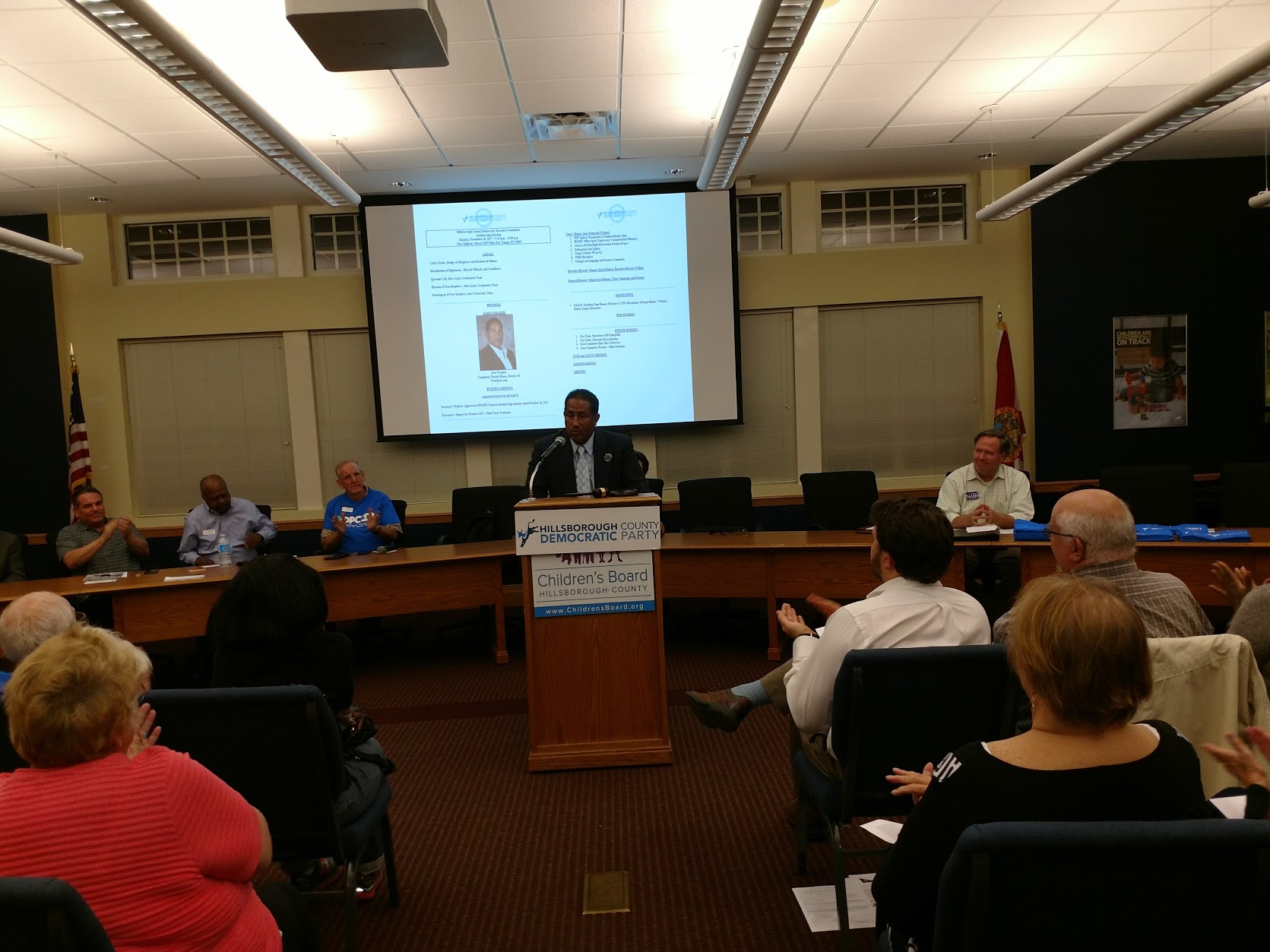 Over the years, Democrat Jose Vazquez ran (and lost) several local elections, mostly without any organized support from the Hillsborough County Party.
But that is starting to change, as the Party is more energized than ever after Donald Trump's stunning election a year ago,
Local Democrats are now hoping to replicate the success they found in the Senate District 40 and St. Petersburg mayoral races this fall in the upcoming House District 58 special election.
Vazquez hasn't always been an easy candidate to embrace. A Puerto Rican native with a thick English accent, he has an extensive criminal background history, including an infamous run for office as a write-in candidate in 2008 against Democratic incumbent Michael Scionti in the House District 48 race  — while still serving time in prison for a felony conviction of driving with a revoked or suspended license in May 2007.
Now on the campaign trail, Vazquez speaks about his arrest record, pivoting to use his past as a strong talking point for his support for restoring ex-felons voting rights, and the plight of poor and minorities in the criminal justice system.
"How many of you have been stopped for a bad light on your car or a cracked windshield? Or some other offense? Did you get a ticket? We're you able to pay the fine?" Vazquez asked a crowd of fellow Democrats gathered at the Hillsborough County Children's Board in Ybor City for the county's Democratic Executive Committee meeting Monday night.
Vazquez explained that just two months after arriving in the U.S. from Puerto Rico in 1999, he was ticketed for a non-moving vehicle violation. He couldn't afford to pay the fine (he was making just $7.25 an hour while working at Tampa International Airport).
Also, Vazquez was homeless at the time and thus never received notice that his license was suspended for nonpayment of the fine.
Although he received several other moving violations, Vazquez says he never received notices since he was homeless, and thus labeled a habitual traffic offender. His driver's license was then suspended for five years, and Vazquez started using a scooter for his transportation. But even that went sour after he was arrested for a law (since rescinded) that all vehicles powered with gasoline required a driver's license to operate.
"I have been a victim of a system that was and is still today stacked against minorities," he said. "People who have limited financial resources and often have to make tough choices between paying fines, paying rent, putting food on the table, paying an electric bill, or hiring an attorney."
He also told the room full of Democrats that while he was also arrested on a domestic violence charge, a charge ultimately dismissed.
Party regulars certainly accept his story — some even say that they are embarrassed over earlier failures to support him in previous races. In 2012, Vazquez ran against Republican Dan Raulerson in HD 58 without any support from the Hillsborough DEC.
In fact, the HCDEC removed any mention of Vasquez from its website in the lead-up to that election, prompting Vazquez to call on then-Party chair Chris Mitchell to resign (he didn't).
Despite that, Vazquez still took 42 percent of the vote in losing to Raulerson, whose resignation from that same seat this summer (due to health issues) has created the need for this special election, scheduled Dec. 19.
"This is a man who was beat down by the Democratic Party," said Hillsborough County state committeeman Ross Patterson. "He has worked and worked and worked for our party, even though we didn't work for him."
As a write-in candidate, Vazquez then took on Tampa Mayor Bob Buckhorn as his only opposition in what was otherwise a coronation for the Tampa leader, who garnered 96 percent in his re-election back in March 2015.
Vazquez, 43, is the father of six children, one with a disability. In his speech Monday night, he talked about defending the disabled, the LGBTA community, expanding Medicaid and working on improving public education.
"Unlike most of our nation's elected officials, I'm familiar with what it is like to struggle, what it's like to live on the margins, paycheck to paycheck, day-to-day," he said. "Too often we elect officials who have no real understanding on what life is like across the tracks, what life is like on 'the other side of town.'"
The crowd bought into his message — literally.
Former DEC Chair Michael Steinberg introduced Vazquez to the crowd by saying that if everyone in attendance (about 100 people) contributed $5 to his campaign, he would match that to get Vazquez $1,000 out of the evening.
He later announced Vazquez had raised $1,015.
Donna Fore, head of the East Hillsborough County Democratic Club, said her group had recently donated $500 to Vazquez campaign, and she encouraged other clubs to follow suit.
Patterson reminded the crowd that there are actually more registered Democrats in HD 58 than Republicans, even though the GOP had dominated control of the seat for several years.
Dover businessman Lawrence McClure is the Republican candidate, and there are two other players in the mix: Libertarian Bryan Zemina and Ahmed Saadaldin, who is with the Green Party (but officially non-party-affiliated) and is, by far, the most progressive candidate in the race.