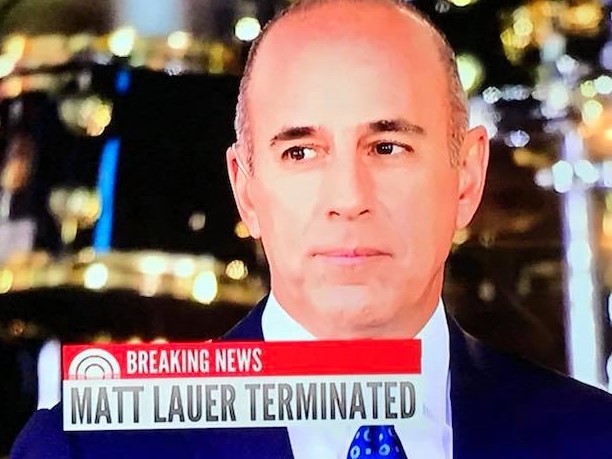 Millions were stunned Wednesday morning when the Today show led with the news that NBC fired host Matt Lauer after receiving a detailed complaint about what it called "inappropriate sexual behavior" from its high-profile morning anchor.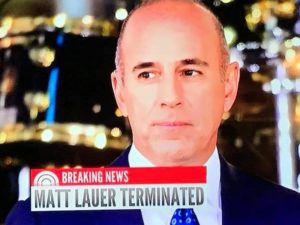 Twitter exploded, the internet erupted, and President Donald Trump couldn't resist taking a jab at NBC, saying top executives also should be fired "for putting out so much fake news."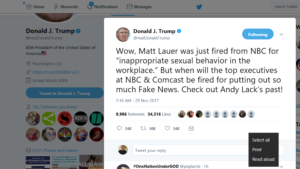 This comes while the president apparently now is saying the infamous Access Hollywood tape might be a fake. That's where he bragged about the advantage he believed his power gave him over women – and he apologized for the behavior last year when the story broke during the campaign.
The New York Times reported the president now is suggesting that the tape was all some Clintonian plot and that it might not have been his voice that we heard. He said his staff is "investigating."
I guess it means he made a fake apology last year, unless Hillary somehow created a devious hologram that made it sound like he was admitting to saying bad, bad things.
Really bad.
But seriously folks, keeping it in the here and now, he has also urged Alabama voters to choose accused pedophile Roy Moore in the upcoming U.S. Senate race because Republicans need his vote to get their political agenda passed.
Way to take a stand, sir.
So, who is doing the right thing here – NBC, or the president?
While no one is saying that a morning news anchor packs the same clout as the president, the loss to NBC is immense. Forbes reported that the Today show generated an estimated $435 million for NBC in 2015 and accounts for about half of the network's annual news budget.
Lauer was paid handsomely for his role in this, an estimated $25 million per year. He sat in the anchor's chair for 20 years and often was the first face TV viewers saw in the morning. People liked and trusted him.
A recent report on closerweekly.com said Lauer was planning to leave when his contract expired in 2018, but, if true, that would have been an exit complete with hype, celebration and blockbuster ratings.
Instead, it is in disgrace.
NBC has pledged transparency on this story, so I assume we will learn more details soon enough about what Lauer did. It had to be reprehensible and verifiable to get him fired, but it had to be worse for the person he harassed. It took guts for her to come forward.
By now, there should be no need for another lecture about the disgusting ways powerful men use their status to intimidate women. Heaven knows we've had enough examples lately.
This story, though, is more about how a major corporation – or the American people – decide how they will handle these stories going forward.
NBC likely will take a major financial hit with Lauer's departure. Viewers will feel betrayed. There will be much work to do to regain the kind of trust the audience gave to Lauer.
The first step toward that already has been taken, though. NBC didn't equivocate once executives believed they had all the facts. They acted swiftly and will take whatever is coming their way from the public.
That's how it should be.
The Today show will continue to come on the air, promptly at 7 a.m. Reporters will continue to cover the major stories – from Matt Lauer, to Roy Moore, to President Trump.
This is what real news outlets do, even when the dirty laundry is their own.