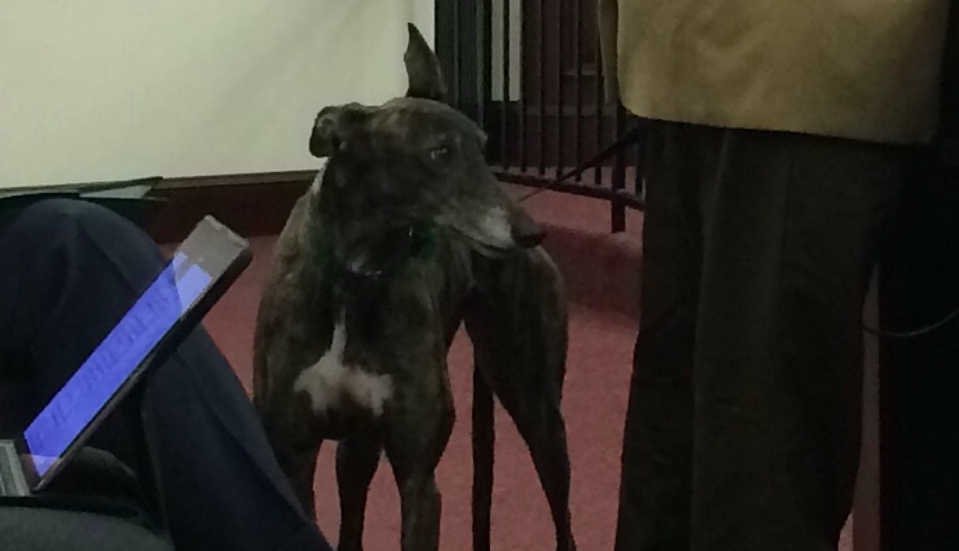 A proposed constitutional amendment to end greyhound racing in the state unanimously cleared its first committee Thursday.
That was right after its sponsor, Commissioner Tom Lee, delivered a fiery speech on the power of—and oncoming peril to—his proposal. Mira, a 7-year-old greyhound and former racing dog, lay a few feet away.
"You haven't heard from the industry today," he told the Constitution Revision Commission's General Provisions Committee. "And that too should be a lesson. They're not here because they knew they could not win today. But they're not gone. They operate in the shadows.
"And you will see exactly why this hasn't gotten done in the Legislature," added Lee, a Republican state senator from Thonotosassa and former Senate President.
"They will find a moment when they see a crack in the armor of what we are trying to do, and then they will emerge. And they will emerge in full force."
Lee's plan to put a stop to dog racing also was amended by the committee to take effect only one year after passage, rather than the three-year phase out Lee envisioned.
Jack Cory, a spokesman and lobbyist for the Florida Greyhound Association, which represents breeders and trainers, penned an op-ed against the proposal for Florida Politics.
On Thursday, he added Lee's plan will "result in the largest expansion of gambling in Florida's history … it would convert all of Florida's dog tracks into mini-casinos, which was amended on to this very bad proposal."
Those in support "have listened to very radical out of state animal rights groups and their misinformed supporters," Cory said in a statement.
The amendment would hurt the "over 3,000 Florida families" in the dog breeding and training business, and "supporters that bet over $80 million on live greyhound racing last year."
But greyhound advocates told stories of dogs forced to lie in cages for 20-22 hours a day and fed meat treated with charcoal because it was otherwise "unfit for human consumption."
Kelly Faircloth, with Greyhound Rescue & Adoptions of Tampa Bay, told commissioners she has seen some animals covered in hundreds of fleas, so many that they look like "a shadow moving on the side of a dog."
Bryan Wilson, who worked on a campaign to pass Seminole County's greyhound injury reporting ordinance, began weeping as he testified.
"This has to go to the people," he said. "… This is a game played too often, but it's a game that affects lives." He paused, choking up. "It is emotional. Those faces need it," Wilson added, pointing to a picture of a dog.
And Kate MacFall, Florida state director of The Humane Society of the United States, said commissioners needed to vote against "business as usual for the tracks," saying Florida should get "out of the business of animal cruelty."
The amendment adopted Thursday, filed by proposal co-sponsor Brecht Heuchan, also ensures that dog tracks offering other gambling, such as cards, won't lose their ability to keep offering those games if dog racing is banned.
Lee's measure next will be considered by the commission's Executive Committee. Any proposal to change the state constitution must be approved by 60 percent of voters on the 2018 statewide ballot.