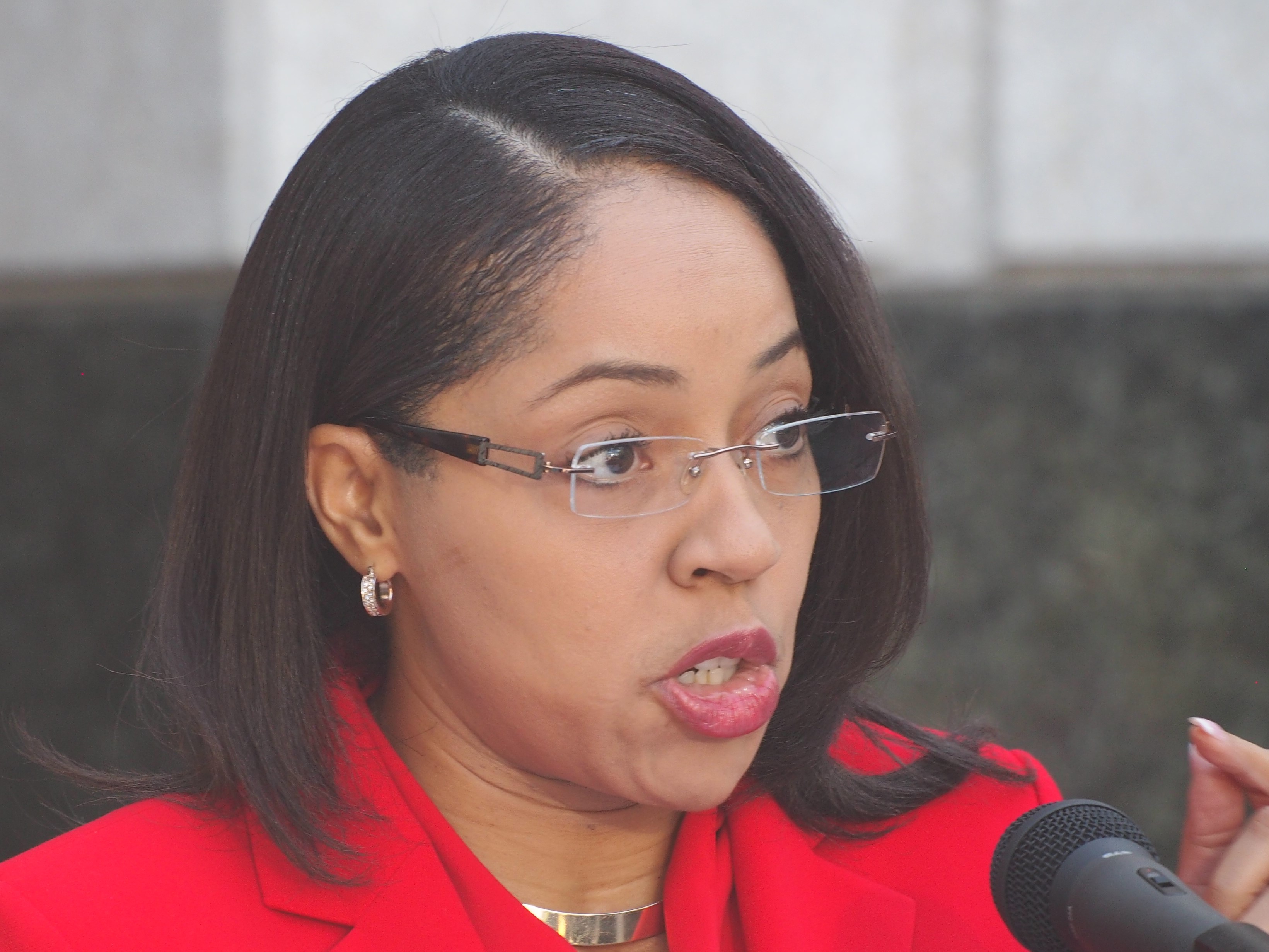 Gov. Rick Scott's administration upped the pressure on Orlando's State Attorney Aramis Ayala with a letter Monday demanding answers on why she apparently missed a deadline for filing notice of a death penalty case and accusing her of possible "willful disregard" of the law.
The letter from Scott's general counsel Daniel Nordby might be setting the stage for a new round of battles between the governor and the state attorney for Florida's 9th Judicial Circuit who refused for months to recognize Florida's capital-punishment law, until she lost a legal battle with Scott in the Florida Supreme Court in August.
Scott had stripped 30 death-penalty cases from her jurisdiction during that time, but resisted harsher calls from her critics who wanted to see him take action, including possible ouster proceedings, against Ayala, who was elected in the fall of 2016, becoming Florida's first African-American state attorney.
Nordby's letter seems to be setting the stage for possible additional actions.
Ayala's office replied late Monday that it had only just received the letter and would reserve any comments until after the office had looked into it.
The current matter hinges on the case of murder suspect Emerita Mapp, charged with killing one man and wounding another during a violent April encounter at a Kissimmee motel. After Ayala agreed to pursue death penalty cases following the Supreme Court decision, using a panel of assistant state attorneys that would not include her, Mapp became the first case that her office elevated to first-degree, capital murder.
But according to Scott, Ayala missed the filing deadline for a required Notice of Intent to Seek Death, when she filed it on Oct. 31, more than three weeks late.
"More troubling, your more recent public comments indicate that you were well aware of the deadline, but knowingly filed the notice long after it had elapsed," Nordby wrote. "At best, this suggests negligence — and at worst, willful disregard — in the faithful performance of the duties of your constitutional office."
Two weeks ago, after Scott first criticized her handling of the Mapp case, Ayala's office disputed that she had missed the deadline, and contended that the capital case against Mapp had not been compromised in any way. She accused Scott of making misleading statements about the case. She also charged that if a deadline had been missed, it would have been Scott's fault, because the governor's office was meticulously identifying and transferring cases out of her office while their dispute over powers was underway at the Florida Supreme Court. And that period included the period of the Mapp case, she argued.
Nordby's letter sought a number of things from Ayala, including explanations about how her dealt penalty review panel works, when it meets, and what it has done so far; explanations of why she had rejected an offer for assistance from Brad King, state attorney for Florida's 5th Judicial Circuit; and all records pertaining to the law firm and public relations firm she hired earlier this year to represent her in the case that went to the Supreme Court.
"In light of your office's delinquent filing — and your ongoing attempts to blame others for your office's failures — Floridians deserve to better understand what happened and what you intend to do to remedy the situation, and what steps you intend to take to ensure that a similar failure will never occur again," Nordby wrote.