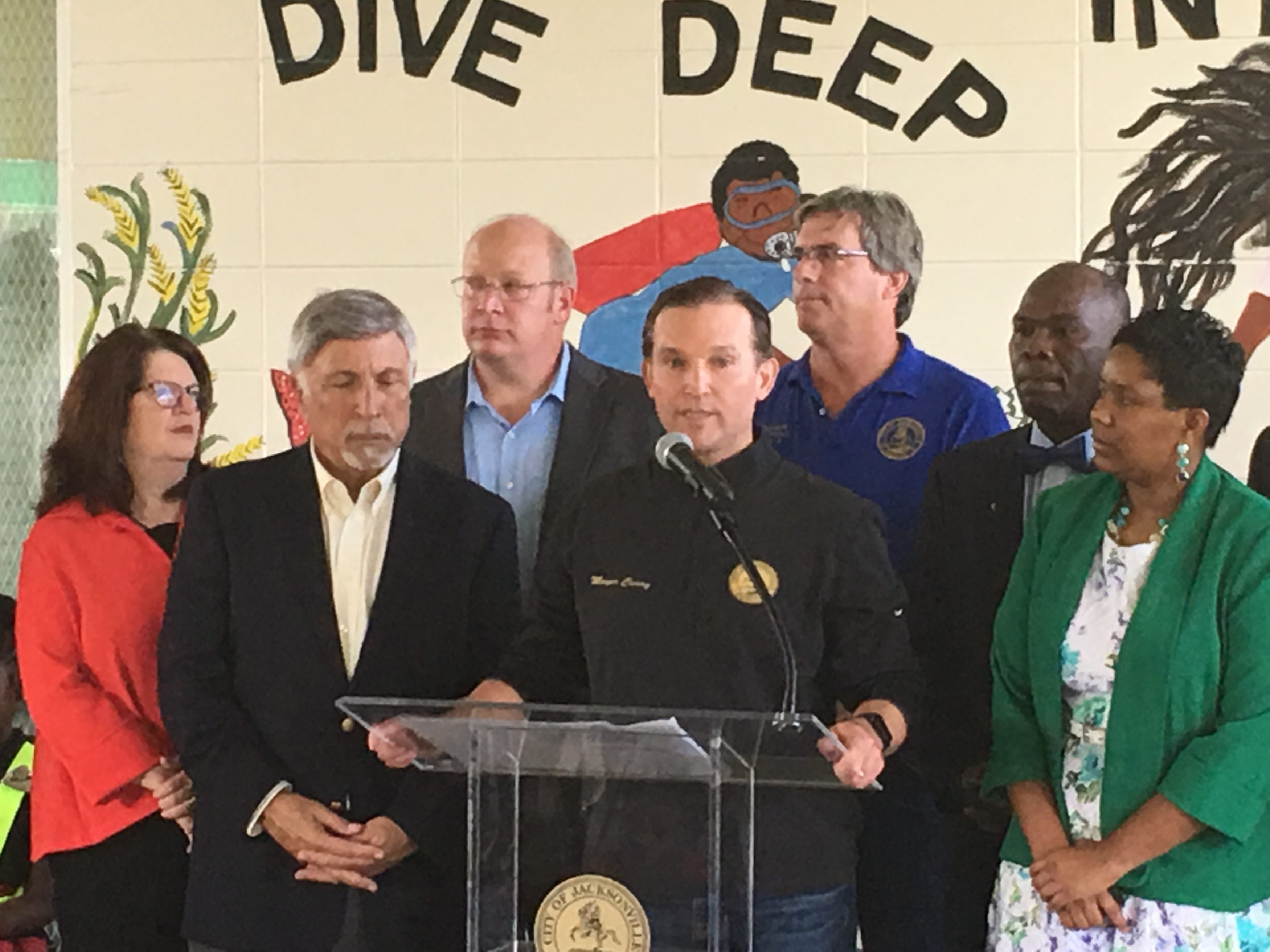 Six November nominees to the Jacksonville Kids Hope Alliance board were up in committee Tuesday.
All of them sailed through with nary a no vote, putting them on the Consent Agenda at next week's City Council meeting. Most of them were completely uncontroversial.
And the one who was controversial going in wasn't controversial at all in the end, proving yet again that — in the case of Jacksonville City Hall — what Mayor Lenny Curry says pretty much goes.
Rebekah Davis, a former member of the Jacksonville Children's Commission board of directors; Kevin Gay, a previous Jacksonville Journey board member; former Jacksonville Sheriff and current Edward Waters College President Nat Glover; Iraq War Bronze Star recipient Joe Peppers; and Tyra Tutor, an senior vice president at The Adecco Group North America.

The controversial (to some) choice: Marvin Wells, the first African-American graduate of the U.F. College of Dentistry. But not for reasons of qualifications.
Wells, who owns an oral surgery practice, lives outside of the Duval County limits.
The ordinance establishing the KHA as the replacement for the Jax Journey and the Jacksonville Children's Commission required Duval County residency — one of a number of changes City Council negotiated with the administration.
And some Council members, such as Garrett Dennis, made it clear they weren't happy. The ordinance, passed this fall, was intended to have a binding residency requirement.
They saw the out-of-county pick as an attempt to undermine Council authority and create a "test case" for future appointments that contravened the residency requirement.
Davis, Gay, Glover, Peppers, and Tutor moved through quickly, with convivial Q&As that reflected their unique skill sets.
Wells, a Raines High School graduate who grew up in the Northwest Quadrant, was a different matter, as he has lived outside the county for 11 years.
Councilors — committee members and otherwise — spoke up.
Council President Anna Brosche weighed in as a visitor to the committee, saying she has not decided yet on Wells, and will let her conscience drive her vote Tuesday.
Councilman Garrett Dennis — a frequent sparring partner of the Mayor's Office, and a visitor to the committee –noted that Council members have to live in the area that they represent.
"We could find sharp, dedicated individuals … out of the 850,000 in the city," Dennis said, noting that he'd pushed for the "permanent resident" requirement.
"I will not be able to support your appointment," Dennis said, brandishing a list of dentists in Jacksonville who actually fulfill the residency requirement.
Dennis also worried that Wells was a "test case" for another nominee who lives outside the county.
Councilwoman Joyce Morgan likewise said the felt "uncomfortable with the Mayor's Office throwing that at us right away to test" the residency requirement.
"We should never have had to have the debate about his residency at all," Morgan said, depicting that this was "almost a situation of 'who's next' … from St. Johns County."
"Really, nobody else in Duval County can do this? Nobody?," Morgan said. "I do not want to open the gate. I don't think we need to go there. It's just not necessary."
Morgan went along with consensus in the end, of course.
Other Council members were eager to work around the residency requirement they voted into being.
Al Ferraro noted that a meeting with Wells overcame his objections to supporting someone who lives "out of town."
"Talking to you, you talk softly … seem very sincere … with a moral drive," Ferraro asserted. "Sometimes this place can be a snake pit where people try to get you to do things that you know are wrong."
Katrina Brown said that, while Duval residency was a "big important key because we didn't want to have a lot of people who lived outside the community … sometimes there are exceptions."
"I'd hate to pass up on a person with your caliber of experience," Brown said.
"He kind of reminds me of myself," Brown said later in the discussion.
Councilman Reggie Brown told Wells that "the residency issue is bigger than you" and that he would support Wells.
"It was about paid employees," Brown said, alluding to out-of-county hires during the John Peyton administration.
Councilmen Sam Newby and Scott Wilson likewise backed the Mayor's pick.
And Wells, like the others, cleared the committee with nary a no vote.
As is so often the case when Mayor Lenny Curry proposes something to the Jacksonville City Council, they may grouse, but fall in line in the end.