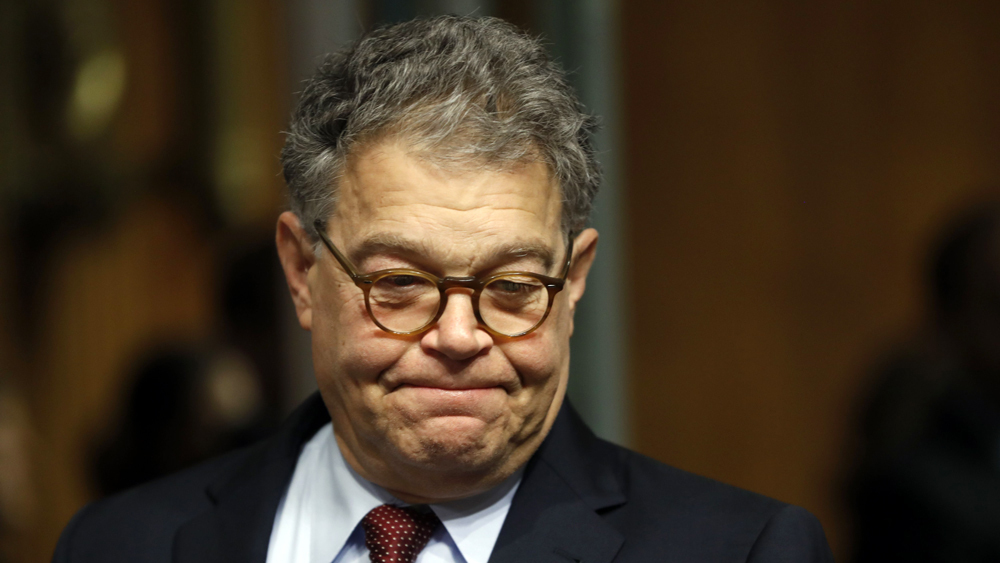 In 1996, Al Franken wrote a book called "Rush Limbaugh is a Big Fat Idiot."
I understand Limbaugh is working on his book about Franken, which he will call "Al Franken is a Big Fat Sexual Predator."
What comes around, goes around.
After 20 years as a writer and cast member for Saturday Night Live, Franken concluded that he had much to offer to the political realm. He wrote a series of books critical of conservative politics. In addition to his Limbaugh book, Franken wrote: "Why Not Me" (1999), "Lies and the Lying Liars Who Tell Them" (2003), "The Truth" (2005), and "Giant of the Senate" (2017).
Franken also decided to sign with Air America Radio and go head-to-head with Limbaugh on the radio. Franken got crushed, and Air America folded after a few years.
The death of Minnesota Sen. Paul Wellstone in an October 2002 plane crash would create a new political opportunity for Franken. Minnesota Democrats selected former senator and Vice President Walter Mondale to replace Wellstone and take on Republican St. Paul Mayor Norm Coleman.
Coleman pulled off a surprising upset of Mondale, defeating him 50 to 47 percent.
Six years later, Franken moved back to his native Minnesota and was positioned to take on Coleman. Franken led the field of Democratic challengers until a Playboy article that he wrote in 2000 surfaced. The article was about a virtual reality sex institute where men were free to do whatever they wanted with women. Feminists were outraged, and Franken apologized and was able to secure the nomination.
On election night, both Coleman and Franken received 42 percent of the vote, with Franken leading by 206 votes. A recount increased Franken's led to 312 votes and July 7, 2009, eight months after the election, Franken was sworn in as Minnesota's junior senator. As the 60th Democrat in the Senate, Franken was critical in securing passage of Obamacare.
After defeating Coleman, Franken worked hard to suppress any comedic impulse flowing through his veins. Franken wanted to be considered as a serious politician, not a funny politician. He impressed senators across the aisles, who praised Franken for his hard work and serious demeanor.
In 2014, Franken easily won re-election, defeating his Republican opponent Mike McFadden by a 53-43 percent margin.
After Hillary Clinton's loss to Donald Trump in 2016, speculation immediately arose about Franken running for president in 2020. Progressives created a "Why Not Al" movement along with a "Draft Al Franken" website. Few doubted that Franken would be a serious candidate.
Franken's announced resignation from the Senate not only ends his Senate career but also any talk of a presidential campaign.
Democratic Gov. Mark Dayton will now appoint a replacement for Franken until a 2018 special election. Speculation is that Dayton will appoint Tina Smith, his Lieutenant Governor.
Smith is the likely replacement for Franken for three reasons. First, Dayton picked her as his Lieutenant Governor, so he is a close personal and political friend. Second, a female replacement seems appropriate since seven women have come forth and alleged they were assaulted by Franken.
Finally, Smith has indicated that she will be a caretaker replacement and is not interested in running in the 2018 special election.
Possible Democratic candidates in the 2018 special election include Betty McCollum who represents Congressional District 4, Keith Ellison from District 5 and Rick Nolan in District 8. Another possibility is Ileana Omar, a state representative, who would become the first Somalia-American in the Senate.
Republican candidates include members of Congress Tim Walz of District 1, Erik Paulsen of District 3 and Tim Emmer of District 6. Former Gov. Tim Pawlenty is another possibility, along with former Sen. Norm Coleman. A final candidate might be Stuart Mills, heir to the Fleet Farm fortune, who narrowly lost a campaign against incumbent Democrat Richard Nolan for the Congressional District 8 seat.
Whoever the nominee, the open seat race will force the nominees to raise $20 million if they want to seriously contend.
Although Minnesota has voted for the Democratic presidential nominee since 1976, longer than any other state, the Republicans hold the state Senate by one seat, the state House by 20 seats and Clinton carried the state by just 1.5 percent, her smallest margin of victory of any state other than New Hampshire.
Minnesota is turning redder than most observers note, and this will create a very interesting 2018 special election.
___
Darryl Paulson is Emeritus Professor of Government at USF St. Petersburg specializing in Florida politics and elections.