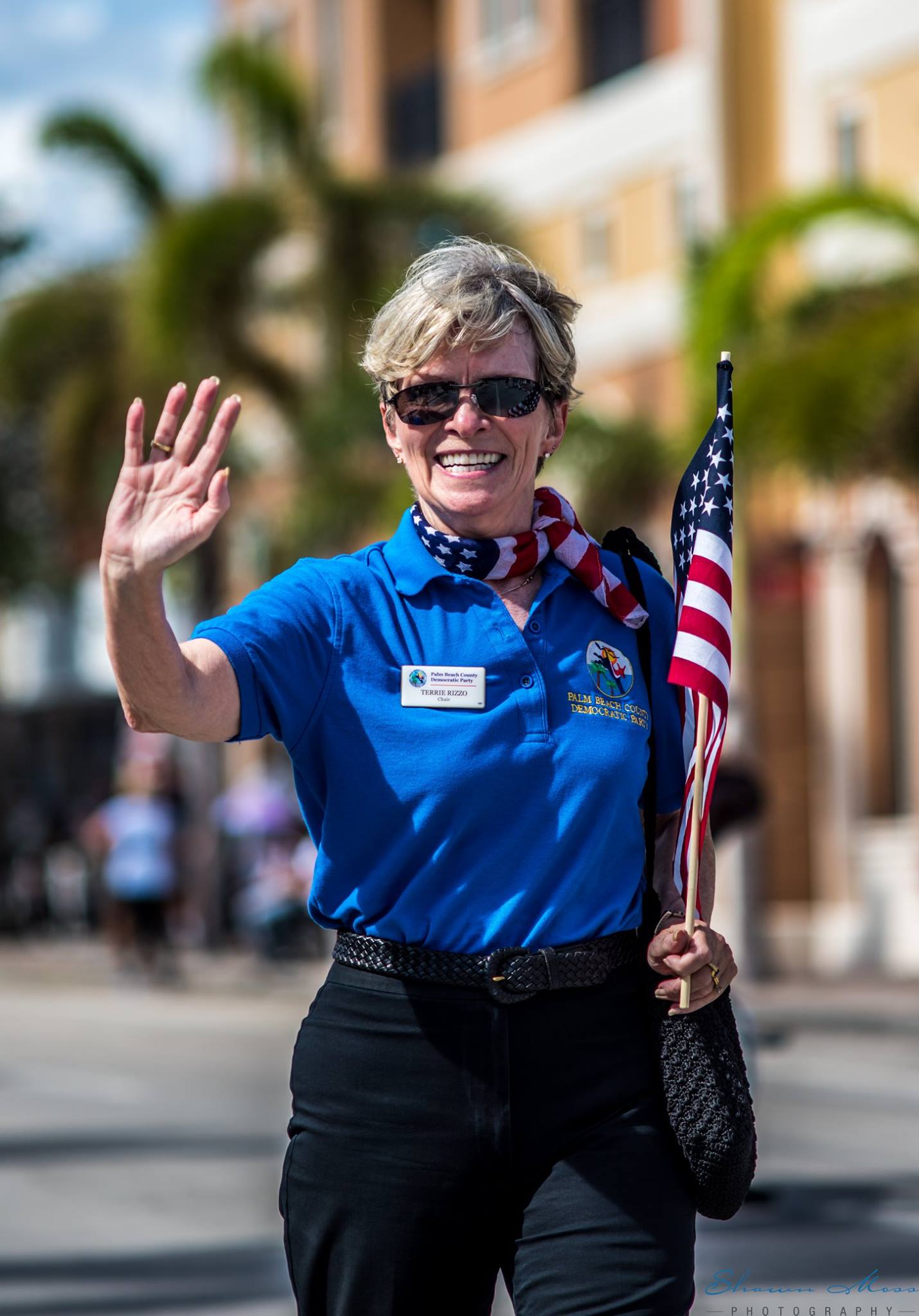 Terrie Rizzo, who began her political career as a campaign volunteer a little more than a dozen years ago, was selected Saturday by Florida Democrats to lead their party for the next three years.
Rizzo, chairwoman of the Palm Beach County Democrats, easily beat Brevard County Democratic Chairwoman Stacey Patel in an 830-291 vote by the party's executive committee at the Rosen Centre Hotel.
Rizzo replaces Stephen Bittel, who was elected as the party's chairman less than a year ago but abruptly quit last month after being accused by female workers and consultants of creating an uncomfortable work atmosphere.
Rizzo has been the chairwoman of the Palm Beach Democrats since 2012. In her acceptance speech, she said she began her journey in the state party as a volunteer on John Kerry's presidential campaign in 2004. She later won election as precinct committeewoman and then as the county vice chairwoman, before becoming the leader of the Palm Beach Democrats shortly before the 2012 presidential election.
"This is what the Democratic Party should be like, where people can start at the bottom and rise to the top," Rizzo said, adding she was "overwhelmed and very humbled" by her election.
At one time, four major candidates, all women, were vying to replace Bittel.
But within the last week, Monica Russo, the statewide head of the Service Employees International Union, dropped out, criticizing the byzantine party rules governing the process. Russo endorsed Patel.
On Saturday the field narrowed to two candidates, when Alma Gonzalez, a state committeewoman from Hillsborough County, threw her support to Rizzo.
With the Democrats trying to reclaim the governor's office and defend U.S. Sen. Bill Nelson's seat next year as well as contend for state Cabinet seats and a host of legislative races, Gonzalez said party unity is critical for success.
"The reality for us is to recover and re-engage and regain our momentum. We cannot be divided in this party," Gonzalez said. "There are external forces coming at us and we must be focused on that rather than on the inside."
The margin of Rizzo's win over Patel does not obscure the fact that party activists remain divided, going back to division between the two Democratic presidential candidates in 2016, Hillary Clinton and Bernie Sanders.
Patel, a Sanders delegate to the Democratic National Convention, said she looks "forward to talking to Terrie and figuring out the road forward."
"This is our party and we're not going anywhere," Patel said, saying she ran for the leadership post to make sure "the voice of the people is heard and not just the voices of the people who have been given power in the party."
Rizzo, who in her prior role as the head of all the county Democratic party leaders has worked with Patel, said she will reach out to all the factions in the party including the Sanders supporters.
"We need that voice moving forward," Rizzo said in an interview. "We all have common values. It's just a matter of how you get there."
As for taking over a party organization after the last leader was accused of inappropriate behavior, Rizzo said: "There will be zero tolerance for sexual harassment moving forward. We will review it and institute policy procedures to handle that."
Rizzo also acknowledged other problems, including lagging finances for the state party.
"There are obviously some challenges," she said.
Rizzo's supporters note that when she took over the Palm Beach organization, the local party was in debt. In the 2016 cycle, Rizzo helped raise over $600,000 for her county party operation, without using paid staff or consultants, according to the state party.
Christian Ulvert, a veteran Democratic strategist, said he has been impressed by Rizzo's work in Palm Beach, which has the third highest number of registered Democrats in the state.
"She can replicate a successful (county) model at the state level," he said.
Ulvert, who is advising Democratic gubernatorial candidate Philip Levine, said Democrats have been successful in 2017 races, including a state Senate seat in Miami-Dade County, by "tapping into the anxiety voters feel over President Trump's agenda."
"I think Terrie is well positioned to understand that strategy and also offer a forward-looking vision that Democrats can really rally around," Ulvert said. "She's done it in Palm Beach."
Rizzo, 70, spent more than four decades working in health and fitness fields, including managing health and fitness education programs at Stanford University.
She and her husband, Mike, have been married more than 45 years. They have a married son and two grandchildren, who live in California.
As part of the election process, Florida Democrats also made history on Saturday by electing Judy Mount, the former vice chairwoman of the state party, as the interim party chairwoman. Mount presided over Rizzo's election.
Mount is the first African-American woman to lead the Florida Democrats, said Johanna Cervone, a spokeswoman for the state party.
"We are grateful for her dedication and leadership," Cervone said.