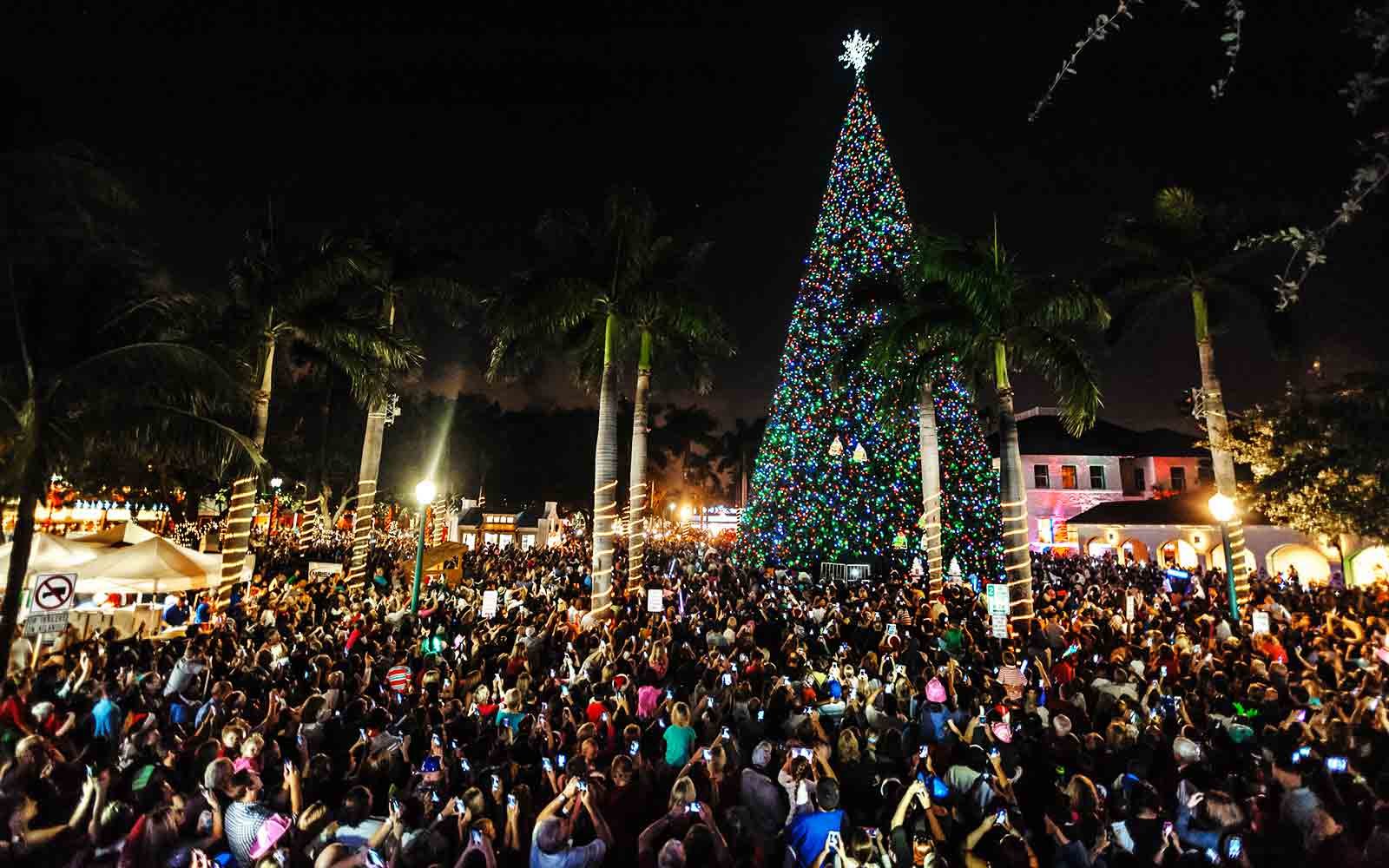 Some send letters to Congress, others pray. When it comes to DACA, some Floridians do both.
DACA, or Deferred Action for Childhood Arrivals, is the "government program that protects young undocumented immigrants from deportation," as NBC News explains it.
In Florida, the effort to push Congress to pass a replacement for the Obama-era program was bolstered last week by prayer.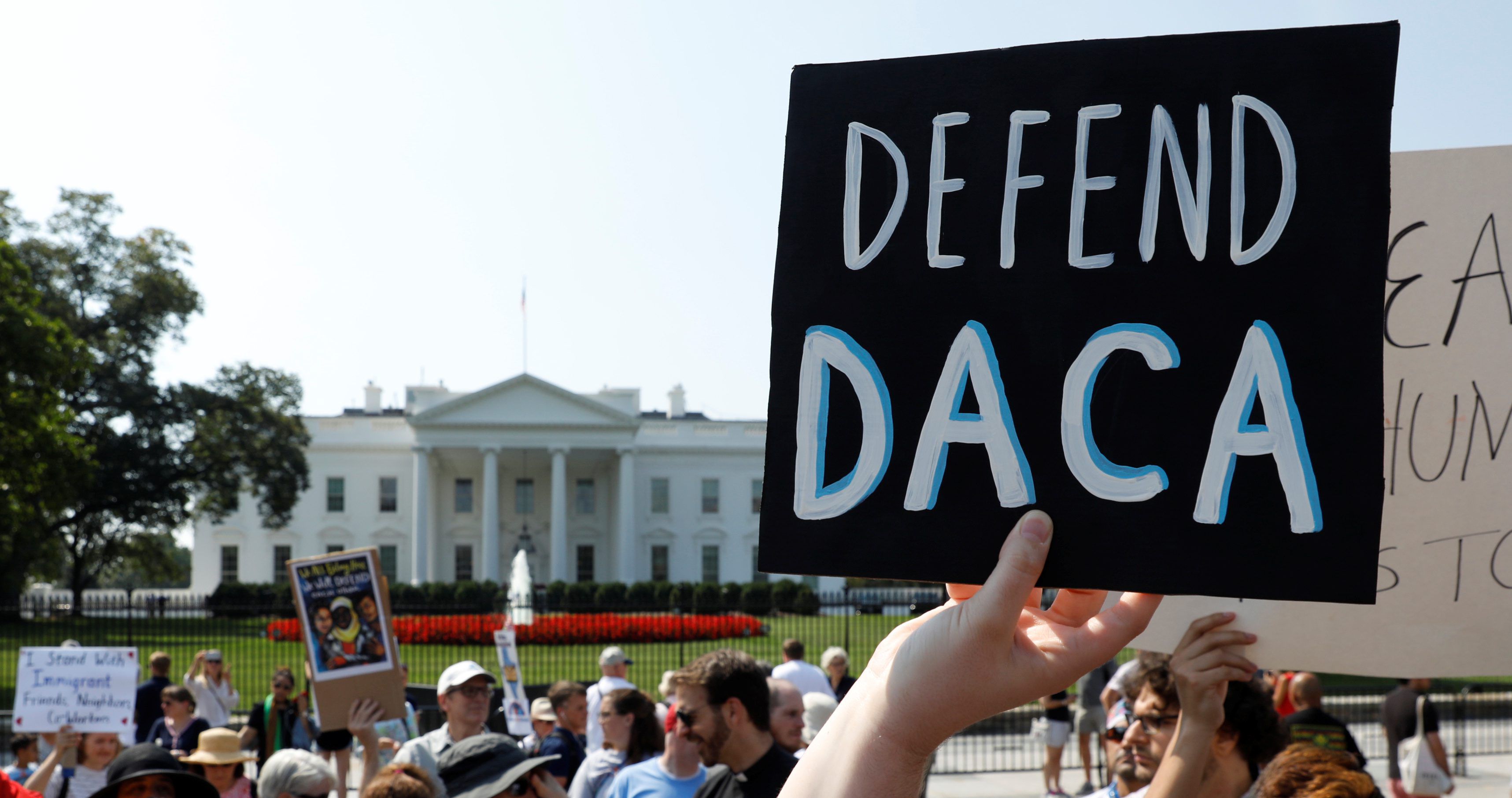 About 100 people gathered in collective prayer at the state Capitol, asking God to guide members of Congress to pass a resolution that will protect hundreds of thousands who came to the U.S. illegally as children.
They're also known as "Dreamers" after the "Development Relief And Education For Alien Minors" bills filed several times by pro-immigration members of Congress in recent years.
"We pray that you will protect approximately 800,000 Dreamers — including 33,000 in Florida — who are currently living and working in the United States but face the imminent threat of deportation," 60 proponents of the program wrote in a letter Friday to seven U.S. representatives from Florida.
The letter to U.S. Reps. Vern Buchanan, Ron DeSantis, Brian Mast, Bill Posey, Francis Rooney, Dennis Ross and John Rutherford was signed by members of the League of Women Voters, Spanish American League Against Discrimination, and Faith in Florida, as well as students, business owners and workers.
"We have enjoyed working with you over the many prior months, but now is the time for a permanent solution that can't be taken away," the letter says.
In September, the Trump administration opted to end DACA and put the burden on Congress to pass a permanent replacement. If that doesn't happen, the protections granted to Dreamers under the two-year permit will start to wither away starting in March.
U.S. Rep. Carlos Curbelo, a Miami Republican whose district has thousands of Dreamers, joined congressional Democrats this week in saying he will not support any funding bill without a resolution for DACA.
If the program is repealed, advocates estimate his district would be hit with a $9.5 million loss to the gross domestic product.
Curbelo wants to have a replacement by the end of the year. Democratic U.S. Reps. Frederica Wilson and Ted Deutch also have backed Curbelo.
Coming up, the usual assortment of tidbits, leftovers and not-ready-for-prime-time moments by Ana Ceballos, Jim Rosica, Danny McAuliffe, Andrew Wilson and Peter Schorsch.
But first, a program note: This is the final edition of Takeaways for 2017. We wish you and yours a healthy, happy Holiday Season. We'll return Jan. 6.
Now, the "Takeaway 5" — the Top 5 stories from the week that was:
Harassment settlements under Scott — Sexual harassment has become a pervasive issue in Tallahassee after back-to-back sex scandals rock the Capitol. But while the Rick Scott administration has escaped recent headlines, court records obtained by Florida Politics show that it has not been immune to harassment claims that were investigated and ended without the dismissal of the accused, or settlement payout, which have totaled $413,750. The cases involve women who were sexually harassed by co-workers or supervisors, with abuse that included their vaginas being grabbed, being photographed naked and even beaten. On Wednesday, Scott signed an executive order that would strengthen the reporting and investigating of sexual harassment complaints.
Gubernatorial appointment power unchallenged — The state's highest court dismissed a challenge to Gov. Scott's power to appoint three new justices on his last day in office in 2019. The case was tossed in a 6-1 decision with the reason being the issue wasn't ready for judicial review. The Florida Supreme Court said it couldn't step into the controversy because the governor hasn't taken any action yet. The three justices who are retiring and will be replaced, however, took issue with the decision. In the end two of them agreed with the result, but one called Scott's intentions "blatantly unconstitutional."
Campaign finance reform tossed — A proposal to repeal Florida's system of public financing for statewide campaigns won't make it into the state constitution, at least for now. Frank Kruppenbacher, who was sponsoring the proposed amendment, withdrew his measure from consideration, but he said he intends to press lawmakers to think about reforming the system this year. Kruppenbacher was appointed by Scott, who has supported abolishing public financing for campaigns. In the 2014 election cycle, the state spent over $4.3 million to finance campaigns. House Speaker Richard Corcoran has also been a big proponent of the change.
Marijuana lawsuits pile on — A 238-page lawsuit filed by Joe Redner's Florigrown company — replete with references to Encyclopaedia Britannica, ancient Roman medical texts and the Nixon White House tapes — alleges that the state is failing its responsibility to carry out the people's will when it comes to medical marijuana. The complaint was filed in Leon County Circuit Civil court against the Department of Health, its Office of Medical Marijuana Use, Gov. Rick Scott and others. This latest action adds to the growing amount of litigation over medical marijuana, which has state lawmakers concerned it's interfering with the department's ability to process vendor licenses and patient ID cards, among other things.
Citrus industry squeezed — Agriculture Commissioner Adam Putnam said no "plan B" is available for the citrus industry if Congress does not add funding to the latest disaster relief package. A day after the U.S. Department of Agriculture further reduced a forecast of the post-Hurricane Irma orange harvest, Putnam said there is a need for federal assistance to help the industry. He said the damage from the storm tops $1 billion.
Scott recognizes 'outstanding' educators
Scott and the Cabinet recognized seven educators with the governor's Shine Award, meant for teachers and administrators in the state who make significant contributions to the field of education.
"The educators honored today represent the thousands of great teachers around the state who are dedicated to preparing students for college and a future career," Scott said.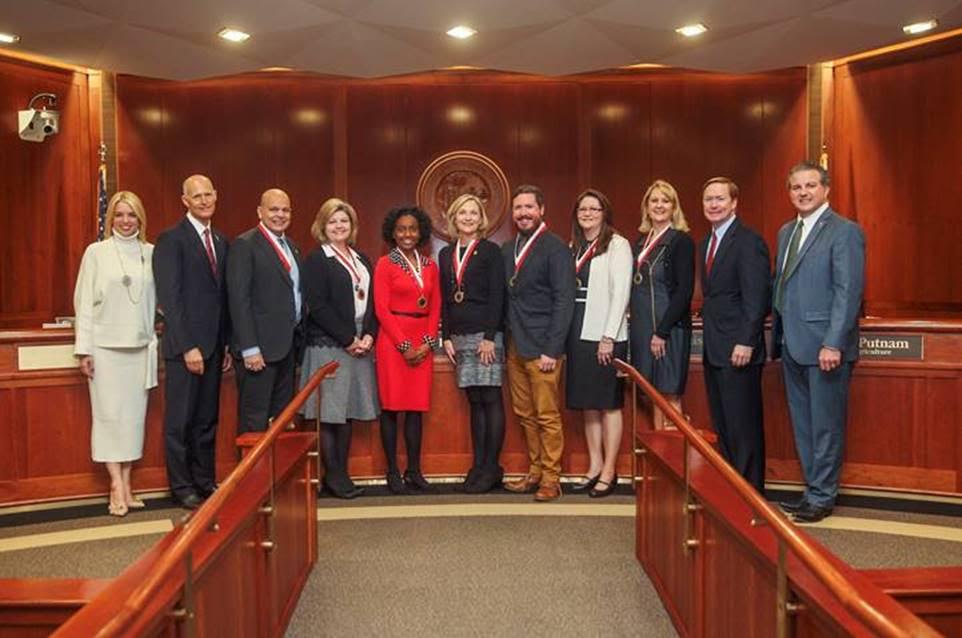 The educators that received the award are the following: Rudy Diaz, a TV Production Media teacher at South Miami Senior High School; Lisa Gault, a veteran educator teaching Adult Special Needs Transition at the Bradford-Union Technical Center; Felecia King, a fourth-grade English teacher at Lockhart Elementary Magnet School; Anne Jones, an Instructional/Reading Coach at Ruth Raines Middle School; Nardi Routten, a fourth-grade teacher at Chester A. Moore Elementary School; Timothy Stevens, a fifth-grade English and social studies teacher at Ochwilla Elementary School; and Dr. Karen P. Welch, an Intensive Reading and Intensive Language Arts teacher at Bell High School in Gilchrist County.
State re-employment tax rate will stay at $7
For the third year in a row, Florida businesses will continue to pay $7 per employee as their re-employment tax rate next year.
The Scott administration said that as a result of the thriving economy, more than 60 percent of Florida employers will pay the minimum tax rate, which is at the lowest it's been since 2004.
"By keeping the re-employment tax law, we are putting more money back into the hands of job creators, so they can invest in their businesses. This continued low rate is another example of the steps we are taking to make Florida No. 1 in the nation for job growth and opportunities." Scott said.
The $7 per employee minimum tax rate for 2018 is down from a high $120.80 per employee in 2012, a 94-percent tax reduction that has resulted in savings of more than $4.9 billion.
State business pay the re-employment tax as a percentage of the first $7,000 in wages for each employee.
Instagram of the week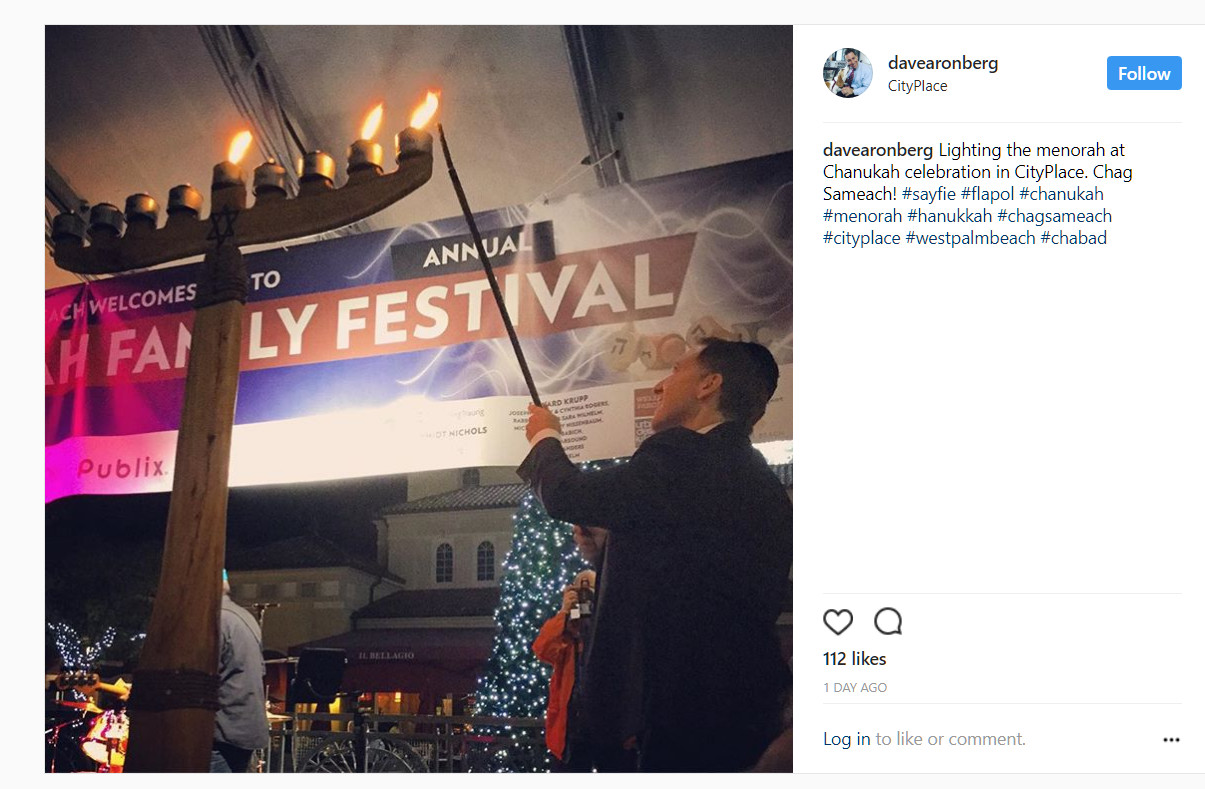 'Oregon' is state's newest canine detective
Scott and the Cabinet held a swearing-in ceremony for the newest member of the Department of Financial Services: Oregon, an 18-month-old German Shepard.
Oregon will be working as an explosive-detecting canine for the DFS's Bureau of Fire and Arson Investigations Explosive Ordnance Disposal Unit. His handler, Detective Monty Taylor, has more than 15 years of experience with K-9 dogs and has served for that specific unit for nine years.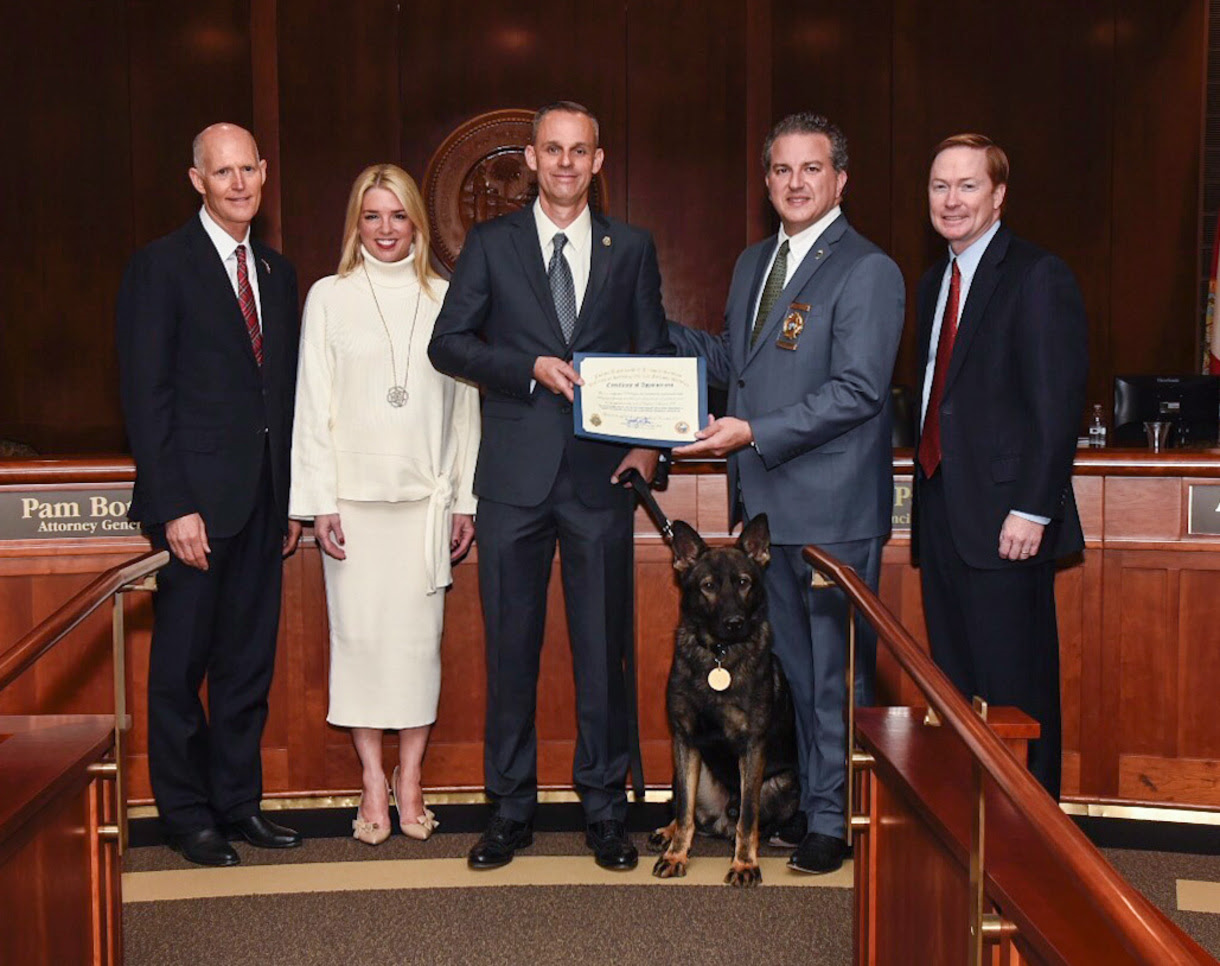 Oregon will be taking over for Bella, who recently retired as an explosive-detection canine after more than eight years of service and hundreds of requests for assistance.
The bureau in which Oregon will be working has a 41 percent arson clearance rate. The average national rate is 20 percent.
The week in appointments
Curley moves to circuit court — Scott appointed Gerard Joseph Curley Jr. to the 15th Judicial Circuit Court.
Curley, 57, of West Palm Beach, is a shareholder at the Gunster law firm and received his bachelor's degree from the University of Notre Dame and has a law degree from Stetson University College of Law.
He will fill the vacancy created by the resignation of Judge James T. Ferrara.
Nutt promoted to circuit court — Scott appointed James Nutt to the 15th Judicial Circuit Court to fill the vacancy created by the resignation of Judge Richard Oftedal.
Nutt is a 55-year-old Palm Beach Gardens resident and currently serves as Litigation Practice Group Leader of the South Florida Water Management District's Office of General Counsel.
He received his bachelor's degree from Oglethorpe University, and his master's and law degree from Nova Southeastern University.
Albers moves to Correctional Medical Authority — Scott appointed Kris-Tena Albers to be the program director of the Florida Council Against Sexual Violence.
She was appointed for a term beginning Dec. 8 and ending July 1, 2020, and will succeed Joyce Phelps.
Holidays bring more DUI enforcement
The Florida Highway Patrol will join thousands of other law enforcement and highway safety agencies across the nation in the "Drive Sober or Get Pulled Over" campaign.
"In an effort to get drunk and drugged drivers off Florida roads, FHP troopers will aggressively enforce impaired driving laws to ensure motorists and their families arrive to their destination safety," said Colonel Gene Spaulding, the FHP director.
The department is offering some tips to ensure motorists "arrive alive" to their holiday destination that include finding a designated driver or call a ride-hailing service, adjust speed accordingly and to buckle up. Drivers are also advised to not text, talk on the phone, eat, or adjust the stereo while driving.
Motorists are asked to call FHP at 347 if they see an impaired or aggressive driver on the road.
Dep't of Education says industry certifications rise
Commissioner of Education Pam Stewart said this week that industry certification completions among Florida high schoolers have jumped by about from 81,970 in the 2015-16 school year to 102,044 through the 2016-17 school year.
The Florida Department of Education said Career and Technical Education (CTE) programs give students a "school-to-career connection," and more than 400,000 Florida students are currently enrolled in secondary technical education programs.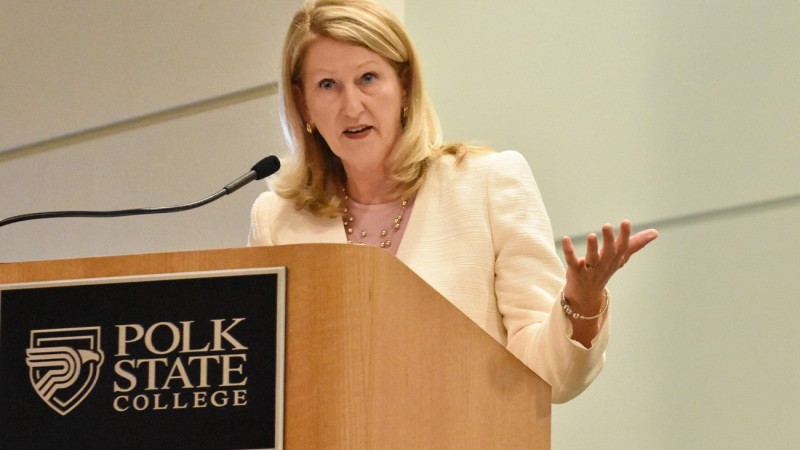 Career and Adult Education Chancellor Rod Duckworth said the "Industry Certification component of CTE provides students with a business and industry-recognized credential that is another tool in their educational toolbox. We are fortunate in Florida that all 67 school districts in the state have CTE programs as part of their educational system."
Stewart said such certifications "open the door to high-skill, high-demand career opportunities," while Scott added that the "great news shows that more of our students are getting prepared for future success."
Joe Negron named 'Champion of the Everglades'
Environmental group Audubon Florida presented Senate President Joe Negron with an award this week recognizing his "steadfast leadership" in Everglades restoration.
Negron earned the "Champion of the Everglades" award for a bill he ushered through the legislature earlier this past session that mandated the construction of a reservoir south of Lake Okeechobee to reduce discharges to the St. Lucie and Caloosahatchee estuaries and prevent a repeat of the historic and harmful algal blooms that wreaked havoc on Florida waters in 2016.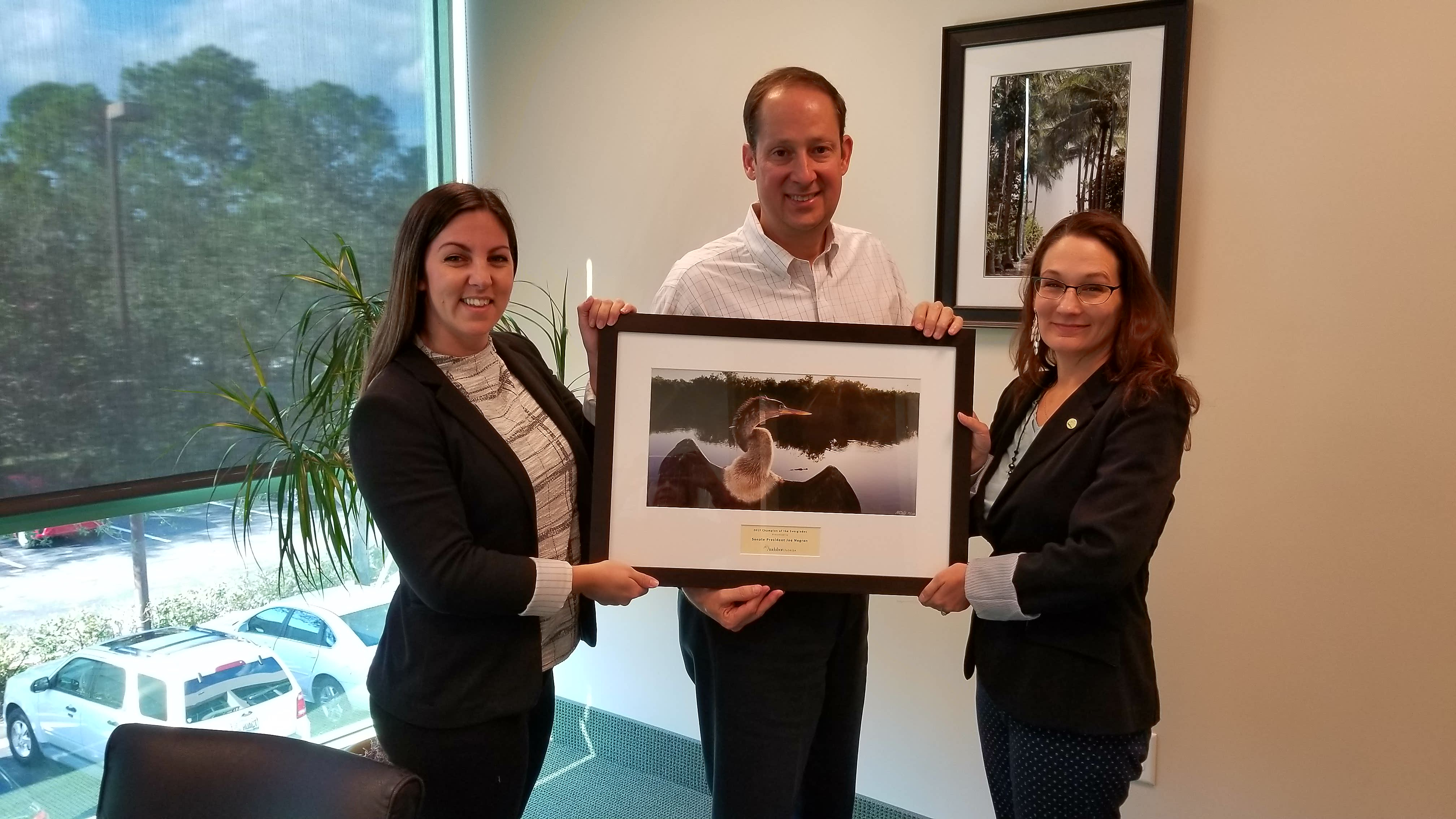 "President Negron helped secure a much-needed restoration project for America's Everglades. His tireless efforts responded to an ecological crisis by garnering support for one of the most important wins for Florida's environment in a decade," said Audubon Florida deputy director Julie Hill-Gabriel.
Audubon said the award is reserved for "individuals who have gone above and beyond their call of duty to protect Florida's water and wildlife in the River of Grass." Past winners of the award include Nathaniel Reed and former Gov. Jeb Bush.
Lori Berman marks Sandy Hook anniversary
Five years after children and staff at Sandy Hook Elementary School were killed by a gunman, State Rep. Lori Berman, a Lantana Democrat, said legislators "must do more to prevent these senseless tragedies."
"One way to do so is to address the crucial need for stronger and better mental health resources," Berman said. "There is so much to be done and I will not stop advocating for more."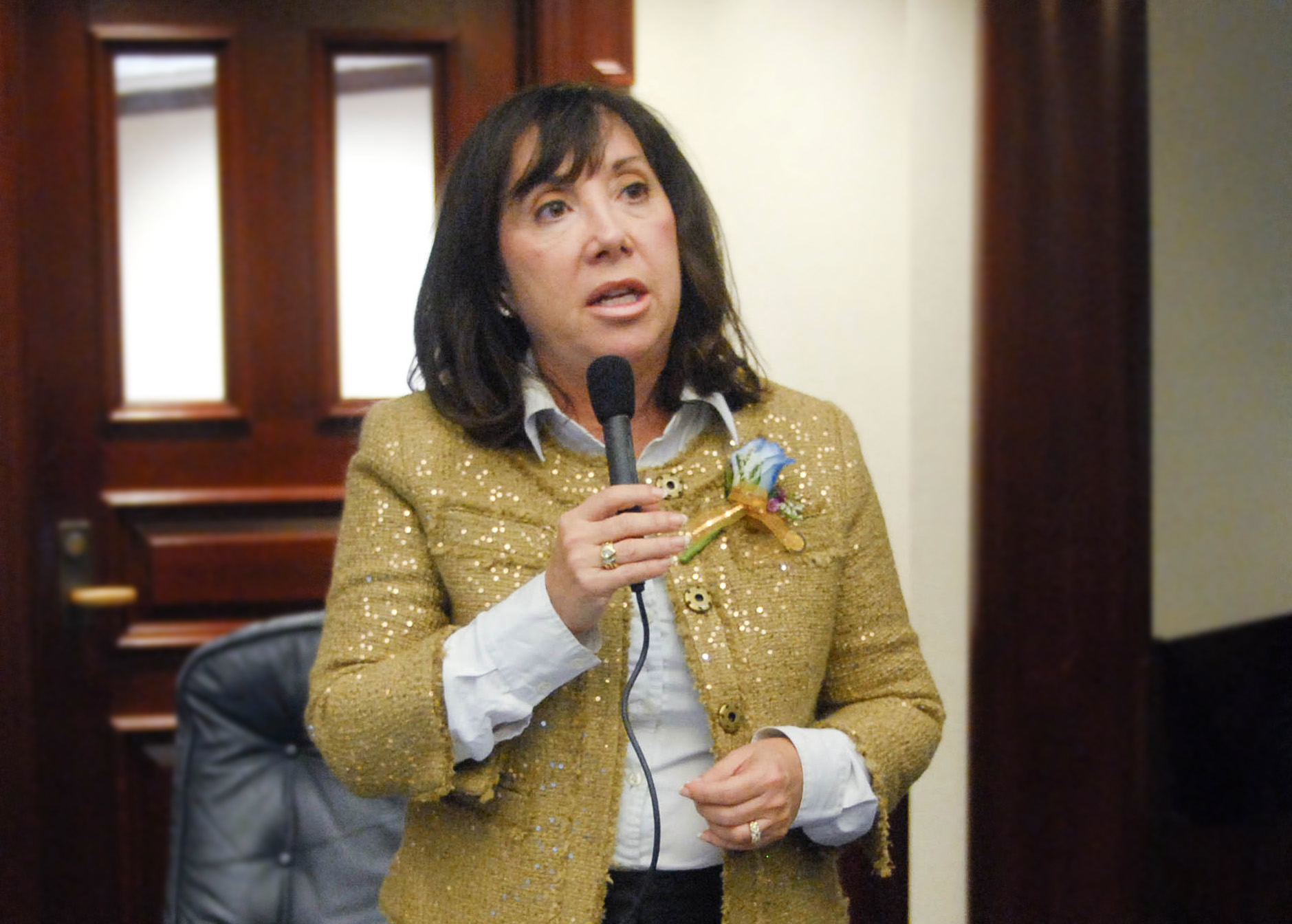 Berman, who is running in the special election for Senate District 31, said she is introducing legislation (HB 231) that would allow a family member or law enforcement officer to seek a risk protection order to prevent a person who is at high risk of harming themselves or others from accessing firearms.
Every year that she has served, Berman said she has "filed legislation to strengthen gun violence protection and prevention and bring attention to mental health issues that need to be addressed more effectively."
"Unfortunately, many of these bills have yet to be heard in a committee," she added.
Evan Jenne wants to curtail fundraising
Dania Beach Democratic Rep. Evan Jenne filed a bill this week that would force the governor and Cabinet to play by the same fundraising rules as lawmakers while the legislature is in Session.
Jenne's bill (HB 707) would put the kibosh on executive branch members soliciting or accepting contributions during the Legislative Session, either for one's own campaign, one's own political party, a political committee or an aligned candidate.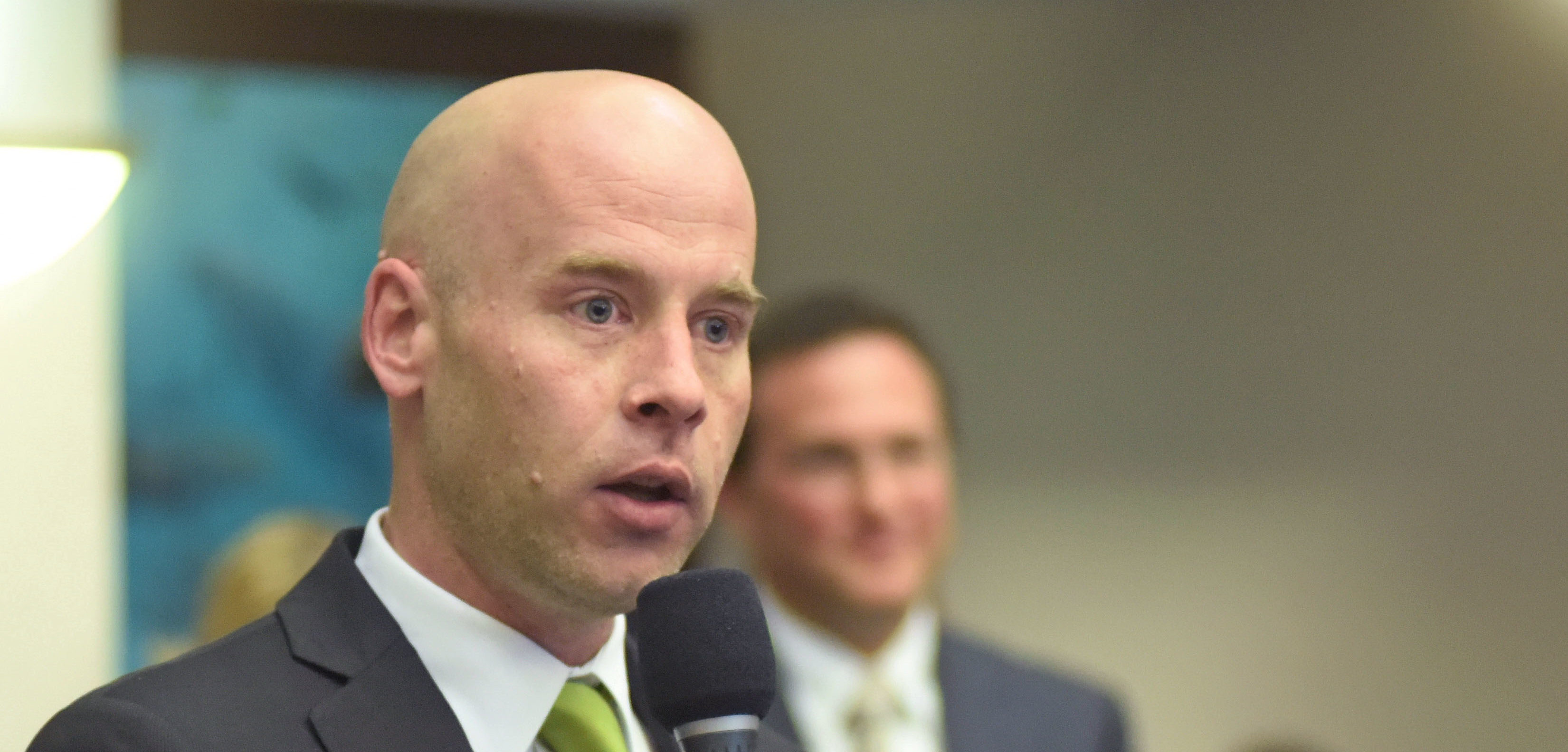 "The Governor and members of the cabinet all have their own legislative agendas each Session and it's time they abide by the same rules as legislators," Jenne said.
"It's in complete conflict with common sense and fairness that those with influence on the legislative process can raise money from special interests and pad their campaign war chests during Session while being bills are being vetted, voted on, and making their way toward becoming law."
During each Legislative Session from 2011 to 2017, the Governor and members of the Cabinet have collectively raised $16,163,474.87, which averages out to a $2,309,067.84 haul during each sixty-day session.
How many bills are being heard in the House?
Less than a month before Session starts, Florida House members have filed 136 bills on committee agendas for consideration.
According to data provided by the House Democratic Caucus, 94 of those bills are sponsored by Republicans and 21 of those measures are being pushed by Democrats. In addition to those, 21 bills have bipartisan co-sponsors.
CRC announces second statewide tour
The Constitution Revision Commission this week announced its second round of public hearings to be held statewide in 2018.
Carlos Beruff, the CRC chairman, said commissioners will be hitting the road again in 2018 to hear what the public wants to see changed in the state constitution.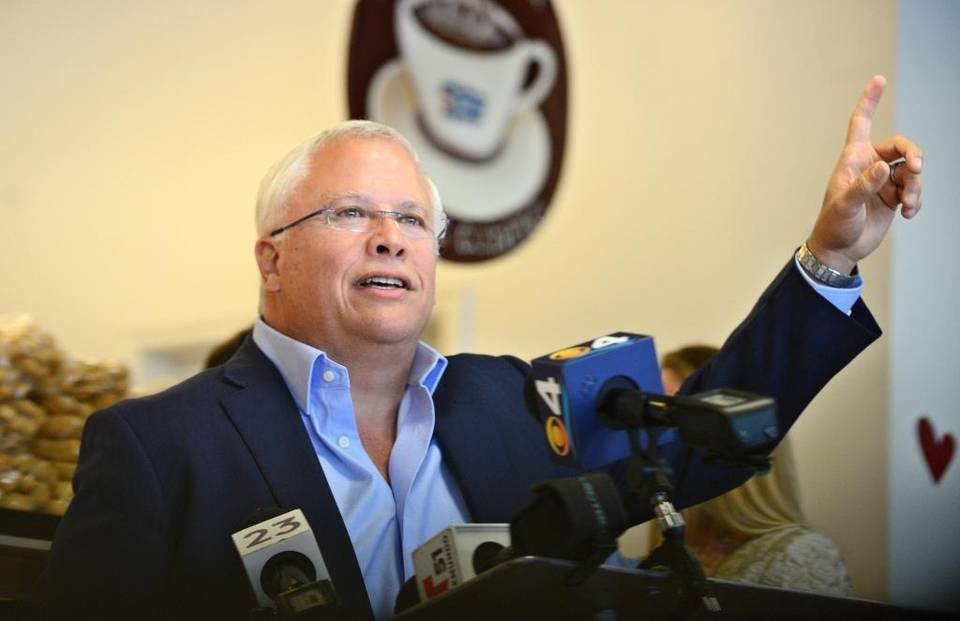 "This is a public driven process and upcoming public hearing will allow Floridians the opportunity to shape proposed constitutional revisions before they are placed on the ballot," Beruff said.
The dates, times and locations for confirmed public hearings are below:
South Florida: Tuesday, Feb. 6, 1-7 p.m., Nova Southeastern University, Rick Case Arena at the Don Taft University Center (UC), 3301 College Ave., Fort Lauderdale.
Central Florida: Monday, Feb. 19, 1-7 p.m., Eastern Florida State College, King Center, 3865 North Wickham Road, Melbourne.
Northeast Florida: Tuesday, Feb. 20, 1-7 p.m., University of North Florida, Herbert University Center, 12000 Alumni Drive, Jacksonville.
Northwest Florida: Tuesday, Feb. 27, 1-7 p.m. (Central time), University of West Florida, Conference Center & Ballroom, 11000 University Parkway, Building 22, Pensacola.
Tampa Bay Area: Tuesday, March 13, 1-7 p.m., University of South Florida — St. Petersburg, University Student Center, 6th Avenue S., St. Petersburg.
A venue for Southwest Florida is yet to be determined.
JMI report lauds UF free speech promotion efforts
A report released and conducted by the conservative-leaning James Madison Institute has found the state higher education system is "very well positioned to meet the growing demand for intellectually-serious academic study at an affordable cost."
But citing room for improvement, JMI President and CEO Dr. Bob McClure said all Florida university leaders should "abolish all 'speech codes,' and 'speech zones.'"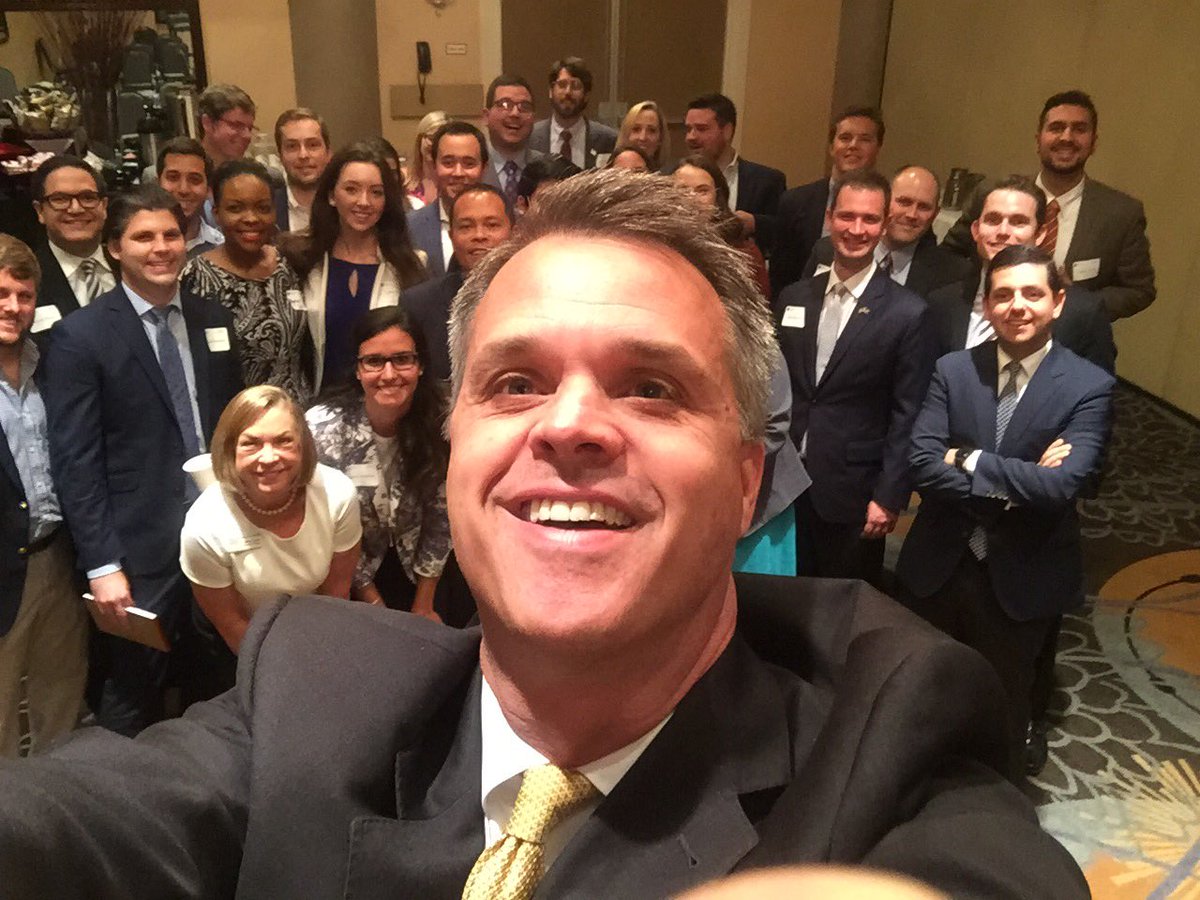 "It would be a mistake to think that Florida's public universities are in no way threatened by the rise of speech-bullying nationwide," said William Mattox, the report author and director of JMI's Marshall Center for Educational Options.
The report, "Free Expression and Intellectual Diversity: How Florida Universities Currently Measure Up," compiled measures that examined how universities protect free speech, promote a campus culture open to different viewpoints and respond to speech-bullying by those seeking to drown out viewpoints they oppose.
Florida Horse Park gets new director
Jason Reynolds will become the next Executive Director of the Florida Agricultural Center and Horse Park. Reynolds won a unanimous vote of its Executive Committee.
"It is with great enthusiasm that we welcome Jason to this vibrant equestrian community," said Carol B. Dover, Chair and President, and also CEO of the Florida Restaurant & Lodging Association (FRLA).
"We are extremely excited with this selection and I am confident Jason's strong ethics and diligent work will significantly elevate our efforts," she added. "Reynolds offers a fresh perspective and possesses the experience necessary to take FHP in the right direction as we enter 2018."
Reynolds said, "I'm thrilled for the opportunity to cultivate this world-class facility and proud to have been selected to lead this fantastic organization." He will relocate from Tallahassee to Ocala and start in January 2018.
Reynolds was Director of Public Policy at FRLA for 12 years. He's been a horse owner for over 15 years and volunteers his time at several horse show facilities in the Tallahassee area.
He has also served on the Florida Agricultural Center & Horse Park Building Subcommittee. Reynolds is a proud veteran of the U.S. Air Force, where he served as a member of the Air Expeditionary Force and deployed twice to the Middle East.
To learn more about FHP, visit flhorsepark.com. A full list of events may be found here. For event booking, contact (352) 307-6699 or email [email protected]
FSU maintains 'most efficient' streak
Florida State University is once again among U.S. News & World Reports' list of most efficient universities.
FSU has placed first or second every year since 2013, taking the No. 2 spot this year behind Miami University in Ohio.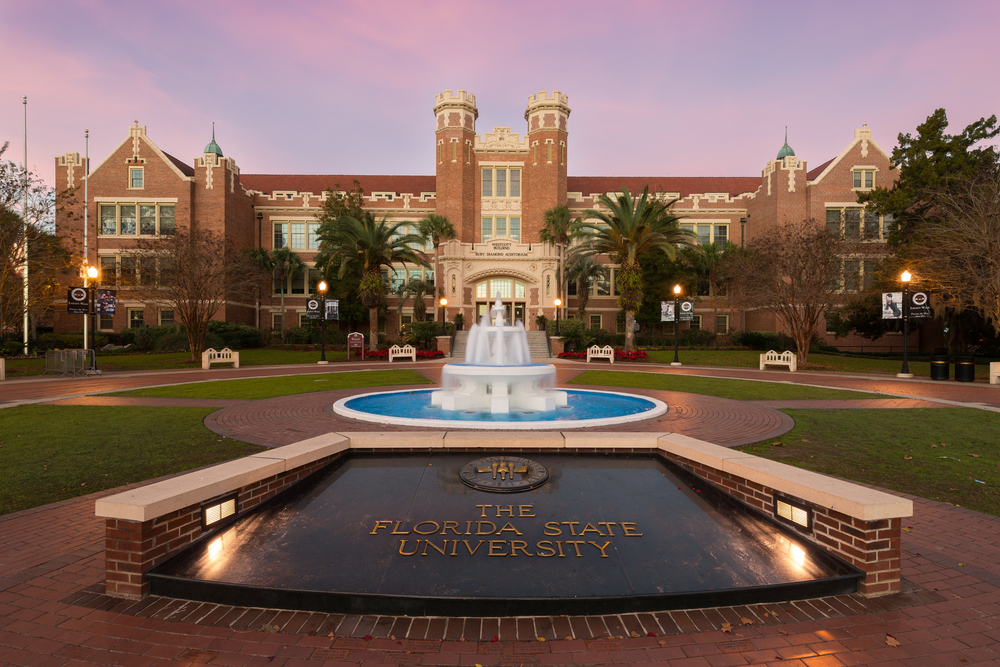 The list is based on the operating efficiency of schools in the top half of U.S. News' Best College rankings, in which FSU ranked 81st in 2018.
University faculty said the ranking stems from the school's active effort to streamline operations, reduce costs and review processes. FSU has two committees in place that aim to reduce overall costs.
"We pride ourselves on being careful with every dollar and investing any savings into areas that benefit academic programs for students," said FSU President John Thrasher. "This has been an enormous campuswide effort that we take very seriously."
Leon County Commission considers 'resilience'
The Leon County Board of County Commissioners held its annual retreat earlier this week and considered "ongoing efforts to build disaster and community resilience," according to a news release.
Commissioners also "reviewed and amended Leon County's five-year strategic plan through the addition of 15 specific strategic initiatives that direct and align organizational action to advance the County's strategic priorities related to Economy, Environment, Quality of Life and Governance."
The board also heard a presentation from Leslie Chapman Henderson, president and chief executive officer of the nonprofit Federal Alliance for Safe Homes (FLASH), reviewed tourism efforts, upgrading or eliminating septic tank systems, and securing Veterans Affairs benefits for local County veterans, among other things.
The strategic priorities and initiatives discussed today will come back before the Board for final approval and ratification in January.
Time for Soul Santa, Elf Night in Tallahassee
There is nothing quite like Santa in a helicopter.
The Tallahassee tradition of "Soul Santa" will touch down Saturday at 11 a.m. at the Walker-Ford Community Center, 2301 Pasco St. Each child up to age 10 will receive a special gift. A parent should accompany children to get registered for a present upon arrival.
Soul Santa's chopper just touched down! #TLHolidays @COTparks @LeonSheriff pic.twitter.com/iMWoOuoB86

— City of Tallahassee (@CityofTLH) December 15, 2017
After Soul Santa, the jolly man himself will stay in town to make an appearance at Dorothy B. Oven Park, 3205 Thomasville Road, during the 18th annual "Elf Night" Thursday, Dec. 21, 5:30-8:30 p.m.
Santa's little helpers will provide hot cocoa and cookies while supplies last. Over 250,000 lights will twinkle against the night sky. Visitors are invited to stroll the decorated grounds.
Take note: Vehicles will not be allowed to drive through Oven Park during the event. Public parking will be available next to the park at Thomasville Road Baptist Church, 3131 Thomasville Road.
All events are free. For information, call the city's holiday hotline at (850) 891-3115.
Now for this week's edition of Capitol Directions: