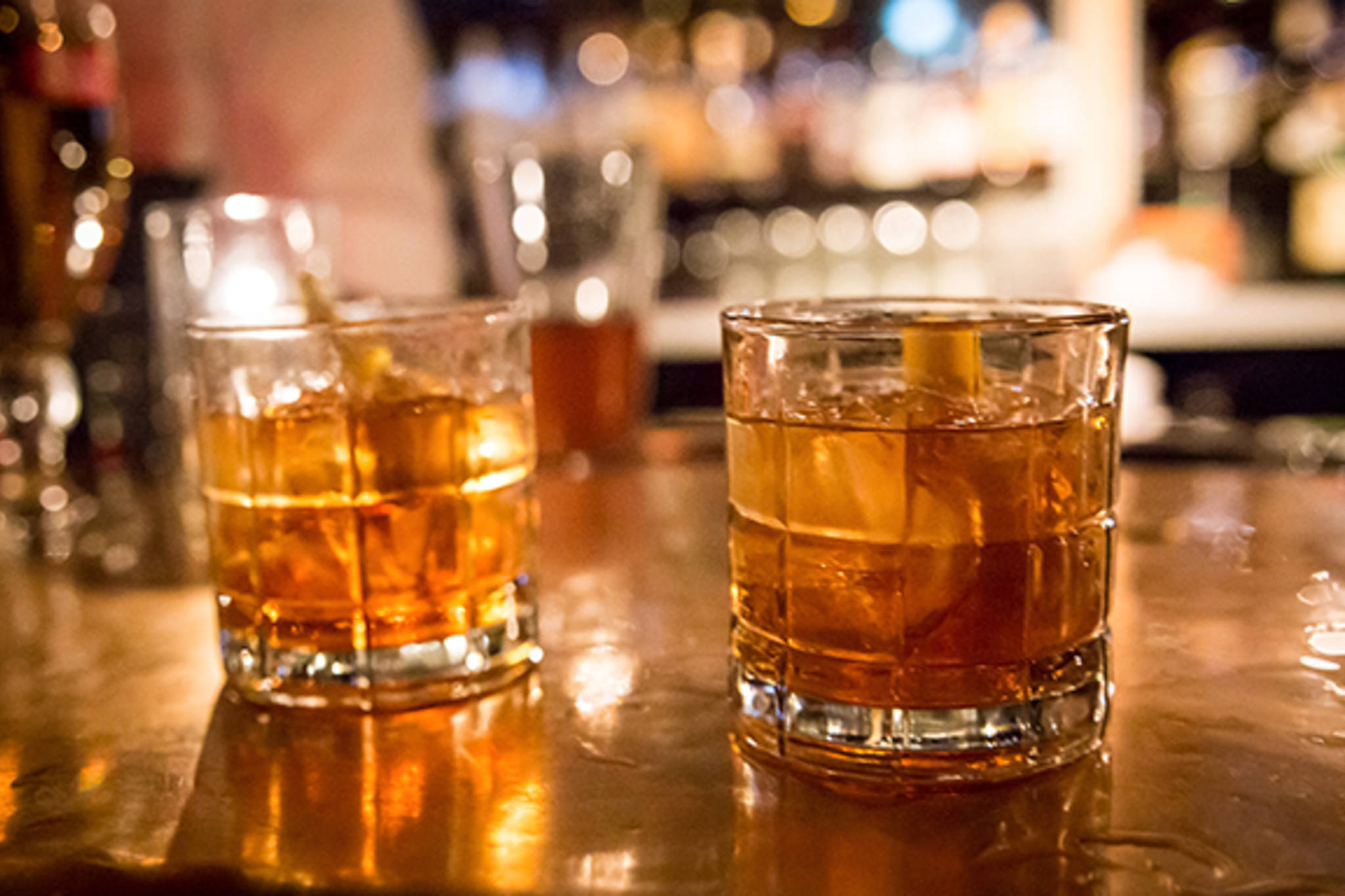 Last Call – A prime-time read of what's going down in Florida politics.
First Shot
The Miami Herald's Carol Marbin Miller and former Herald reporter Audra D.S. Burch have won the First Amendment Foundation's inaugural Lucy Morgan Award for Open Government Reporting for their series, "Fight Club: Dark secrets of Florida juvenile justice."
"Miller and Burch secured datasets from four state agencies and analyzed 10 years of data for the series, which revealed systematic chaos, cruelty and human rights violations within some of the state's juvenile justice institutions," according to a Monday press release.
The award—named for the Pulitzer Prize-winning reporter for the St. Petersburg Times (now Tampa Bay Times)—is awarded to reporters "whose work exemplifies the tenacity, drive, and courage that characterizes Morgan." (Burch, by the way, has since moved to the New York Times.)
The award "honors a Florida journalist who smartly uses public records to report stories exposing corruption, revealing government conflicts of interest or otherwise serving the public interest," according to the Foundation.
It will be presented at the Foundation's annual Sunshine Recognition luncheon on Tuesday, Jan. 23, at the Governors Club in Tallahassee. For more information on the luncheon and on other awards that will be given, visit www.floridafaf.org or call (850) 224-4555.
Evening Reads
"Marco Rubio correctly identifies America's biggest education challenge" via Joe Cunningham of Red State
"Ron DeSantis edges out Adam Putnam, Richard Corcoran in Republican gubernatorial matchup" via Allison Nielsen of Sunshine State News
"Corrine Brown asks appeals court for prison reprieve" via Jim Saunders of the News Service of Florida
"Fred Costello's new congressional campaign hit with FEC complaint" via Matt Dixon of POLITICO Florida
"Republicans can't generate buzz for Illeana Ros-Lehtinen's seat, and some say it's unwinnable" via Alex Daugherty of the Miami Herald
"Recreational marijuana in Florida likely on hold for years" via Frank Gluck of the Naples Daily News
"Richard Corcoran vows to pass 'sanctuary city' ban bill on week 1 of Session" via Ana Ceballos of Florida Politics
"City of Tallahassee, Democrat forge settlement agreement over public records suit" via Jeff Schweers of the Tallahassee Democrat
"The unhappy top 10: Floridians' consumer complaints in 2017" via Jim Rosica of Florida Politics
"Alabama opens as four-point favorite over Georgia in CFP championship game" via David Purdum of ESPN
Quote of the Day
"Is it my imagination or did my man (U.S. Rep. Matt Gaetz) spend the entire Christmas break sleeping on a cot in Fox News headquarters, appearing daily on various Fox shows with trademark witty one liners?" — Sen. Rob Bradley tweeted.
Bill Day's Latest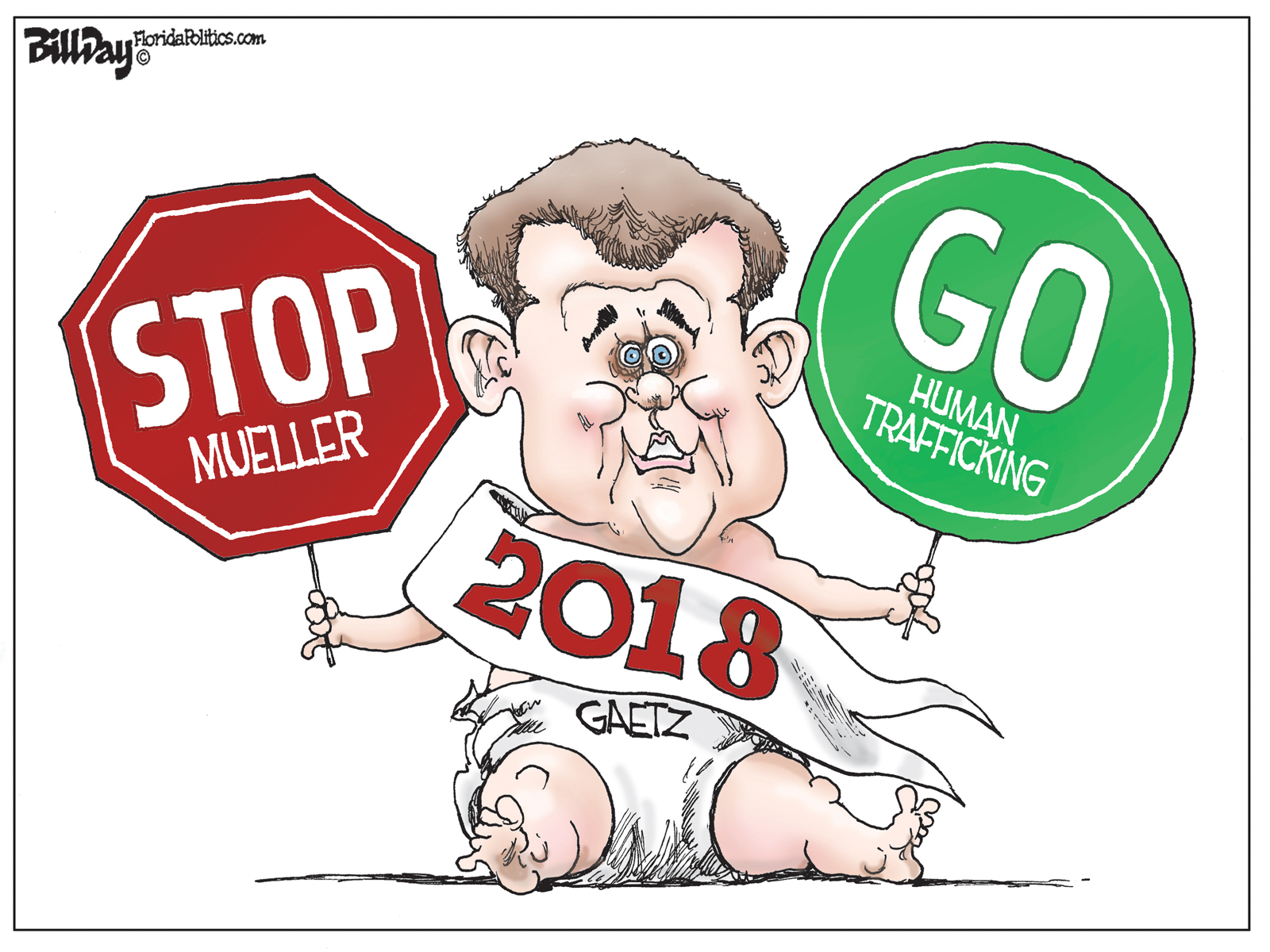 Breakthrough Insights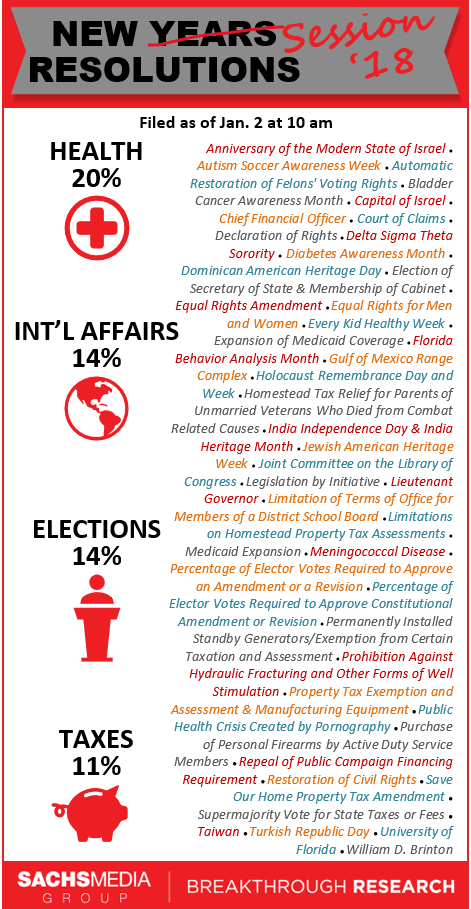 Wake Up Early?
The Florida Real Estate Appraisal Board will meet privately to review cases to determine probable cause and will hold a public meeting to review cases where probable cause was previously found. That's at 9 a.m., Zora Neale Hurston Building, 400 West Robinson St., Suite N901, Orlando.
The Department of Health's Institutional Review Board will hold a conference call to consider general agenda items. That's at 9 a.m. The call-in number is (888) 670-3525 and the participant code is 2922384719#.
The DEO Reemployment Assistance Appeals Commission will consider pending cases that are ready for final review, and the Chairman's report. No public testimony will be taken. That's at 9:30 a.m., 101 Rhyne Building, 2740 Centerview Drive, Tallahassee.
Margaret Good, the Democratic candidate in a special election for House District 72, is slated to speak to the Manasota Chapter of the Florida Alliance for Retired Americans. That's at 11 a.m., Sarasota County Democratic Party headquarters, 7358 South Tamiami Trail, Sarasota.
The Miami-Dade County Democratic Party will hold a "legislative send-off" for Democratic lawmakers. Participants are expected to include Senate Minority Leader Oscar Braynon of Miami Gardens, and Rep. Kionne McGhee of Miami. That's at 6:30 p.m., Gramps, 176 N.W. 24th St., Miami.