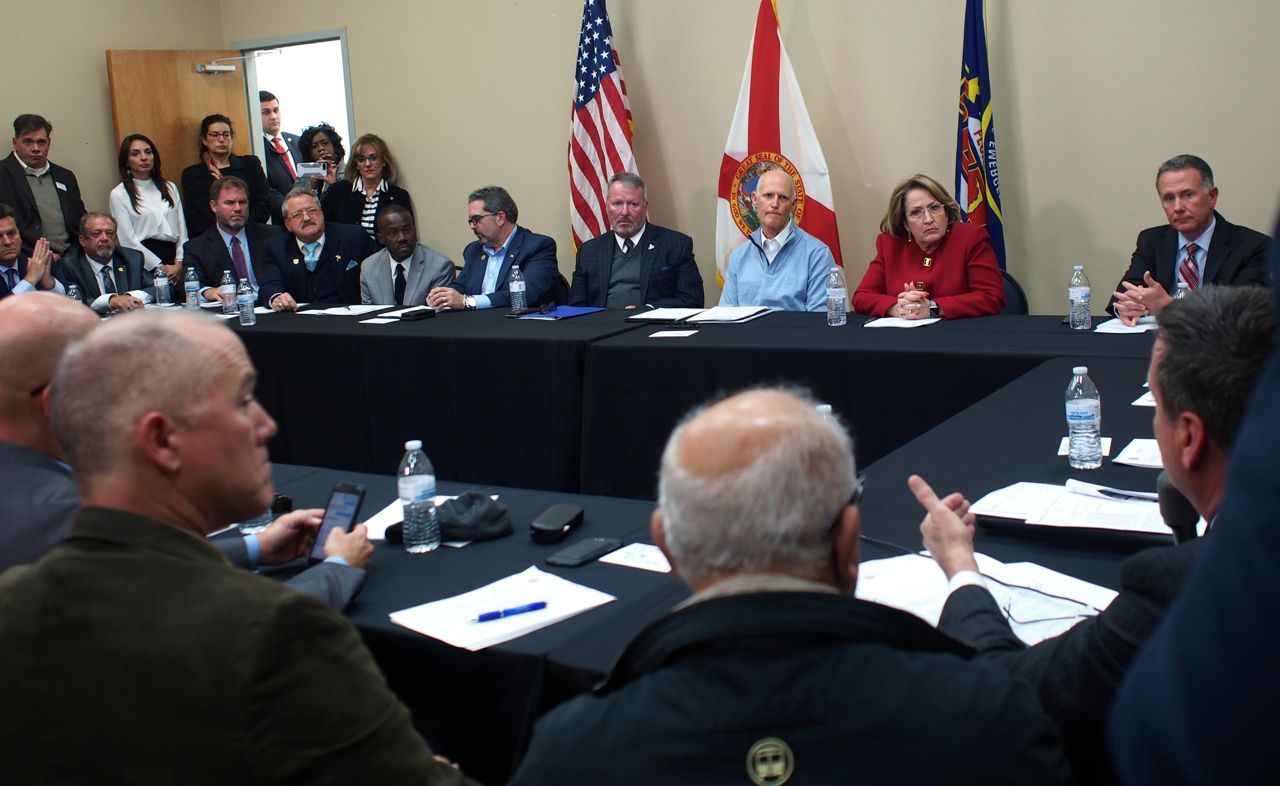 Having largely tackled many of the education and jobs challenges arising from the mass migration of Puerto Ricans seeking a place to live in Florida after Hurricane Maria largely shut down their lives on the island, state and local officials gathered in Orlando told Gov. Rick Scott that housing remains a major problem.
Scott met with about two dozen Central Florida elected and nonprofit officials Thursday afternoon including Orlando Mayor Buddy Dyer, Orange County Mayor Teresa Jacobs, Orange County School Board Chairman Bill Sublette, Osceola County Chairman Fred Hawkins Jr. and Kissimmee Mayor Jose Alvarez and mostly received praise for his administration's efforts to coordinate services offered to tens of thousands of people fleeing Puerto Rico since September.
That praise focused mainly on job support and education accommodation efforts, and on coordination of resources and programs, and responsiveness. State Rep. Bob Cortes, a Republican, said Scott and his office responded quickly to all his concerns, starting with solving education matters. State Rep. Rene Plasencia, a Republican, said he would call Scott's office sometimes five, six times a day, and always got answers.
Not so with discussions of housing challenges, which ran more of a gamut from universal concern to, when state Sen. Victor Torres got his turn, anger and frustration.
That began with Dyer, who like Torres was one of a small number of Democrats in the meeting, urging Scott and the Florida lawmakers present [Torres, Cortes, Plasencia and Republican state Rep. Mike Miller] to focus on freeing up funds for longer-term investment in affordable housing throughout Central Florida.
"Quite honestly there is a crisis, and we can't solve it … city by city or county by county. we need a statewide strategy on that," Dyer said.
Cortes pointed out that his House Bill 987 is seeking some long-term answers. Others pointed out that federal tax credit reassignments could be requested, and Alvarez argued that red tape still need to be cut. But with about 300,000 people who've come from Puerto Rico to Florida in the past 100 days, the short-term solutions of people sleeping on relatives' couches or in motel rooms on FEMA vouchers will give way soon, in a housing environment already airtight.
"I think we all have to focus on housing," Scott agreed. "It actually is a problem all around the state, right? especially in a place like this where you have so many people moving here and, and the jobs, and the unbelievable number of people who have come in."
In fact, a Career Source official said, people coming from Puerto Rico are finding jobs, and with the state's ability to waive many of the professional certification requirements in lieu of Puerto Rico certifications, many are finding jobs in their professions. "But once we get them employed, housing is an issue," she said.
Torres ripped into Scott and the Republican leadership of the Florida Legislature for consistently transferring affordable housing money out of Florida's Sadowski Affordable Housing Trust Fund, nearly a billion dollars in eight years, by Torres' count.
"We need to change that. In your budget you have, right now, $92 million being withdrawn from the Sadowski Funds. We need you to put those funds back, and work with us, so we can do more affordable housing," Torres said. "The question here lies: affordable housing. It has to be on a pay scale. We have workers who work hard but they're not on good salaries … We have to get them out of the hotels. Get them out of their cars. We need to get them out of places they don't belong, with their kids. That's my goal."
Afterward, Scott defended his commitment to affordable housing, saying he was doing what he could, and that was more now that the economy was strong.
"I put more money in the budget this year. I'm going to continue to focus on it. You have to understand, I grew up in public housing. I know the importance," Scott said. "I'm going to keep doing it. But the way you do it is you work with the legislative process to get as much as you can."