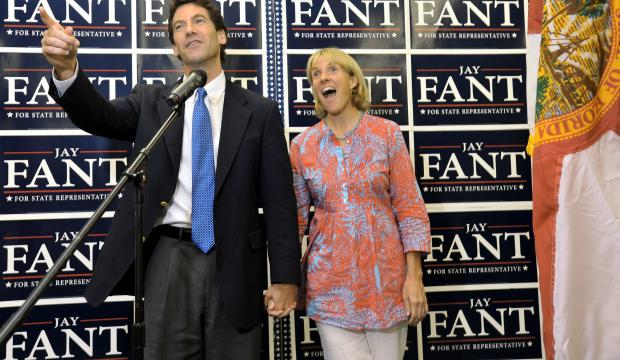 Personal attacks percolate in the Republican race for Attorney General, with Rep. Jay Fant and former Hillsborough Judge Ashley Moody giving and receiving fire.
The timing is no accident: Moody and Fant — and every other important Florida Republican — will be at the meeting of the state party this weekend in Orlando.
Fant's broadside against Moody was pushed out in an email to supporters Thursday. It essentially saw the campaign doubling down on attacks made in December, when Fant called for Republican Party of Florida chairman Blaise Ingoglia to bar Moody from the meeting.
That call was rejected.
The email, written by Fant campaign chief of staff Carolyn Tucker, says the meeting is "ONLY FOR REPUBLICANS," and should exclude Moody, "a proven Clinton liberal."
"Clinton liberals, like Ashley Moody, don't believe in securing our borders, won't crack down on sanctuary cities, and won't protect Florida's Stand Your Ground Laws … as a liberal judge, Ashley Moody betrayed second amendment conservatives (more revelations on that subject coming VERY soon)," Tucker continues, calling Moody a "wolf in sheep's clothing."
Moody's campaign fired back.
"A conservative Republican since college, it is astounding and disheartening to learn a fellow Republican, Jay Fant, continues to baselessly attack me.  His willingness to send misleading and false information is quite different than the Jay Fant who ran for the State House in 2014.  Back then, he insisted that clean campaigning in the primary is critical to our Republican Party," Moody asserted.
Moody countered Fant's attack on her SYG position also.
"I am a strong supporter of our 2nd Amendment rights and Florida's Stand Your Ground law. I am the only candidate for Attorney General who has actually granted Stand Your Ground immunity to an individual using deadly force with a firearm to protect himself."
Moody wasn't done.
"My loving and incredible father, who taught me respect for the rule of law and the importance of faith and honesty, is a federal judge who had the backing of Republican U.S. Senator Connie Mack throughout the bipartisan nomination process, even though he was ultimately appointed by then President Clinton.
"Regardless of who appointed my father, as a 42-year-old woman, a mom, a former federal prosecutor, and former judge, for Jay Fant to assert that I can't have political views different than my father is offensive," Moody said.
"I believe in strictly adhering to the protections of our Constitution, enforcing our laws, and securing our borders.  As a wife of a federal law enforcement officer, I have the utmost respect for law enforcement, which is why my candidacy has been endorsed by 30 Republican Sheriffs from across the state," she added.
Meanwhile, mud is flying in Fant's direction also — from the former chair of his hometown Duval County Republicans, Cindy Graves.
Graves is not backing a candidate in this race; however, she is bringing up the most serious oppo against Fant in an email with a provocative title: "How a statewide Florida candidate cost FDIC $82 million."
Graves charges Fant with "the destruction of the most conservative bank in the South, as the man responsible for bankrupting" First Guaranty Bank.
Graves notes that Fant "is very well funded as the bank failure did not affect his own wealth. At the time of the bankruptcy, he built one of the most enviable river estates in Duval County."
This bank scandal, says Graves, "is the best-kept open secret in Florida politics."
We reached out to Melissa Stone of the Fant campaign for comment on this.
"The facts are that when the federal government bailed out big banks with taxpayer money during the Great Recession, Jay Fant was working in a small family-owned community bank. Small businesses like his didn't get a big government bailout. The big boys who caused the mess got paid and the little guys were left holding the bag," Stone said.
"Bad government policy killed that small business, but fortunately depositors and taxpayers lost nothing. Bad policy has bad consequences. Bad policy on Stand Your Ground laws, for example, by an Attorney General who doesn't believe in them could leave Floridians vulnerable to unwarranted prosecution when they take action to protect their lives, their homes and their families. Jay supports Florida's strong Stand Your Ground laws, but not everyone running for Attorney General does."