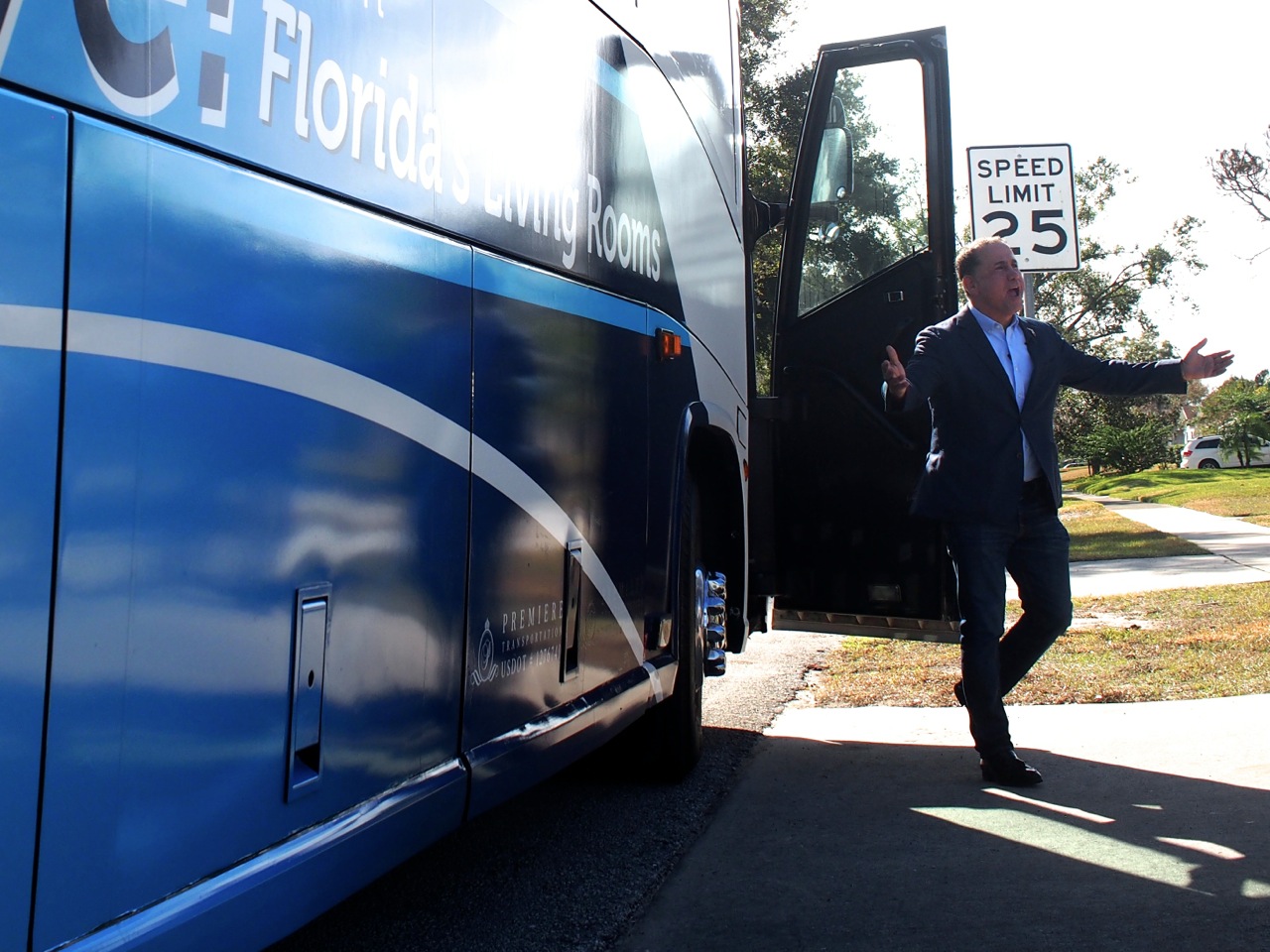 There's that Sept. 30, 2009, check to the U.S. Senate campaign of former Florida House Speaker Marco Rubio:
It's the $2,400 contribution to a Republican who then was seen as the darling of Florida's Tea Party movement, an upstart whose explosive popularity on the right chased Charlie Crist from the Grand Old Party and made Democratic candidate Kendrick Meek a third-place finisher in 2010.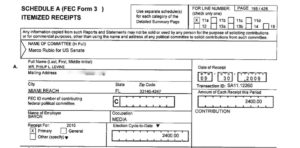 It's the bank draft from Miami Beach businessman Philip Levine, who then was the future mayor of that city and who now is one of the leading Democratic candidates for governor in the 2018 election.
Privately, some Democrats have been whispering wonder about whether Levine's erstwhile support of Rubio in 2009 reflected at all on his commitment to the Florida Democratic Party.
"Nope. Not at all. Zero," Levine insisted in Orlando Tuesday when asked about whether that contribution meant he harbored an interest in Rubio or for what he stands.
"I have written millions of dollars to the Democratic Party, and that was just one small, tiny donation," Levine said. "Friends of mine called me up and asked me for it, and I said 'yes.'
"But he's been a disappointment, and I'm not a supporter or a believer in any way, shape or imagination," Levine continued. "Thank God my Democratic donations outnumber it about 5,000 to one."
Levine is in a crowded race seeking the Florida Democratic primary nomination to run for governor, with former U.S. Rep. Gwen Graham of Tallahassee, Winter Park businessman Chris King, and Tallahassee Mayor Andrew Gillum; and terms such as "real Democrat," "true Democrat," and "lifelong Democrat" already have been tossed about in that contest, as if someone in the race is not. The leading Republicans are Florida Agriculture Commissioner Adam Putnam of Bartow and U.S. Rep. Ron DeSantis of Ponte Vedra Beach.
"Mayor Levine has raised millions of dollars for fellow Democrats, up and down the ballot," spokesman Christian Ulvert stated. "Most importantly, his record of getting progressive policies done is crystal clear — and it's exactly the leadership he will take to the Governor's mansion."
Levine tells his story often about how he left college to work as a Royal Caribbean cruise ship deckhand, later following his instinct to become an entrepreneur serving cruise ships, to starting up and then selling companies, to becoming very rich.
By the late-1990s he became an active political campaign contributor, and by early this century he was a prominent one, making him an extraordinarily unusual candidate for governor. Other wealthy candidates have run statewide in Florida before, notably Republican incumbent Gov. Rick Scott and Democrat Jeff Greene of West Palm Beach, who ran for the U.S. Senate in 2010; yet neither previously had been as financially generous to others' political causes as Levine had.
Though they do not quite show the multiple millions he asserted, U.S. Federal Election Commission and the Florida Division of Elections records do show that Philip Levine — from addresses in Miami, Miami Beach and Tallahassee — has contributed more than $1 million to others over the past couple of decades. He also has donated nearly $3 million to his own campaign's funds in the past year.
Levine donated at least $189,900 to various state campaigns and political committees in Florida, and another $893,385 to various federal campaigns and political committees in Florida and across the country.
Campaign finance activity reviewed by Florida Politics does not include any political contributions Levine may have made in local elections in Florida [he was a two-term mayor of Miami Beach,] nor any he may have made in local or state elections in other states. Those would have been recorded outside the FEC and the Florida Division of Elections.
Levine, in fact, has a clear record of donating to Democrats for many years. His donations for Democrats compared with those for Republicans do not entirely create a 5,000-1 ratio, but it is higher than a 200-1 ratio, at least in dollars.
Since 2000, he has donated $161,800 to the Florida Democratic Party [including $61,800 in 2016] and at least another $12,500 to specific Democratic candidates and committees. Another $16,600 of his state political contributions went to committees that at least on paper may be considered nonpartisan. No state-level Levine money went to Republicans, the Republican Party of Florida, or Republican committees.
On the federal side, since 1999, Levine made at least 270 donations totaling $876,791 to Democrats, Democratic parties, and committees associated with Democrats. He has made six contributions totaling about $12,000 to committees that have some claim to being nonpartisan, or have unclear partisan standing.
He's made just four donations, adding up to $4,650, to Republicans, including the Rubio check.
Levine was a big backer of Hillary Clinton, donating $300,000 to her Hillary Victory Fund committee in 2016. He also was a significant backer of Barack Obama, donating $30,000 to his Obama Victory Fund committee in 2008.
In contrast with the $2,400 he gave to U.S. Senate Republican candidate Rubio, over the past two decades Levine contributed $31,000 to the Democratic Senatorial Campaign Committee, $25,000 to the Florida Senate Victory 2004 committee, and $15,000 to Democratic U.S. Sen. Bill Nelson's campaigns.
Levine also has made direct donations to campaigns of Florida Democrats Dan Gelber, Bill McBride, Janet Reno, Alex Sink, Joe Garcia, Raul Martinez, Debbie Wasserman Schultz, Crist [when he ran for Congress as a Democrat,] Peter Deutsch, Betty Castor, Alex Penelas, Andrew Korge, Jose Javier Rodriguez, Katherine Fernandez Rundle, Elaine Bloom, Ken Gottlieb, David Richardson, Richard Steinberg, and Wilbert Holloway.
Besides Rubio, other non-Democrats who received support from Levine include Miami Republican Lincoln Díaz-Balart, who got $250 for his 1998 Congressional re-election campaign; Montana Republican Conrad Burns, who got $1,000 for his 1998 U.S. Senate re-election campaign; and New Jersey Republican Dick Zimmer, who got $1,000 for his 2008 U.S. Senate campaign. Levine also donated to the nonpartisan campaigns of Florida's 11th Judicial Circuit judges Maxine Cohen Lando and Milton Hirsch.