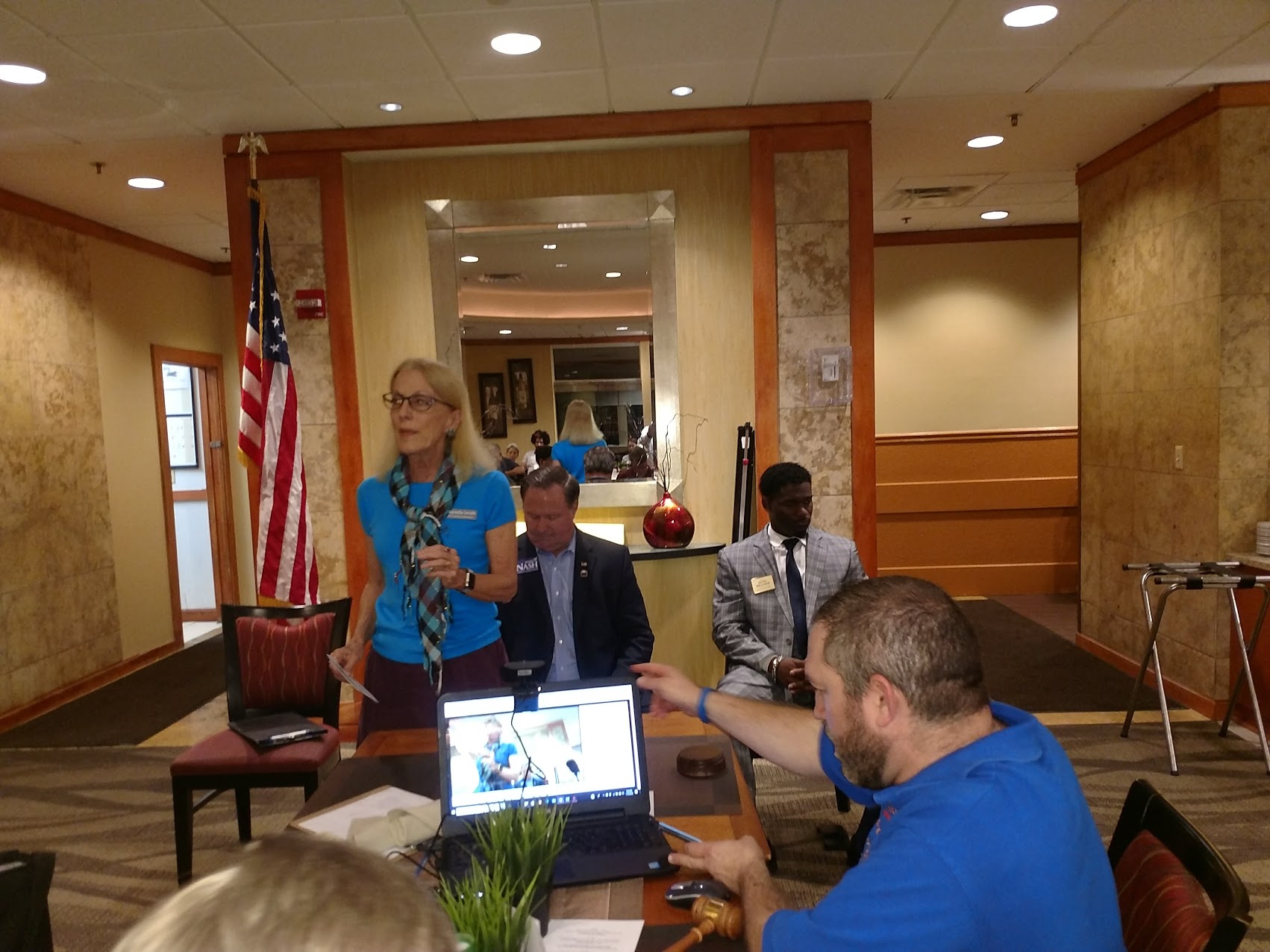 In past election cycles, the Hillsborough County Democratic Party struggled to field legitimate candidates to challenge Republicans in local and statewide elections.
This year, that's not the case, with the county's District 5 race a shining example.
No fewer than five Democrats have filed to run in the (theoretically) open countywide seat, where the biggest name on the ballot is Republican Victor Crist, term-limited out of his current District 2 seat.
Three of the five Democrats running — Mariella Smith, Mark Nash and Elvis Pigott — spoke about themselves and some of their policy positions Wednesday night at the Hillsborough County's LGBTA Democratic Caucus' monthly meeting
During the Q&A portion of the forum, held at the Doubletree Hotel in Tampa, candidates were asked what they do in office to help the LGBTQ community.
Smith, an environmental activist from Ruskin, is pursuing her first run for political office. She said she would not do what Crist did in 2013 when he opposed a domestic partner registry (Crist, as well as the rest of the Republicans on the board, ultimately reversed themselves in the fall of 2014  to support such a registry).
"I would be voting for human rights across the board," Smith said, adding that it was the right thing to do for the community.
Nash (who casually mentioned he was a member of the LGBT community) is perhaps best known as the one-time chief of staff to former Commissioner Kevin Beckner, the first openly elected gay official elected in Hillsborough County. Nash boasted about his work in helping Beckner get elected in 2008, and was supportive of more members of the LGBT community in elective office.
Pigott, a 29-year-old Riverview pastor, was less specific. It was "kind of sad that we're still here" having to talk about boosting gay rights in 2018, he said.  Pigott stressed that everyone had the right to fair treatment, and it wouldn't be an issue if he were elected this year.
When asked where they ranked transportation regarding their priorities, Nash called it the most significant issue among many that the county needs to tackle.
To Pigott, transit was a priority, but he addressed it indirectly, saying the issue was in good hands since fellow Democrat Pat Kemp is on the board.
"I do believe that we have a spokesman and a most definitely a roadrunner for transit" in Kemp, he added.
Smith noted that she too was a fan of Kemp's advocacy for transit, and also noted she was happy that Kemp had endorsed her in the race, "partly because I'm in sync with her views on transit."
To improve transit, Smith said it was crucial to begin with growth management, with smart, transit-oriented growth and reduce sprawl. It was time for developers to "pay their fair share," she added, noting how mobility fees for developers in Hillsborough are distinctly less than in adjoining counties.
When asked how they might alleviate tensions between the county and the city of Tampa, Passmore acknowledged the issue surfaced when County Administrator Mike Merrill and Tampa Mayor Bob Buckhorn butted heads about who held power to call a curfew as Hurricane Irma approached in September.
Pigott said that he would take pride in maintaining good relations with city officials, as well as Republicans on the board of County Commission. "In order to really get things done, you gotta build relationships," adding that he's not afraid of conflict, but it was ultimately about "building bridges" to work successfully.
Smith knew there were tensions between the two local governments, but she didn't understand why that remains the case at times. She would actively reach out, suggesting she could perhaps host public meetings with city and county officials.
"I would certainly be mending fences."
Nash, a Lithia resident, said such tensions exist, in part, because Tampa embraces diversity while that isn't always the case in other parts of the county. He did note that, in eastern Hillsborough, there are more mosques and people of color than ever.
Candidates also spoke about supporting a proposal to ban conversion therapy, which tries to change a person's sexual orientation or gender identity. A year ago, the city of Tampa passed such a ban.
They were also asked about expanding the homestead exemption (an issue on the statewide ballot this fall), and whether it will be a bad thing for the county since it will reduce tax revenues. Each acknowledged it would be an uphill battle to educate the public in opposition to the expansion.
"It's a gimmick from Tallahassee," Nash said.
Smith said the fallout for the county might not be as detrimental as some depict. Even if it passes, she believes the county "will do fine, because we're going to be getting more and more property tax anyway."
For Pigott, he said the challenge for candidates is to inform the public, as so many people are uninformed. If elected, he would make sure to get out in the community to educate the public about such issues.
Two other Democrats, not present Wednesday, are running in District 5. Jae Passmore was unable to attend due to obligations with the National Guard. Corey L. Reynolds is another Democrat on the ballot.