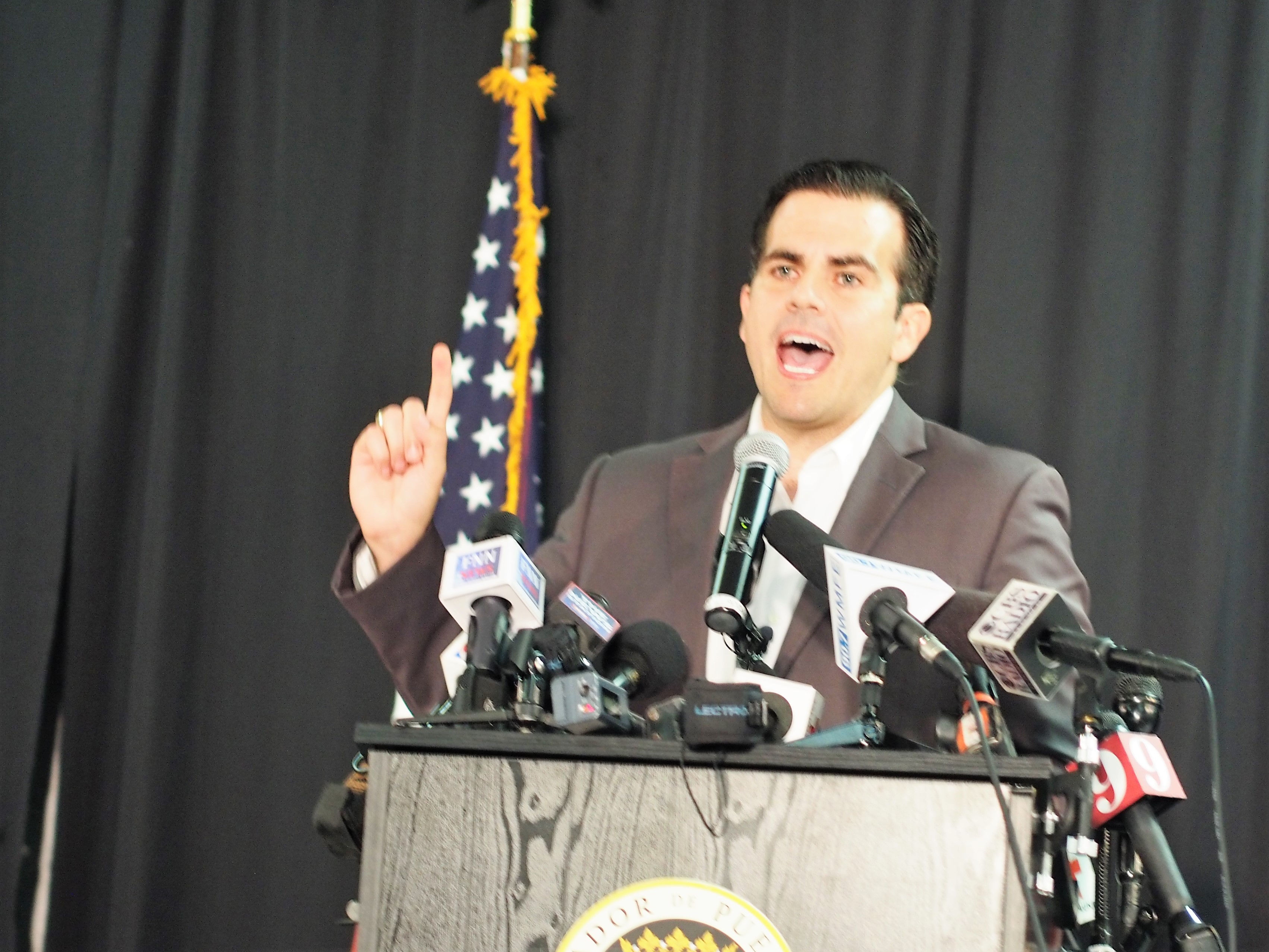 A sometimes angry, defiant and determined Puerto Rico Gov. Ricardo Rosselló accused Washington D.C. Friday of "turning its back on" Americans on the island since Hurricane Maria
Rosselló called on Puerto Ricans in Florida and others to respond in elections.
Speaking to a packed room of about 500 people at the Kissimmee Civic Center, Rosselló unleashed a torrent of frustration over a nation that made promises to help the island (and its residents) and has failed to do so since.
The Puerto Rican Governor was in Florida for the first time since Hurricane Maria devastated the island on Sept. 20-21, and since hundreds of thousands of his constituents fled to Florida because so much of the island remains without power, potable water, and much of a functioning economy.
Rosselló was joined at the podium by Florida Gov. Rick Scott, Florida's Democratic U.S. Sen. Bill Nelson, U.S. Rep. Darren Soto, and Kissimmee Mayor Jose Alvarez, who all also spoke to a crowd that was so much larger than expected that the room had to be expanded twice before the program started.
The gathering also included more than a dozen other elected officials and candidates, including Orange County Mayor Teresa Jacobs, state Sen. Victor Torres, and Democratic gubernatorial candidate Gwen Graham.
While Rosselló's New Progressive Party is generally aligned with the stateside Republican Party of Scott, Jacobs, and President Donald Trump, and while in the early weeks after the storm he and Trump appeared to be united, he struck a strongly different tone Friday.
Rosselló said the island government and Congress and Washington struck a deal through the PROMESA act passed in 2016 to address Puerto Rico's economy and debt, and that the island government lived up to its end with massive cuts and changes in labor laws. But after Hurricane Maria, many of those in Washington who had made promises "turned their back on Puerto Rico, and not only forgot about us, but made things increasingly worse."
"This is where we have to draw the line in the sand," he said. "This is where we need to be outraged, outraged, by the inadequate response for U.S. citizens who live in Puerto Rico."
"A storm that, as evaluated by third parties, was a thousand-year storm … Maria is the most devastating natural event in the modern history of the United States of America, make no mistake about it. This is why there are challenges of unprecedented nature, and this is why we needed a response of unprecedented nature," Rossello said.
He spoke of Puerto Ricans' love for American citizenship, but said Puerto Ricans have been treated as second-class citizens for a century, and he accused Congress and leadership in Washington of breaking promises just in the past few months.
"We fight the same wars, we have the same citizenship and we deserve that equal and fair treatment. After the storm, when the world was watching Puerto Rico, people started to say, 'Hey? How come the response is so fast in some places in the United States yet so slow and so filled with obstacles in Puerto Rico?'"
Rosselló drew a standing ovation when he finished the 26-minute speech.
In his speech, Scott pointed out all of the things Florida has done to help both the island and the evacuees, from sending utilities experts and crews to the island to widespread waivers of state rules so that Puerto Ricans could more easily settle in to live in Florida. Rosselló also announced $1 million is being added to CareerSource to help Puerto Rico evacuees find work in Florida.
Rosselló thanked him for that and acknowledged that all the work he and his staff have done for the island, and said the channels of communication with the island's government, "means a lot to us and the people of Puerto Rico."
But he heaped more praise on Nelson, who likely will face Scott for the 2018 U.S. Senate race in Florida, declaring, "It's hard to find a better friend than Sen. Nelson has been for the people of Puerto Rico."
Rosselló then said similar things about Soto and Alvarez, and called on Puerto Ricans in Florida and across the country to remember who has been their friend, and who has not, and to send a message by registering to vote, and then voting.
He called on the six million Puerto Ricans in the United States, including more than a million in Florida, to exercise their power to "make things right, not only on the island, but to make things right for yourself as well. We have this once-in-a-lifetime opportunity right now."
Rosselló said America has "no moral standing" to preach democracy for Cuba, Venezuela, Iraq and Afghanistan until it addresses full citizenship for Puerto Ricans.
"How do we make this happen? We make this happen not just by talking, but by acting. And I am committing myself here to coming to Florida and to other states as well to organize our communities, so that we can make them know what the issues are, and make the distinctions between those have been friends to Puerto Rico, and those that have turned their back, and we can be influential in the up and coming midterm elections."
Alvarez, Soto and Nelson all set the tone in criticism of the federal government and Congress in its Puerto Rico response.
The Democrats decried everything from slow recovery efforts — 40 percent of islanders are still without power more than 100 days after the storm — to the passage last month of a tax reform package that penalizes Puerto Rico with a new excise tax.
With immediacy, Soto said FEMA is telling evacuees in Florida that their housing vouchers are being canceled Saturday because the agency determined their homes back on the island are habitable, even though some still have no electricity, and some do not even have water.