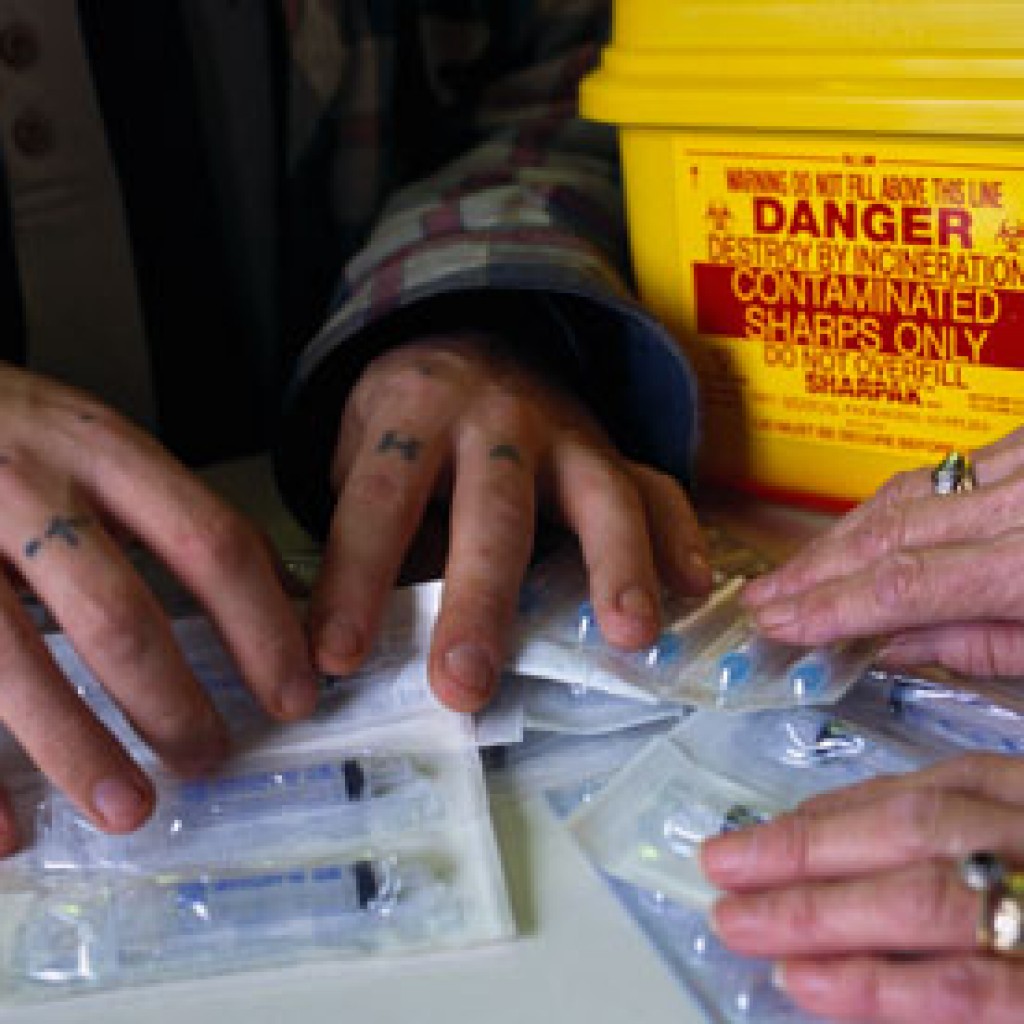 Since the dawn of the AIDS crisis in the early 1980s, public health experts have advocated for syringe exchange programs as one the most powerful tools to reduce the spread of viral infections — including HIV, Hepatitis B and Hepatitis C — by removing contaminated syringes from circulation.
They have documented time and again that programs distributing sterile injection equipment are safe, save money and lives. Florida is currently being devastated by an opioid epidemic provoking as much infectious disease as it does overdose death.
However, despite the long-documented efficacy of syringe exchanges, the state has only one exchange, in Miami-Dade County.
Syringe exchange programs gained acceptance among public health policymakers a generation ago, first in New York, Seattle and San Francisco, and then saw legalization and proliferation throughout the United States, often under the auspices of local, state and regional public health departments. Endemic rates of HIV and Hepatitis C dropped dramatically in every locale where syringe exchange programs were introduced.
The opioid crisis that has gripped the United States for the past decade, epidemiologists have witnessed a combination of opioid overprescribing, poor access to health care, and a failed war on drugs, create the perfect conditions for infectious disease and overdose deaths to skyrocket, as we have seen acutely in Florida with opioid-related deaths rising 35 percent from 2015 to 2016.
Indiana has grappled with a similar epidemic, but there, then-Governor, now Vice President Mike Pence issued an executive order authorizing syringe exchange programs under the supervision of his then health commissioner and current US Surgeon General Jerome Adams.
Florida has been an epicenter of the opioid crisis, and we've seen the terrifying and tragic costs of this epidemic: we have the highest rates of new HIV infections anywhere in the country; from 2010 to 2016 the number of Floridians who died as a result of opioid overdose increased from 3,296 to an astounding 6,558 in 2016; more than 15 people in Florida died every single day last year; and opioids continue to claim lives so ruthlessly and effectively that opioid deaths are directly responsible for lowering the national life expectancy two years in a row.
In 2016, Florida took its first steps toward authorizing syringe exchange in the state. With the support of the Florida Medical Association and every physician and nurse in the Florida legislature, University of Miami physician Dr. Hansel Tookes and Sen. Oscar Braynon (a Miami Gardens Democrat) were successful in their four-year push to pass a bipartisan bill to allow just such a program. However, the 2016 IDEA bill allowed for only a single pilot program in Miami-Dade County.
Nevertheless, in this short time, we've seen veritable miracles occur at the IDEA Syringe Exchange. We've enrolled hundreds of people who inject drugs, referring nearly one-fifth of our participants into rehabilitation programs.
Since April 2017, we've put over 600 doses of naloxone into the hands of those most likely to witness an overdose, seeing more than half of these doses returned as used canisters. Each one of those used canisters represents a life saved, one less overdose death to join the statistics.
For the first time ever, we've quantified the nature of the HIV and Hepatitis C epidemics as they exist in this vulnerable patient population in Miami – 10 percent and 50 percent respectively – rates unheard of in the developed world. We've been able to link newly diagnosed and lost-to-care participants to HIV care, suppressing their viral loads and preventing further transmission in our community.
Each case of HIV we prevent saves the state and taxpayers more than the cost of running a single syringe exchange in one year; and saves another family from untold anguish.
However, the opioid crisis is not limited to Miami-Dade. Families throughout the state have lost parents, children, siblings and spouses to this scourge. Our results at the Miami IDEA Exchange reflect a basic tenet of public health policy: harm reduction saves lives. The rest of Florida deserves the results we've seen work in Miami.
This legislative session, HB 579 by Rep. Shevrin Jones, and SB 800 by Sen. Braynon, have been introduced as bipartisan bills that expand the 2016 IDEA Act to the rest of the state. SB 800 will be heard today in the Senate Health Policy Committee, but HB 579 is still waiting to be placed on legislative agendas in the House.
Every physician in the Florida Legislature has co-sponsored this legislation. We finally have an opportunity to lead the way in public health and fiscal responsibility, and expand syringe exchange statewide.
We need our legislators in Tallahassee to do the right thing and make syringe exchange available for the people of Florida.
___
Kasha Bornstein and Austin Coye are M.D./MPH candidates in the University of Miami's Miller School of Medicine, Class of 2021.