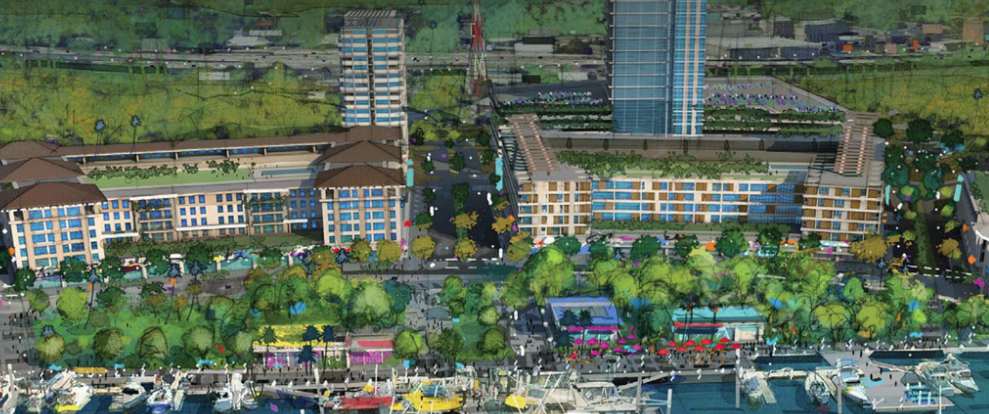 Peter Rummell is one of the leaders of Jacksonville's political donor set, and for the second straight week he got  news from a Jacksonville board regarding his District project.
The news was different than that coming out of last week's Downtown Investment Authority meeting, which had the city of Jacksonville buying the land from JEA for the private development.
That proved controversial to City Council. The latest changes — a return to previous expectations and terms — remove that controversy.
On Tuesday, the JEA Board approved a plan for Elements, the development company of Rummell and Michael Munz, to purchase the former Southside Generator Plant from the utility for $18.6 million.
Closing would be in July.
That was the deal before the DIA meeting last week.
The city may also invest over $26 million into infrastructure, though that's still to be determined.
Munz explained the decision to remove the step that had the city purchase the land from JEA as a practical one, as the city component made the deal "more complicated than it should be."
Elements now is charged with "working very quickly" to amass the necessary capital and meet the deadline, after the decision to take out the assignment step with the city.
The development, as proposed, could transform the Southbank.
"Upon completion The District will encompass approximately 200,000 square feet of retail space, 200,000 square feet of office space, 1,170 apartments/condominiums, and a 150-200 key hotel," per a dedicated website to the project, which touts the District as being beneficial to the "body, mind, and soul."
There are other steps this week. The DIA was slated to meet Wednesday to discuss the aftermath of the JEA meeting; with the controversial step of removing the city purchasing land for the private development removed, that discussion may be anticlimactic.
Likewise rendered moot: a Jacksonville City Council special committee that was formed by Council President Anna Brosche last week to examine the deal, in light of proposed city spending on the deal.
That panel was to kick off on Thursday morning. That committee is now cancelled, per chair Republican Matt Schellenberg, the liaison to JEA.
Schellenberg said that "we're all in favor of doing something with downtown," but that — as the JEA Board said — if the deal isn't closed by July, it should be rebid.
Council President Brosche, meanwhile, is "pleased that it appears the project is moving forward."