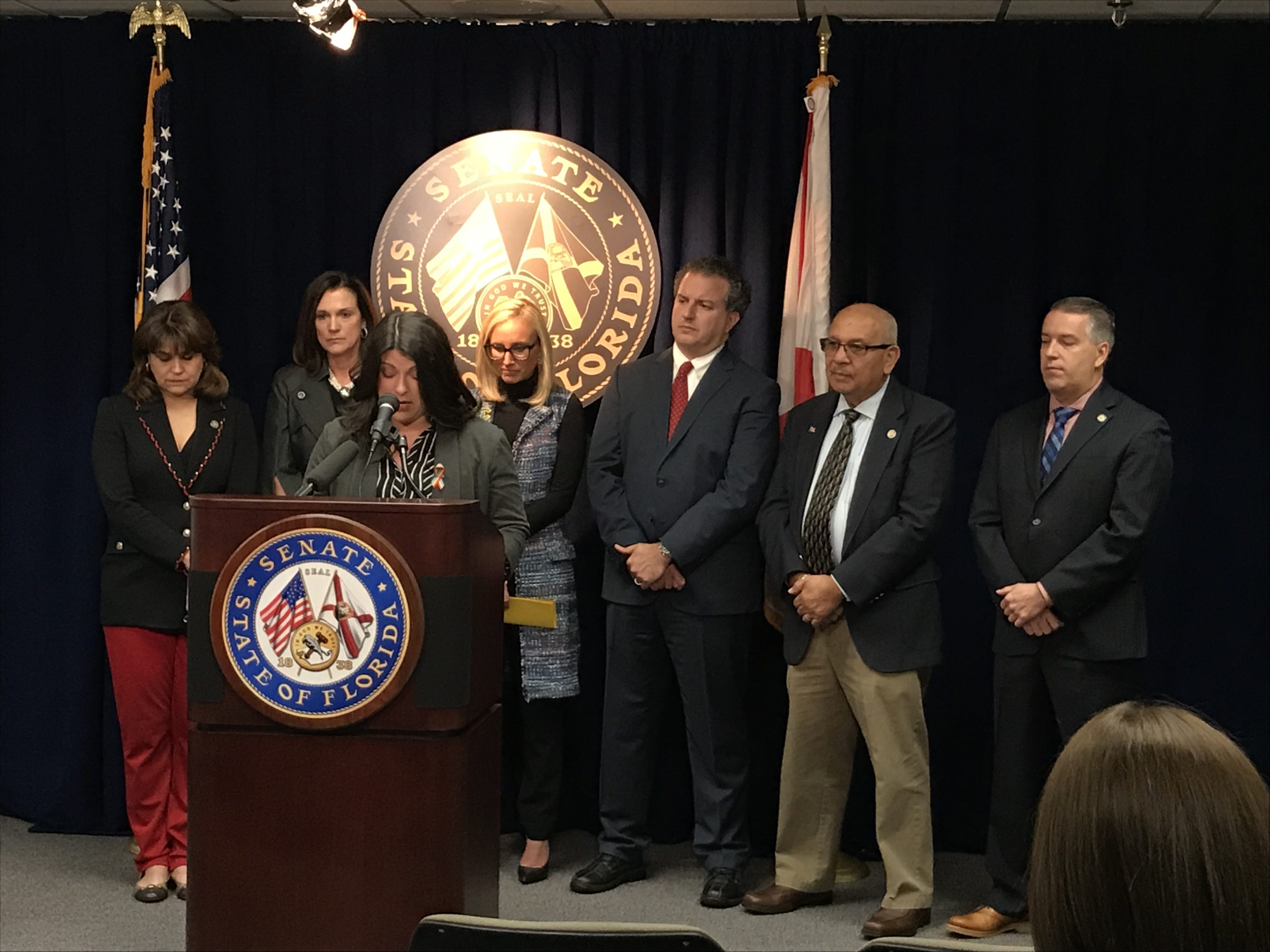 "Recovering a toddler's body from the river, pulling bodies from a car that ended up in a canal and carrying a decapitated teen's body across the sand who was the victim of a shark attack would certainly take a toll on anyone," Leslie Dangerfield said behind teary eyes.
She was describing the atrocities her husband, Indian River Battalion Chief David Dangerfield, had witnessed before he ultimately took his life. Leading up to her husband's suicide, Leslie Dangerfield said his behavior had changed. He had succumbed to the "beast of PTSD," or post-traumatic stress disorder.
Leslie Dangerfield told her story during a press conference Wednesday aiming to alert the public on bills in the Legislature this year that would provide workers' compensation for first responders suffering from PTSD.
Currently, workers' compensation laws do not provide for benefits in cases of first responders suffering from mental health-related injuries, unless they are accompanied by physical injury.
The issue has permeated the judiciary branch. 
Compensation Judge Neal Pitts denied workers' compensation for former Orlando Police officer Gerry Realin last week. Realin responded to the Pulse nightclub shooting, which left 49 massacred and 58 others injured in June 2016.
Realin is one of the many who would benefit from a series of workers' compensation reform bills this Session.
SB 376, filed by Sen. Lauren Book, and HB 227, filed by Reps. Rene Plasencia and Matt Willhite — who also is a firefighter — would include in the Worker's Compensation Law benefits for first responders who sustain mental or nervous injuries.
Book said the issue was brought to her attention when her neighbor confided in her the horrors she experiences through PTSD, a mental health issue that Book also copes with.
"She had gone out on a series of very, very bad calls, dealing with several child deaths," recalled Book. "This is what our first responder families see every day."
"The numbers don't lie," Jimmy Patronis, Florida's chief financial officer and state marshal said. He cited research from 2015 that showed 15 percent of firefighters had made at least one attempt at suicide during their career, while 46 percent of firefighters had thought about taking their lives.
"In this Session, we are fighting to change those numbers," added Patronis.
Sen. Dana Young, a Tampa Republican, explained the issue was personal for her. One of Young's constituents, Megan Vila, lost her brother, Tampa firefighter/paramedic Stevie LaDue, to suicide.
Vila visited Young and told her about the lack of workers' compensation for firefighters suffering from PTSD, she then shared her brother's story. Young said she was heartbroken, but then turned angry at how the system had failed LaDue. Young co-introduced Book's SB 376.
The initiative appears to enjoy healthy support, both between parties and branches of government. Democrats and Republicans are supporting a bulk of the legislation, including Sen. Victor Torres' SB 126, which lowers the burden of proof for mental injuries. The accompanying legislation for SB 126, Reps. Amy Mercado's and Robert Ascencio's HB 629, is the only first-responder workers' compensation bill without bipartisan sponsorship. In the executive branch, Cabinet member Patronis has promised to throw the "full weight" of his office behind the measures.
Book's bill will be heard by the Senate Committee on Commerce and Tourism Tuesday afternoon.