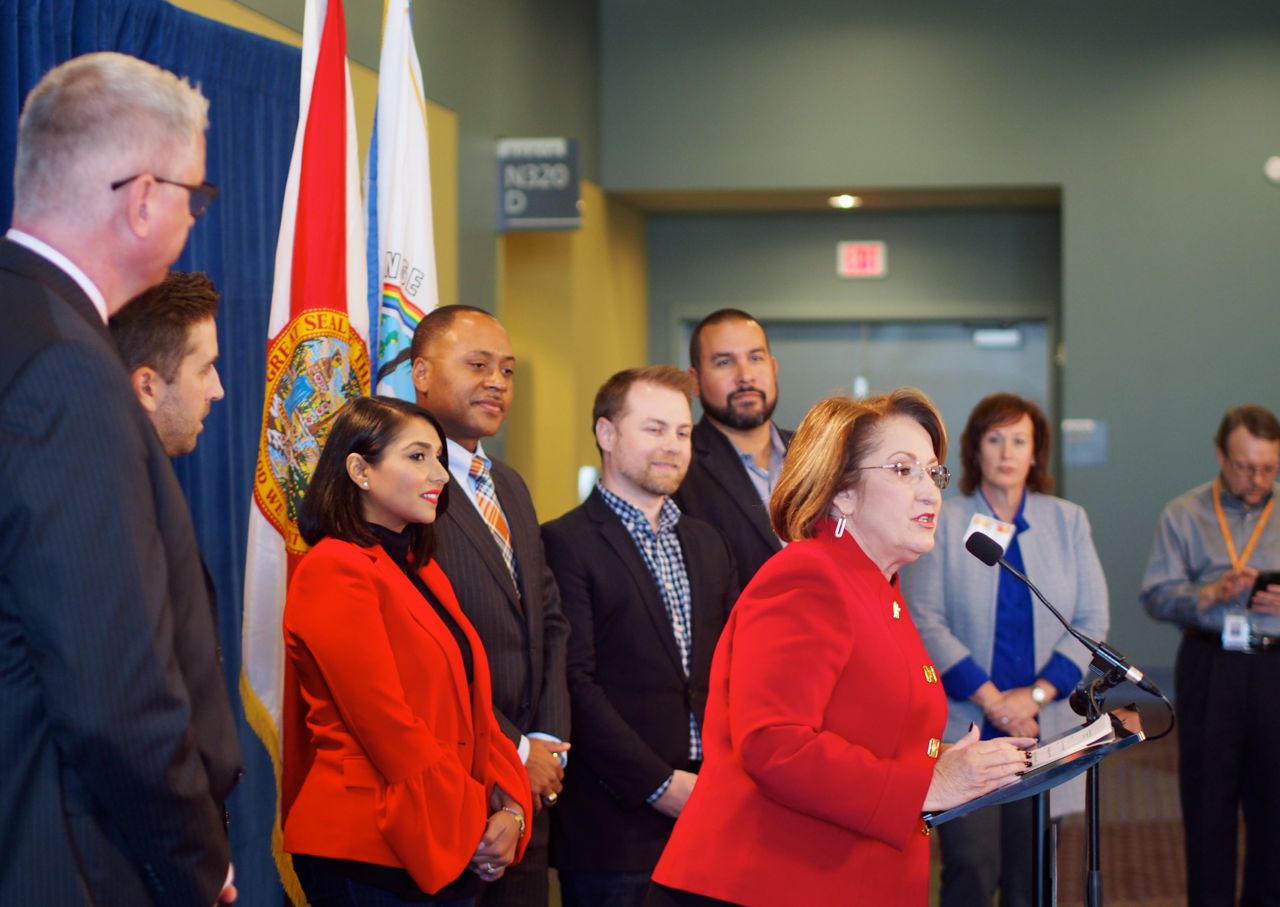 Florida's and Orange County's economies are projected to grow and wages and salaries are likely to start finally climbing, but now the growing pains will start emerging more as well with tighter labor pools and housing shortages.
That was one of the primary messages of Sean Snaith, director of the University of Central Florida Institute for Economic Competitiveness and a longtime unpaid consultant to the county mayor's office, during Orange County Mayor Teresa Jacobs 2018 Economic Summit.
Snaith projected continued strong growth particularly for Florida's and Central Florida's construction, leisure and hospitality and financial sectors, and said the low unemployment rates seen the past two years, announced Friday statewide at 3.7 percent, and in the Orlando market at 3.3 percent, likely have bottomed out.
The result, he projected, are the pressures on business and the economy of a labor shortage, even with the massive influx in recent months of Puerto Rican migrants, and for people seeking homes amid a housing shortage and increasing housing costs.
"What we haven't seen yet, this missing piece, is wage and salary growth. We're on the cusp of that. We're starting to see hints of it. I think we'll see it full-scale in 2018," Snaith said.
Snaith's address headlined  Jacobs' annual economic summit, held Friday at the Orange County Convention Center. With several years of economic growth finally raising Orange County's economy, last year, past pre-recession levels, with the regional unemployment rate having been below 4 percent for much of 2017, and with projections for growth ahead, Jacobs and others were buoyant Friday.
Jacobs said the region was positioned well for continued growth because it had invested in key infrastructure, notably the SunRail train and the new international terminal under construction at Orlando International Airport, but also because it had matured into what she said was a caring, collegial, cooperative community.
"I think that's what brings us to the forefront of so many people's minds when they think of job creation," Jacobs said. "In fact we are one of the top, if not the top regions in the nation in the signs for job growth, and we've maintained that position for the last several years."
But there were also concerns raised, starting with the pressures on Central Florida's housing market, which already is being described as in shortage, and which Snaith was not projecting to change anytime soon.
There also were discussions about what, if anything, in Central Florida's economy might have cost Orlando its finalist status in the great Amazon HQ2 sweepstakes, after the company announced Thursday the 20 cities it was considering for a huge new headquarters, and Orlando wasn't one of them.
Jacobs and Tim Giuliani, president and chief executive officer of the Orlando Economic Partnership, said they had no clear indication why Orlando's bid fell short for Amazon, and that they felt good about the proposal.
"It was what they were looking for," Giuliani said.
Jacobs noted the recent victories for the region, including last year's announcement by Lockheed Martin that it would expand its missile and fire control division in Orlando, bringing 500 new high-wage jobs and a $200 million capital investment; and KPMG's new 55-acre national training center with a $430 million capital investment and 80 new high-wage jobs.
"There are two parts of it. It's the infrastructure. It's the bricks and mortar. It's the transit. It's the incubator programs. But then there's the intangible, that spirit of being in this together as a community, being part of a family…  That's a cultural change that we've seen in the last 20 years that I think probably the most appealing asset we have when we promote ourselves economically," Jacobs said.
"When you talk about how we get Apple here? You talk about how we get companies here? The cultural environment matters. You don't want to work where you don't want to live," she said.