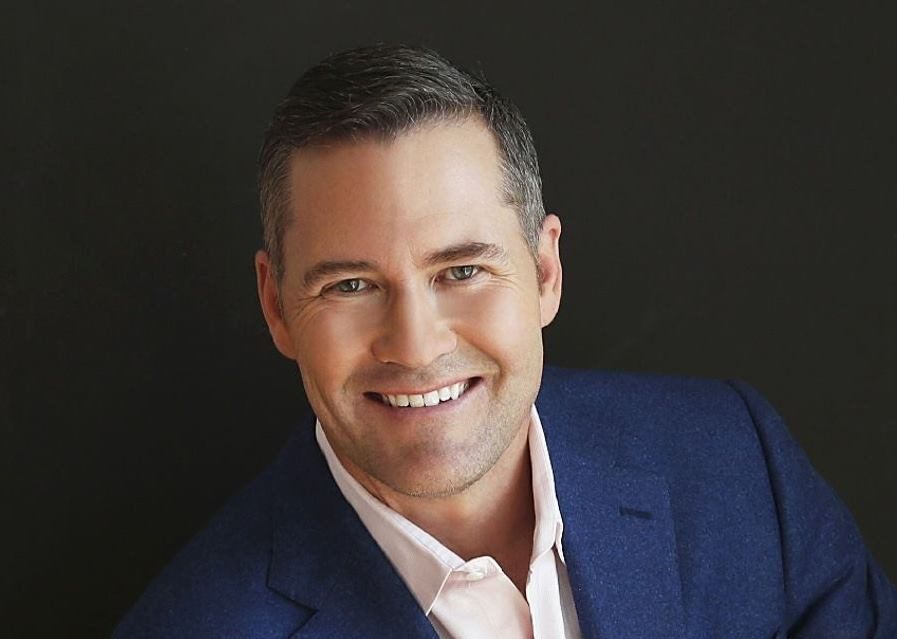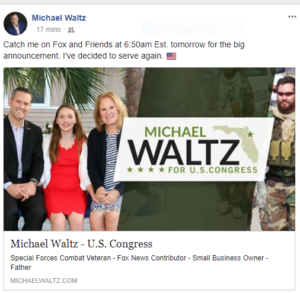 "You have to get back in the arena. It's time to serve."
Mike Waltz announced his run in Florida's 6th Congressional District Tuesday on turf that is becoming increasingly familiar for campaign announcements to Florida voters: Fox News.
The Republican incumbent in CD 6, Ron DeSantis, previously took to Fox and Friends to say he was running for Governor. Waltz, a Fox News contributor with ample airtime in these months that he has mulled a run, exercised the same prerogative.
Waltz, who filed last week. said that as a "combat veteran, a Green Beret, a businessman" and a former adviser to VP Dick Cheney, he brings a unique skill set to the race.
"I can talk Obamacare, overregulation and over-taxation, and how it stifled growth," Waltz said, in addition to being able to talk about military service in foreign theaters, such as Afghanistan and Africa, and the search for Bowe Bergdahl.
Waltz will join state Rep. Fred Costello and businessman John Ward in the race.
Costello has tried for this seat twice, in 2012 and 2016. Ward is a first-time candidate.
The knock on Waltz, according to some, is that he took a position opposite the candidacy of Donald Trump in the primaries.
Waltz made a video during the 2016 presidential primaries for the American Future Fund. Waltz excoriated Trump for "never having served this country a day in his life."
"All Donald Trump has served is himself," Waltz said. "Don't let Donald Trump fool you. Look into his record, and stop Trump now."
Trump went on to the presidency and Waltz summarily had a change of heart, as he told us in November.
Waltz has become a strong supporter of the Trump agenda, both on Twitter and on Fox News.
Florida Politics talked to Waltz Monday, asking if he has changed, Trump has changed, or circumstances have changed.
Waltz noted that his statements were made "during the primaries," and that he spoke "on the heels of what Trump said about POWs" during the primaries.
(Infamously, Trump said that he "liked [soldiers] who weren't captured" during a 2015 harangue targeting John McCain.)
Having himself been "targeted for capture by the Taliban," Waltz felt — especially in the pitched context of the primary — that it was necessary to "stand up for POWs."
"Once Trump became the presidential nominee," Waltz said that he's been "on board."
Waltz lauded the "fantastic job" Trump has done as commander in chief, noting that the president is "letting [soldiers] do their jobs," leading to soaring morale.
Waltz also asserted that the "most respected generals in the military" were helping Trump make decisions, adding that he — contrary to assertions — is "not a Never Trumper" and "never signed those petitions."
Costello and Ward won't have access to Fox News studios to make their cases against Waltz, of course, in this Republican dogfight.
Meanwhile, the Democratic side of the ledger appears to be set, with Ambassador Nancy Soderberg amassing substantial fundraising and executing a very credible campaign, against no real competition.
Waltz "look[s] forward to the day [he] can step up on the debate stage against a former Clinton UN Ambassador," he said on Fox and Friends Tuesday.
Worth noting: Rasmussen Reports sees the seat as competitive.
"The seat is very Republican — Trump won it by 17 points — although Democrats have an interesting challenger who has raised legitimate money, former Clinton administration deputy National Security Adviser Nancy Soderberg (D). We thought about listing this seat as Likely Republican before DeSantis left to run for governor, so it stands to reason we'd list it now that it is an open seat even though the eventual Republican nominee will be clearly favored."