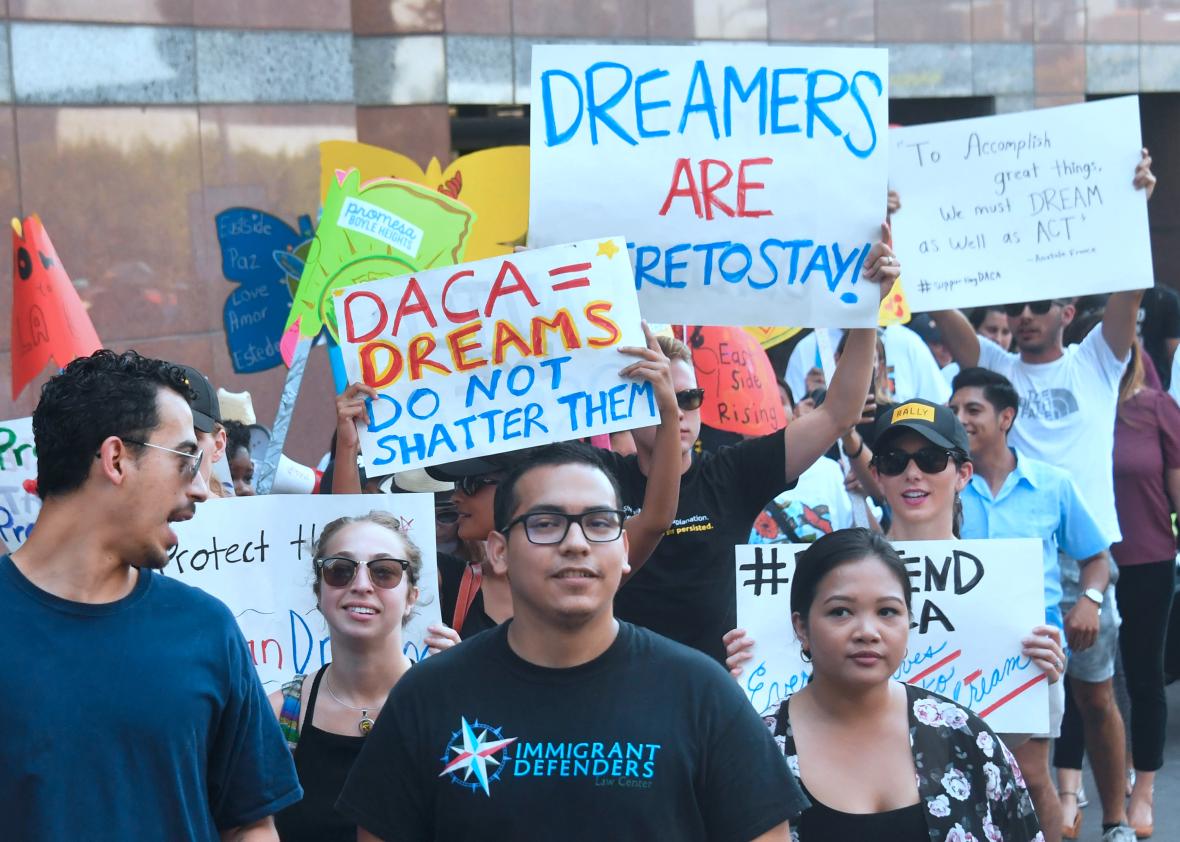 It is a popular story line to excoriate Senate Democrats, including Florida's Bill Nelson, for caving in to Mitch McConnell and Republicans to end the government shutdown.
Those angered by the compromise that ended the stalemate for at least three weeks say Republicans can't be trusted to find a fair solution for so-called Dreamers – the children of immigrants who came to America illegally.
Dreamers, for the most part, know nothing but life in this country, but immigration hawks want to kick them out anyway.
It's a moral issue. It's a cause worth fighting for Democrats – or for people with a conscience, for that matter.
But take a deep breath. The fight isn't over.
Ten Senate Democrats face re-election battles in November in states Donald Trump won in 2016 – Nelson among them. The fact that nine of those senators, including Nelson, voted to accept the short-term compromise to re-open the government ought to speak loudly about what a majority of voters want.
The same insanity that forced Republicans into extreme positions in order to satisfy the almighty "base" is infecting Democrats from the left.
No wonder mainstream Americans keep tuning out politics, because so much of what comes out of Washington is shrill rhetoric that has almost nothing to do with the daily lives of most citizens.
So, Republicans "win" this battle because Democrats didn't stand on principle and keep thousands of government workers at home while being accused of caring more for illegal immigrants than the military?
Hardly.
Three weeks from now, I think there is a real good chance they'll padlock the government doors again.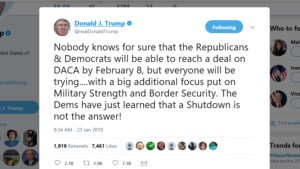 I think some Republicans are driven by such blind zeal on immigration that they are more than happy to deport thousands of Dreamers without regard to compassion or common sense, and that's how they will approach a "solution" to this issue – everybody out!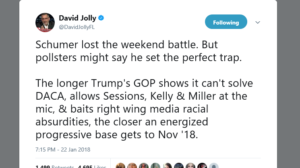 At that point, Nelson, facing a tough re-election fight against likely challenger Gov. Rick Scott, can say he tried in the name of fairness to find a workable path to citizenship for these people, but Republicans just want to round 'em all up and ship 'em out – so it's time to plant the flag.
I think Americans in the middle would size that up and agree, and we would steam merrily toward the mid-term elections.
There are still millions more people in the middle than on the fringe of either major party, and the 2016 election proved that – albeit in a warped way. Somehow, Donald Trump duped many in the middle that he was their guy.
OK, so he fooled everyone. These things can be corrected.
The majority of Florida voters live in the middle – voting sometimes for Democrats, sometimes for Republicans. They can believe in guns and charity. They don't look at every immigrant as a threat. They want jobs, but not at the expense of clean air and water.
They believe in the quaint notion of working together and, when necessary, compromise. Nelson and the other Democratic senators who voted to temporarily end the shutdown can't win without them.
The base doesn't like to hear that, but it happens to be true.