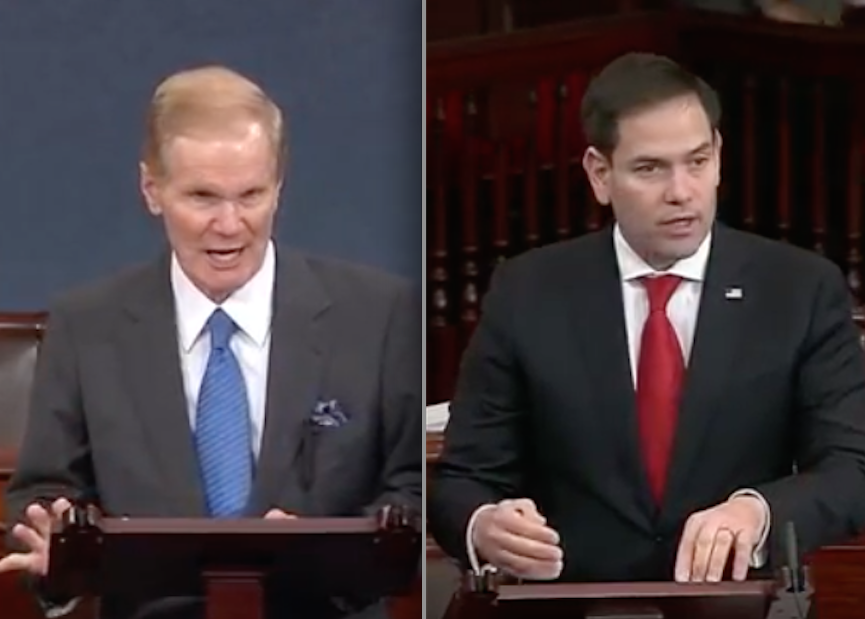 Florida's U.S. Sens. Bill Nelson and Marco Rubio took to the U.S. Senate floor Tuesday to demand more hurricane relief, with Nelson decrying the decision by the administration of President Donald Trump to end food and water aid to the people of Puerto Rico following Hurricane Maria, and Rubio renewing his call for Congress to pass a comprehensive disaster relief package.
"Mr. President, I am absolutely shocked that FEMA has announced that on Wednesday it will stop distributing food and water to the people of Puerto Rico," Nelson said, addressing Senate Majority Leader Mitch McConnell of Kentucky Tuesday. "Cutting this aid to the people of Puerto Rico, who almost a third of them still do not have electricity, it's unconscionable, and it's a travesty."
Rubio, a Republican, followed Nelson, a Democrat, to the floor a few minutes later and joined his call for recognition that people still are suffering and that hurricane recovery will take a long time. He expressed disappointment that Congress still has not approved a disaster relief bill for the trio of devastating hurricanes — Harvey that hit Texas, Irma that hit the U.S. Virgin Islands and Florida, and Maria that hit Puerto Rico — and the fires of California, and said "these problems are only getting worse, not better, as time goes on."
"At the end of the day, here's the bottom line: Puerto Rico is a U.S. territory. It is the responsibility of the United States. These are United States citizens … And perhaps because it isn't always in the headlines, a lot of people just don't understand its status, its importance, and our obligations," Rubio said. "Do not forget about disaster relief, we have to get it done."
Also Tuesday, U.S. Reps. Darren Soto of Orlando and Jenniffer González-Colón of Puerto Rico led a bipartisan letter to FEMA Administrator Brock Long to continue distributing water and food supplies to Puerto Rico, following announcements that FEMA plans to "shut off" this aide to the island beginning tomorrow. The letter is co-authored by 30 Members of Congress, including Nelson and Rubio, and U.S. Reps. Kathy Castor, Mario Diaz-Balart, Alcee Hastings, Al Lawson, Stephanie Murphy, Ileana Ros-Lehtinen, Dennis Ross, and Frederica Wilson.

"Now is not the time to cut off this life-sustaining assistance. If Florida, or other states, were facing similar situations as the island, there would be an outrage by Members of Congress. We urge FEMA to reconsider; American lives are at stake!" Soto, the Orlando Democrat stated in a news release.
Also joining the chorus of protest was gubernatorial candidate Chris King, a Democrat from Winter Park.
"The Trump administration's decision to end emergency operations is not just an immoral attack on the hundreds of thousands of American citizens living without access to food, water or power in Puerto Rico, it is an outrage to the people of Florida," King declared in a news release issued by his campaign. "The fate of Puerto Rico and the fate of Florida are inextricably intertwined –– the fact that Republicans in Washington and too many in Tallahassee don't get this basic idea is a dangerous consequence of one-party rule."