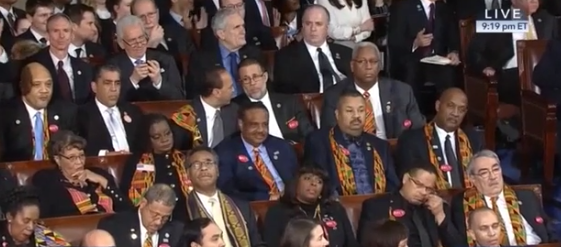 A tough Democratic primary awaits Rep. Al Lawson in Florida's 5th Congressional District against former Jacksonville Mayor Alvin Brown.
And the conservative Daily Caller website may have made it tougher Wednesday, by serving up a post lauding Lawson for applauding President Donald Trump during Tuesday evening's State of the Union. (The SEO title, meanwhile, was the misleading "CBC Member Applauds Black Unemployment").
The article, entitled "Only one member of the Congressional Black Caucus applauded low black unemployment," noted that Lawson "was seen clapping for Trump's comments about the success of the economy, specifically African-American unemployment, as cameras immediately turned to the group during his speech. Other members of the CBC refused to stand or applaud his comments on the low unemployment claims for African-Americans since he has taken office."
As Trump said "African-American unemployment stands at the lowest rate ever recorded," cameras panned the crowd, focusing on CBC members.
Lawson was alone applauding, though he did not give a standing ovation as Republicans did.
Lawson has asserted that he is in sync with his CBC colleagues; however, a point of evidence to the contrary emerged on Wednesday when former CBC Chair Emanuel Cleaver endorsed Alvin Brown.
Brown fired back with a response to the Daily Caller article Wednesday.
"It is deeply troubling that Al Lawson claps for the Trump agenda in Washington as people back home struggle to make ends meet. While the black jobless rate is at its lowest levels following President Obama's years of hard work, there remains more to be done," the former Jacksonville Mayor said.
"Black unemployment remains nearly twice as high as the white jobless rate, as does the black poverty rate, and unlike Rep. Lawson who apparently is content with this alternate reality, I am committed to fighting for economic security and opportunity for all in our community in Congress," Brown continued.
Lawson prides himself on his willingness to work across the aisle; it remains to be seen if that is a priority of primary voters in 2018.