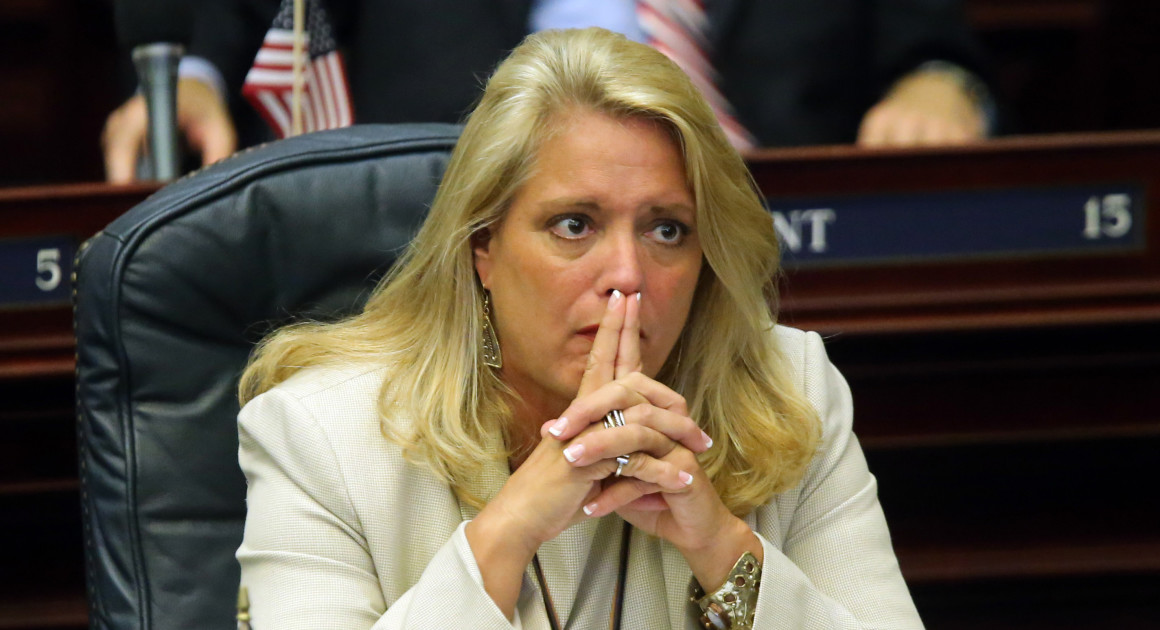 Rep. Kathleen Peters' attempt to amend an House ethics reform bill resulted in virtual fireworks Thursday, with a prominent lobbyist saying Peters was targeting him and a lawmaker bemoaning "political gymnastics" that temporarily gummed up the measure.
One of Peters' amendments would have banned sitting lawmakers and their immediate family members from working for lobbying firms. The other would have barred lawmakers from working for a lobbying firm, including law firms with lobbying teams, while in office. Both eventually were voted down.
"This was geared at one person: He's here with a target on his chest," lobbyist Ron Book said, referring to himself. Peters is a political ally of former Sen. Jack Latvala; Book represented women that Latvala had allegedly harassed. And Book's daughter Lauren is a sitting state senator.
The idea had been for the Public Integrity and Ethics Committee to add to the bill (HB 7007) bipartisan sexual harassment-prevention provisions offered by Republican Jennifer Sullivan and Democrat Kristin Jacobs. Those were accepted.
But Peters, a Treasure Island Republican, also tried to attach the amendments widely seen as a dig at Speaker Richard Corcoran. Corcoran's brother Michael is a lobbyist.
Peters already has been been "ousted to political Siberia," as the Tampa Bay Times put it, after she refused to support Corcoran's efforts to overhaul VISIT Florida and Enterprise Florida last year.
She previously has tweeted that her measures were "not a shot at the speaker. This is good common sense reform." But on Thursday, she told fellow lawmakers "what happened on the floor last year … was what sparked my desire to do this," adding she wondered whether her proposals didn't "go far enough."
That was an oblique reference to the House's passage of the "whiskey and Wheaties" bill, later vetoed by Gov. Rick Scott, that would have removed the legal requirement that hard liquor be sold in a separate retail store from other goods. Michael Corcoran represented Wal-Mart, which wanted the wall repeal.
Referring to the state's ban on lawmakers accepting gifts from lobbyists, Peters said lobbyists "can't buy us a cup of coffee" but they can "hire us for six figures."
Others on the panel laid into Peters, calling her proposals both "too narrow" and "overbroad." Book, in a fiery tirade, called Peters' proposals "retaliatory conduct."
That's "because I willing to step forward and represent several women involved in the Latvala investigation. So let's just call this what it is," he told the panel.
Peters denied that, saying she had intended to file her language as a bill last year but ran out of bill allocations.
"I'm all for cleaning up government, but I feel like it's overly broad," Republican Jason Brodeur said, adding that Peter's language could have prevented him from meeting and marrying his wife, Juvenile Justice Secretary Christina Daly, also a registered lobbyist. "My wife might not be my wife."
Sullivan grew peeved: "It's exasperating to me at this point that this bill has been workshopped, voted on last year, and none of these suggestions were made at any of those points … This is stealing the time and the thunder" of the bill.
Peters responded: "With due respect, I'm exasperated that we're not willing to call a spade a spade," mentioning that former Florida House Speaker and current U.S. Sen. Marco Rubio was hired by a law firm only after his legislative election.
Peters, elected to the House in 2012, intends to leave the chamber to run for a seat on the Pinellas County Commission.
After the meeting, Jacobs said, "I think that in the clash of ideas that happens up here, we're big girls and boys, and you deal with an issue and you move forward,"
"She felt very strongly … and she had the opportunity to express it clearly. The committee did not agree."
Minutes earlier, Ormond Beach Republican Tom Leek, the committee's vice chair, told Sullivan and Jacobs he was "sorry that you, the sponsors, and victims of sexual harassment everywhere had to endure the political gymnastics that took place today."
Last updated on March 28, 2018