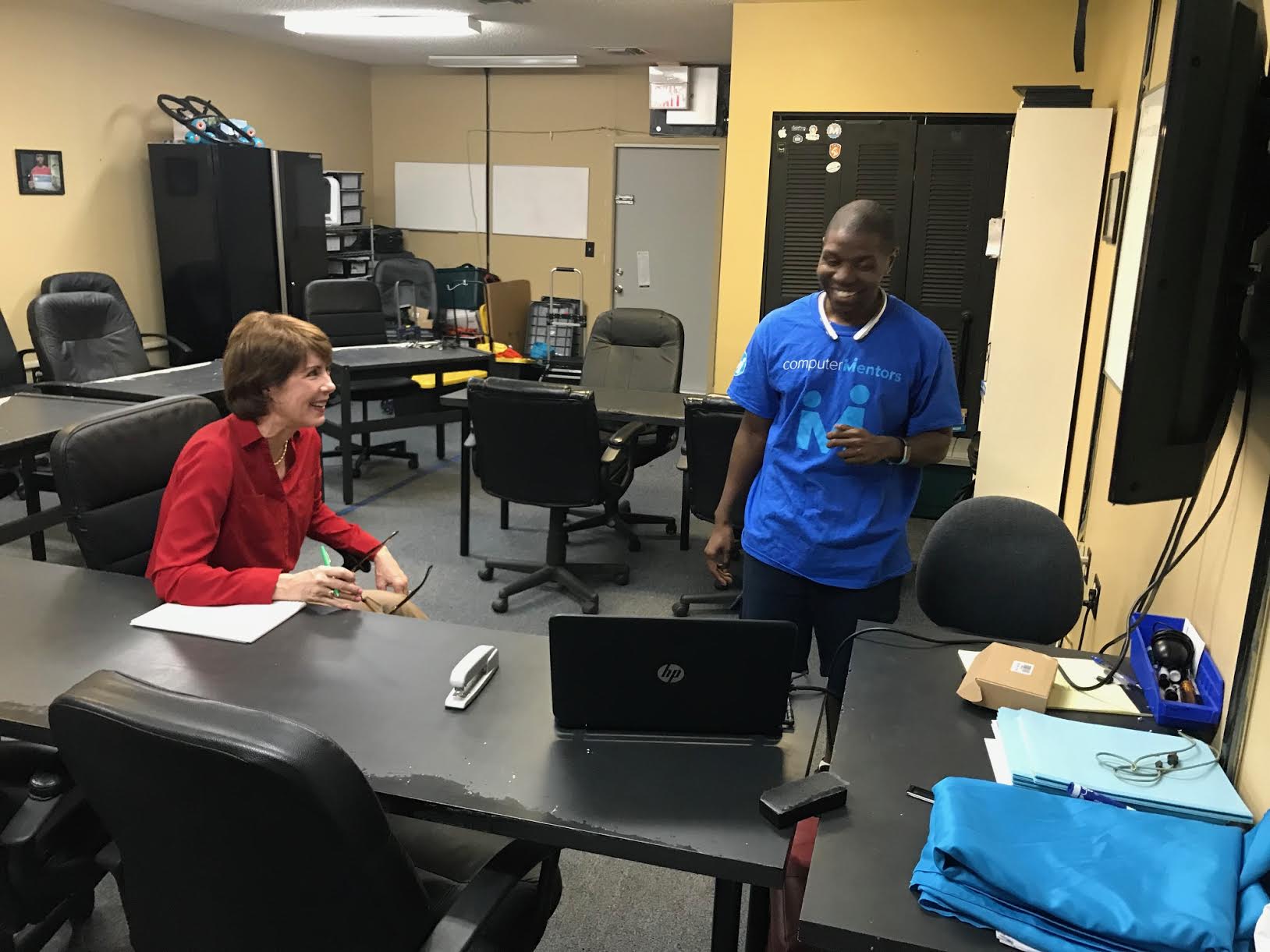 Gwen Graham held her latest "Workday" in East Tampa, spending Friday afternoon learning about technical education at a nonprofit dedicated to teaching computer skills in Hillsborough County middle schools.
As a former U.S. Rep. and current Democratic gubernatorial candidate, Graham is the early front-runner in the race for her party's nomination — attempting to take a seat Republicans have had locked for nearly two decades.
Besides the verbal shots from Democratic competitors, Graham has also been subjected this week to some harsh invectives from the Republican Governors Association.
It's criticism she ignores.
An RGA statement chastised Graham for hypocrisy on the issue of transparency, noting that her office didn't respond to a 2016 Freedom of Information request for documents and correspondence out of her congressional office that involved Graham Cos. (a private family business), the American Dream Miami mall project, as well as any real estate or land deals.
"Graham talks a big game on transparency, claiming that she goes 'above and beyond' while attacking others on the issue," the RGA statement said.
"But, before leaving Congress, she refused to release records that would have provided voters valuable insight into how she used her influence as a Washington politician to benefit her political ambitions."
"I'm not going to comment on what the RGA does for political purposes," Graham told Florida Politics Friday afternoon. "I think anybody who knows me knows that I'm an extremely transparent person. "
Graham spokesman Matt Harringer added on Monday that the RGA attack began immediately after Graham started asking for public records regarding a massive sinkhole beneath a Mosaic gypsum stack that was kept secret in 2016.
He also said that FOIA does not apply to Congress.
"Even though FOIA does not apply to Congress, when the press inquired about the RGA's request for information, we went above and beyond what was required, performed the search they asked for and answered the question to the press," Harringer wrote in an email, adding that there were no records to even give "because the subject was never discussed in our office."
"It's just politics," Graham said Friday about the RGA attack. "I don't play politics."
In fact, running for governor is about as political as it gets, but the daughter of former Governor and U.S. Senator Bob Graham made it clear she will not engage with the RGA.
Instead, she stayed on message — saying she's committed to talking to the people of Florida about what she'll do for them if elected this fall.
The field of candidates vying to succeed Rick Scott grew by one last week with the entry of Ponte Vedra Beach GOP U.S. Rep. Ron DeSantis.
Democrats noted that DeSantis' declaration that he'll "drain the swamp" in Tallahassee (controlled by Republicans for decades) and his admission that he didn't have an opinion on a proposed ballot initiative to allow people who've paid their debt to society to earn back their voting rights supports the idea that he seems a candidate best suited to run for federal office, not state government.
"If you're going to run for governor," Graham allowed, "you better be able to talk about Florida issues and what you're committed to doing."
Another potential GOP gubernatorial candidate, House Speaker Richard Corcoran, also ignited a firestorm of criticism this week when his political action committee aired a television ad depicting a man (presumed to be an undocumented immigrant) shooting a frightened young white woman.
When asked, Graham concluded: "There's no place for ads like that. We all need to hold each other to a higher standard, and we all know what that ad was intended to invoke."
On the complex issue of illegal immigration, Graham said there's a need for Congress to address the issue with a comprehensive reform bill, something currently not on the table at the moment.
However, as for some 690,000 people in the Deferred Action for Children Arrivals (DACA) program, their fate rests with a Donald Trump-imposed March 5 deadline to deal with their status before deportation.
Graham said that "we've gotta take care of the DREAMers" now, ideally through a "clean" DACA bill.
"We're better than this," she said. "Border security is something that we can talk about, but let's talk about in a productive way."
She says it will require members of both parties to have a conversation to reach an agreement, but believes that Trump's recently unveiled "four pillars" proposal on immigration that includes a pathway to citizenship for 1.8 million Dreamers will never get out of the conservative GOP-led House of Representatives.
State Rep. Sean Shaw, a Tampa Democrat vying for attorney general, facilitated Friday's workday event at Computer Mentors in East Tampa.
The organization was created to bridge the digital divide, with its primary mission directed toward getting technology into inner-city homes. Its primary goal currently is to make sure that computer skills get into the inner city, said Ralph Smith, the founder and executive director of Computer Mentors.
Graham will continue to make frequent visits to the Tampa Bay area, she said, facilitated in part by her campaign's recent decision to move her headquarters to Orlando on the east side of the I-4 corridor.