In the Florida gubernatorial race so far, neither party has emerged with a clear frontrunner, according to a new Mason-Dixon poll released Tuesday.
For Republicans, Agricultural Commissioner Adam Putnam has a slight lead ahead of U.S. Rep. Ron DeSantis, 27 percent to 23 percent. House Speaker Richard Corcoran is in third place at just seven percent, while forty-three percent remain undecided.
On the Democratic side, former U.S. Rep. Gwen Graham holds a narrow lead over Miami Beach Mayor Philip Levine, 20 to 17 percent. Tallahassee Mayor Andrew Gillum is third with 10 percent, with Orlando businessman Chris King in fourth with 4 percent; 49 percent are undecided.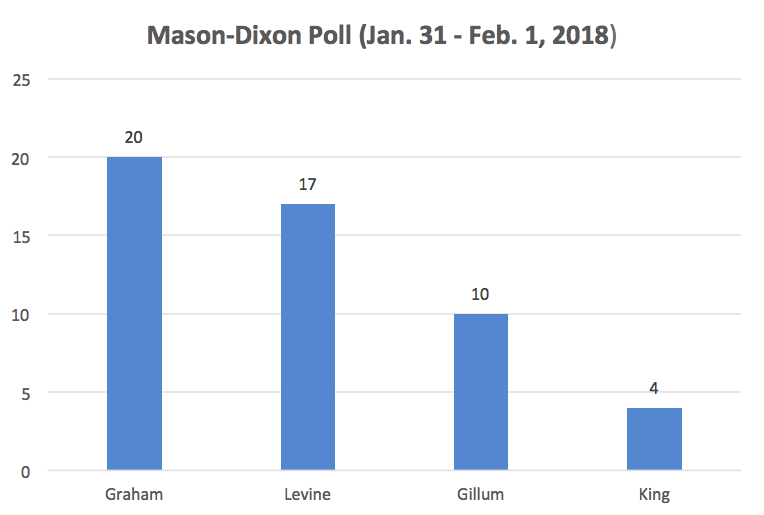 Both races for the lead are within the poll's 4.5 percent margin of error.
Mason-Dixon polled 500 registered Democrats and 500 registered Republicans Jan. 29-Feb. 1.
Regarding GOP name recognition, Corcoran appears to have his work cut out for him. Only 7 percent of those polled recognized the name of Florida's House Speaker, with 70 percent unfamiliar with him.
Only King gets lower marks, with 78 percent unfamiliar with him.
Geographically, Graham leads all Democrats in three significant parts of the state, except for the Tampa Bay region — Florida's most prominent media market — where Levine enjoys a slight one-point lead.
As for the GOP, Putnam leads in Central Florida and the Tampa Bay area (which makes sense, considering he is from Polk County), while DeSantis leads by 11 points in North Florida (28-17 percent) and by a single point in Southeast Florida.
Republicans aged 65 and older, who make up 39 percent of GOP voters in the poll, are Putnam's most reliable demographic group, favoring him by a 32-to-25 percent margin over DeSantis.
Among women voters, Putnam leads Republican with 26 percent. DeSantis is next with 21 percent; Corcoran is at six percent.
Both Graham and Gillum 's candidacy, if successful, would be historic, as Florida has never had either a female or black governor.
With female voters, Graham leads in the Democratic race, getting 25 percent support. Levine is next at 13 percent; Gillum is at 12 percent.
Gillum leads among black voters with 22 percent, to 17 percent for Graham and 13 percent for Levine.
Among Hispanics, Graham leads with 21 percent, followed by Levine with 12 percent and Gilliam at 11 percent.