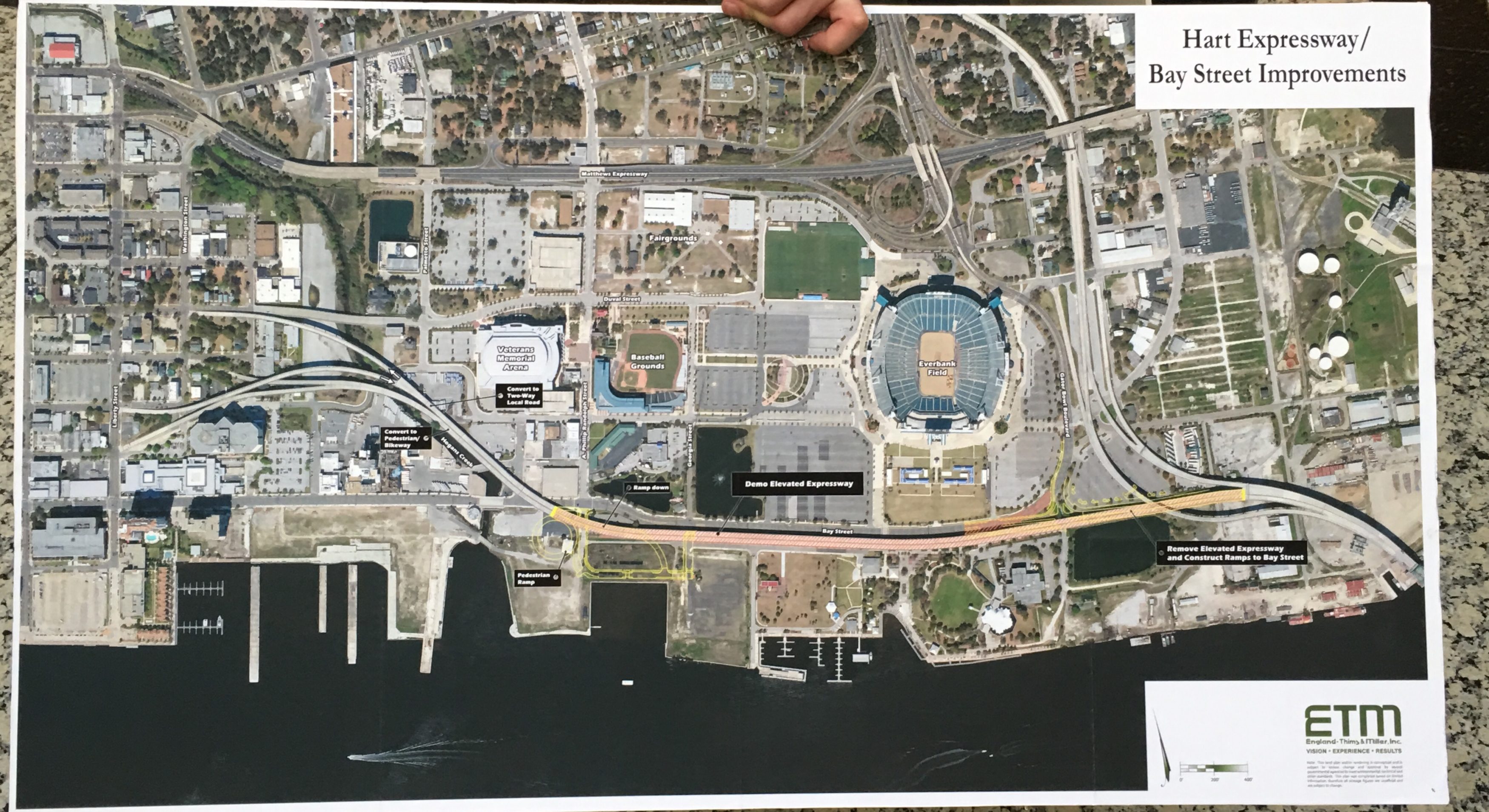 It appears that Jacksonville may get state money for a priority project after all, money it has pursued since 2016.
On Wednesday, Sen. Aaron Bean got $1 million into the Senate budget for the Talleyrand Connector,
This project was originally pitched as a $50 million ask from the state ahead of the 2017 Legislative Session.
Back then, the project was pitched as a way of knocking down Hart Bridge offramps that were installed when Jacksonville's waterfront was industrialized, and routing traffic onto the underused Bay Street.
Members of the Duval Delegation didn't carry the ask as an appropriations request, which left the Lenny Curry administration adjusting expectations and rationales for the project.
By 2017, when the Jacksonville City Council approved a design criteria project to examine the project, the new rationale had more to do with port traffic than access to the sports complex; to improve freight traffic to the port, a rationale not mentioned in 2016, via Talleyrand Avenue.
This design criteria project includes a survey of the current conditions, preliminary design alignments (such as lane location and speed rates), and other such basic criteria.
The project was a prerequisite to a federal infrastructure grant of $25 million (via the Department of Transportation's Infrastructure for Rebuilding America program), with $12.5 million from the state of Florida in matching money and $12.5 million from the city.
The federal money has yet to be doled out, though letters of support have been crafted by Florida's two U.S. Senators, Rep. John Rutherford, and other stakeholders, and Mayor Curry has also made his case personally in Washington.
By the time Curry went last fall to make the case, he used an FDOT study to contend that port traffic would benefit most, with the Bay Street traffic routed by the Sports Complex and future "entertainment zone" just being "gravy."
The $1 million Bean got put into the budget, of course, is just a fraction of the $12.5 million Jacksonville ask. But it's a placeholder amount, and budget conferencing could make it more — or less — in the end.
"It will be a conference issue – rules say it has to be in either the Senate or House budget to become a conference issue.   $1M is all I was able to muster today.  It is a start and hopefully not the final number," Bean said.
Bean getting the $1 million in the budget is important, as there was no House appropriations request for the money. Even if just $1 million is budgeted, it still potentially opens the door for future state appropriations to cover the balance.
The project has been a first-term infrastructural priority of Mayor Curry, who was in Tallahassee last week.
On that trip, Curry discussed removing regulatory impediments to Downtown Jacksonville development with Gov. Rick Scott; he also met with area legislators and statewide powerbrokers.
From the Senate, he met with Aaron Bean, Senate Minority Leader Designate Audrey Gibson, Travis Hutson and Appropriations Chairman Rob Bradley, along with Wilton Simpson.
Curry also met with House Speaker Richard Corcoran, in addition to meeting with regional representatives Travis Cummings, Jason Fischer, Clay Yarborough, and Tracie Davis.