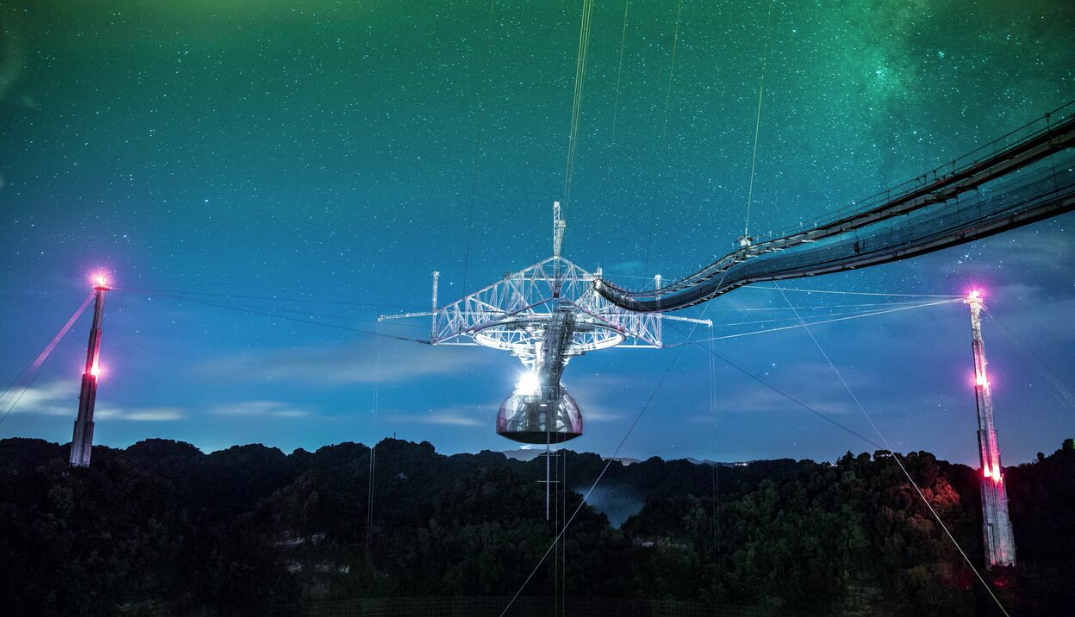 The Arecibo Observatory, the huge, iconic radio telescope in Puerto Rico that has starred in movies and in important cosmic and physics discoveries, is coming under new management: of the University of Central Florida.
The university announced Thursday it is now negotiating the final terms of a five-year, $20.2 million contract with the National Science Foundation to lead a team to manage the 18-acre reflector telescope, and build research programs around it. The university expects to take over, and to hang its UCF National Champions banner there, on April 1.
UCF is leading a team with Universidad Metropolitana in San Juan and Yang Enterprises, Inc. in Oviedo. Most of the current staff at the observatory will be absorbed into the new UCF program, instantly adding a new community of 17 seasoned researchers to the university's growing planetary sciences program. The observatory also will be available for current UCF researchers and students.
"UCF's oversight of this crucial resource further solidifies our university as a leader in space-related research," UCF President John Hitt stated in a news release. "The observatory will provide a valuable new dimension to space science at UCF while creating more academic opportunities for students and faculty at UCF, in Puerto Rico and beyond."
UCF's management also will mean new infusions into the observatory, which has been struggling some with financial, organizational, and operational limitations under the tightly-fundeed NSA. The observatory long has struggled for money. The agency is spinning it off to UCF's team in part in recognition that some of the NSA assets, particularly Arecibo, will have more growth opportunities with outside management.
Built in 1963, the dramatic-looking facility, a huge dish and dome carved into a limestone karst sinkhole in a Puerto Rican mountaintop forest, has been used as an onsite location for several movies including the James Bond installment "Goldeneye," "Species," and "Contact," as well as for the TV series "The X-Files."
And now it's UCFs.
Universities everywhere that have astronomy, planetary sciences, or space research programs yearn to get even pieces of management or ownership of major telescopes, but there aren't that many such observatories out there. Arecibo is not only in UCF's backyard, but until a couple years ago it was the world's largest radio telescope. Now it's the world's second-largest, behind a new one in China.
Already UCF has placed dramatic video of Arecibo Observatory on its university homepage.
Scientists don't usually say such things out loud, but Elizabeth Klonoff, vice president for UCF's Office of Research and dean of the College of Graduate Studies, and Ramon Lugo, director of UCF's Florida Space Institute, both come close to saying this is really cool, for both the telescope and for the science possibilities.
"This really does provide us with the ability to augment our work in planetary sciences in a way that, when I got here, I never thought might be possible but I hoped we could," Klonoff said.
Already, the telescope's work has included observations that led to Nobel Prize-winning discoveries by physicists Russell Hulse and Joseph Taylor, who monitored a binary pulsar, providing a true test of Einstein's theory of general relativity, and the first evidence for the existence of gravitational waves, according to UCF's news release. Last year researchers discovered two strange pulsars that undergo a "cosmic vanishing act," upending the widely-held view that all pulsars are orderly. In 2016, scientists discovered the first repeating fast radio bursts. According to Wikipedia.org, in its 54 years, Arecibo also has been instrumental in the first detection of the pre-biotic molecules methanimine and hydrogen cyanide in distant galaxies; in finding the first concrete evidence of specific extrasolar planets; in recalculating Mercury's rotation; in finding the first evidence of neutron stars; and in producing the first pictures of an asteroid.
And yes, as in the movie "Contact," written by Carl Sagan and starring Jodi Foster and Matthew McConaughey, the telescope has been used for the search for extraterrestrial intelligence.
Hurricane Maria banged it up last September. But considering what the rest of the island suffered, and is still suffering, it came out pretty well, Lugo said. There was some damage to panels and reflectors, and to an important radar unit, but the telescope remains functionally operational, he said. And the disaster relief package approved by Congress last month specifically set aside $16 million for repairs, and Lugo said that should take care of it.