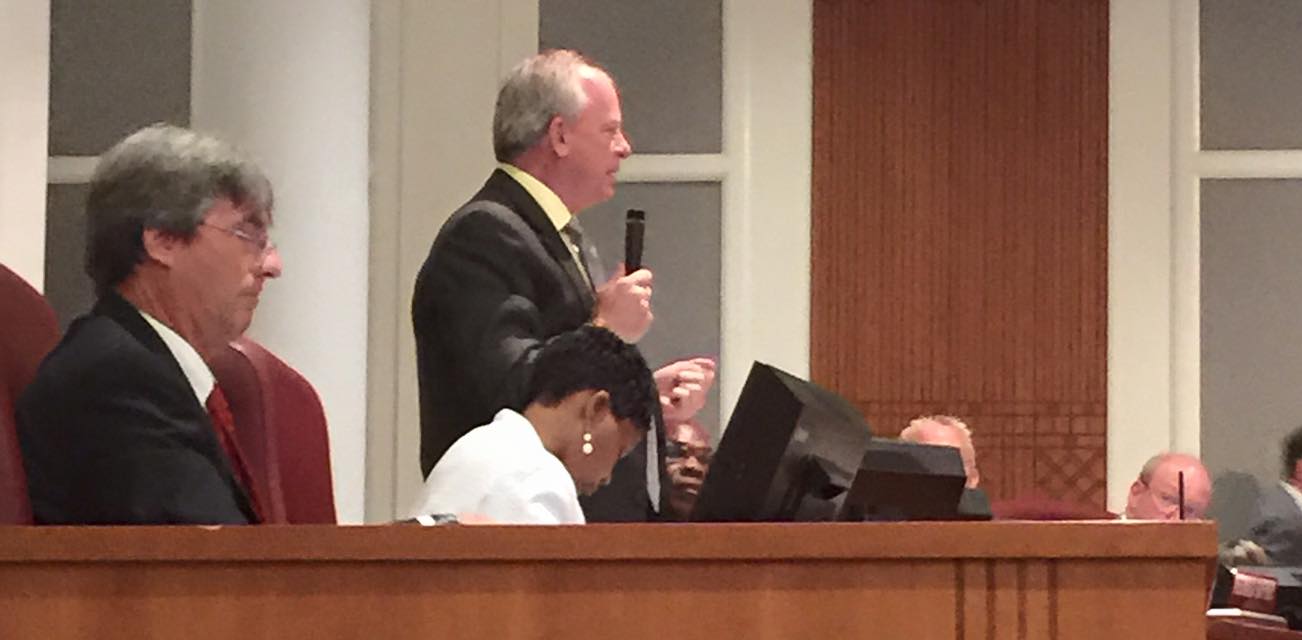 Jacksonville City Councilman Aaron Bowman secured on Tuesday the ten pledges needed to secure the Council Presidency starting in July.
Jim Love backed his fellow Republican, joining Scott Wilson, Sam Newby, and Reggie Gaffney, who committed last week.
Prior to that, Bowman secured the commitments of former Council Presidents Lori Boyer and Greg Anderson, along with Doyle Carter, Matt Schellenberg, and former Jacksonville Mayor Tommy Hazouri.
"I deeply appreciate the confidence expressed by my colleagues.  Although I will continue to meet with Council members who have yet to pledge support, I will now start to focus on planning for next year. I believe that Jacksonville is at a point in time that we have all of the pieces in place for an amazing period of growth and success. I can't think of a better group of council members we have in office today to join on this journey," Bowman said Tuesday.
The coalition of support Bowman has amassed is worth noting, specifically regarding the two most recent past presidents.
Boyer and Anderson worked well with Mayor Lenny Curry during their presidencies; conversely, the Anna Brosche presidency has been a divisive one, with competing narratives between her and fellow Republican Lenny Curry on a variety of issues, including pension reform, children's program reforms, and exploring the prospect of selling local utility JEA.
By late last week, Brosche was among a cadre of Council members roiled by recent revelations that Curry's team had been exploring valuations on privatizing assets, including but not limited to JEA.
Bowman, who plays a prominent role in recruiting businesses to come to Jacksonville via the JAXUSA arm of the Jacksonville Chamber of Commerce, takes a different view of the administration's moves.
He backs exploration of the value of assets.
"The Mayor should be continuously looking at all of the city's assets and how they can be used to best serve taxpayers. That's his job," Bowman told us Thursday.
"And when people call the city about those assets," Bowman added, "the city needs to do everything it can to gather all of the information available. In my line of work I routinely field calls from people interested in Jacksonville, investing in Jacksonville, and I investigate and answer. To not do so would be derelict on my part."
Bowman wasn't through drawing a distinction between his trust of the Mayor's Office's intentions and the skepticism that has gripped parts of Council.
"The Mayor's office did not overstep since it does not have the ultimate authority to enter into any agreement. I appreciate the Mayor always investigating an opportunity to improve our city. I also know many investigations have ended with no action. My interaction with the Mayor has always proven to be data driven and always with the utmost care and respect of our residents. The JEA dealings have not been any different," Bowman said.
 "I do hope at some time we can actually evaluate the pros and cons, make sure if we did move forward we can protect jobs, rates, and reliability and then if deemed worth pursuing, have a thorough investigation and do what is best for Jacksonville. I honestly can tell you I have no opinion one way or the other where this goes because we have not even pulled back the first layer but I will also say it cannot be a quick, emotional based decision," Bowman added.
Bowman also stopped short of a full-throated endorsement of proposed revisions to the ethics code.
Spotlighting the JEA sale exploration running parallel to the 2019 elections and temptations for termed out pols, Ethics Director Carla Miller has suggested an overhaul of the city's ethics code relative to lobbying, dark money, "the revolving door" between legislative and administrative jobs, and other attempts to peddle and exert influence.
"We all want to make sure that city business is done openly and transparently," Bowman said, "but we need to look at the bigger picture of why we are making changes. In my experience, when we make regulations that are reacting to a specific issue, there can be unintended consequences."
There are those who grumble quietly that Bowman may be too close to the Mayor. However, with the Council Presidency locked, those grumblings will be for naught.
Curry may bemoan a political hit job from Council. But Aaron Bowman could end up as his enforcer soon enough.