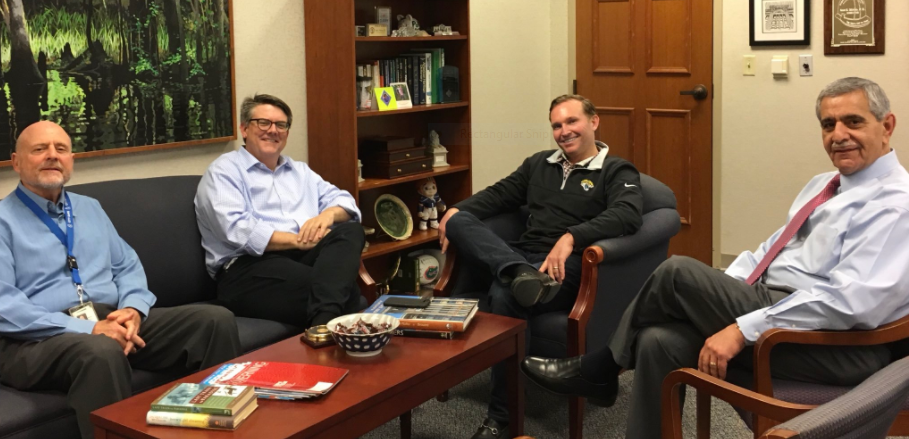 Jacksonville Mayor Lenny Curry took office in 2015, and even before he officially took over in July, there were discussions of reforms of government services.
His transition committees discussed some concepts, and by the time Curry's team settled into office, explorations continued on a conceptual level of privatizing or otherwise reforming the way services were contracted to improve ROI.
By the end of 2015, there was a clear understanding that the Curry administration was thinking along these lines. (In fact, privatization was one of this writer's predictions for what would happen in 2016).
Former New York City Deputy Mayor Steve Goldsmith, one of America's foremost experts on and exponents of municipal privatization, began communicating with Chief Administrative Officer Sam Mousa.
Goldsmith-style strategies have been credited with driving the Chamber Republican-driven boom in Oklahoma City by City Journal. OKC was the locale for a Jax Chamber Leadership Trip in late 2015.
By December 2015, Mousa met with members of Jacksonville's City Council, and privatization was discussed, via "scrutinizing" department budgets, looking at what services are required, and a comparison to the private sector providing some services.
Mousa also noted in that meeting, regarding outsourcing and privatization, that there was a bill years ago to privatize garbage services. It was quashed in council when they buckled under pressure from employees and families.
In the writing business, that's what we call foreshadowing.
This month, Curry's office has been under a political firestorm for exploring privatization, as conceptually discussed years ago, and as discussed relative to JEA by key Curry supporter Tom Petway as he left the board in 2017.
The sticking point had to do with explorations of JEA privatization: specifically, requests for proposals for, as Council auditor Kyle Billy put it, "Financial Advisory Services that would be needed to solicit bids to purchase JEA, evaluate those bids, assist city staff in negotiations, and assist in bringing the transaction to financial and commercial close."
Some members of Council have been in high dudgeon over this.
Mousa, for his part, frames the exploration as nothing new, and nothing particular to JEA.
"For the last two years," Mousa wrote in an email to Billy, "the Administration has been approached by private equity providers and affiliated operating companies interested in either monetizing our City public infrastructure or entering into public/private partnerships for new City infrastructures. Infrastructure such as parking garages, airport, seaport, bridges, roadways and various other City public infrastructure have been presented for consideration."
In other words, the concepts explored with Goldsmith are coming closer to fruition. Though one misconception of privatization is a transfer of ownership: in many cases, leases and public-private partnerships on operation of facilities or functions are, at least conceptually, possible.
In a conversation Friday, Curry defended the exploration of valuations, as "exploratory, on the record, has been for a couple of years," and as a potential "opportunity to maximize tax dollars."
The most extreme and visible example, of course, the valuation of JEA, which some council members have equated to having put up for sale already.
Curry's take: that "we don't know the value until we ask it, and how do you know if you're afraid to ask questions."
Some council members have said that the exploration of JEA privatization was a way of spackling over a lack of revenue to cover pension costs down the road. Jacksonville, tax-averse compared to peer cities, also faces high fixed costs and reserve levels too low to allow further improvement in the municipal bond ratings.
Curry "rejects the premise that we don't have what we need to invest in priorities," citing the current capital improvement budget as an example of the city's sound financial footing.
Rather, those familiar with the thinking of the administration see explorations of privatization of certain services as an acknowledgment of the evolution of business and infrastructural models.
For example, in the case of JEA, electrical grids in this region were a patchwork of public utilities 50 years ago; today, big private entities surround JEA's service region, and those entities have shareholder incentives to work effectively and quickly in delivering product to consumers.
When asked if electricity would be delivered differently in this region if JEA were to be privatized substantially, Curry said "public or private, I don't envision things looking different."
That is, if discussions got to that point. The administration has been consistent all along in saying that the City Council ultimately ratifies contracts, not the mayor's office.
And in that process, protections could be rendered.
Rate freezes, protecting ratepayers, could be a negotiation point. So could protecting employees, keeping them on city pension plans and leasing their contracts to private operators.
Another consideration regarding JEA specifically: the leveling off of demand. This has been a concern in board meetings, and will continue to accelerate, especially on the electrical side.
Anheuser-Busch, for example, has figured out how to recycle water for use in its bottling plant. Elon Musk and others are exploring ways to use solar to get off the grid. It follows that companies and other big-ticket users will follow suit as the technology price point becomes more attractive.
Decades away? Or years away? It's happening, regardless, and that will affect the JEA Contribution ($116.1 million, at last count), as richer ratepayers leave the system, which will be funded more and more by people who can't get off the grid.
A recent move to privatization in Puerto Rico was extolled by the conservative Manhattan Institute recently.
Though direct parallels between Jacksonville's functional system and the tragicomic PREPA probably shouldn't be drawn, the article distills the case for privatization neatly.
"International evidence shows that privatized energy companies are more efficient than their publicly-owned counterparts. Reasons for outperformance are relatively straightforward, and center on the different incentives of government versus private-sector owners. Management is considerably more disciplined in achieving efficient operation when facing oversight from shareholders that seek to maximize the value of the enterprise rather than achieving diffuse and potentially conflicting social goals," the Insitute asserts.
As well, "commercial owners can bring with them superior technical and managerial prowess. The privatization process sees those companies best placed to operate the utility able to deliver the highest bid and secure ownership. The market for corporate control then maintains a constant discipline on management to meet industry best practices, through the threat of takeover and displacement of under-performing management."
Is that a model that Jacksonville taxpayers feel comfortable with?
The discourse currently has sentimentalized the status quo, leaving aside annual salary boosts and bonuses for the CEO and top executives to put forth a binary discourse, one characterized by not just an unwillingness to explore change, but an unwillingness to explore change.
The task before Curry's policy and political team is to move the discussion beyond one of political intrigue to one of a rigorous cost/benefit analysis. Time will tell if the mayor has the political juice to get that done in an election season.