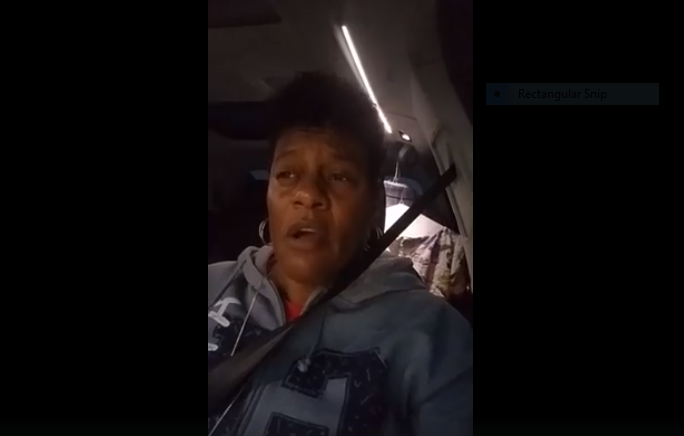 State Rep. Kim Daniels, a Jacksonville Democrat, got national publicity on Monday for the kind of prayer that no other Democrat in the state would deliver.
Namely, as Patheos observed, Daniels delivered with "rants against witches" and a prayer for President Donald Trump.
"God, I lift up President Donald Trump before you," Daniels intoned during a daybreak sermon off the shoulder of an interstate. "I plead the blood over him. I plead the blood over his family."
"Over Capitol Hill, over the White House … wherever that first family is travelling in Jesus' name," Daniels observed, "over the office of the President of the United States will not be disrespected."
Daniels inveighed against "witches and warlocks … trying to bring confusion to this great man," calling for them to  — appropriately enough — be "fired."
"God, when it comes to the place where witches are bold enough to come out and declare that they will have authority over who's the President of the United States, I think it's time for the saints of God to take a radical position, and we send every curse back to the vortexes of Hell where they came from, in the name of Jesus," Daniels contended.
"We thank you God for Donald Trump. We thank you for his family. We thank you for his possessions," the Representative continued.
Daniels has made a habit of praying for Presidents.
Her prayer for President Barack Obama, documented in Charisma, was less salutary and more skeptical than the tribute to Trump.
"Lord, expose the work of every witch, sorcerer, spiritualist or person from the dark side operating through his cabinet members or through anyone else closely associated with him. We block the power of the influence of the Yorùbá religion and all other groups of black people who worship their ancestors, in Jesus' name. We put barriers around the United States that will bind and block the witchcraft coming from Kenya to influence our president in Jesus' name. Let the power of every dedication of his past be broken, in Jesus' name," Daniels urged.
"We break every soul tie and vow that has been established between him and Harvard, secret societies and the Illuminati," Daniels added.
Daniels, per another blog, once said that she wouldn't vote for Obama for a billion dollars; however, that archive apparently was scrubbed.
Florida political observers, of course, recall Daniels for her commentary on current events.
Her most celebrated declaration in recent months: an October contention that "prophets foretold" Hurricane Irma.
We asked Daniels about these comments, and her responses were worthy of quotation in full. To sum, she stands by the claim.
"I wouldn't post it on Facebook if I didn't believe it," Daniels said, feet away from where a massive relief fund was being rolled out for the storm she said prophets knew would happen.