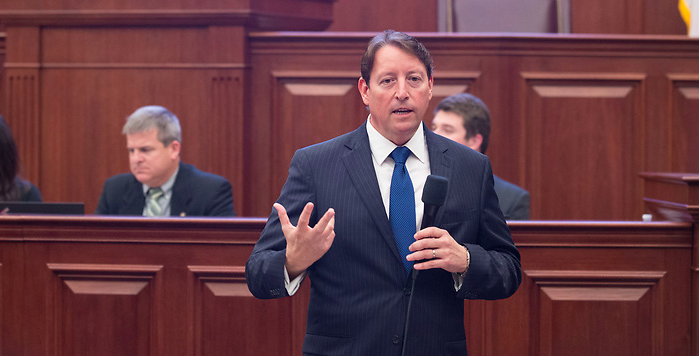 The Florida Senate took the better part of eight hours during a rare Saturday session to work through 128 amendments — only one of which passed the floor — on a single bill.
And even with the amendment's approval, partisan spirits haven't changed on the proposal designed to address issues unearthed in the wake of the recent school shooting in Broward County.
Dubbed the "Marjory Stoneman Douglas High School Public Safety Act," or SB 7026, the sweeping proposal provides for stricter gun control laws, including a three-day waiting period to buy any firearm, and a new age limit — 21 (up from 18) —  for firearms purchases, along with an all-out ban on bump stocks.
It also creates a commission to make recommendations on school safety and invests millions in mental-health and school safety initiatives, which include a program that would train and arm teachers on a voluntary basis.
Of course, not everyone is happy.
Democrats, along with Parkland survivors and victims' families have criticized the proposal for its lack of an assault-weapons ban. The charged Marjory Stoneman Douglas High School shooter, Nikolas Cruz, was equipped with an assault rifle when he killed 17 people at the school on Feb. 14. Gov. Rick Scott also has come out strongly against the idea of arming teachers.
These points of criticism set the stage for the Senate's eight-hour floor session on Saturday. Members of both parties filed hundreds of amendments, withdrawing some and heavily debating others. Arguments over an outright ban on assault weapons took an entire hour in the chamber. Other Democratic-backed amendments lent to lengthy discussions, but the Senate refrained from adopting anything that would fundamentally change the legislation. 
At one point, Democrats experienced something particularly Sisyphean. Senate President Joe Negron had approved through a voice vote the adoption of an amendment providing a two-year moratorium on assault weapons sales. After a few minutes, a motion to reconsider brought the language to a failing board vote.
Pro-gun Republicans filed their fair share of amendments, too.
Sen. David Simmons of Altamonte Springs argued for an amendment that would've changed the firearms age requirement to only apply to assault weapons sales. In other words, the age limit for purchasing rifles would remain at its current level, 18. 
"It's a rational solution to a significant problem," Simmons said. He said he feared that raising the age limit on gun purchases could bring constitutional challenges in court.
Galvano, who sponsored the strike-all amendment approved by the chamber on Saturday, often had to explain to members that law enforcement would iron out the details of the plan to arm teachers. At one point it was asked whether teachers would be able to carry assault rifles and display them in classrooms, to which Galvano said would be up to the sheriff's design of the plan.
"The sheriffs will describe the protocols," Galvano said. Referencing the possibility of teachers having assault rifles, he added: "That's, in my opinion, a far-fetched hypothetical." He said someone from the Office of School Safety likely would not approve such a policy, as they can exert judgment on program designs.
The Senate will vote on SB 7026 on Monday.