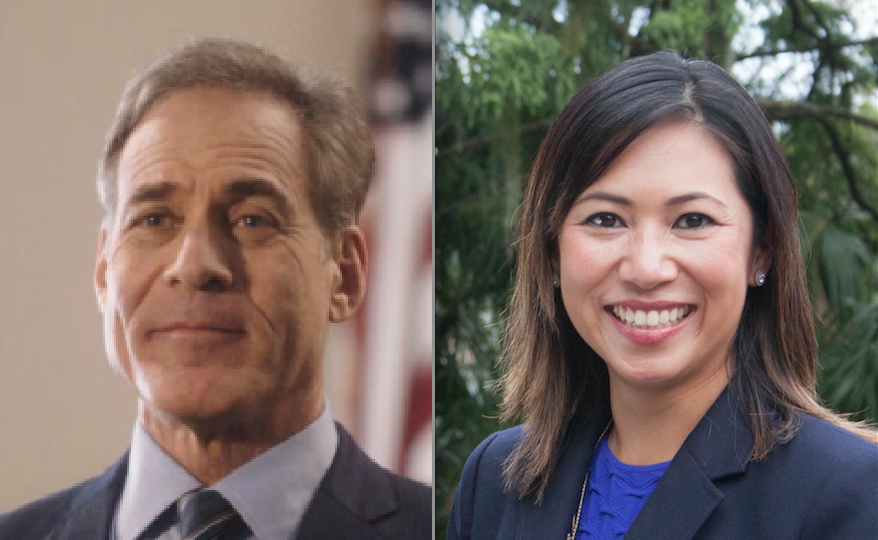 Concluding that all the recent special elections and other factors are putting Democrats in a good position, the political assessment service Sabato's Crystal Ball is pushing its views of the congressional races involving Republican U.S. Rep. Vern Buchanan and Democratic U.S. Rep. Stephanie Murphy in the direction of improving chances for Democrats.
In updates of congressional race assessments announced Thursday morning, Sabato's Crystal Ball changed its rating of Murphy's Florida's 7th Congressional District from "Leans Democratic" to "Likely Democratic," and changed Buchanan's Florida's 16th Congressional District from "Safe Republican" to "Likely Republican."
Sabato's Crystal Ball made such changes up and down the board nationally in anticipation of a "Blue Wave" this fall, nudging the assessments of 26 races all in the Democrats' direction, starting with a special election coming up next week in western Pennsylvania, which is being changed from "Leans Republican" to "Toss Up."
Larry J. Sabato's Crystal Ball is run out of the University of Virginia's Center for Politics, assessing federal elections. In the new report update, Murphy, of Winter Park, and Buchanan's chief Democratic opponent, Sarasota attorney David Shapiro, have improved chances based on what's been happening since the 2016 general election and the consequential anticipated trend into the fall, according to the report issued Thursday.
"Democrats have been consistently overperforming Hillary Clinton's 2016 presidential performance in special elections held since Donald Trump's election," Kyle Kondik, Sabato's managing editor, said in a news release issued Thursday morning. "My colleague Geoffrey Skelley has been tracking these elections, which are mostly for state legislative seats but also include a handful of congressional specials, and he calculates that Democrats have been running on average 13 points ahead of Hillary Clinton's 2016 margin in the nearly 90 races held so far featuring a Democrat and a Republican.
"That speaks to the overall political environment, which clearly favors Democrats right now," Kondik added.
Murphy has a primary opponent, Orlando lawyer Chardo Richarson, but the matchup for the seat representing Seminole County and north-central Orange County is likely to be her re-election effort versus a Republican challenge from either Sanford businessman Scott Sturgill, or Winter Park state Rep. Mike Miller. CD 16 has several other candidates, but the match expected there is Buchanan and Shapiro.
In discussing the chances for Murphy and other Democratic incumbents seeking re-election, Sabato' Crystal Ball stated, "We're upgrading every single Democratic incumbent to at least the 'Likely Democratic' category, and moving several Democratic incumbents off the competitive board altogether. That's not to say one or more won't fall back into a more competitive category later this year — certainly someone very well could in the event of a strong, late-breaking Republican candidacy or a major gaffe or scandal — but for now every single Democratic incumbent seems like at least a decent favorite in the fall."
As for Buchanan's chances, the report called CD 16, stretching from south Hillsborough County through Sarasota County, a "deep sleeper Democratic target."