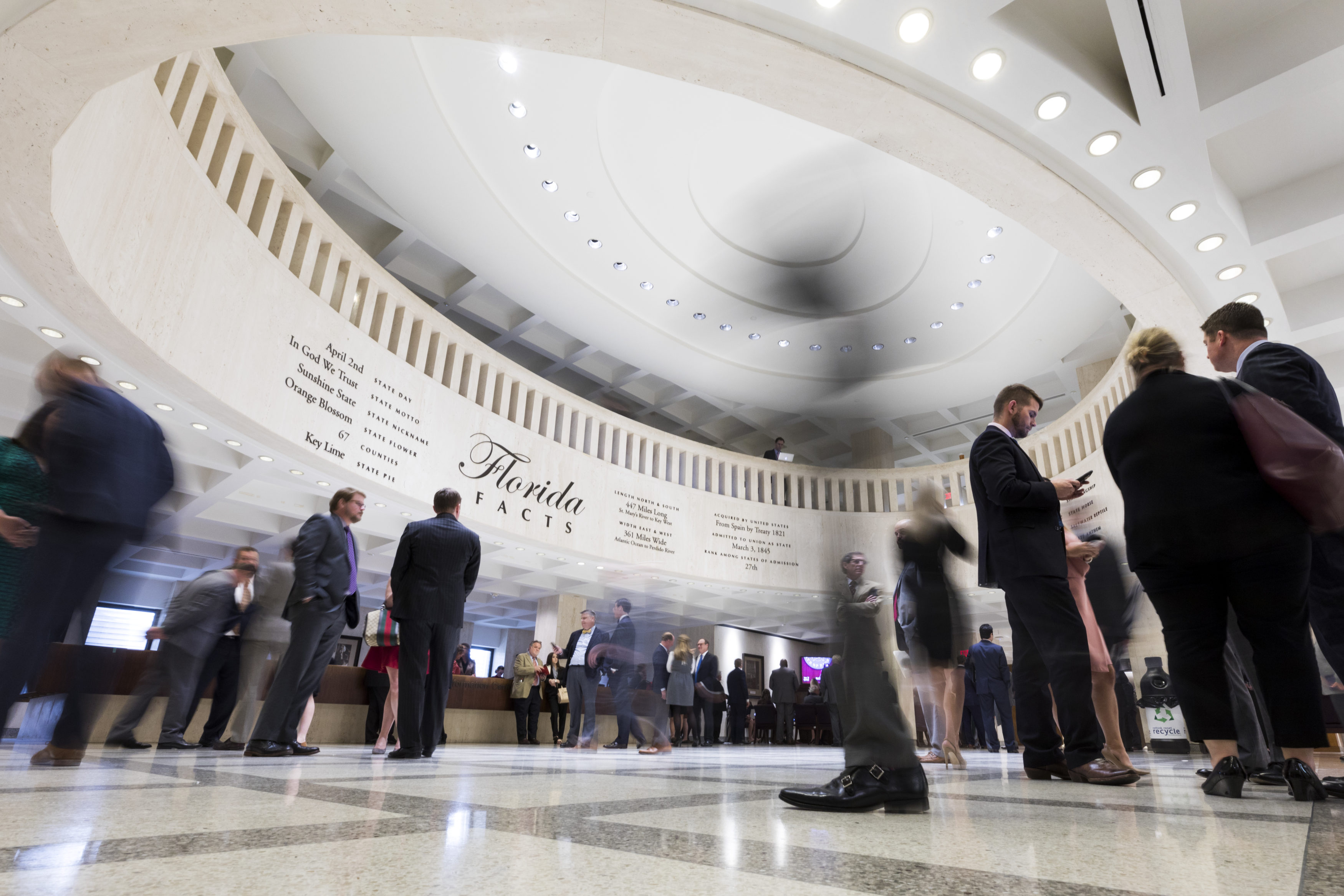 Nobody expected a tragedy like Parkland to suck all the oxygen out of the Legislature's 2018 Regular Session. Lobbyists were left scrambling to save their clients' priorities as lawmakers hustled to rejigger the budget to accommodate hundreds of millions of dollars for school safety and mental health initiatives.
Some survived, many did not; although that's no different from any other 60-day tumble in the Capitol.
So who enjoyed the thrill of victory in 2018? Who suffered the agony of defeat? And who got out by the skin of their teeth to try again next year?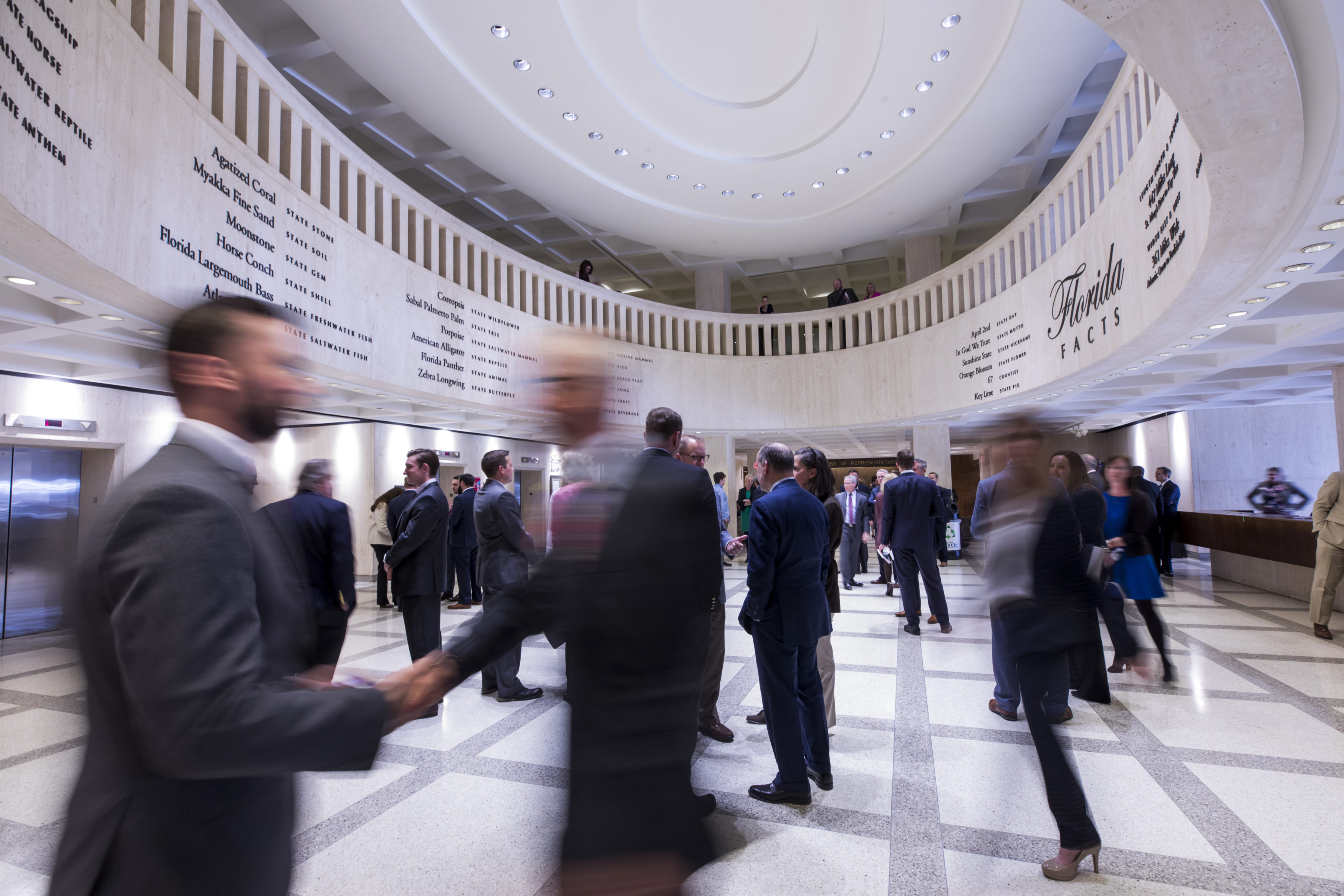 Without further ado, here are this Session's Winners and Losers, with an additional section below for our friends and frenemies in the news media.
Oh, one more note, we're going to reserve judgment on Gov. Rick Scott, House Speaker Richard Corcoran, and Senate President Joe Negron until the end of the gubernatorial bill signing period.
Biggest winner
The kids from Douglas High — Much hay has been made over the teens, how they go to a school in a "white, affluent community," and were able to get way more of a response than that to the Pulse shooting in Orlando. Did it make a difference that the MSD tragedy happened in the middle of a legislative session? Sure. But these teens and their parents forced real conversations and action when many would rather have run and hide.
Winners
Bill Galvano — Maybe you want to admit it. Maybe you don't. But the Senate President-designate has displayed great poise and gravitas, i.e., leadership, while purposely not overshadowing President Negron. He may not have gotten gambling legislation over the finish line before the gambling control amendment this November, but don't be surprised if the Bradenton lawyer — president of the National Council of Legislators from Gaming States — has a trick up his sleeve in 2019.
Wilton Simpson — Who woulda thunk a quiet egg farmer from Trilby would rise to become Senate President in waiting. As Majority Leader, he's never lost a floor vote Negron needed him to win. He stood by his chief aide, Rachel Perrin Rogers, as she weathered the Jack Latvala sexual harassment saga. And he's a genuinely nice guy: He paid for the Parkland's pizza and breakfast when they were in Tallahassee.
Aaron Bean — The northeast Florida Republican has three bills on their way to the Governor: the "Pro Bono Matters" Act, which pays pro bono attorneys to represent special needs children; a bill to continue the Guardian ad Litem Foundation; and a measure to help children of parents in prison.
Jeff Brandes — The senator from St. Petersburg continues the legacy of late Senate President Jim King by pushing through a fix to the Merlot-to-go law (aka "Take away Chardonnay" for you white wine drinkers). Before, you had to have ordered a whole meal; the 2018 change removes that requirement. King's 2005 measure first legalized carryout wine.
Lauren Book — She has displayed to everyone why Lauren's Kids has been a success. The way she has been instrumental in organizing and advising the students from Marjory Stoneman Douglas High School cannot and should not be ignored. Remember, she's only a freshman. Imagine a world with "Book for Governor 2022" yard signs. It could happen.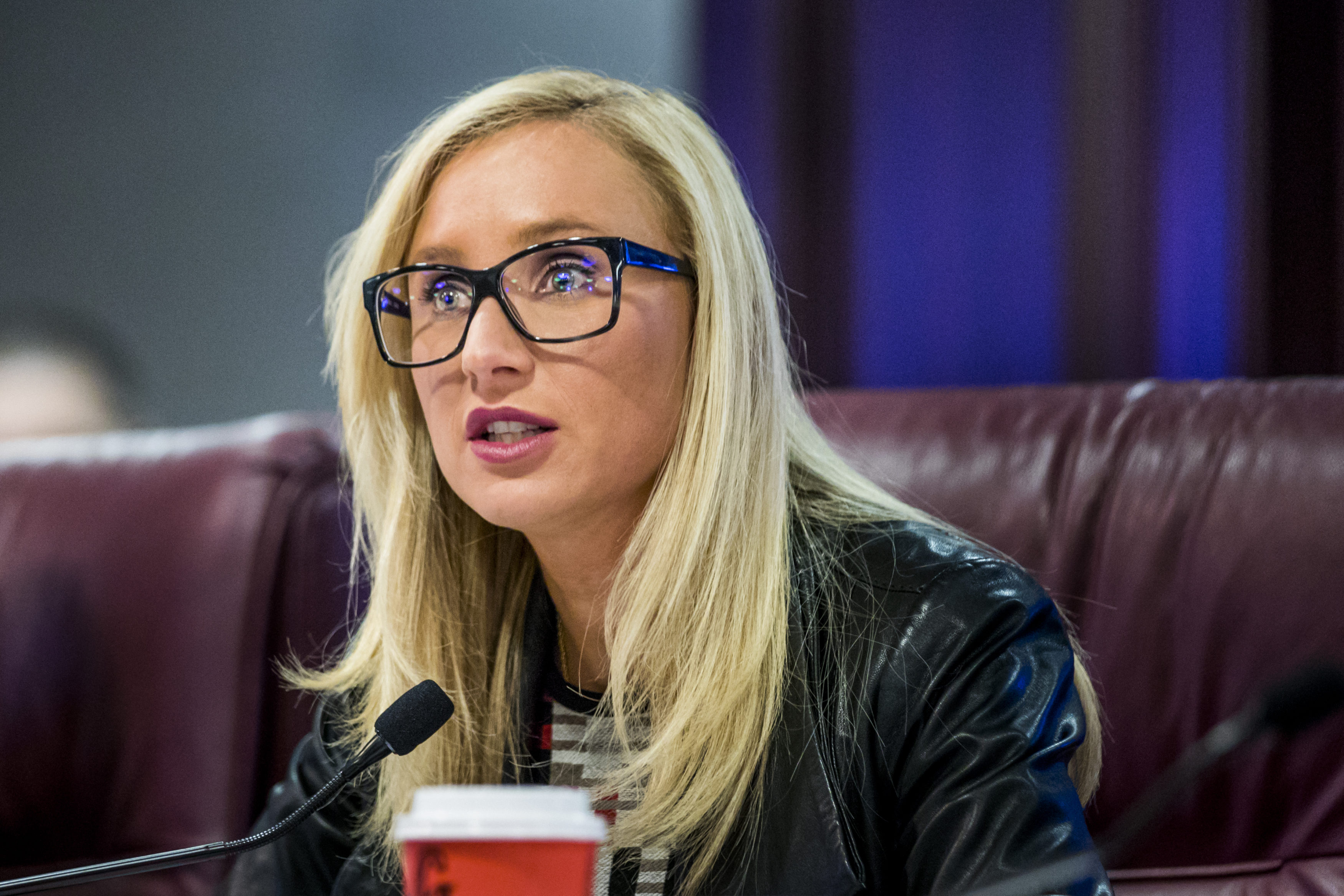 Denise Grimsley — She concluded her legislative career with quiet and thoughtful effectiveness, passing an important Call Blocking Bill that will work to protect everyone in Florida with a phone from crooks, scammers and spammers. She'll never admit it, but her behind the scenes efforts moved the agriculture disaster relief package, getting it out of the Senate ditch. And her speech on the floor during the SB 7026 debate was a thoughtful reminder that Florida has broken children being raised by broken people, and that is the root cause of societal breakdown. Well done, Nurse Grimsley.
Debbie Mayfield — Along with Reps. Erin Grall and MaryLynn Magar, she stood up to political heavyweight All Aboard Florida and shined a light on the lack of high-speed rail safety measures in Florida. They took this on before and after Brightline related deaths and injuries and grabbed major headlines.
Kathleen Passidomo — As a 2nd-year Senator, she steered the largest portion of the budget (education), and, even before the tragic massacre in Parkland, had been championing for additional mental health dollars. She was tasked with maneuvering HB 7055 through the Senate. All of this, while handling her own appropriations requests and the 28 bills she filed this year. That's a pretty impressive resume for a Senate President candidate.
Bobby Dubose — He can be seen walking the floor, helping members with their bills, serving as a de facto floor leader and chief negotiator for both the Black Caucus and, at times, the House Democrats. You can see him moving from a private conversation with Speaker-designate Jose Oliva and over to a group of Democrats. Insiders credit Dubose with stand-your-ground language in the MSD school safety/gun bill. That alone is a BFD in our book.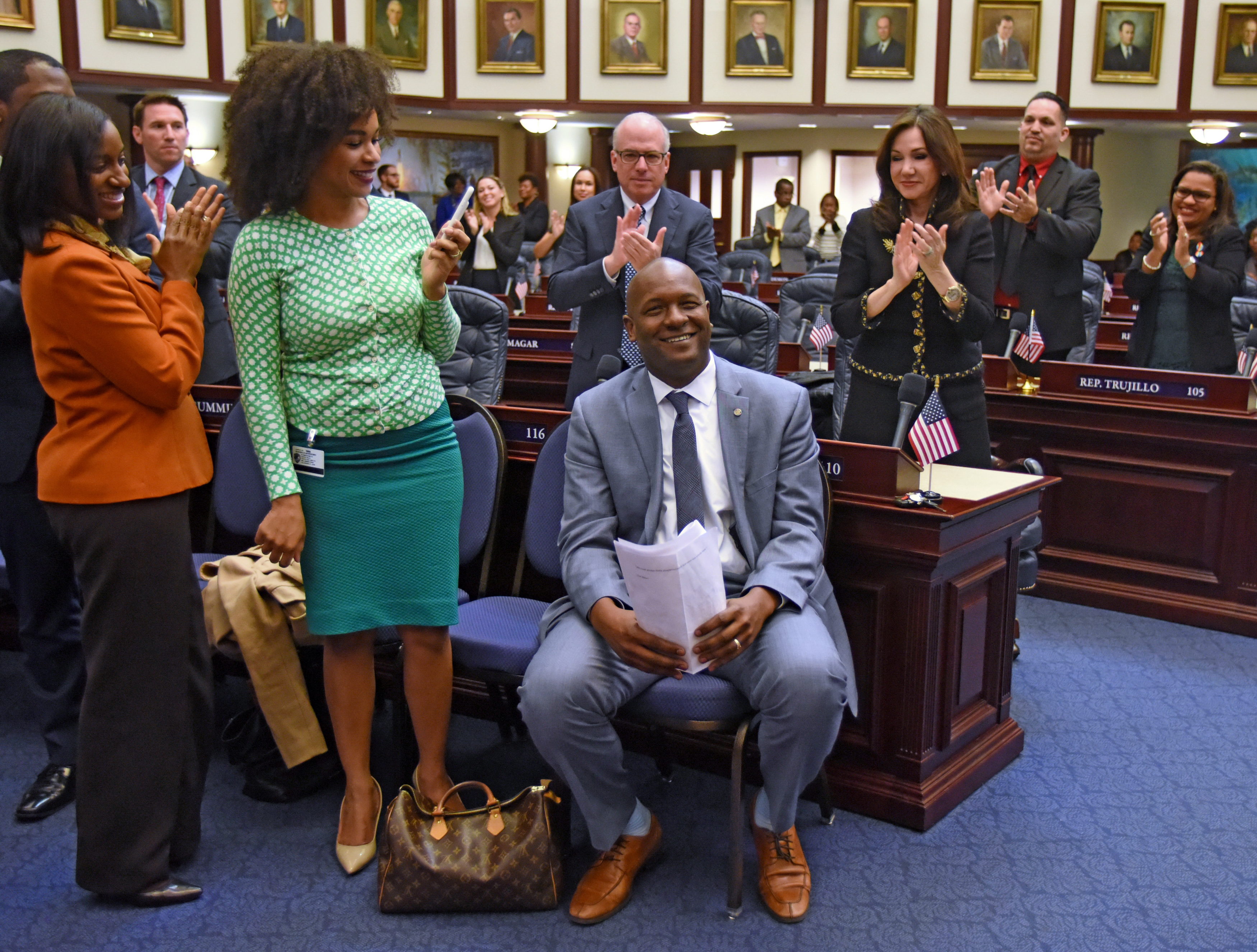 Katie Edwards-Walpole — Leaving her seat early to focus on her new priorities of a new family, Katie Edwards-Walpole leaves a smart legacy of bipartisan legislation and real accomplishment. She's whip-smart, and more than one Republican consultant would tell you she would have been the Democrats most formidable nominee for Agriculture Commissioner. Let's hope Katie stays engaged in a process that needs her intellect, passion and reason.
Randy Fine — His second session was a coming out for this freshman. He went six-for-six in bringing his bills to the House floor and six-for-six with his appropriations requests.  Fine literally received a terrorist threat while presenting his pro-Israel bill to committee, and successfully battled for both a tourist development tax transformation and utility accountability bill against more than 100 lobbyists. And he rendered CNN's Alison Camerota speechless in his first-ever live national interview. He'll be a force of nature in the next session.
Kristin Jacobs — She authored the sexual harassment bill that passed unanimously, got all her projects funded, was lead House sponsor on the coral reefs conservation area, took over the top CERP project and quietly got it passed (the C-51 bill), got DEP to include $3.6 million for her resilient coastline initiative and didn't even have to fight it in the budget. Scott took that fight for her and, to boot, got another million to remove tires from the Broward coastline.
Scott Plakon — He may not feel like it, considering the daily fight he's watching wife Susie endure, but many are now reading, researching, listening, and desiring to help in the fight against Alzheimer's. His trademark dry sense of humor has not abated. And nice tattoo by the way.
Holly Raschein — She's been serving her district for nearly 14 years, as an aide to Republican Ken Sorensen and Democrat Ron Saunders, and as the rep in 120 since 2012. There was no bigger challenge for Holly in all those years than the devastation that Irma did to the Keys, and she's fought long and hard first to recover, and this session for dollars — and probably when the final totals are up, no one will take more home than Holly did to help continue to recover and rebuild our Florida Keys.
Paul Renner — With a determined style of '3 yards and a cloud of dust,' Renner effectively managed the House tax packages and worked in support of D-1 Oliva and D-2 Sprowls. He managed to unify members in his class in his first session since becoming Speaker-D3 after that bruising election just last summer. Renner is the fullback that gains the yards you need and makes vital first downs, and now he transitions to campaign for his teammates in the elections this fall.
Carlos G. Smith — The progressive Orlando Democrat did not accomplish by way of legislation, but he is one of the fiercest advocates for gun control, among many other issues. He also wasn't shy about asking why more wasn't done after the shooting at the Pulse nightclub. He's young, he's media savvy, he's got a heart three times the size of his body. All eyes on Rep. Smith going forward.
Chris Sprowls — He was Mister "Behind the Scenes" this Session. When many bills found success, his name was quietly mentioned as the reason. He's a steadying force among many in his party. But with a divide growing between the controlling R's and a more radicalized Democratic caucus, and with an ever more conservative worldview among his fellow Republicans, his leadership will be tested in the next couple of years.
Jimmy Patronis — After the Equifax data breach, and other data breaches at major companies, the CFO found that in Florida, credit reporting agencies could charge a fee of up to $10 to freeze your credit, and those who were victims of a data breach were required to submitted tons of paperwork just to get this fee waived. Considering that recent reports indicate that Florida is the top state for consumer fraud and ranks second for identity theft reports, it's ridiculous that a fee would be imposed on Floridians. This bill passed both the House and Senate unanimously and made it easier for Floridians to protect themselves from fraud.
Noah Valenstein — The DEP boss proved you could demonstrate a commitment to the environment, while also actively serving Florida's communities. DEP's budget includes just over $100M for Florida Forever, increased funding for state parks, and support for the Everglades and the EAA reservoir. The Department's leadership was also on display this Session as they led discussions around enhancing Florida's wetlands protection program through the assumption of the federal "404" permitting program.
Mat Bahl — Mat should get the award for the person least likely to ever lobby to be on this list. Anyone who knows Mat knows that he is the master strategist and ardent negotiator, all of which have benefited the House and Speaker as the gavel comes down on Corcoran's final session. But what many people may not know is that Mat has every proposed move, turn and counter-turn planned out months in advance for his principal and leadership to consider. If you have wondered why the House has consistently been one step ahead of the Senate for the last two years — Bahl is the reason. A loyal adviser who stays behind the curtain, never seeking or wanting the spotlight is a rare animal in politics — but even more unusual is how many speakers Mat has advised and how many futures ones he undoubtedly will.
Katie Betta and Fred Piccolo — The chief spokespeople for the Senate and House deserve a medal dealing with an irascible Capitol Press Corps. They've done an admirable job distilling complicated policy to readable text in a hurricane of news releases, and defended their principals when needed. We don't know what the future holds as leadership changes after this session, but their stars are bright.
Kevin Reilly — Scott's legislative affairs guru batted them out and over this Session, with hits and home runs on opioids, guns, supermajority tax requirement, Venezuela, budget-related items, nursing home rule.
Airlines – Flying into Florida have come in for a smooth landing via the tax package, with a reduction in the state's airline fuel tax. Lower fueling taxes will mean more airlines will assign more planes to come to Florida, bringing more flights, passengers and economic growth to the state. Legislative leaders have signaled a desire for a complete phase-out of the fuel tax in the coming years, making airlines and airline passengers big winners for sessions to come.
Americans For Prosperity-Florida — The Koch brothers-backed pro-free market organization couldn't quite finish the job on Enterprise Florida, but Chris Hudson and his high-powered team did outmuscle a former Senate President and passed the "union-busting bill," which notched a sweet victory for them. Also, an effort to create a funding source for Hollywood it opposed had a quiet death.
Anti-drug community — Kudos to substance abuse providers, county sheriffs, the Florida Alcohol and Drug Abuse Association for recommending and working to protect funding for medication-assisted treatment and mental health counseling programs. They're vital in addressing the opioid epidemic (remember that?).
Associated Industries of Florida — Led by Tom Feeney and Brewster Bevis, the AIF team was successful in delivering several pro-business and pro-consumer measures in their fight to protect Florida's business community. From helping to pass branded glassware, deferred presentment transactions, out-of-country foreign money judgments, state assumption of federal 404 dredges and fill permitting authority to defeat retroactive claim denial and defeating efforts to repeal PIP, AIF was instrumental in the halls of the Capitol on behalf of Florida employers and employees.  As eyes turn toward election season, I look forward to seeing what's to come from their political operations.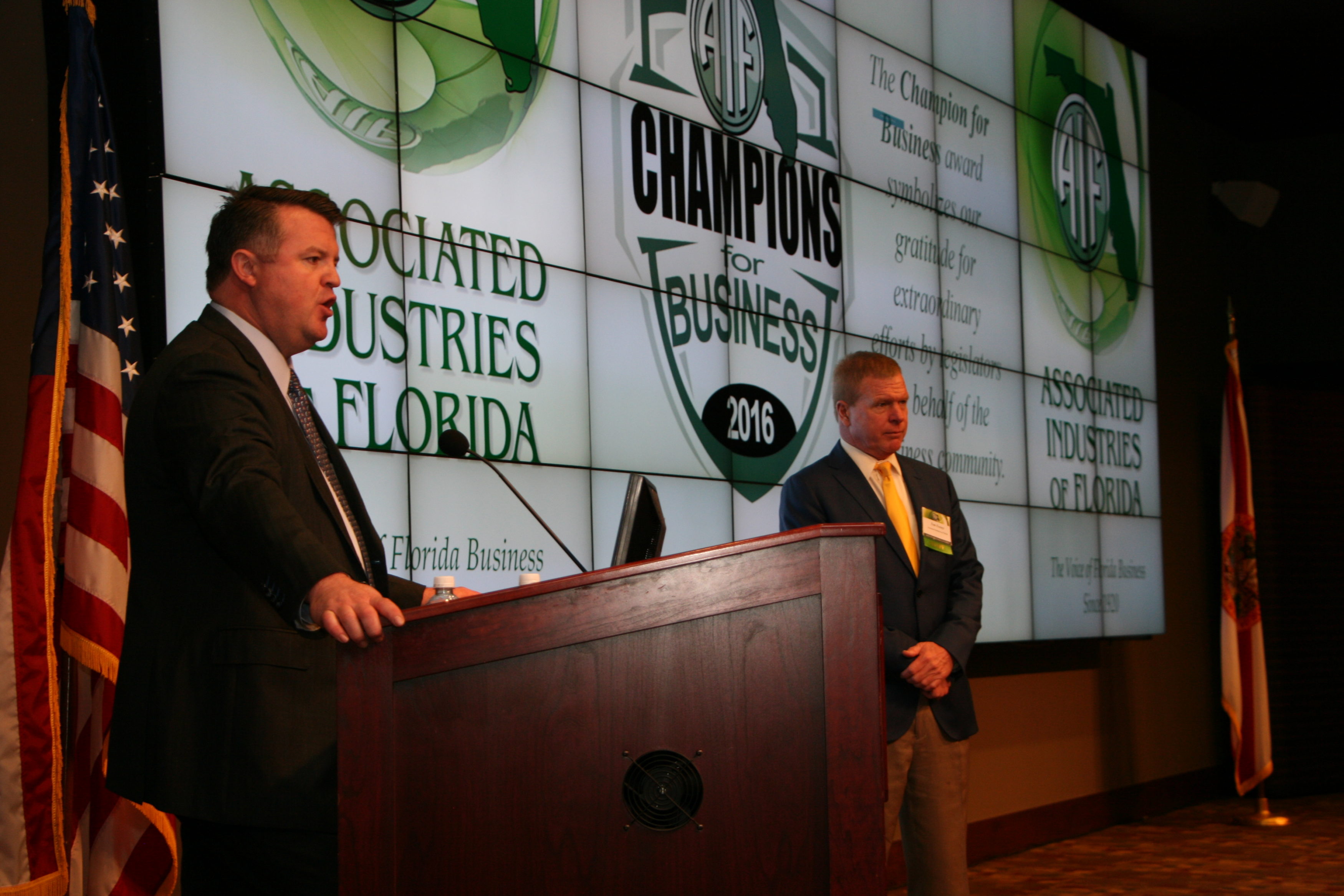 Babies — It was touch and go, but efforts to reduce infant mortality were able to keep funding at last year's level, instead of a 30 percent haircut. The Senate receded on a plan to shave $19 million from the programs; they said providers were duplicating help elsewhere. The House came to the rescue. New moms and moms-to-be will benefit.
Beekeepers — They didn't get a new license plate, but they did get enhanced penalties for the theft of a beehive. The legislation will double the fine from $5,000 to $10,000 for the felony theft of a bee colony of a registered beekeeper. This stuff actually happens: The Miami Herald recently reported the charging of a Miami Lakes pastor (!) for the heist of thousands of bees.
Booze delivery — Dana Young pushed through a bill, on its way to Scott, that would expressly authorize alcohol delivery services accessed via a smartphone app. Delivery through apps such as Drizly and Shipt is already available in the state, but "current law does not address orders received via the internet or other electronic forms of communication." Guess who else supported the measure? Yep, Uber.
Bail bond agents — The industry lobbied hard against a sweeping criminal justice reform would have cost taxpayers $10 million to fund and would have authorized counties to create supervised bond release programs. It would have allowed qualifying inmates to be moved from prison to county jails in cases when they are terminally ill and given less than a year to live. Guess what? Rob Bradley, the Senate budget chair who was behind it, killed his own bill in light of all the late-Session priorities. But he said he'll address it next year. As Bob Marley sang, "He who fights and runs away lives to fight another day …"
Beer drinkers — Bars and restaurants are now allowed to accept branded glassware from vendors for free which will reduce costs for retailers. Studies have shown having the appropriate style of glass available to consumers enhances the overall image of beer. This legislation will help retailers provide the best beer drinking experience to customers.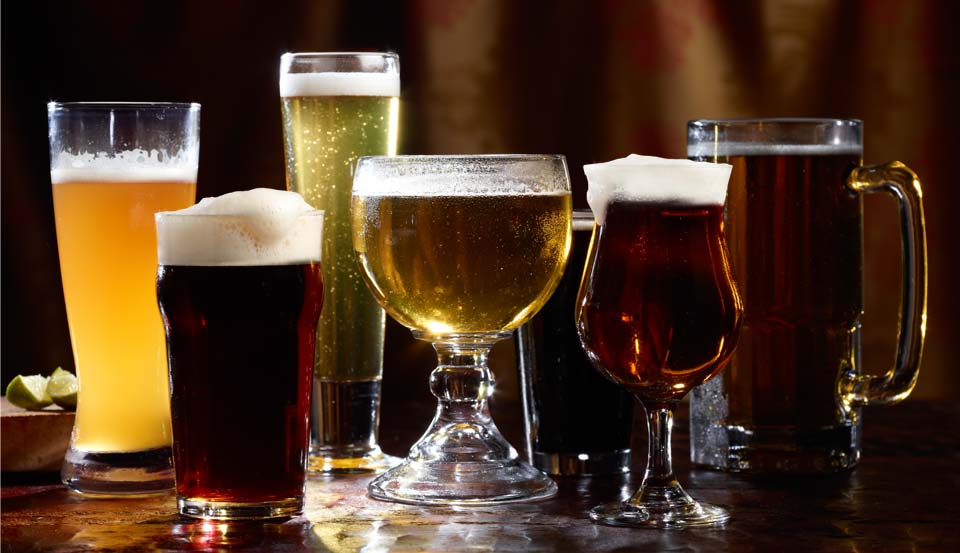 Businesses that rent — The reduction of the commercial lease tax is another cost-saving win for thousands of retailers across the state. Florida remains the only state in the nation that charges this burdensome tax.
Chris Nocco — The Pasco Sheriff brought home the bacon for the Thomas Varnadoe Forensic Center for Research and Education, a forensic research and training facility in Pasco County. It was a priority for him.
College kids — Students with excess credits (over 120) are catching a break. The bill by Amber Mariano and Aaron Bean will alleviate certain surcharges currently charged to students. The measure will provide refunds of excess charges for students that finish their degree within four years. Carrot, instead of a stick.
Community college presidents — Take Sarasota-Manatee president Carol Probstfeld. She appeared to have fended off a bill which would provide for enrollment caps for baccalaureate degrees and a new state board. While funding for state colleges decreased, protecting their kingdoms from greater oversight won out over allocations.
Corcoran & Johnston — Although the lobbying firm's business indeed did not suffer over the last two years, won't it be nice for Michael Corcoran to stop being asked, "Excuse me, is Richard your brother?" (We kid. Everyone knows they're related.)
Crusade against child marriages — An issue that many in The Process were unaware was even happening in Florida jumped to the forefront. But the bill that passed was watered down, some said, from an outright ban on minors getting married to an exception for 17-year-olds. Still, this should help the extreme examples from happening, such as very young teens getting hitched to older men. Nice work Sen. Benacqusto. And a shoutout to Gus Corbella and Ryan Wiggins for their work behind the scenes.
FHCA — It was yet another successful year for the Florida Health Care Association. Representing more than 80 percent of Florida's nursing homes, FHCA's highest priority focused on the health, well-being and comfort of the residents under their care. With strong support from President Negron, the Legislature provided nursing home residents with their first Medicaid funding increase in many years, $138 million that will help maintain quality care for some of our state's most frail residents. Those residents will also see their personal needs allowance increased to $130; that's an additional $25 per month to help them pay for personal items that will improve their quality of life. The association also worked closely with leaders to ensure that new generator rules stayed focused on what's best for long-term care residents during disasters.
First responders — Those who serve selflessly and are in need of help got a boost from lawmakers, in no small part due to CFO Patronis. He carried the flag for police, firefighters, paramedics and others who seek treatment for job-related PTSD through their workers' comp benefit. The League of Cities initially fought it tooth and nail, saying their members would suffer the burden of added costs. They backed down; the heroes won.
Firefighters — Bills passed that would create a public records exemption for fire plans (SB 738); make it a crime to bribe a fire marshal (SB 820), and another was killed that would have gutted a high-rise sprinkler retrofit bill (SB 1432). Also, the "trash valet" bill (SB 746) was amended to ensure compliance with national regulations and sunset provision in 2021.
Farm Share — It's always nice when a good-guy organization comes out ahead in the legislative process, and there aren't many causes better than Farm Share. Thanks to a partnership with the Legislature, Farm Share reclaims fresh, healthy produce that's not pretty enough for stores and provides it, free of charge, to needy Floridians. Farm Share recently surpassed 500 million pounds of food donated to Floridians, and last year was an indispensable part of Florida's recovery from Hurricane Irma — distributing more than 2 million pounds of food and supplies in just the first 10 days after the storm devastated the state. Given Farm Share's nimble disaster response and return on investment, the nonprofit saw an increase of nearly $1 million in its state funding.
Florida Gulf Coast U. — The school got $13.7 million for operational funding, $10 million for a coastal studies building, $500,000 for an academic achievement initiative. Shoutout to Floridian Partners for shepherding all that through The Process.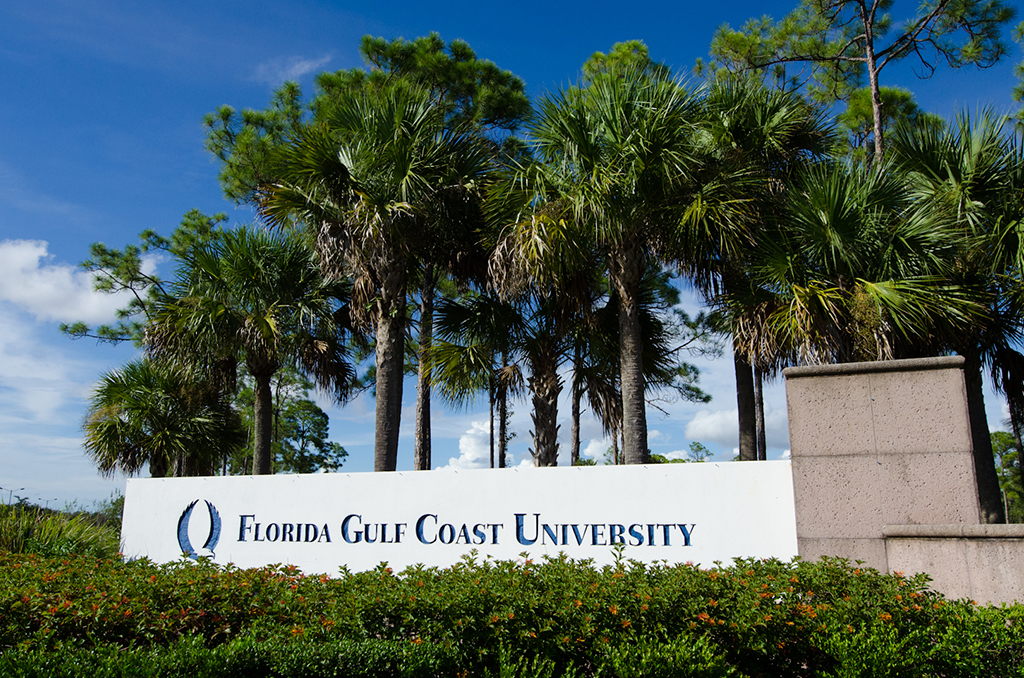 Florida Restaurant and Lodging Association — Carol Dover's organization can claim major victories on navigating the state's regulation of the hospitality industry. When legislation was filed to support short-term rentals, FRLA was the leader in those negotiations. Additionally, FRLA was a key player in ensuring that the franchise legislation did not pass. Furthermore, the association claimed a significant victory in the tourism development tax reform by requiring a minimum of 40 percent of that tax revenue is used for marketing before any expanded use — for many counties, it will equal an increase in tourism marketing expenditures.
Shawn Frost, Florida Coalition of School Board Members — Took wins as education policy in HB 7055 and HB 1279 had most of the issues identified by the FCSBM, including sustainable fix and funding for charter school capital outlay, district transparency and accountability, funding and expansion of parental choice, such as the Hope Scholarship, Struggling Reader Scholarship, and $25 million to address the waitlist for Gardiner Scholarships. Frost, of MVP Strategy and Policy, was a constant presence this session and was instrumental in delivering for his client.
Governors Club — The morning breakfast during the committee weeks and Legislative Session has been tastefully understated winners. The addition of the custom omelet station the final week packed the joint. The outdoor patio is enchanting. Winner, winner … but hey, could you do it every morning during Session and not just Tuesday-Wednesday-Thursday?
Glades Communities south of Lake Okeechobee — The Florida Legislature is putting $50 million toward speeding up repairs to the Herbert Hoover Dike for the second straight year. Gov. Scott has personally made the pitch for this funding, and has made four trips to the Glades to discuss the financing over the past year. Coupled with South Florida lawmakers delivering on a promise for additional workforce training dollars for the Glades communities, the people from "Muck City" fared well this year.
HCA — After nearly a decade of close legislative calls and legal wrangling, HCA scored a huge victory when the Legislature unanimously passed an overhaul of rules governing trauma centers, with the result allowing HCA to continue operating several trauma centers previously in dispute. Lawmakers also corrected the company's EAPG reimbursement rates moving forward and will provide retroactive payments from last year. Finally, even though the agreed-upon state budget used the House's rate enhancement framework, which favored the so-called "Safety Net" hospitals, legislators are now asking tough questions about public hospitals' profits and acknowledging how Medicaid dollars should reimburse hospitals for the care they provide, rather than their corporate status. That alone is a huge win for HCA moving forward.
Institutes for Commercialization — The last bill passed by the House. It overhauled the Institute for the Commercialization of Public Research and replaced it with the Institute for Commercialization of Florida Technology, a privately managed investment arm focusing on tech and startups in this state and leveraging seed and angel investment from the private sector. It's being called a game-changer for Florida's innovation economy.
Insurance industry — They successfully prevented policy they didn't like from seeing daylight, blocked the trial bar, tackled Uber, you name it. PIP repeal? Nope. But one low point: there was no movement on AOB reform, a signature issue for the industry. It will be front and center next year, as the companies are fed up and ready for a change.
Lennar — The largest homebuilder in the U.S. did pretty good in Florida this Session. An obscure, technical provision made it that extends the statute of limitations to sue on a "construction defect" to allow counterclaims, cross-claims, and third-party claims up to one year after a pleading is filed. It also specifies that "punch list" items and warranty work do not extend the statute of repose. A mini-law lesson from Lawyers.com: "A statute of limitations sets a lawsuit-filing time limit based on when the potential plaintiff suffered harm, while a statute of repose sets a deadline based on the mere passage of time or the occurrence of a certain event that doesn't itself cause harm or give rise to a potential lawsuit."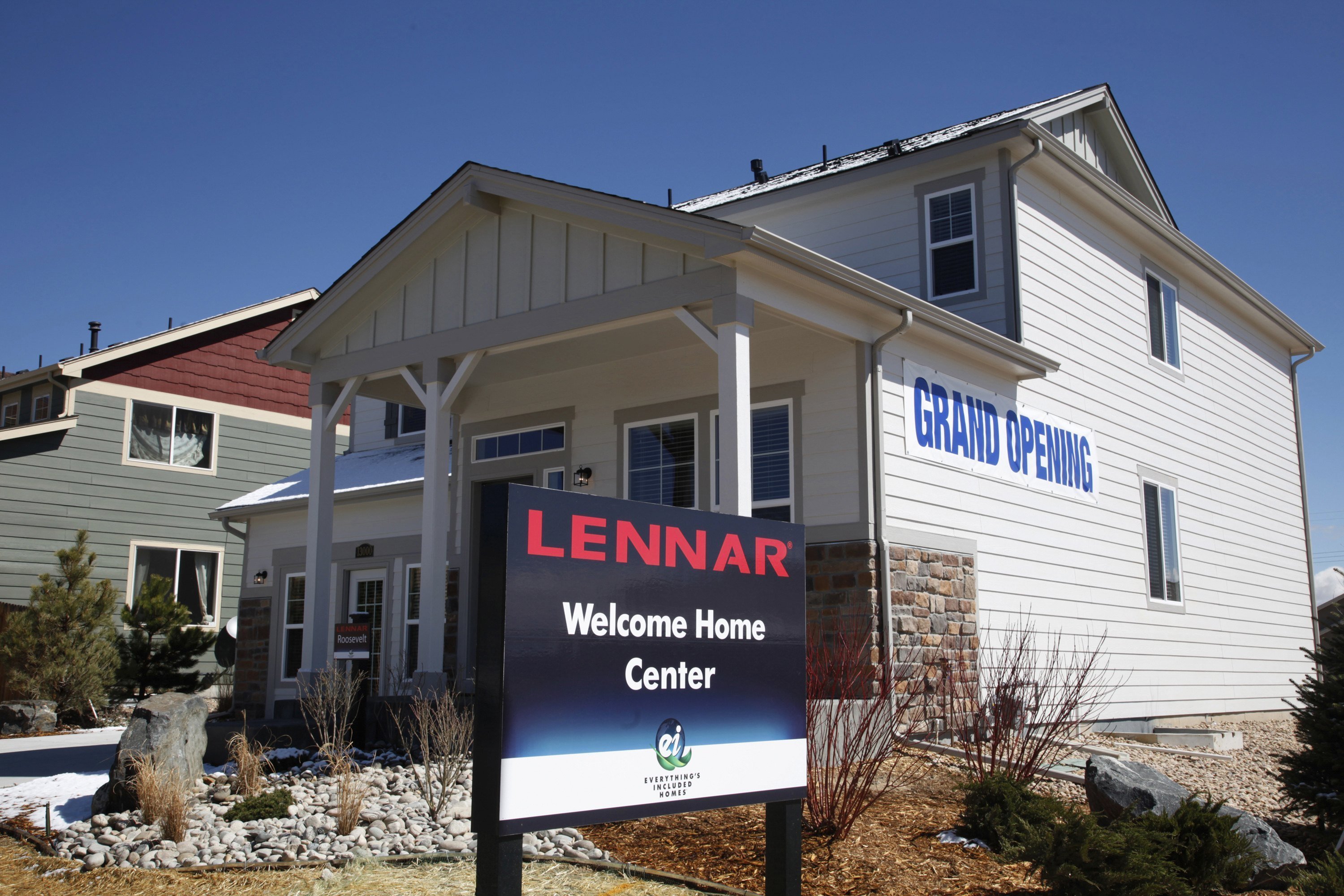 Mary Brogan Early Detection Program — There's actually a program everyone can get behind — and they did. All of us have been affected by cancer in one way or another, and there are more than 19,000 breast cancer stories in Florida every year. The Mary Brogan Early Detection Program provides cancer screenings to medically underserved women, and this dedicated program won strong support in the form of a switch to recurring dollars to continue its important quest to save lives. The Early Detection Program treats patients like they're family, with a network of doctors and advocates who have helped women get the attention and care they need. Recurring dollars make planning so much easier for crucial programs like this so kudos to the admirable Mary Brogan Early Detection Program — and you can bet I'll be rocking my pink shirt.
Mental health advocates — It's a shame that a tragedy like Parkland has to occur to cause winners in the legislative process. That said, mental health advocates are finally counting a big win after years of spotty, unpredictable funding. Schools and increased safety measures will also come out as big winners. "Winner" is a difficult designation to assign to this sad chapter in our history, however. Maybe the win will be the change and good that comes from it all.
Alisa LaPolt — A former Gannett news reporter and nurses' lobbyist, now leading NAMI-Florida, she gained new visibility at the Capitol in the face of a statewide tragedy as the voice of individuals and families affected by mental illness. NAMI-Florida under her leadership was instrumental in getting provisions in legislation requiring schools to have mental health public awareness programs for teachers and students, for one. She's sure to press the issue in 2019 as well.
Newspapers — The digital powers couldn't force a change in public notice laws, meaning legacy "print" media gets another reprieve from losing their monopoly. Florida law ensures Old Media an in by requiring meeting notices and other legal notices, to be in print. Under state law, such ads must run in a newspaper published at least once a week and considered a county's publication of record. So Gannett and others can count on that revenue stream for at least another year.
Northeast Florida — The last year has been an eventful one for the area: Rob Bradley became Appropriations Chairman and performed like a seasoned professional. Future House Speaker Paul Renner capably handled his chamber's tax package. Sen. Travis Hutson took some major steps toward becoming a future presiding officer. And don't forget Senator Audrey Gibson, who ascended to the role of Leader-designate of the Senate Democrats. If only there were a Jacksonville-based lobbying firm that works with them all … oh wait, there are: The Fiorentino Group, as well as Southern Strategy Group's Matt Brockelman and Deno Hicks.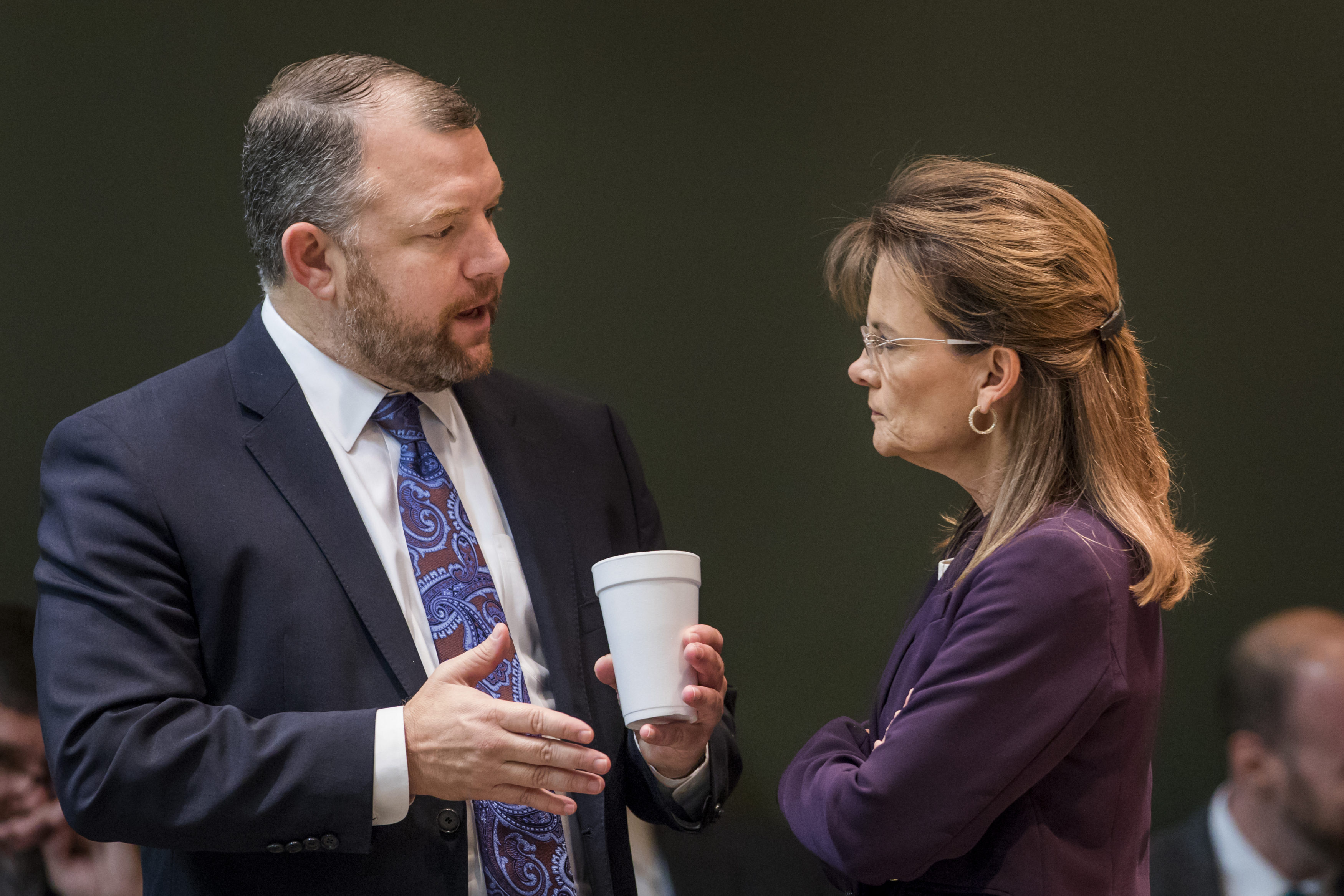 Nurses — A piece of legislation brings Florida Advanced Practice Nurses in closer alignment with the National Council of State Boards of Nursing Consensus Model. It changes the title from Advanced Registered Nurse Practitioner (ARNP) to Advanced Practice Registered Nurse (APRN) and adding Clinical Nurse Specialists to the APRN role, as well as clarifying certification. Credit lobbyist Allison Carvajal on this one.
Orlando — Lawmakers approved a measure allowing smaller restaurants downtown to serve liquor. If signed, eateries with smaller floor space and fewer seats could get special licenses to offer booze. Mayor Buddy Dyer pushed the legislation, saying it'd be a boost to business and would increase foot traffic. Hoist one for us.
Physicians — The Florida Academy of Family Physicians picked up a win with legislation that allows doctors to sign direct-primary care agreements with patients. This is sometimes referred to as "concierge care" for the masses. It's a new patient-centered model that allows doctors to contract directly with small businesses and patients without involving insurance companies. (Not that insurers are happy about this movement.)
"Pre-eminent" universities — Gobs of money were thrown at Florida State and UF for construction projects, including atmospheric sciences, an interdisciplinary research commercialization building and College of Business. Not to focus on FSU, but how much did it also help to have the heft of John Thrasher and Kathy Mears? Just a little? Sure. And credit assists to The Mayernick Group and Paul Hawkes.
Residents of the not-so Sunshine State — With the passage of the disaster preparedness sales-tax holiday, citizens of Florida are winners because they have more time to get prepared for all of Florida's natural disasters while also saving money. Thanks to the Florida Retail Federation's advocacy efforts, this year's holiday was extended from three days to seven days. With more time to purchase generators and other vital supplies, residents and visitors in our state will already be prepared when the storm comes, rather than last-minute rushing to the store.
Red light cameras — Efforts to get rid of them failed again this year, as they have in recent years. Who wins? American Traffic Solutions, the vendor that supplies and maintains many of the systems, and makes a pretty penny from them. Supporters say the cameras save lives and allow law enforcement to get a grip on more serious crime. Opponents counter that red-light cameras are just a way to shake down motorists for money through fines.
Retailers and consumers — Every year, there are attempts to raise the felony threshold for retail theft. This year was no different — the proposed new threshold was $1,000. After a Session-long fight, the Florida Retail Federation was successful in making sure criminals didn't get a cost-of-living increase on the back of retailers. By keeping the threshold as is at $300, the group says it will help deter retail theft and organized retail crime, which the FRF says will keep small businesses from raising their prices to compensate for stolen merchandise.
"Safety net" hospitals — Shouts out to Tony Carvalho and Lindy Kennedy of the Safety Net Hospital Alliance of Florida. The Legislature agreed to fund another $319 million — including the federal share — in the upcoming year's budget, as they did for this year (2017-18). They honestly need the help: "Safety net hospitals ensure the highest level of care to all Floridians, regardless of their ability to pay," they say. Here, here.
Short-term lenders — Critics have had a field day blasting payday lenders, but the industry worked relentlessly to show legislators how valuable their products are to Floridians who need quick funds but can't walk into a bank or credit union and leave with cash. Energized by a heavy-handed federal regulation that would have hammered their industry, short-term lenders pushed harder than ever to ensure that Floridians have access to the credit options they need. Sponsored by Reps. Janet Cruz and Jamie Grant in the House with Sens. Rob Bradley and Oscar Braynon in the Senate, HB 857 and SB 920 made winners of companies like Amscot and Advance America, which were absolutely relentless in their work to retain important consumer protections. Overwhelmingly passing through all committee meetings and on the floor, the legislation is a huge win for consumers who use these services and the companies that provide them.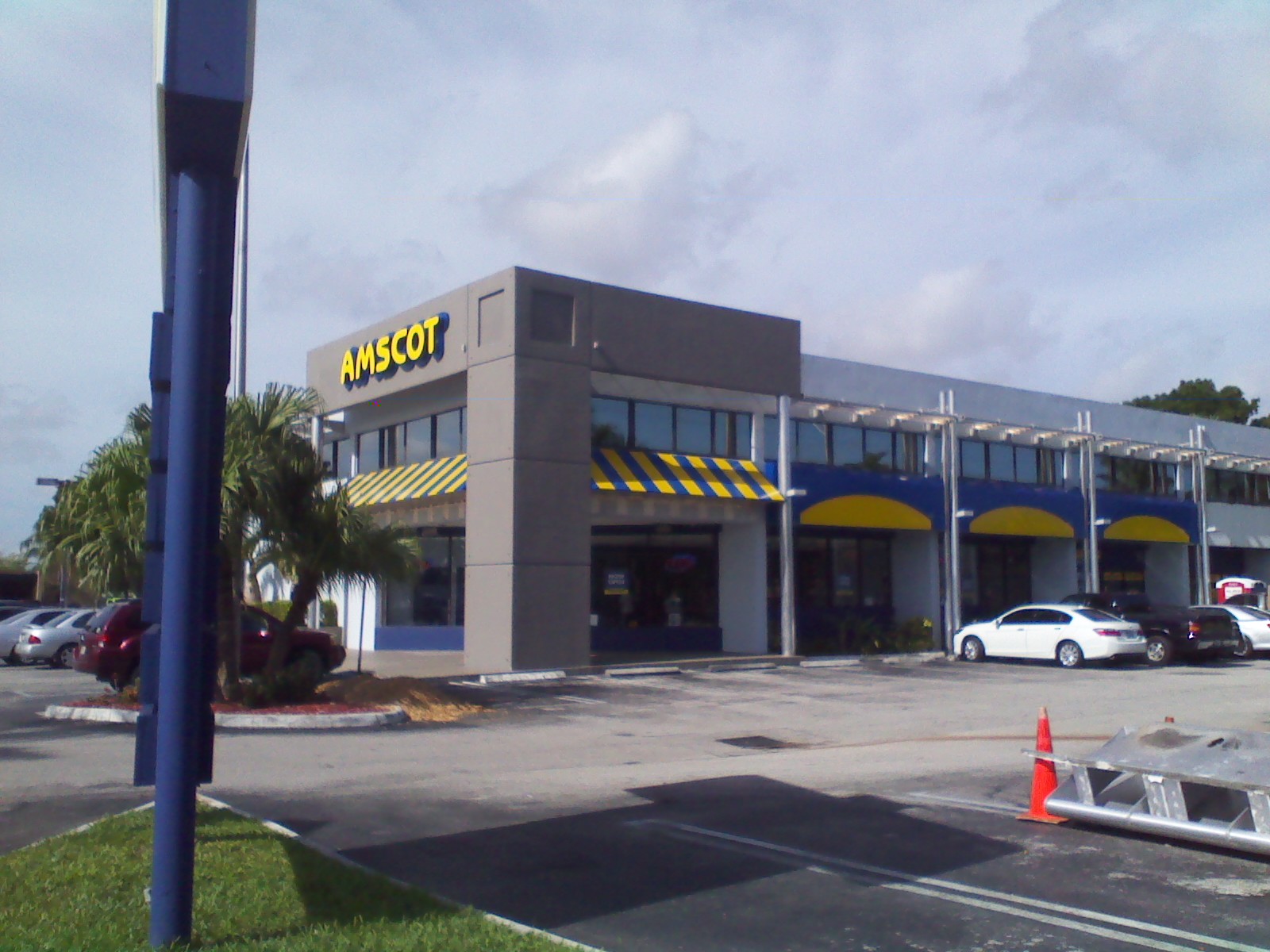 Supreme Court justices — It's good to be a top jurist. The budget includes pay boosts for all seven justices, hiking their paychecks 36 percent to $220,000 a year. They're not alone. Other state judges get a raise, as do prosecutors and public defenders. And state law enforcement officers will get more, either 7 or 10 percent, depending. Even state-employed firefighters get a $2,500 raise. Finally, some respect. Let's see Gov. Scott try to line-item veto these.
Tech industry — Major wins: The adoption of proviso language that shows a preference for cloud solutions in procurement; state data and information will have increased protection, security and analytic capabilities. Moreover, with the passage of HB 495, Florida students will have greater access to computer science and coding. Studying these disciplines gives students computational thinking, critical thinking and problem-solving skills, advocates say.
Teye Reeves — Yo-ho-ho and a bottle of rum! The "sea piracy" bill, also known as "vessel salvage" (HB 469), foundered this year thanks to a mutiny led by Reeves, of Floridian Partners. The oh-so-heavily-lobbied bill successfully passed seven committees of reference, but never walked the plank all the way to the Senate floor. (We have mixed some metaphors here …)
Jeff Vinik — The Legislature sent to the governor a proposal to create a special district to fund some features of a proposed $3 billion development in the city's Channelside neighborhood. The proposal is backed by Strategic Property Partners, a partnership of Bill Gates' investment arm, Cascade Investment, and Vinik, a billionaire developer. Water Street Tampa has become one of the most eagerly awaited private developments in Tampa.
Volusia County's beach access — A measure by Katie Edwards-Walpole now creates requirements for "customary use" ordinances, including court approval. It was drafted based on and around Volusia County. The bill, if signed, will leave intact Volusia's beach access ordinance. The issue was lobbied by GrayRobinson's Chris Carmody and Robert Stuart.
Greg Evers' legacy — A measure to create a road in the late state senator's name passed the Legislature. SB 382 will designate a "Greg Evers Memorial Highway" in the Panhandle, where Evers was from. He died in single-car accident near his home last year.
Mixed Bag
Joe Abruzzo — The state Senator-turned-state Representative has suffered a lot of ignominies seeing his private life dragged out in the press in recent years. Now he's leaving the House early. It seems to us like he could have done more as a lawmaker, but we never begrudge anyone exiting the Legislature for personal reasons. Good luck, Joe.
Janet Cruz — What legislative issue did she carry across the line this Session? Well, there was that vote-by-mail fix. But when it came to the gun debate, she spoke loudly but said nothing. She couldn't keep her caucus in order during meetings, and couldn't hold caucus votes in line when it mattered most. Maybe she was saving her powder for her county commission race.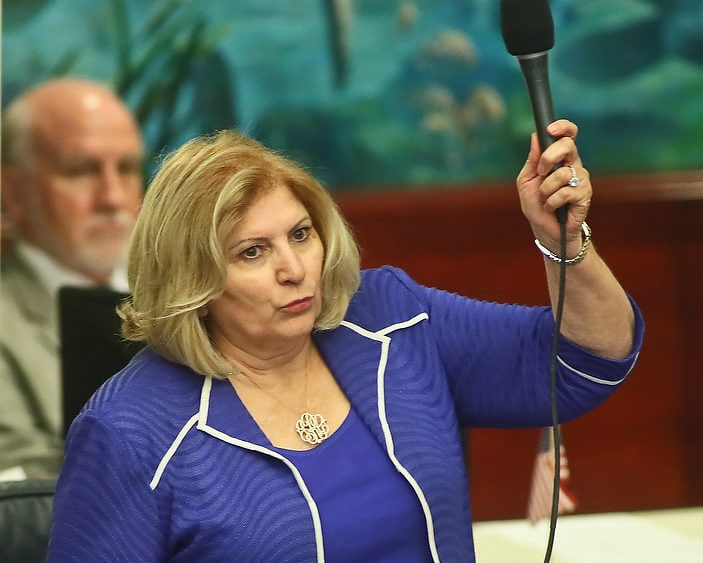 Boaters — You hear the word "pirates," and you immediately think of Johnny Depp movies, Gasparilla marauders, or Tampa Bay's football team. Despite those cuddly images, an organization of Florida boaters used pirate images to brand maritime salvage and towing services as cutthroat brigands. In just its first year, the bill cleared seven separate committees and was passed overwhelmingly by the House, but got caught up in the end-of-session crunch and died in the Senate amid effective lobbying on both sides. Supporters shrewdly branded the salvage companies as "modern-day pirates" taking advantage of innocent boat owners, while the salvors pushed back by pointing out that they were saving lives and preventing loss. Rough seas ahead for any pirates looking for a bigger paycheck, because there may be no stopping the power of unyielding Florida boaters.
Drug addicts — An FRF-backed proposal would've required doctors to use e-prescribing software when doling out prescriptions instead of the old-fashioned and easily-manipulated paper tablets, making it much tougher for patients to forge a prescription. Since the Governor's office wouldn't accept it in the opioid package, the forging will remain, and addicts will continue to gain access to dangerous drugs helping to fuel our state's opiate epidemic.
Dunkin' Donuts, 7-Eleven, et al. — Corporate brands scored a victory but had to beat back a determined effort by Florida entrepreneurs who own franchise operations and wanted to level the playing field. The Florida Retail Federation and others, representing brands from McDonald's to UPS, helped fight off the franchise operators for the second year, as they worked for greater legal protections in the business relationship. Franchise owners wanted protections to stop the corporations from dominating their activities, and the corporations like things the way they are. This effort is likely to come up again, so we'll see how that plays out.
Environmental funding — Lawmakers couldn't agree on the broad outlines of a deal to pay for future purchases of land for conservation. Part of the reason: Activists fought each other's interests by backing competing bills this year. Remember that the Florida Forever program got zero money in the current state budget. That means, yep, gird your loins for next year. Even though Rob Bradley otherwise called this Session "a home run for the environment."
Florida Chamber of Commerce — Got a hit with elements of tax cut package, but struck out on AOB and 'bad faith' reform, workers' comp changes, etc. Hard to put them in the mixed bag with more losses than wins this year, but they're still pushing the cost of living reductions for Floridians, and they haven't forgotten the importance of infrastructure investment.
Florida Justice Association — The trial lawyers land in the mixed bag again this year. It's a tad surprising Jeff Porter's team did not see many bills pass, including a priority PIP insurance redo. But give 'em credit for beating back AOB, bad faith and workers' comp changes. They also helped shed new light on human trafficking and, like their AIF counterparts, quietly embedded amendments throughout legislation. Plus, Kevin Sweeny continued an unprecedented political winning-streak throughout Session for the trial bar — even if his hand was sometimes unseen.
Fracking — This is another one of this issues that seems like a no-brainer, yet it fails to cross the finish line every year. A ban on fracking, the pumping of water and chemicals into the ground to flush out oil and gas deposits, was carried by Dana Young this year. It got some hearings but ultimately didn't go anywhere in the House. But fracking's not gonna happen in Florida anytime soon anyway, so …
Hospitals — Another Session draws to a conclusion and the House's attempts at reform the "certificate of need" process, ambulatory recovery centers, and the other priorities of the current leadership. The celebration, however, shouldn't last long because all should expect the pursuit to continue under Speaker Jose Oliva's tenure. They got whacked on rural hospitals and funding formula, but they won the priority bills by the fails of CON repeal, Recovery Care Centers/Ambulatory Surgical Center Overnight Stays, PIP, workers comp payment cuts and advanced birthing centers. All passed the House, then died in the Senate … even without Latvala there.
Hotel industry — OK, so they won the vacation rental battle. But they looked ugly "winning" on human trafficking. A provision that would have allowed young victims of prostitution rings to sue hotels where they were forced to "work" failed this Session. And it would have created a trust fund from civil penalties. But the lodging lobby made sure it went down.
League of Cities — We're starting to think they're not the "white hats" everyone thinks they are. The group opposed helping first responders with PTSD (though it later backed away from that opposition). Then they opposed a bill that would block lawsuits against people who request public records. Then they pitched a fit over another bill to require uniform elections to increase turnout. We get it: They're advocating for cities and being able to keep cities' costs down. But their negativity is starting to be a bad look.
Pat Roberts — The Tallahassee-based TV producer took a win when a judge quashed subpoenas for his financial and tax records related to shows he made featuring star chef Emeril Lagasse for VISIT FLORIDA. But even though Speaker Corcoran, who pursued this case, is headed out the door, don't assume Speaker-in-waiting Jose Oliva and the GOP House is just going to drop this.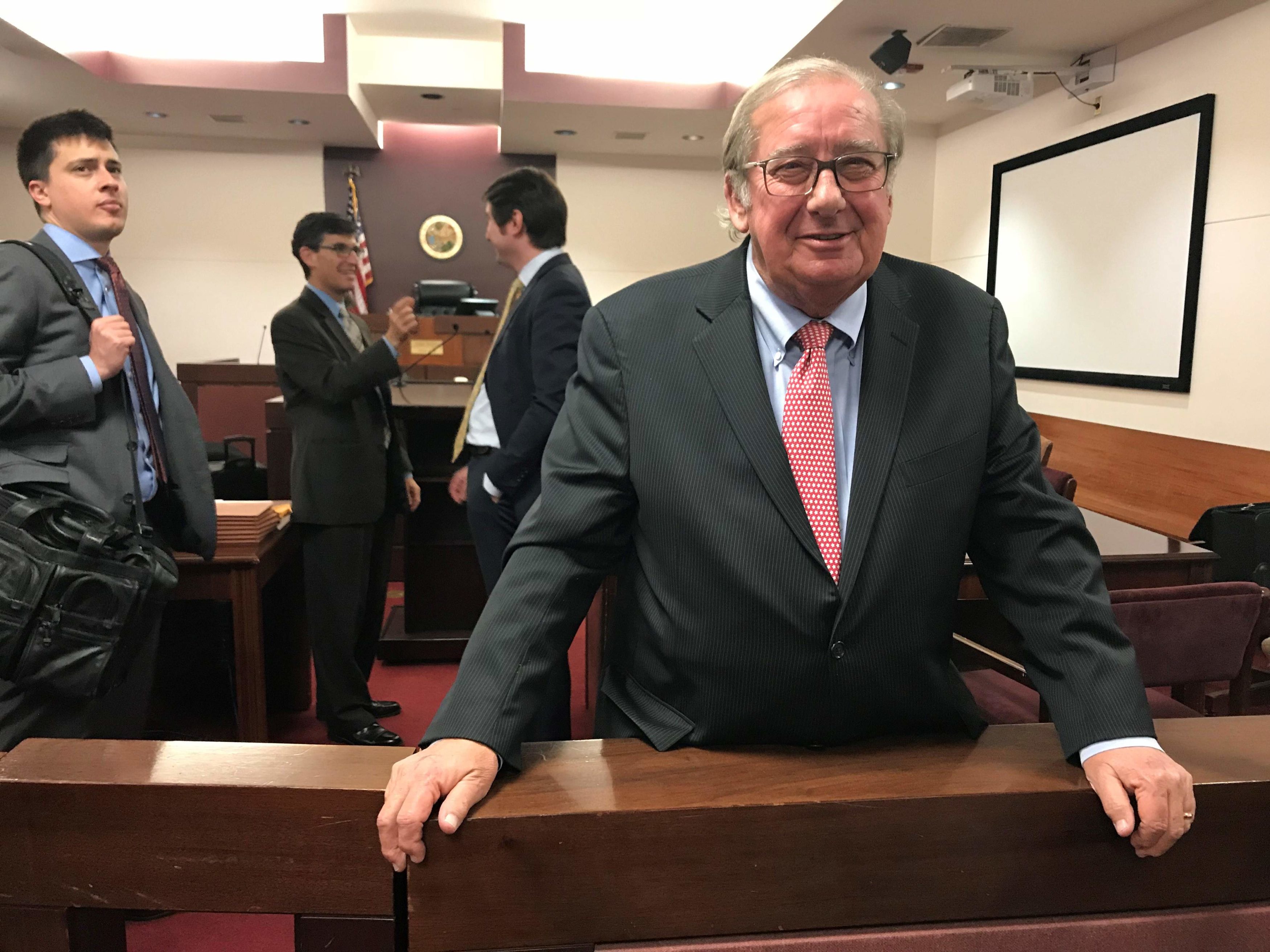 Policyholders — While PIP was put to the test this session, it ended up getting TP'd and was never brought up again.  Lobbyists say that's a win for Florida motorists: A measure being pushed by the trial bar would have wiped away years of cost-saving reforms.  But policyholders will have to wait to see savings from Assignment of Benefits (AOB) reform.
The Seminole Tribe — As gambling bill dies, one wonders how much more money will they have to contribute to state coffers before they finally get some respect? The failure of a bill to pass means no renewed deal for blackjack, though they still have it at least through 2030. Still, with the jet gassed and ready Friday, another year of nothing has to grind Seminole Gaming CEO Jim Allen's gears.
Trees — Greg Steube's tree-trimming bill itself got pruned this Session, after it aimed initially at pre-empting all tree regulation to the state, bypassing locals. It would have required utilities to get permits to work on the right of way if interfered with power lines. Then an amendment freed the utilities to perform trimming as they please. Oh well.
Biggest Loser
Gary Farmer — He filed more than half a dozen bills to unpin the insurance industry, and none of them were heard in committee. Farmer also appears headed for defeat in his race to become the Senate Democratic Leader. How tin-eared do you have to be to tell a woman that "small children" would hamper her duty to be a leader? Tell it to Marissa Mayer, CEO of Yahoo. Or Sheryl Sandberg, COO of Facebook. Or Mary Barra, CEO of General Motors.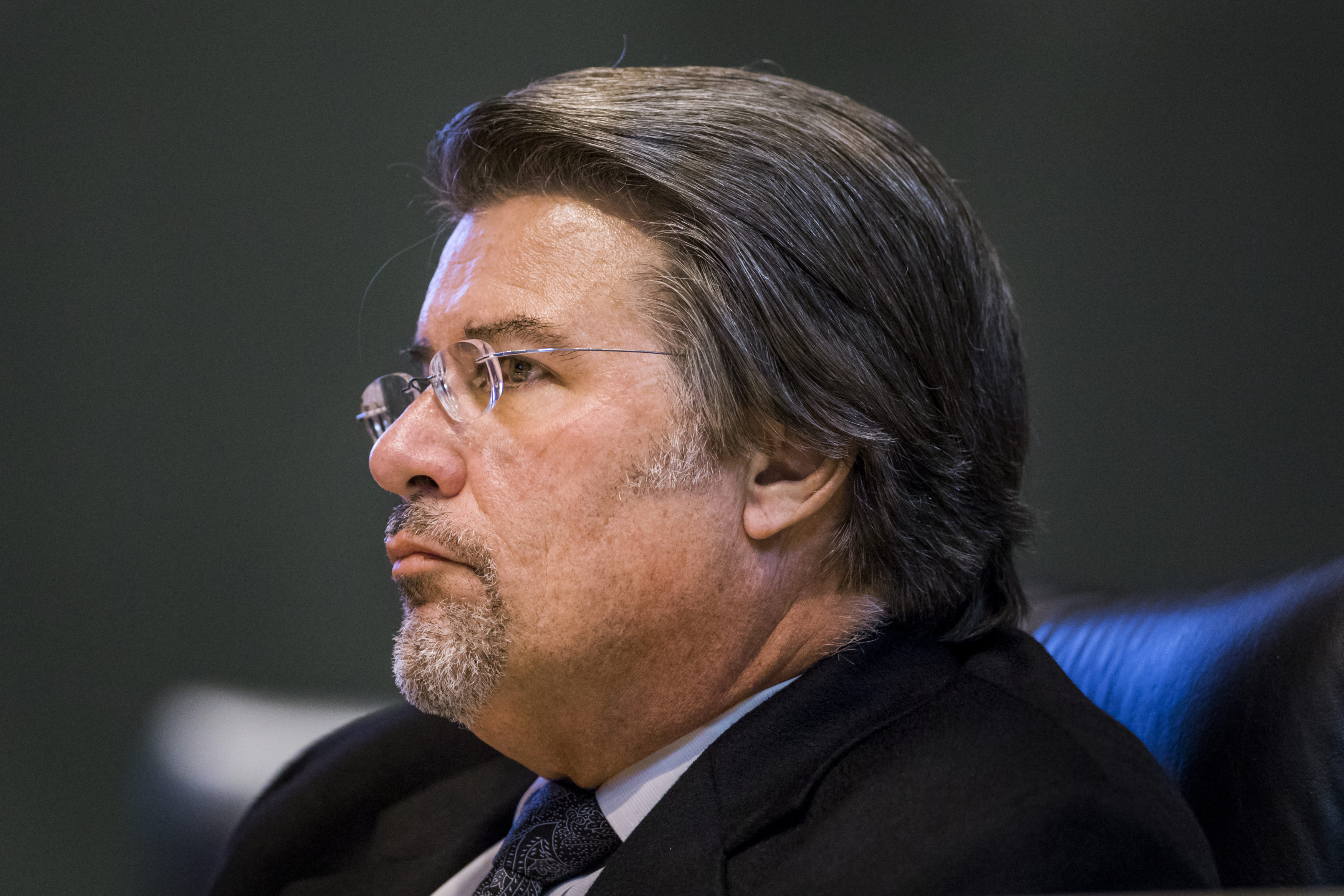 Losers
Randolph Bracy — He was given a chance to be chairman of a prominent policy committee as a freshman Democrat. What does he do? Flagrantly denied requests by those on his own committee to hear their bills. Don't fool yourself that Bill Galvano wasn't paying attention. Bracy's heavy-handedness will make it that much harder for his colleagues to secure chairmanships under future GOP leadership in the Senate.
Anitere Flores — Where do we begin? She couldn't get her committees to successfully pass PIP repeal for Tom Lee, the trial bar, even President Joe Negron. The high-priority bill could not even make it through a confused and sloppy meeting of the committee she chairs. Let's not forget the painfully awkward disclosure and acknowledgment of her marital infidelity at Session's beginning.
Jose Javier Rodriguez — The Herald put it nicely: If Scott approves this, it "forces nearly a half-dozen local and state lawmakers to choose between holding onto a sure thing and taking the risk of running for the congressional seat that Ileana Ros-Lehtinen is giving up in order to retire." State Sen. Rodriguez is among them.  Sorry, JJR. On a side note, who really wants to pay for all those special elections?
Matt Caldwell — Nobody told him running to the cameras immediately after Parkland to say why he was pro-gun was just too craven. When MSD students were at the Capitol, he tried too hard, pointing to his lapel ribbon to support them, while he continually Politifact'ed himself into false talking points. A string of legislative failures preceded that: Don't get us started on "Florida ForNever" under his watch. Then the odd zoning amendments in the HB 883 meltdown.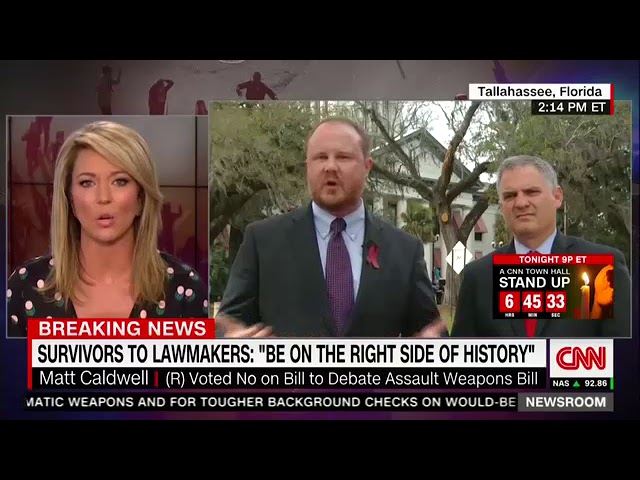 Kim Daniels — She pushed an unneeded bill to require that "In God We Trust" be posted in all public schools.  In the wake of Hurricane Irma, she distinguished herself by asserting that "prophets" saw the storm coming. Then she used the storm as an excuse to hold off her foreclosure. She's faced ethics and elections complaints. In the name of the Lord, indeed.
Bobby Payne — He backed a bill to inject treated sewage water into the aquifer. Where we, you know, get our drinking water. Really?
Christian Bax — The state's top medical marijuana regulator, who got his job through his rich dad, arguably took Jesse Panuccio's place (remember him?) as the Legislature's favorite punching bag. As one lawmaker privately told a reporter, "I would not be surprised if this guy were unable to find his (orifice) with a funnel." He has taken drubbing after drubbing for delays in getting medicinal cannabis to more qualified patients, all the while blaming an admittedly large number of lawsuits and administrative challenges. With Scott out of office early next year, MMJ advocates say they can hardly wait for a change.
Marion Hammer — Parkland made both her and the NRA run for cover, cowering under criticism for what many believe has been grossly undue influence over the process. The fact Republican leadership has stepped forward with packages they both deem unacceptable shows how far they may have fallen in the process.
Constituents — Residents of Senate District 16 and 31, and House Districts 33, 39, and 114 had no or little representation this Session, as those seats went vacant, pending special elections.
#MeToo — Real sexual harassment and ethical behavior — no one should assume things have gotten better just because the articles have ceased and the hallway conversations have changed. It is how the process goes. Something more significant has occurred, and all attention is focused elsewhere. Until the root is plucked, branches will continue to grow.
Airbnb — The vacation rental website really wanted the state to pre-empt local regulation of their services. The Legislature tried but didn't pass anything. Casey Cook from the League of Cities led the fight and herded the cats. Even in the pre-emption loving House, the first committee approval took two meetings and a lot of whipping to get a narrow victory. Later efforts to put VR friendly amendments on the condo bills was also thwarted.
Affordable housing — As Rep. Bob Cortes tweeted Friday: "After a very long session and many hours of work, HB 987 on Affordable Housing died because @FLSenate would not take it up and no reason why. #disappointed"
Auburn fans — That license plate bill finally died, bringing agony to proponents Rep. Jamie Grant and Kevin Cate. As Grant tweeted Friday: "So much good stuff in that bill that was the product of colleagues working across the aisle to empower some really great nonprofits and causes in FL Reforms to the program died too …"
Bicyclists — Chris Moya of Jones Walker successfully killed bicycle "ride share" legislation that would pre-empt cities' and counties' ability to prevent companies from putting a bunch of bikes in their communities. Moya represents several bike companies that opposed the legislation: Decco Bike and Cycle Hop. Too bad: We had our helmets and skin-hugging bike pants ready to go.
Fantasy sports fans — Also dying with gaming legislation this year were efforts to clarify that fantasy sports play is not gambling and should not be regulated as such. It really isn't a loss per se, but means fantasy players in Florida will continue their hobby in a legal gray area. Not that we expect police to start breaking down doors over this.
Flu sufferers — Had a tough time getting in to see your primary care doctor for your flu symptoms? Unable to get your hands on a box of Tamiflu? Having pharmacists around the state test and treat for the flu would've made life a lot easier for thousands of Floridians. But this bill was denied by the Legislature, forcing sick patients and their children to suffer instead of receiving treatment.
Fight against distracted driving — A bill that would have made texting while driving a primary enforcement law went all the way through the House and three committees in the Senate but stalled on the Senate Appropriations desk after a hard push by Florida families and organizations to pass this lifesaving measure and protect Florida families.  It will be back next year if Emily Slosberg has anything to do with it.
Felons' voting rights — Despite a federal judge saying the state clemency process is unconstitutional, legislators didn't pony up money to handle the backlog of ex-cons who just want to vote. Black lawmakers called foul, but the zero line didn't budge. And Gov. Scott and the Cabinet are declining to hear dozens of cases as they appeal the ruling.
Greyhounds — The Senate passed a ban on using steroids in racing greyhounds, only to see it sit untouched in the House. The language isn't getting any play in the gaming conference, either. Dog trainers say small amounts of steroids are used only for birth control, not to enhance performance. But dog-racing opponents, including Dana Young, call it "doping."
Home rule — Cities and counties have been under constant barrage by legislative leadership, raising the question as to whether the Republican principle of "the government closest to the people is best" is being traded for "do as I say, not as I do."
Injured immigrants — A bill intended to stop companies from dodging workers' compensation benefit payouts to undocumented workers who are injured on the job died. The effort was born in the wake of two news investigations last year that showed how a change in the law enabled some companies to deny benefits to undocumented workers after they were hired and injured at work. The injured workers would be reported to state law enforcement for using fake IDs or Social Security numbers.
New World School of the Arts — The Miami performing arts school, whose grads include Oscar-winning Tarrell Alvin McCraney of "Moonlight" fame, lost added state funding. The school gives teens the opportunity to train in music, theater, dance and visual arts. The reduction means programs may be cut. So goes showbiz.
Panhandle drivers — The controversial bridge known as Bo's Bridge was named after former House Speaker Bolley "Bo" Johnson. Sadly, the bridge ended up in default because not enough motorists use it. An effort to get money for it went nowhere. Can you blame them?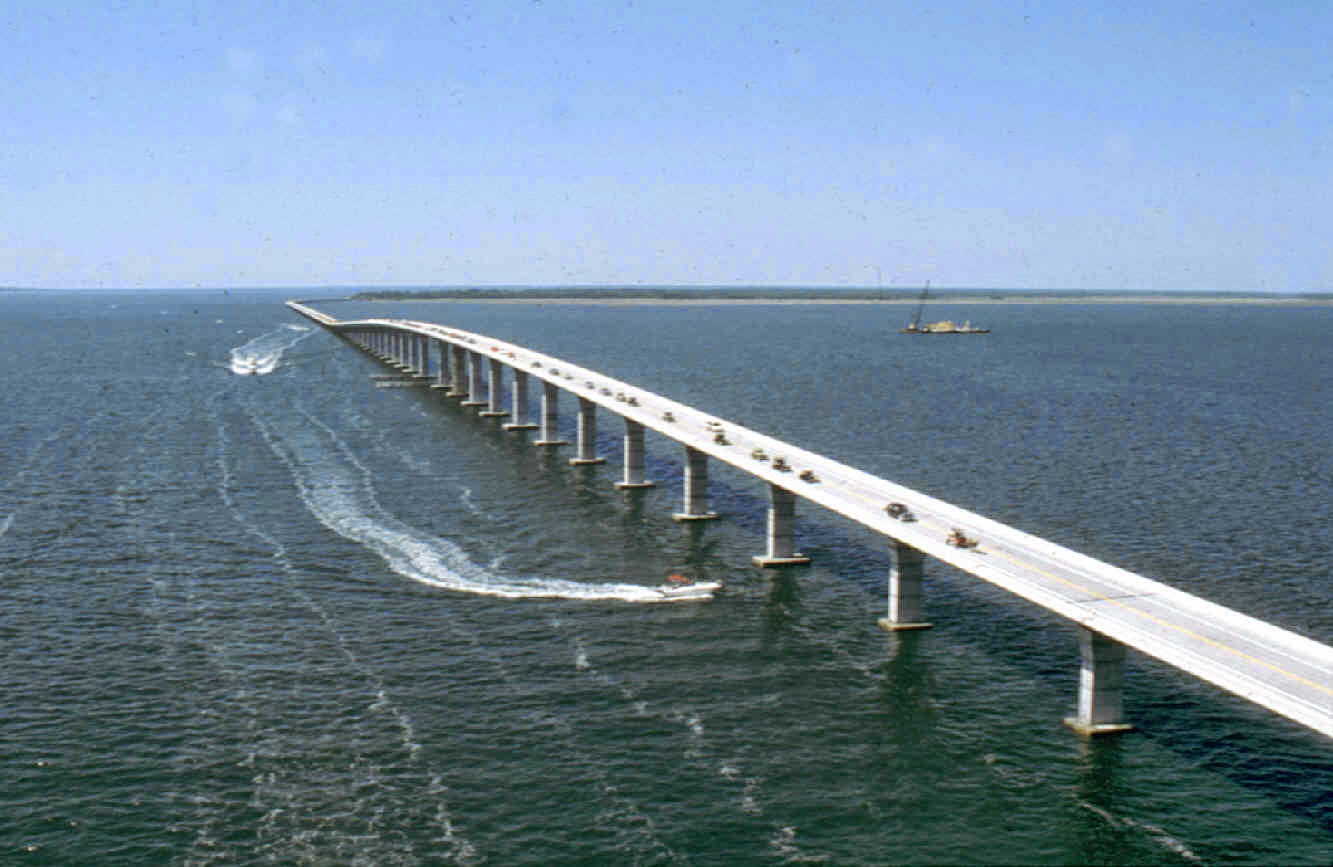 Public schools — While the Legislature touts the record "$101 increase in student funding," in truth this funding is almost all taken up with the mandates to provide mental health services and pay for school resource officers.  Districts must also pay for increased FRS rates to the tune of $53 million statewide. In the end, the real increase in student funding to provide additional programs and services to students is a paltry 0.47 cents.
Rural cities — Rural cities and counties in the Big Bend and Panhandle got hosed. Once again, the budget priorities, especially water projects, appear to be going South.
Sanctuary cities — The Corcoran-Gillum debate, substantial statewide media buy, and it still didn't go anywhere. Plenty of pushback, including IMPAC Fund's Mike Fernandez letter signed by more than 120 bipartisan leaders calling on the Governor, Corcoran and Negron to kill the bill. Well, it made for a terrifying (and somewhat disingenuous) ad, anyway.
St. Pete Chamber of Commerce — No longer able to depend on Jack Latvala, the group lost the USF consolidation battle. President Chris Steinocher and Advocacy Manager Matt Lettelier badly misplayed their hand on this issue.
Theme parks — The combined team of Florida Brewers Guild, the state's craft beer group; Beer Industry of Florida, the Miller and craft beer distributors; and Miller-Coors itself won this year's fight against the "theme park" legislation, which would have allowed Universal Orlando, SeaWorld and others to start pumping alcohol beverage manufacturers for an additional revenue stream, or was it called "cooperative advertising?"
TIKD — The Florida Supreme Court ordered the Miami-Dade firm that helps customers fight traffic tickets to show why it isn't practicing law without a license.
Water projects — Another area that became a funding casualty because of the late-Session focus on responding to the Parkland tragedy and redirecting money to school safety and mental health programs. So, things like better treating stormwater and improving sewer lines will be on hold again.
Write-in candidates — This could have finally addressed the whole problem of write-ins filing and closing a primary. The Supreme Court even told lawmakers this is an area they needed to fix. And again, no action.
—
EXTRA EDITION — The media's winners and losers (by Peter Schorsch alone so don't blame anyone else.)
Winners
POLITICO Florida — Even if Matt Dixon's bureau had not written a single story during the past 60 days, PF would still be in the winners' column because of its coverage of the sexual harassment scandals. However, with its strong-throughout-the-lineup roster of silo'ed reporters, it's clearly the top outfit in Tally.
Florida Politics — I'll spare you the false humility and just state that I think this was #FlaPol's best Session to date. From first thing in the morning with "Sunburn" until "60 Days" hits inboxes in the evening, this, um, bureau covers more ground than any other outlet.
News Service of Florida — The revitalized NSF, now under the helm of Will Galloway, had one of its best Sessions this decade. Christine Sexton is still the best-specialized reporter in the Capitol, and we really dig Dara Kam's blog.
Matt Dixon – Forget about how many scoops he scores or about how accessible he is as a reporter and just think about how much solid content he pumps out. If you are a Pro subscriber you know that he often bylines four or five stories a day. And now he's co-writing Playbook!
Marc Caputo – I like complimenting Caputo as much as I enjoy splashing lemon juice in my eye, but when he's focused and not engaging with the trolls on Twitter, he's one of the best. His recent coverage of the politics of Parkland was superb.
Mary Ellen Klas — The Miami Herald veteran wore her heart — and her disdain for much of The Process — on her sleeve this Session, especially during the last few weeks when the gun control debate took over the narrative. The quality of her writing is almost unrivaled.
Honorable mentions
Brian Burgess – A welcome addition to the new media column, Burgess is already expanding his micro-empire by hiring reporters and producing a TV show. My only complaint with Burgess is that he doesn't write enough. And when he does write (like for his occasionally brilliant Monday Mailbag) it feels like an afterthought. Slow down, buddy, Rome was not built in a day.
Ana Ceballos — The newest addition to Extensive Enterprises is a star in the making. She undoubtedly will be working in D.C. or NYC soon enough. Until then, she will have worked tirelessly for Florida Politics and will soon join the Naples Daily News, where she'll work the big stories that are the strong suit of traditional media.
Bill Day – They say editorial cartooning is so last century, but the gifted talent that is Bill Day turned out one masterpiece after another during Session. This is how you know he's doing it right: when the lawmakers he zings end up requesting an original copy of one of his cartoons.
Jim DeFede – There is no hotter seat than the one opposite the South Florida TV man during one of his interviews. No, he's not a presence in Tallahassee, but he's a force to be reckoned with nonetheless when he's reporting on a statewide issue.
John Kennedy — One of the best developments in the Capitol Press Corps was this veteran newspaperman's return to print media. He instantly improved the coverage at GateHouse's many Florida properties.
Tia Mitchell – I can't believe I am writing this, but I genuinely missed the former Times-Union reporter's coverage of Session. You know who else missed it? Many black lawmakers who looked to Mitchell as their go-to to get their already-buried stories into the press. Her absence is a reminder that it is the #PressCorpsSoWhite.
The newcomers – There's been so much turnover in the Capitol Press Corps that one needs a scorecard to keep all the names straight. Yet the rookies, like Elizabeth Koh of the T/H and Dan McAuliffe of #FlaPol offer hope for the future.
Brad Swanson – He's an association president, not a journalist, so how is he on this list? Because he's built Florida Internet & Television into a force with its interviews of the key players and those who cover them.
Dan Sweeney – The Sun Sentinel's man in Tallahassee was already one of the hardest working scribes in The Process. Then Parkland happened and he found a sixth gear. His Twitter feed has been essential reading as the gun control debate has unfolded. How soon until he gets scooped up by the T/H or POLITICO?
Mike Vasilinda – To paraphrase Paul Simon, Vasalinda is still great after all these years … still great after all these years. Of all the talking heads in front of a camera, he still has the best presence.
Mixed bag
Gary Fineout – It seems like every year I write the same thing: There's reporter more knowledgeable about the process than Fine(d)out, yet so much of that institutional knowledge is wasted because the AP doesn't have a use for it. The only difference this year was Fineout seemed more cranky than usual, especially when he was deriding the "influence media."
Alexandra Glorioso — Don't get me wrong, Glorioso is a star in the making, as exemplified by her dogged reporting of the Jack Latvala scandal. But her coverage of health care politics was not at the same level. It didn't help that it was a quiet year for that issue.
Arek Sarkissian — Again, here's a POLITICO reporter who is part of its strong team, but his coverage of the vice beat was mostly good, but not great, especially on gambling issues (where Jim Rosica set the pace). The Pat Roberts story also slipped off the line.
Florida Channel — Hey, we really appreciate the wall-to-wall coverage of Session, including the press avails and conference meeting (thereby allowing some reporters to, you know, spend a moment or two with their kid(s) while watching the action from home. But the drops! Oh, my goodness, is it frustrating how often the signal from FC drops.
Tallahassee Democrat — You can't even put the local paper in the losers' category because it doesn't really compete, although James Call's reporting was the best its been in some time. If only the Democrat paid attention to the Capitol as much as it did the local beat, which it is crushing.
Times/Herald — The one-time leader of the pack entered Session with a slew of holes in its roster. As capable as the new folks are — especially Lawrence Mower — it was too much of a rebuilding year for the T/H.
Losers
Jason Garcia — Don't get me wrong, when Garcia is engaged, the Florida Trend writer is — surprisingly given his platform — one of the best in the game. But he was mostly absent this Session. Come back to the Twitters, Jason!
Florida Times-Union — The Jacksonville daily did not replace Tia Mitchell going into Session, leaving one of the state's most essential communities (represented by a powerful delegation) with wire coverage the past two months.
Sunshine State News — Allison Nielsen leaving for a job in D.C. left the conservative site without a day-to-day reporter, rendering the site all but irrelevant during one of the most critical times of the year. Nancy Smith needs to reload quickly.
Adam Smith – What is a column from me about the media without a dig at the political editor at the Tampa Bay Times. He does realize that the Legislature is about politics and, therefore, he should be writing about what happens in Tallahassee? Yet he can barely get his Winner/Loser of the Week column straight (only a week ago he mixed up whether or not Paul Renner was backing a tax break). Why the Times has not made a change at this position is beyond me.