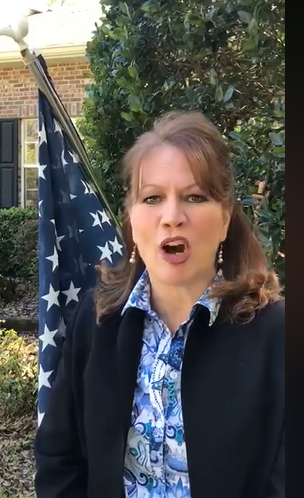 The last time I saw Ronda Storms was more than five years ago. I was interviewing her about her campaign for Property Appraiser in Hillsborough County.
She won the Republican primary but thumped by nine points in the general election by Bob Henriquez.
We met at Starbucks in Valrico, about 15 miles east of downtown Tampa. I wrote that day, "Hillsborough County has had its share of flamboyant politicians, but few have been in the class of Ronda Storms."
I remember her saying that day that if she lost, she would likely return to private life and stay there. She seemed to be doing a pretty good job of that.
But then, and Storms announced she is baaaaaaack!
She announced on her Facebook page she is running for HD 59, the seat Ross Spano currently holds.
Spano is running for Attorney General.
Storms gained her deserved reputation for flamboyancy during her two terms on the Hillsborough County Commission.
She authored an ordinance (since overturned) to prohibit the commission from participating or even acknowledging Gay Pride events. She even punctuated that by decreeing the ordinance would be written with lower case "g" and "p."
She successfully fought to stop county funding for Planned Parenthood. As a state Senator, she pushed for intelligent design to be taught in public schools.
She is unabashed about her faith, her values, and what she wants to accomplish. She can be loud, abrasive, insulting, but mostly she is unafraid of consequences – political or otherwise.
The district she hopes to represent covers much of eastern and southern Hillsborough County and has a lot of rock-ribbed conservatives who basically think the way she does. Her name recognition with those folks alone is enough to make her formidable.
In making her announcement on Facebook, Storms referred to people who "stopped me on my way about my business, stopped me in stores, contacted my family, called us on the phone, all encouraging me to run for public office."
I can absolutely believe that.
Here is what I'm not so sure about, though.
While Storms was a headline waiting to happen in the Commission, she last held a county office 12 years ago and the image she had then may not be the same one she has on this campaign trail. The part of the county she represented then is a lot different today.
The population has grown substantially, along with modern suburban problems of traffic congestion and overcrowding. Many of the newcomers won't know who she is.
And while no one will call this part of the state liberal, a Republican is not an automatic winner – especially if the Democratic blue wave backlash against President Trump reaches this far inland.
In 2012, for instance, Spano defeated Democrat Gail Gottlieb by less than 1,100 votes out of more than 67,000 cast.
Storms will spice things up, though – count on that – with her populist ideas and the unpredictable things that can fly from her mouth.
She will do the work. She will be prepared. She will say that she is standing up for the little guy, and she may convince the little guy that she is right. The lady does tend to dominate a room.
She will have to first win the primary in August, and if that happens you can wager Democrats would see this as a great chance to pick off a reliably Republican seat. It could become one of the more entertaining races in the state.
Then again, if Ronda Storms is involved, it's never dull.